The 2013 AWT Quatro Desert Showdown in Punta San Carlos will go down as the most epic Pro/Am wave events in history. The event saw amazing waves and wind with competitors competing on sail sizes from 4.5 down to 3.5. The long heat lengths and super fair "second chance" bracket system has kept a smile on every riders face. Let's check out the action.
The AWT would like to dedicate the AWT Baja event to Andre Paskowski who passed away today. He truly lived life to its fullest even through hard times. His love for the sport of windsurfing was portrayed in his incredible windsurf film making. He inspired us and his legend lives on in our hearts.
Filmed by Joey Sanchez, Kevin Pritchard
Additional footage by Jake Miller Xsensor
Music by Nero- My Eyes
2013 AWT Quatro Desert Showdown

Default Gallery Type Template
This is the default gallery type template, located in:
/home2/awtheats/public_html/internationalwindsurfingtour/wp-content/plugins/nextgen-gallery/products/photocrati_nextgen/modules/nextgen_gallery_display/templates/index.php.
If you're seeing this, it's because the gallery type you selected has not provided a template of it's own.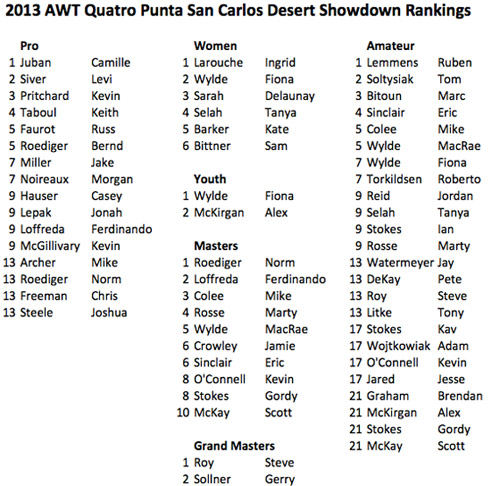 Category: Contest Videos, Videos