Quatro San Carlos Desert Showdown
Warning
: Illegal string offset 'js' in
/home2/awtheats/public_html/internationalwindsurfingtour/wp-content/plugins/vimeo-simplegallery/vimeo_simplegallery.php
on line
214
Warning
: Illegal string offset 'js' in
/home2/awtheats/public_html/internationalwindsurfingtour/wp-content/plugins/vimeo-simplegallery/vimeo_simplegallery.php
on line
215
Warning
: Illegal string offset 'js' in
/home2/awtheats/public_html/internationalwindsurfingtour/wp-content/plugins/vimeo-simplegallery/vimeo_simplegallery.php
on line
216
Warning
: Illegal string offset 'showtitles' in
/home2/awtheats/public_html/internationalwindsurfingtour/wp-content/plugins/vimeo-simplegallery/vimeo_simplegallery.php
on line
217
Warning
: Illegal string offset 'showtitles' in
/home2/awtheats/public_html/internationalwindsurfingtour/wp-content/plugins/vimeo-simplegallery/vimeo_simplegallery.php
on line
218
Warning
: Illegal string offset 'title' in
/home2/awtheats/public_html/internationalwindsurfingtour/wp-content/plugins/vimeo-simplegallery/vimeo_simplegallery.php
on line
219
Warning
: Illegal string offset 'title' in
/home2/awtheats/public_html/internationalwindsurfingtour/wp-content/plugins/vimeo-simplegallery/vimeo_simplegallery.php
on line
220
JULY 28th-AUGUST 4th, 2012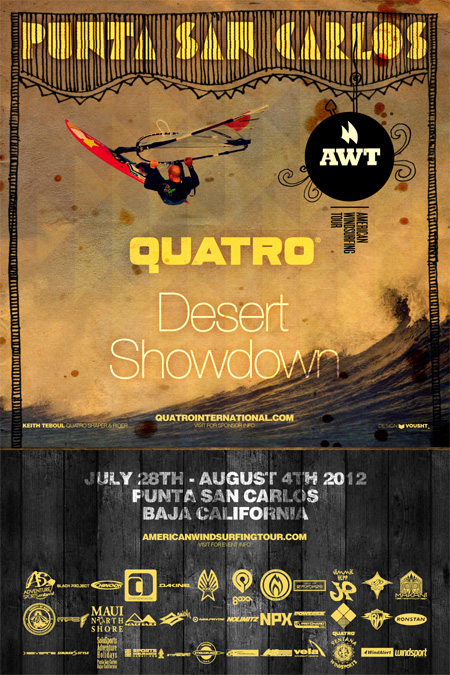 SoloSports is offering a special $1,500.00 price for the week of the contest including all food and beverages (we eat like kings). Drinks include beer, wine, spirits, cocktails and our world famous Baja Fogs. Use of all the toys like surfboards, stand up paddle boards, kayaks, mountain bikes and more will be included. Each guest get's a deluxe mini cabin tent fully loaded with pads, pillows and freshly laundered sleeping bags. Daily hot showers, internet, and use of the game room, with TV/DVD, pool table, darts, foosball and library are also available. You can add flight from San Diego to camp for $650.00 to those that want the upgrade.
2011 San Carlos Cactus Cup Video
2012 Quatro Desert Showdown Photos
Default Gallery Type Template
This is the default gallery type template, located in:
/home2/awtheats/public_html/internationalwindsurfingtour/wp-content/plugins/nextgen-gallery/products/photocrati_nextgen/modules/nextgen_gallery_display/templates/index.php.
If you're seeing this, it's because the gallery type you selected has not provided a template of it's own.