With over 40 events, across 30 countries, the 2023 PWA IWT Unified Wave Tour will create the largest single coordinated tour of windsurfing wave events, since humankind first put sail to board and took to the oceans! Uniting thousands of athletes, into a single global Rider Ranking, to decide the Wave World Titles, the PWA and IWT are proud to present the official 2023 Unified Wave Tour Calendar.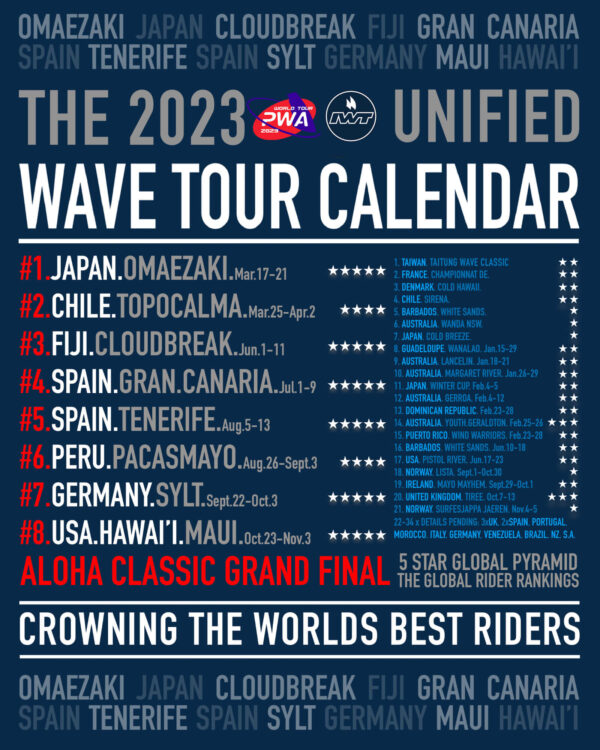 ABOUT THE PWA
The Professional Windsurfers Association (PWA) represents excellence in windsurfing. Its current and past members constitute the very best windsurfers in the World. The PWA are the sailors who represent the sport at the highest level of competition. The PWA drives the sport forwards, organizes and sanctions professional World Cup events, develops competition formats and enhances media delivery. The PWA is sanctioned as the Official Organising Body of Professional Windsurfing.
PWA Contact:
Rich Page, PWA Tour Manager
richpage@pwaworldtour.com
ABOUT THE IWT
The IWT is the global organisation for Riders. It runs the The IWT Wave Tour (now unified with the PWA), The Grand Final Aloha Classic, and the IWT Big Wave Challenge. For details of each please go to our website. The IWT also creates world class entertainment content, including the feature movie by Director Jace Panebianco, 'RIDERS of the Liquid Plains'.
IWT Contact:
Simeon Glasson, IWT director
simeon@riders.tv