The AWT saved the best for last at the 2012 Pistol River Wave Bash presented by Naish. A west swell hit pumping the waves up to logo high for a day that would showcase the final two heats as well as an expression session for a Chinook Carbon Boom.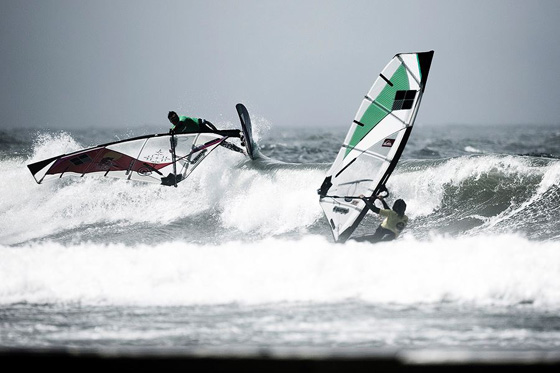 The first heat saw Morgan Noireaux taking on Bernd Roediger in clash of two of the worlds top young pros. Noireaux started off strong but it was not enough to take down Roediger who was sailing incredibly well. The final came down to Roediger against Levi Siver and it started seeing both riders hitting some big jumps and solid rides… until Siver landed a perfect Wave 360 right in Roediger's face. The battle was definitely on. Roediger tried to match Siver with a Goiter but crashed. The heat was over and Siver claimed victory. What a final heat!
The final session of the event was the Expression Session for a Chinook Carbon Boom. Competitors took the water to see who could land the biggest and most impressive move for the judges. Russ Faurot stuck a massive Back Loop taking an early lead… until Graham Ezzy's Upwind 360 on the wave gave him the lead… but Kevin Pritchard was not to be denied landing his signature one-handed one-footed Back Loop. It was an all Ezzy team podium for the expression session!
-words by Pete Dekay, Windsport Magazine