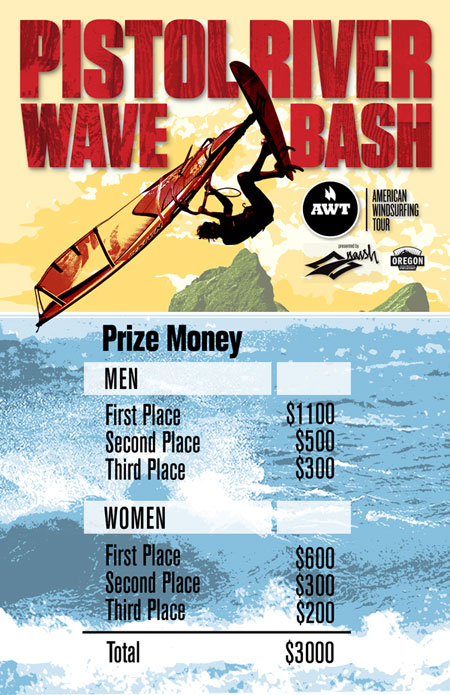 The 2012 Pistol River Wave Bash
People naturally tend to expect the next one to be even bigger and better and more widely attended than the last one. Better wind, bigger waves, more pros, more prizes, and live internet coverage? Well expect away. Count on it even. Building on the momentum of the last two year's events, look for even more support from the local town and the global industry. And of course, with that comes an even bigger pool of talent bringing it with the state of the windsurfing art.
The 2010 event was the first full blown windsurfing contest on the Oregon coast in a decade — a resurgent throw down put on by a formerly unknown event promoter who had never even been to Pistol. Well, now she has, she loved it and she's coming back. If this might be your first trip to Pistol and you want to get a feel for the place (and you've been living in a press deprived cave this last year), you might want to check the coverage of last year's event by every English speaking Windsurfing magazine as well as the French mag and some major online coverage. Click here to see stories.
Sure Pistol is a little out of the way but that's one of the things that gives the place that edge of civilization feeling. It's fairly equidistant from San Francisco or Portland so you can take your pick if you are flying in. And the drive from either direction has much magic and opportunity to shred on the way. From PDX, you might head over to the coast anywhere between there and Eugene to look for prime opportunities like Newport, Florence, Bandon, Rett Creek and the Rogue Jetty for sailing on the way down. From SFA, the favorites are Crissy Field, Waddell, Scotts and Davenport just to the south, then Cape Mendocino on the way to Pistol. Camping is of course provided in your entry. But if you crave an expansive view of the ocean from your private hot tub, well, in addition to the gracious sponsorship by the Inn of the Beachcomber, Ted is also offering a Windsurfer's discount to those preferring all the amenities. Not to mention a totally epic beach cam of the surf zone right out front of his Hotel there in Gold Beach.
Pistol has a well deserved reputation for some of the gnarliest sailing you are going to find. It blows hard and it blows hard a lot. The scenery is jaw dropingly powerful as well. The local town loves the windsurfers and Pistol has a long and colorful history of delivering the goods at contest time. For sure, Pistol River is the closest you can have to a total guarantee you'll get wind for an event and this South Coast Shredfest promises to be a monster.
– Words by Dana Miller
Mahalo Sponsors