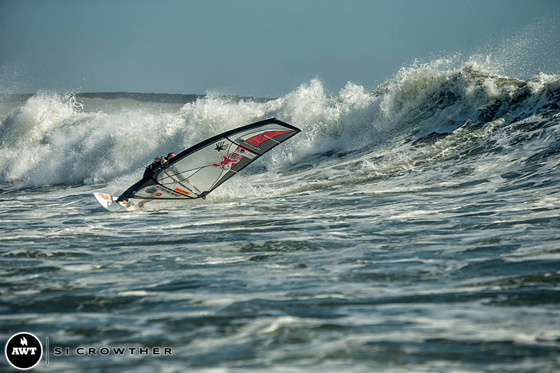 Pacasmayo August 14-20
Located in the North of Peru, Pacasmayo offers fun cross off wave riding. You will find light wind port tack conditions. Wave conditions are similar to Baja Mexico. A swell of 5-7ft on the wave face is not uncommon. You will have 10-15 turns per wave (maybe more) and a couple of aerials without crowds. Bigger South West swells offer rides over 1km where you can lose count of the number of turns you do! Even with no swell predicted, the point tends to offers small clean waves.
South swells usually start at the end of March. August through the end of October offers medium to large wave conditions with good wind. The rest of the year still tends to have mid sized waves, providing a very consistent spot for surf activities. The wind tends to blow all year predominantly form the south offering 12-20knots in the afternoon, all the way until dark. The only exception is February, which can be very light. Pacasmayo even offers jumping conditions during the higher wind days. Also, there are plenty of other waves to explore in the local area, with good surfing conditions at the pier and further north of the town. Most people sail at the point and in front of the El Faro hotel, and do not explore due to the lack of crowds at the more common breaks.
Water temp is typically around 14 degrees C so 3/2 or 4/3 wetsuit is used all year. In summer, the temp can rise to 22 Degrees C, so you can use a shorty. The shore break is mellow, but there are some rocks and shells to be aware. Booties are advisable, but not required.
Getting to Pacasmyo
The most common method of transportation to Pacasmayo is to fly into Lima, then connect to Trujillo. If you do not get the connection to Trujillo, then you can get a 40min taxi ride $15-25 to the bus stations, which provide direct busses to Pacasmayo (8-11hours). If there are no direct buses to Pacasmayo you can get a bus to Trujillo then take another bus or a taxi ride to Pacasmayo. Economy class on the busses provide comfortable seating and the best value for money $15-30. There are large numbers of taxis in Pacasmayo for transport to the hotels.
The alternative is to fly to Guayaquil Ecuador, then take a taxi across the street to the bus station. Take a bus to Machala and then busses to Pacasmayo or Chiclayo and taxi or transfer bus again to Pacasmayo. This can be cheaper than flying to Lima and not much difference in Journey time, with Lima's airfares increasing for peak tourist season for Machu Picchu heaviest in July and August.
The Town
The town of Pacasmayo is a typical Peruvian small town with a warm climate and relaxed atmosphere. It is pretty cold in the evening so I recomend a hat and hoody. There are several hostels and hotels in Pacasmayo, offering very cheap room prices. They can be unpredictable as to whether they are open or not! Most windsurfers stay at the Hotel El Faro. This is more expensive option but provides friendly staff a safe location. There is kit storage and bar and restaurant facilities and a swimming pool in the hotel compound. It is also the closest location to the point. For more info visit www.elfaropacasmayo.com. Regular meal deals and Internet are also available if little slow at some points.
For a small fee, the hotel also provides video/photos and a boat, for transport back upwind to the point on big days due to the current. Be careful though as to be rescued by the boat will cost you around $100!
The main town has lots of small shops, banks, bars, restaurants and a market all in the main stretch of town. Again the restaurants have what seems to be random opening hours but are usually open at lunchtime and after 7pm.
Fridays and Saturdays there are local discos in town getting busy around 12:00. Very friendly locals who generally provide Peruvian dance lessons on the dance floor. There are plenty of small bars and restaurants around the main square. The main Tourist area Restaurants are around the boardwalk area. Its classic Spanish building providing the only real picturesque part of town.
La Estacion- The end restaurant in town
Port Estacion- Shows surf moves and is run by an keen surfer and photographer
Cafe Cafe- Provides Chinese food.
Exploring the local area.
There are several other waves in the area such as Chicama(a very long wave) further south, roughly a half an hour taxi ride away. However they are usually more crowded with surfers and less windy than Pacasmayo. They are worth checking out if you're in Peru for a while.
Tourist Attractions
There are many ruins in the local area dating to the Moche, who pre date the Incas. Within eyesight to the north of Pacasmayo is Dos Cabezas A Moche Pyramid which has unfortunately collapsed due to grave robbers is worth a look on light wind days.
Chan Chan near Trujillo is a huge Moche city with big open rooms full of ancient Mosaques.
Morgan Noireaux
"This place provides amazing wave sailing. They re the longest waves of my live. Im loving the friendly chilled out attitude of the area."
Bernd Roediger
"Some of the best port tack sailing of my life. People here are cool and helpful."