IWT BIG WAVE AWARDS
ENTRIES CLOSE MARCH 31ST 2020
APRIL 10 AWARDS NIGHT
'All-Time' & Annual Men, Women, Youth
The First Ever Big Wave Awards for Windsurfing
"It's been a long held secret that Windsurfers have pioneered the extreme end of big wave riding, with early innovators like Laird Hamilton (USA), Dave Kalama (HI), Robert Teriitehau (FRA) and many others secretly pushing the limits at Pe'ahi. Windsurfers were leading the way with technique and equipment innovation around wind powered access to the biggest waves that led to tow-in surfing, foot-straps, and ultra performance board and fin development directly because of the ability to handle the very high speeds of extreme windsurfing. Until the #IWTBIGWAVE Challenge, these extraordinary big wave rides from the hard core underground windsurfers have gone without any official awards or acknowledgement. It's been the surfers who have claimed all the media, until now. It's time everyone discovered that it's the windsurfers who got us all to this point."  IWT Director Simeon Glasson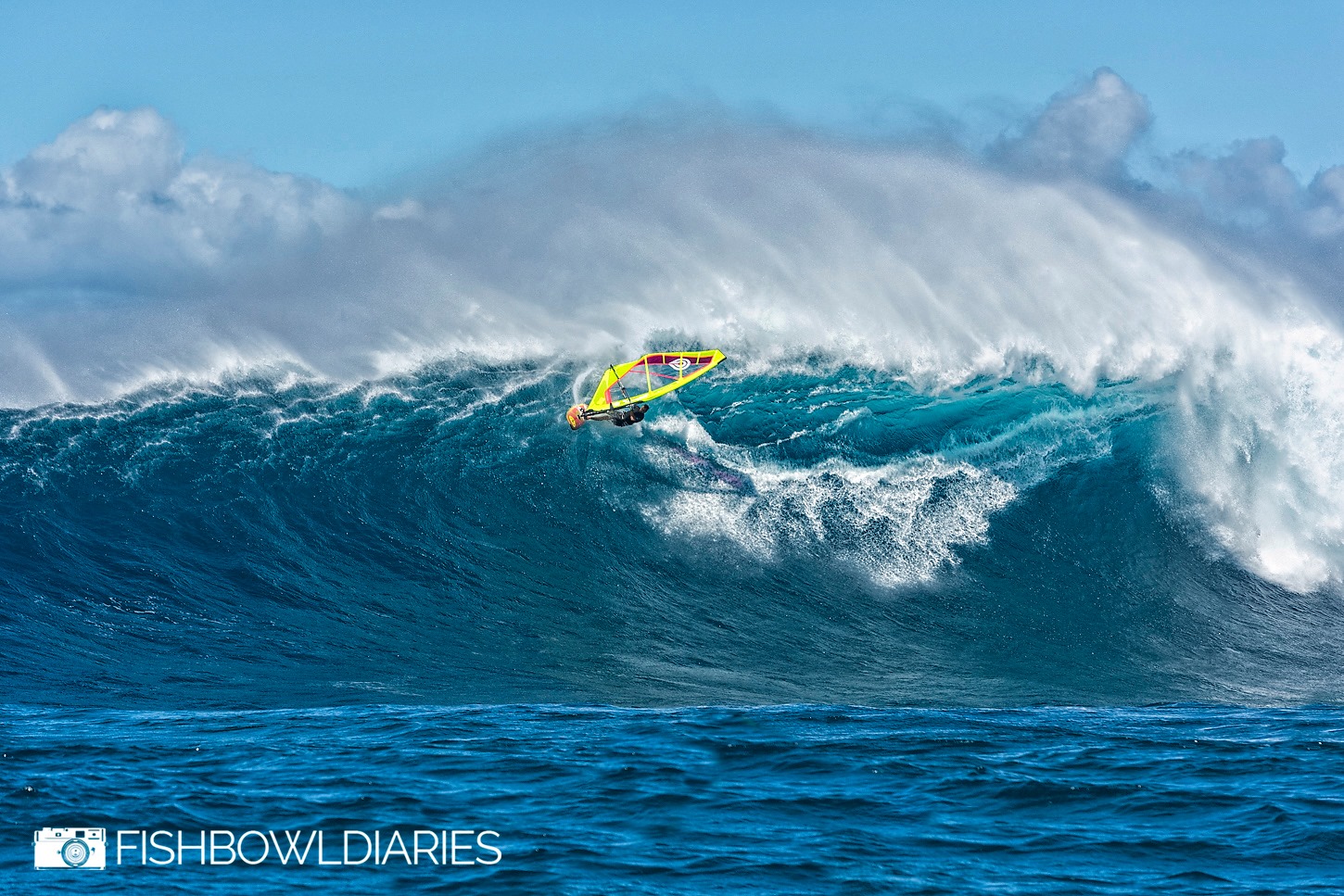 All-Time and Annual BIGGEST WAVE RIDE Categories for Men, Women, and Youth:
BIGGEST WAVE:
MOST RADICAL BIG WAVE RIDE:
MOST RADICAL BIG WAVE WIPE-OUT:
How to Enter:
The biggest and most radical wave rides in history awarded and celebrated for the first time. Riders and image makers enter photos or video of giant wave rides from around the world to the hastag #IWTBigWave, then an international panel of judges determines the biggest and the best.
Awards Night:
April 10: The #IWTBIGWAVE Awards Night, Paia Town, Maui, Hawaii, USA. This 'Wave of the Winter' style media based competition was launched for the first time in January 2019 and will unearth the all-time biggest (1) and most radical (2) big wave rides in the history of the sport and of each season. Divisions for 2019/20 are Men, Women and Youth (<20).
Surfing Crossover:
Kai Lenny, Mens Journal "I saw the lip and knew I wanted to do a big turn right there. Then when I got up there, the wave pitched out a lot quicker than I anticipated, so I leapt off the lip and relying on my experience in sports like windsurfing, I was able to fly through the air. It felt really big, but at the same time I'm so used to flying through the air that it didn't feel out of the ordinary. When I landed my feet jammed more into the straps and I kept on riding."
Kelly Slater "@Kai_Lenny at Jaws the other day got me like 😳🙈 Proof that all that cross sports training from windsurfing to kiting is working out."
Peter Mel, WSL big wave commentary team talking about Kai tow-in riding, "You know what's crazy too? He used to do that stuff with sailboards right?! The way he approached that lip line was very reminiscent of guys windsurfing up here. That is crazy. to be going that fast and leaving the face… that is 15… 20 feet dropping."