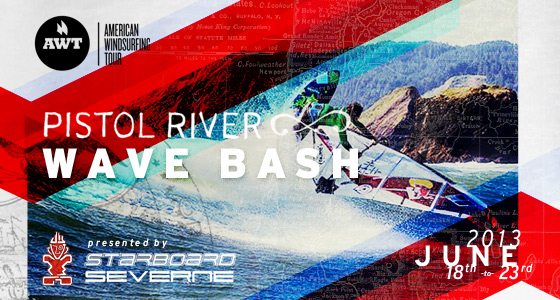 The American Windsurfing Tour's Pistol River Wave Bash is back for the fourth year in a row and going even bigger in 2013 with an extended contest window and an updated format. (Instead of a double elimination, a streamlined bracket system where the winners of the first round proceed to the third round will permit the heats to be longer.) Starting on Tuesday the 18th of June and running though Sunday the 23rd, we're all insured, permitted up and set to run the contest at "the Rock" in the Pistol River State Park or if conditions warrant, in front of the Beachcomber in Gold Beach. The call will be announced at each morning's skipper's meeting. Last year we had 75 competitors and we're looking to get at least 80 this year. So if you are going to be a part of this year's event, please sign up now and encourage your friends to sign up as well. You do not need to pay the registration fee when you sign up. Just fill out the form and pay when you can. Having more people registered goes far to help build and encourage sponsorship for the event. Which of course translates into better beer (like Full Sail!), more schwag and more prize money. 🙂 We're looking forward to seeing you there!
Register for the 2013 Tour today
Enjoy these videos from the 2012 event.
[vimeogallery]
[/vimeogallery]