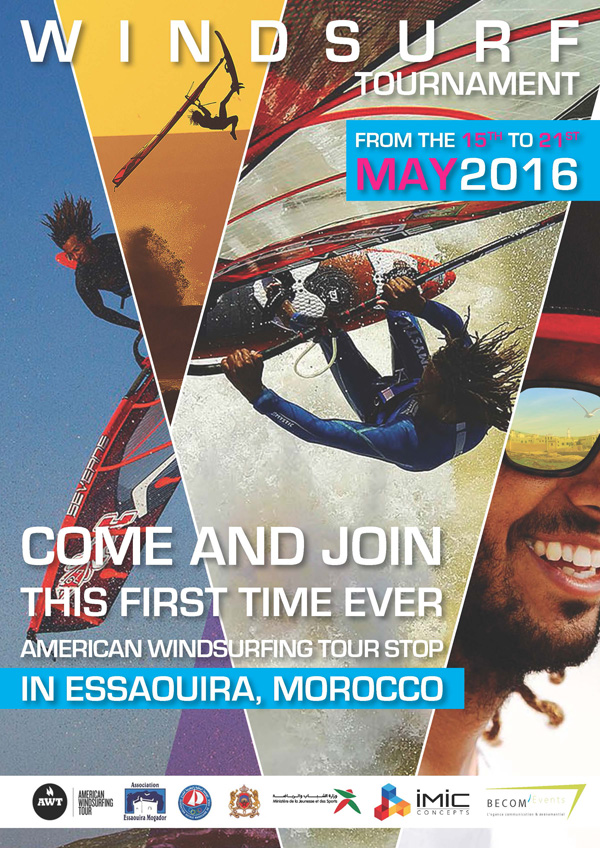 Moulay Bouzerktoune is home to many of Morocco's most talented windsurfers, most of which have not yet had the chance to shine on an international stage. But this is all about to change.
For the first time, the American Windsurfing Tour is coming to Morocco… and you're invited too. From 15th – 21st May 2016 the next stop on the AWT will be held in Moulay, in conjunction with Boujxsports, with fleets for every level and age group of windsurfer, from across the world. We are so excited to bring another "Dream Location" to the windsurfing masses, with potentially epic down-the-line wave riding conditions.
For years the strong trade winds (locally called Cherki) and great North swells of Moulay have provided both local riders and visitors with amazing down-the-line wave-riding and stratospheric jumping. But now we have the opportunity for riders, from near and far, to showcase their skills at this incredible destination. And with the new Essaouira airport just a 30-minute journey from Moulay, and direct three-hour flights from Paris, Marseille and London it is now even easier to reach this Moroccan windsurfing paradise.
Professional windsurfer, Boujmaa Guilloul is the driving force behind the event and is keen to welcome everyone to join him for a week of fun competition at his home spot. If you have been thinking about joining the AWT, or if you are already part of the expanding ranks of AWT sailing, then Morocco is one not to miss. This will be a cultural experience of a lifetime, and you will windsurf with some of the biggest names in windsurfing. Register now, for some friendly competition, incredible local cuisine, picture-perfect waves, and a truly fantastic windsurfing retreat.
Local conditions vary, but riders can expect strong 20-30 knot winds, fun-sized waves, and cool water. 3/2 wetsuits are recommended, and with most waves breaking over reefs, booties are not a bad idea. Rental gear is available, if you do not want to bring your own. Contact Boujmaa's rental center at www.boujxsports.com for more details. Additionally, one can rent from www.magicfunafrika.com.