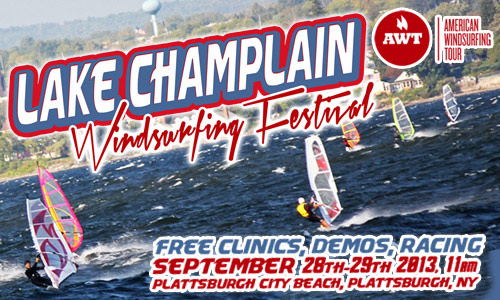 Lake Champlain Windsurfing Festival
September 28th-29th, 2013
Plattsburgh, NY
Please join us for a weekend full of windsurfing fun! See below for a tentative schedule of events. These are all wind/condition dependent but regardless we are going to be at the beach with demos and clinics, so mark your calendars for the weekend of September 28th and 29th.
For a comprehensive look at the weather, check out the NOAA forecast, and the local radar.
Saturday, September 28, 2013
9am: Pancake breakfast with proceeds supporting the Imaginarium Children's Museum
Freestyle feature
Bump-n-Jump
Long Distance Fun Race around a buoy and back
Evening music/BBQ
Sunday September 29, 2013
10am start
Family Fun Relay
Windsurfing, Kiteboarding, and Paddleboard exhibition
Cumberland bay long distance race with boats assist
2pm: Closing BBQ with awards, prizes, raffle and live music
2 Rad Windsurfing: Exhibitor
Pros Coming: Kevin Pritchard and Tyson Poor
Windsport Magazine Editor: Pete DeKay