RULES AND REGULATIONS
There aren't too many complicated rules on The IWT Wave Tour, but we do have a few that are worth getting to know as you watch the sport as a fan or as a competitor. The rules are in place to ensure the safety of the athletes, the fairness of competition and, ultimately, to promote the best riding on the planet in the arena of live competition.
.
For WAVE scoring, The IWT Wave Tour judging criteria are based primarily on the World Surf League wave scoring system.
1. Commitment and degree of difficulty.
2. Speed, power and flow.
3. Combination of major maneuvers.
4. Variety of maneuvers.
5. Innovative and progressive maneuvers.
.
For JUMP Scoring, The IWT Wave Tour judging criteria are based primarily the Professional Windsurfing Association scoring system.
1. Height
2. Difficulty
3. Execution & Style
4. Clean Landing
5. Creativity
NOTE: Some reward for pushing new and difficult moves but a clean landing takes priority. 'Wet' landings receive lower scores.
.
JUDGING SCALE:
[0.0 — 1.9: Poor]
[2.0 — 3.9: Fair]
[4.0 — 5.9: Average]
[6.0 — 7.9: Good]
[8.0 — 10.0: Excellent]
.
HEATS:
Like the WSL, events are comprised of rounds and those rounds are made up of heats, with anywhere from two-to-four riders looking to lock in their two highest-scoring wave rides, both out of a possible 10 points for a possible 20 point heat total for riding. At riding + jumping events, riders lock in their two best waves and two best jumps, each out of 10, for a possible 40 point heat total (pending the Head Judge's assessment of conditions on the day). A panel of three scoring judges (with head judge oversight) scores each wave, and each jump, on a scale of one to ten. There is no limit on the number of waves that will be scored, but the two best scoring waves and two best scoring jumps (each out of a possible 10) are added together to become a surfer's heat total (out of a possible 20 for riding only heats, or 40 for riding and jumping heats.
.
ELIMATION FORMAT:
The IWT Wave Tour uses a double elimination system, starting with a non elimination seeding round, progressing to knockout rounds, concluding with a final and a winner. A rider must lose twice before being knocked out. Riders in Round 1 compete, winners advance to Round 3, and losers enter Round 2 for a second chance to advance. In this way Round 1 acts a a Seeding Round similar to the WSL heat system.
.
GRAND FINAL ELIMATION FORMAT: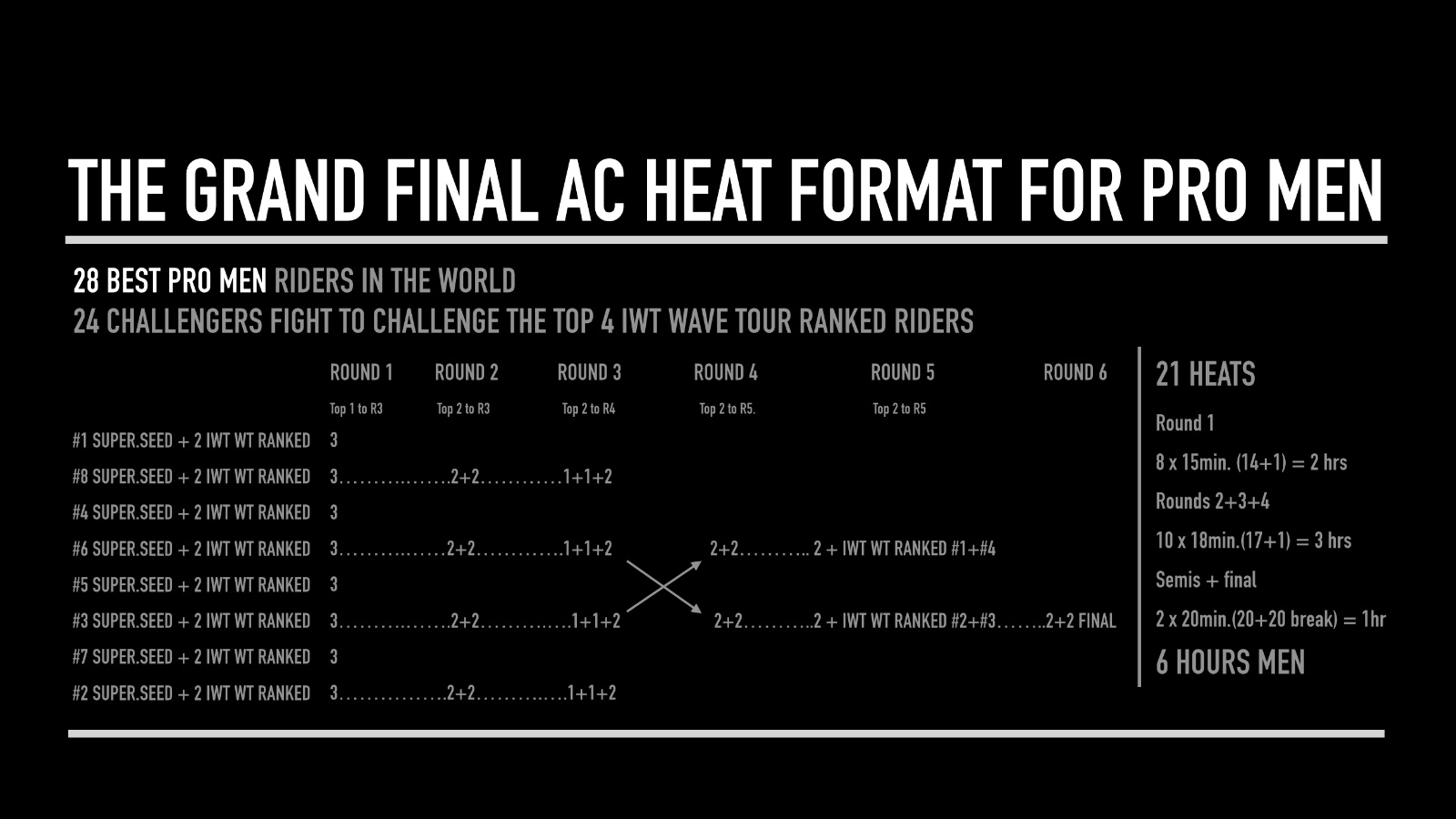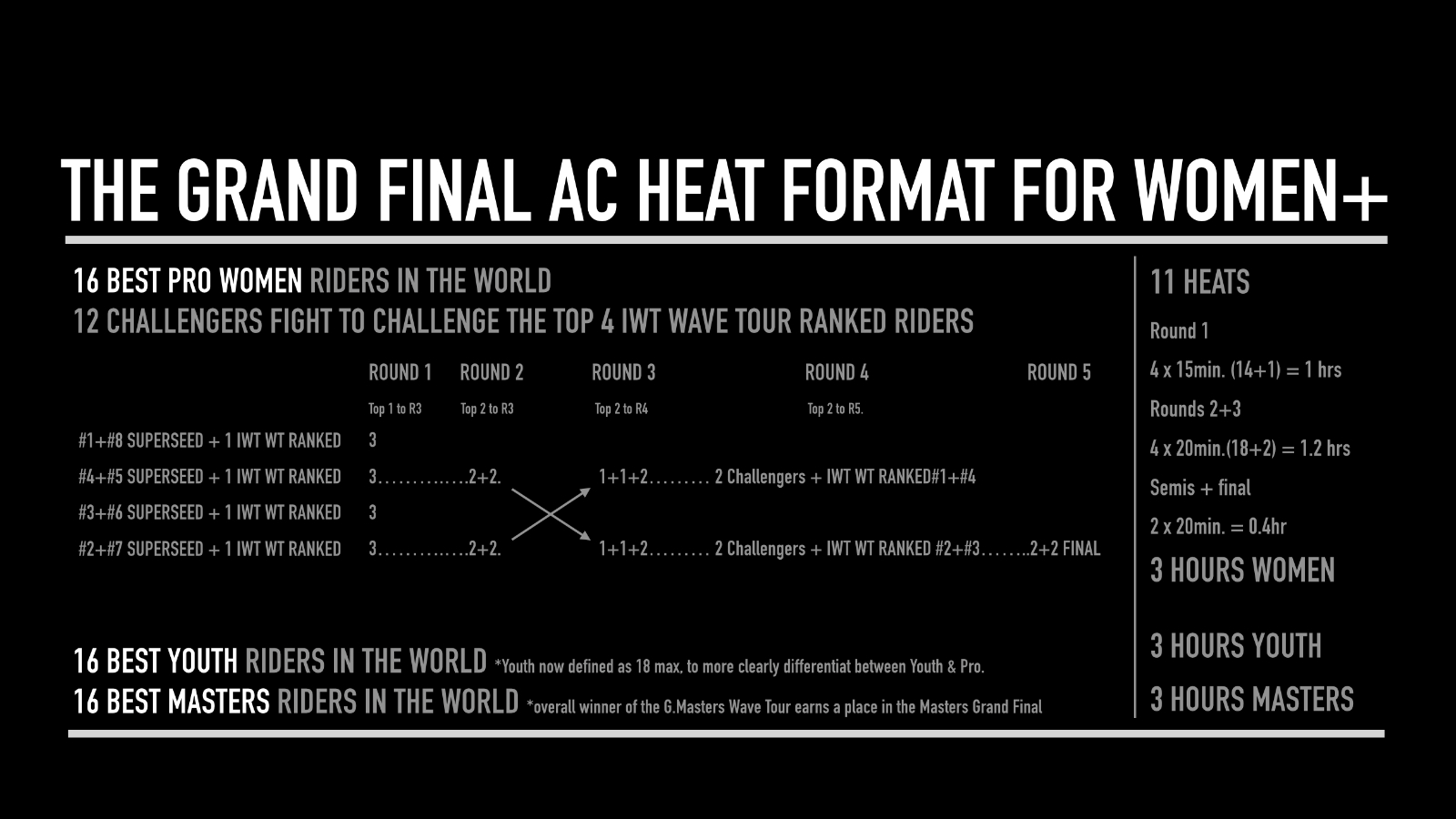 * note that exact heat durations are all subject the Head Judges discretion on the day.
.
HEAD JUDGE:
Every event is ruled by the Head Judge. The Head Judge decides where the heats will run, when they will run, in which order they will run, how long they will run, and what will be scored on every day of the competition window. It is the Head Judges discretion to run with only 2 waves and no jumps if conditions are not fair for jumping but great for wave riding and all combinations therein. The Head Judge has final say on all matters regarding the heats, format, seeding, and points awarded. There is no appeal process. The Head Judge's word is final. The Head Judge overseas the three Scoring Judges to ensure fairness, consistency and that all riders are treated fairly. The Head Judge is also in charge of rider discipline when necessary.
.
SCORING JUDGES:
Every event has a panel of three (3) Scoring Judges who work under the Head Judge. Every event has one International IWT Scoring Judge and two local IWT certified Scoring Judges. The Head Judge and one International Scoring Judge bring extensive global experience and overall Wave Tour consistency to the analysis of riding and jumping at every event. The two local judges ensure local knowledge of conditions are deeply understood in the judging process, while also ensuring local riders have very high confidence that they will be treated very fairly. Every wave ride and every jump is scored by all three judges, with Head Judge oversight. The three judges scores are added together to form total heat scores for each rider. The riders with the highest points tally win and move to the next round. If two or more riders end up with a tied points total in a heat, then the rider with the highest individual wave or jump score in that heat wins.
DIVISIONS:
Pro Men
Women
Youth (18 max.)
Masters (45+)
G.Masters (55+)
OPEN (for to all non-pro riders, all sexes, all ages, all skills)
QUALIFYING FOR THE PRO MENS DIVISION:
1. Winning the IWT Open AM overall from any previous year.
2. Winning any IWT Open AM event in the last 12 months.
3. Having competed as an IWT Pro in the last 5 years.
4. Head Judge's discretion.
WAVE TOUR EVENT SEEDING:
Riders are seeded according to their IWT Rolling Ranking which is calculated from the best four results from the previous one year of events. This way a whole year of data is always being used for maximum fairness. Additionally, the current seeded event will be weighted by a factor of two, so that local riders may earn a stronger seed based on their performance from the previous year. If a rider without an established IWT Wave Tour ranking enters an IWT Wave Tour event, then the Head Judge will have complete discretion in the seeding process.
GRAND FINAL SEEDING:
The IWT Grand Final Aloha Classic rider seeding is based strictly and exclusively on the IWT Wave Tour Rankings leading into the Grand Final, with Head Judge's discretion on the SuperSeed riders in Round 1. The Top 4 IWT Wave Tour Ranked riders are advanced directly to the semi finals for two sudden death semi-final heats to determine the FINAL FOUR in the Grand Final.
OVERALL WAVE TOUR POINTS:
Pro Men and Women best four (4) event results in the IWT Wave Tour will count in the final tally for overall Wave Titles (best 3 x 3 star 60% events + 1 x 5 star 100% Grand Final Aloha Classic).
Youth and Masters best four (4) event results in the IWT Wave Tour will count in the final tally for overall Wave Titles (best 3 x 3 star 60% events + 1 x 5 star 100% Grand Final Aloha Classic).
Open and G.Masters best three (3) event results in the IWT Wave Tour will count in the final tally for overall Wave Titles (best 3 x 3 star 60% events only – no Grand Final for these divisions).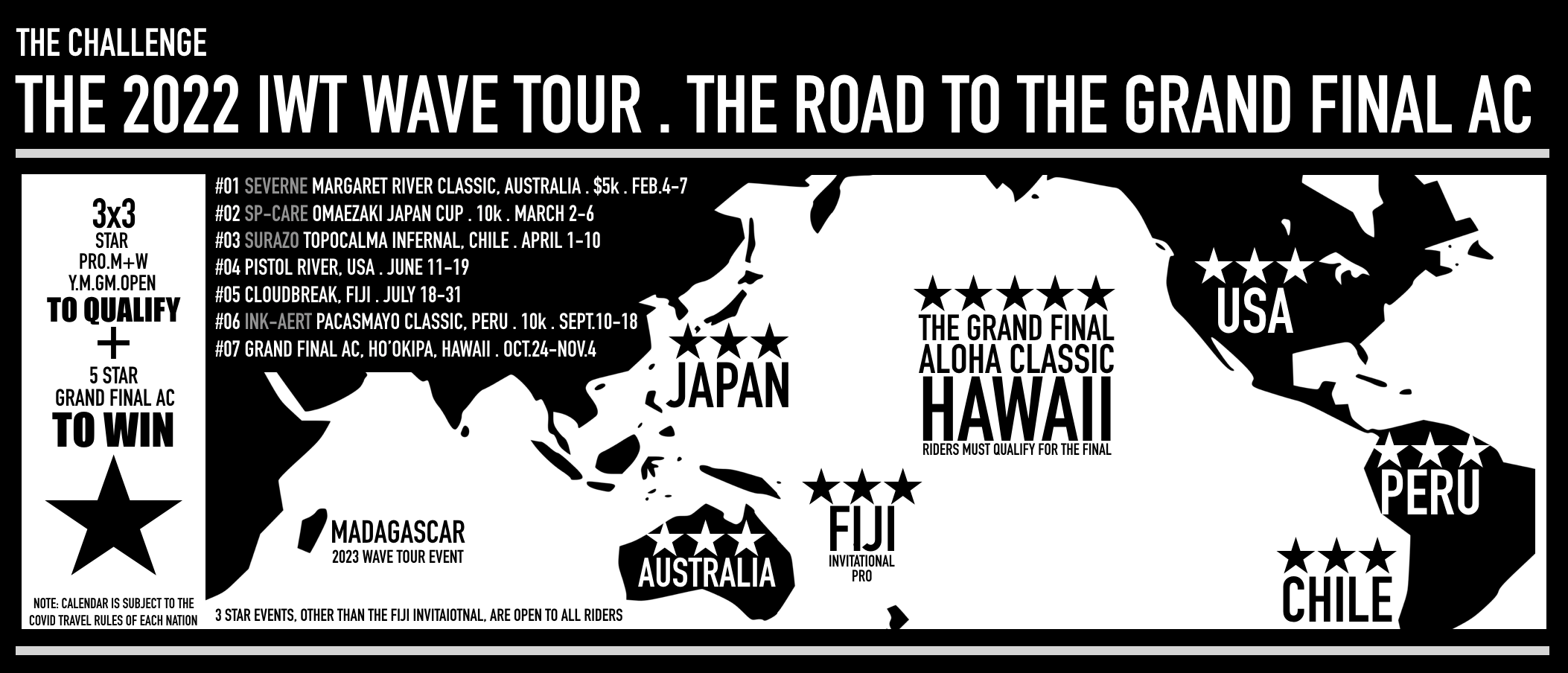 Points will be awarded in each event with the winner scoring maximum points. Winners will be awarded at each individual event and the overall tour champions will be announced at the ceremony following the IWT Grand Final Aloha Classic in Maui.
TIE-BREAK FOR OVERALL RANKINGS:
In the event of a tie in the Overall Rankings, if conditions and time allow, a one-heat sail off will be run. If conditions or time constraints do not allow the one-heat sail off, the tie will be broken by the rider placing highest in the final event: The Grand Final Aloha Classic. If the final event does not happen due to conditions, the tie will be broken by the rider placing highest in their previously dropped IWT Wave Tour event that year.
WAVE PRIORITY:
The rider with priority is the one who is 'first to be propelled by the power of the wave'. Other riders in the heat can go for, and catch, the same wave, but only if they do not hinder the scoring potential of the rider with priority. A rider loses priority once they go for but miss or pull out of that wave.
INTERFERENCE
A rider who hinders the scoring potential of another rider with priority over them will be given an interference penalty. In most situations, this means that their heat score will be calculated using only their best scoring wave. If a rider causes two interferences during a heat they will be disqualified from the heat.
HEAT RESTART:
If no one catches a wave during the first 10 minutes of a heat then the Head Judge has the power to restart the heat.
ANTI-DOPING POLICY
The IWT's Anti-Doping Policy is based on the WSL policy. The policy covers use of both performance-enhancing and illicit substances and applies to riders and their support staff. Dietary supplements may contain prohibited substances and cause a positive drug test. IWT tour staff are also bound by the Policy.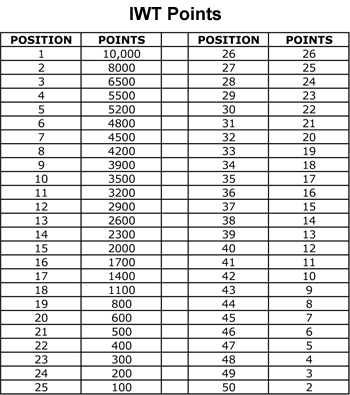 TOUR NOTES:
General Note: Throughout the Wave Tour, the judges and the IWT organization reserve the right to change and update the judging criteria according to feedback and evaluation of heats, rider comments, sponsor feedback and more.
DNS: In the event of an athlete entering and attending an event, but unable to sail, will receive a Did Not Sail (DNS). A DNS is number of competitors entered plus one. The best possible ranking for DNS is 8th place.
DNF: If an athlete starts a heat, but is injured or has to withdraw from the event, he/she will be awarded a Did Not Finish (DNF). The rider will receive points earned up to the moment of withdrawal.
Incomplete Event Points: Only completed rounds will count toward overall points.
Incomplete Event Points: A minimum of one completed round is required for points to be earned at an event.
Prize Money and Trophies: division winners must attend the closing ceremony to be guaranteed prize money and trophies.
Filling A Spot in the Bracket: Before round three, if an advancing rider drops out of the event, the spot may be filled at the Head Judge's discretion. Most often this would be done using an extra heat of top people cut from the previous round.
Event Cancellation: In the unfortunate circumstance that an IWT event has to be cancelled, due to unforeseen circumstances such as this the current Covid-19 crisis, then any registered rider is entitled to a refund. The IWT reserves the right to withhold 5% of the original transaction to help pay for credit card fees and non-refundable costs incurred by the IWT. If a rider wishes to extend their registration to a different event, or the same event in the following year, he/she is welcome to do so at no additional cost.
END.