September 12th-15th, 2012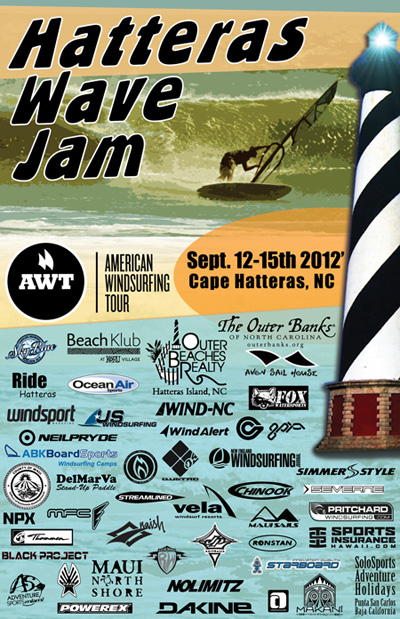 Cape Hatteras, NC is the US East Coast premier wavesailing destination. The chain of barrier islands off the North Carolina coast provide the perfect playground to find ideal side-off wavesailing given the predominant NE/SW wind directions. Coupled with long period swell generated during the annual Hurricane season, Cape Hatteras is the wave magnet for world class conditions during the prime tropical wave season.
Recent wave/ocean windsurfing contests began annually along the Outer Banks (OBX) in 2008 with the original Hatteras LoopFest/WaveFest. The events were very "grass roots" with primarily local participation, organization, and a handful of windsurfing industry sponsorship support. In 2009, a focus was set on wave sailing with event windows scheduled throughout the Spring, Summer, and Fall. Participation grew along with sponsorship support. Conditions for both the 2008 and 2009 events scored and the stoke was high for follow on contests and gatherings centered on entry into the Atlantic Ocean and Hatteras wavesailing. In 2010, the event was refined, condensed, and organized to run during the prime tropical wave season. Sponsorship support was strong both from the windsurfing industry as well as local business, and riding on the adrenaline high success from Pistol River Wave Bash, Hatteras Wave Jam was set to score as well! The 2010 event boasted the strongest participation level running, and included both daily water action as well as nightly gatherings and activities. Hatteras Wave Jam 2010 was the late summer/early Fall highlight of the Hatteras 2010 windsurfing year!
Unfortunately Hurricane Irene hit Hatteras just before the contest dates in 2011 closing the roads and canceling the contest.
For 2012, Hatteras Wave Jam should be an excellent Tour stop for the American Windsurfing Tour. Prime wave conditions are likely to fire providing some of the best action found on the US mainland. Definitely a Tour stop not to miss!
Traveling to Hatteras:
Nearest Airport: Norfolk International (ORF) – Recommend van or 4wd SUV rental for the 2.5 hr drive from the airport to Avon, NC.
Directions: MapQuest ORF Airport to Avon, NC
Travel Tips: September provides summer like warm weather/water conditions. Likely trunks only or light springsuit/neoprene top. Weather is either beautiful or Hurricane nasty in Sept. Ideally, a hurricane may be out there but way offshore with no chance for a brush by or impact. This set up will only provide excellent swell and perfect weather.
Wavesailing Conditions: Sept offers long period tropical swell predominantly SE swell. Winds may be light from the SW or NE in the upper teens, low 20s mph range. Bring floaty board and light air wave sailing kit. Extra masts are advisable due to challenging conditions getting out, but on the plus side, there are numerous windsurfing shops located in Avon to replace broken equipment if experienced!
Also, be sure to bring plenty of sunscreen!
Water conditions include miles of sandy shoreline, and sandbar only breaks. No rocks or cliffs to contend with. If you wash in a mile down the beach, no worries other than the gear hike.
Water temp is warm in Sept and averages in the mid 80+ degrees! Air temps average in the mid 80s as well.
Event locations usually recommend 4WD access, though there will be plenty of participants with 4WDs so if you need a ride, someone will be able to haul you out to the beach. Also, there is ample paved parking with a gear hike of usually less than a few hundred yards to the water.
For questions regarding the Hatteras Wave Jam 2012, contact Bill Bell at: obxbill@gmail.com
-Words by Bill Bell
Mahalo Sponsors