About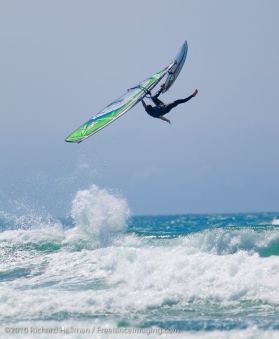 Announcing the 2015 American Windsurfing Tour:
New for 2015 we have added the Goya Cabo Verde Pro to the Tour (24th Feb. to 8th March). Huge thanks to Goya for taking the lead in sponsoring this special event. The Goya Cabo Verde Pro is located at Ponta Preta on a small island (Sal) off the West Coast of Africa. We are very excited to have a new event at one of the top wave-sailing destinations in the world.
Following Cabo Verde will be Santa Cruz (4th to 7th June).
Straight after the Santa Cruz Goya Windsurfing Festival we will all pile into our cars, and make the road trip north up to Gold Beach, Oregon for the Pistol River Wave Bash (11th to 14th June).
After a bit of break, we will reconvene for another trip to Baja San Carlos (1st-8th August). The Baja events have been special contests with an intimate group of 50 competitors. Book early to reserve your spot. Punta San Carlos boasts some of the most incredible waves on the planet, perfectly formed and easy to exploit. Baja is the home of SoloSports which offers an amazing experience for the extreme sports athlete; bike, SUP, surf, run in the morning, and then windsurf until dusk with a hot and healthy meal and ample Baja Fogs waiting for you. Many also choose to camp and experience the full desert experience sleeping next to the famous break. If you are looking to do Baja on a budget and don't have people to go with, do get in touch and we'll put you in contact with others who are looking to do the same or those with advice on surviving the trip!
Shortly after Baja, we will be heading to South America for the 4th annual AWT Pacasmayo Classic in Peru (23rd to 29th August). Competitors will be hosted by Jaime at El Faro Adventure Resort, which is one of the major sponsors for the event. Those looking for the longest waves in the world and a unique cultural opportunity should reserve their rooms now at a special AWT rate. The cost of the overall trip is actually very reasonable.
September brings our East Coast event, the Hatteras Wave Jam. Hatteras can deliver both port and starboard tack wave sailing and a range of wind so bring your big boards. For those of you who have not made the trip East you might be surprised to hear that the water is actually the warmest spot on the Tour, yes the water is warmer than Maui and the waves are beautiful!
The final event of the year is the infamous Aloha Classic on Maui at Ho'okipa Beach Park (28th Oct.- 10th Nov.) We look forward to seeing many returning faces this year, and lots of new ones!