Event organizers made the call for a lay day today, Monday, November 2nd as the swell has diminished and no strong winds forecasted. Another swell is expected to fill in later in the week accompanied by suitable wind, so we are expecting a lot more windsurfing in the coming days. The AWT Amateurs, Youth, and Masters are on for a skippers meeting on Tuesday, at 10:30AM, with the Pro Men and Women released for the day.
Since there is no windsurfing competition to report on, we would like to take this time to talk to some of the riders and sponsors on the beach, who have made this event possible. First, it seems pertinent to fill you in on our new friends at 99 NoveNove, the title sponsor of the event. I had a chance to chat with Cesare Cantagalli who is a founding partner of the company and came to Maui for the event.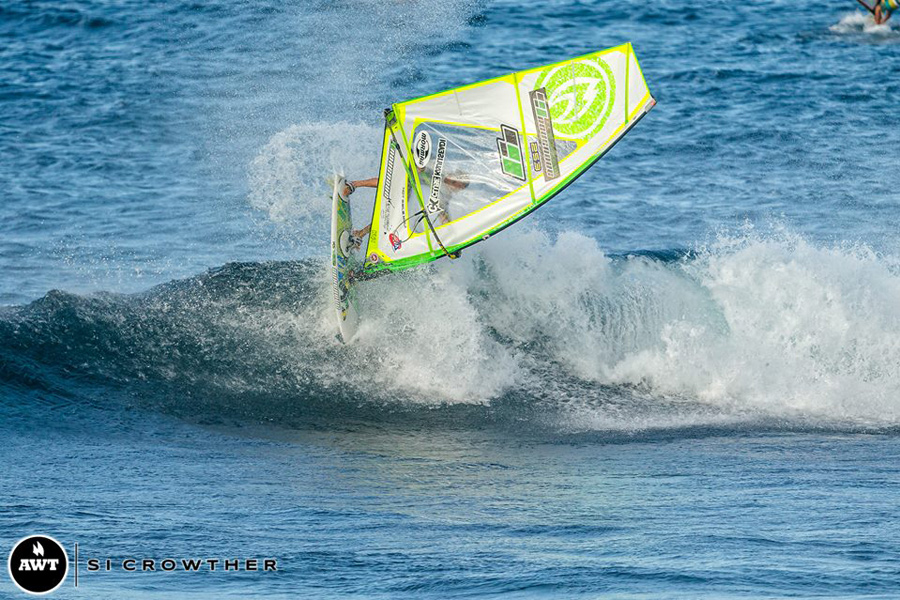 There is quite an interesting history with the Italian board company that is worth sharing. First off, the name: Cantagalli is a storied PWA wave sailor and his sail number was I-99. When he got involved making boards in 2008 it seemed like a great way to commemorate his days of completion by naming the company NoveNove (9-9 in Italian).
Now, why the Aloha Classic? Cantagalli has a unique history with the Maui Aloha Classic. He introduced the first forward rotation in a contest, now known as the Cheese Roll, back in the 1986 Aloha Classic. No one had ever seen such a move, let alone done it in competition, but he accomplished both. With this history and a new board company, Cantagalli was excited about the opportunity to participate in this event alongside the AWT and the PWA. Bringing these two great windsurfing entities together is good for the sport. Not to mention the impressive media attention the Aloha Classic draws and the opportunity to introduce NoveNove boards to a US market. Lastly, as a wave sailor, Cantagalli can appreciate the true essence of wave sailing provided by Ho'okipa.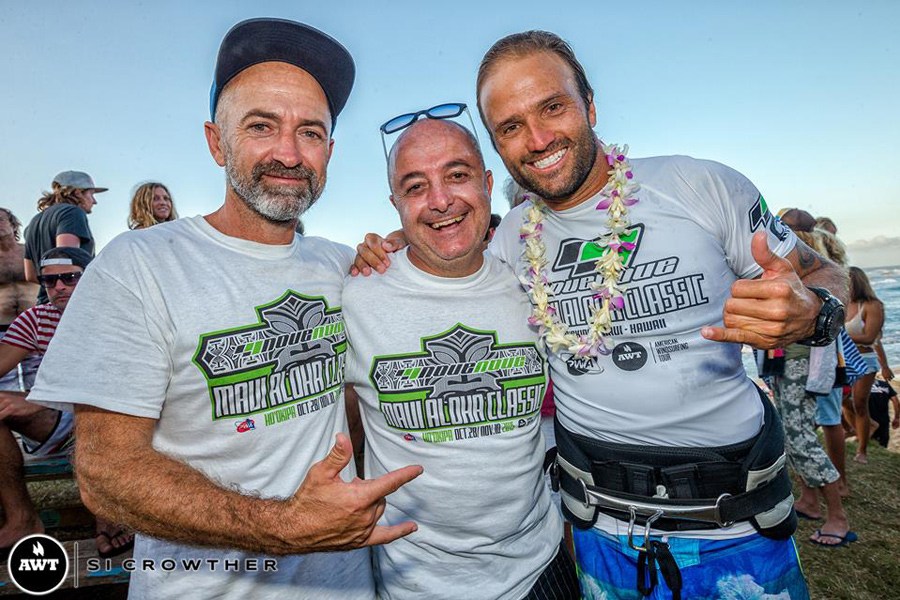 NoveNove is also being represented by several team riders in the Maui Aloha Classic this year. Most notably, Kauli Seadi rides the 99 boards, and he finished 2nd in the single elimination. He has been sailing really well and is guaranteed a podium spot, but will be gunning for Noireaux in the double elimination final rounds. Also sailing well is the young gun, Marc Pare Rico. He has put forth an impressive effort, and at just 17 years old is sure one to watch in the future. On the women's side Amanda Beenen is riding NoveNove boards and sits 4th on the PWA tour rankings.
If you have not done so already, head on over to www.99novenove.com and see what they have to offer.
Another brand with an interesting historical perspective on windsurfing and the Aloha Classic is Dakine. Dakine has done wonders for the windsurfing community over the years. Even after expanding the company to lead the charge in industries such as skiing, skate boarding, and mountain biking, they are always the first ones to jump on board with a windsurfing event when given the opportunity. We had a second to catch up with Dakine Windsurf Sales Manager, Bill Morrissey, and get a little perspective on the Aloha Classic: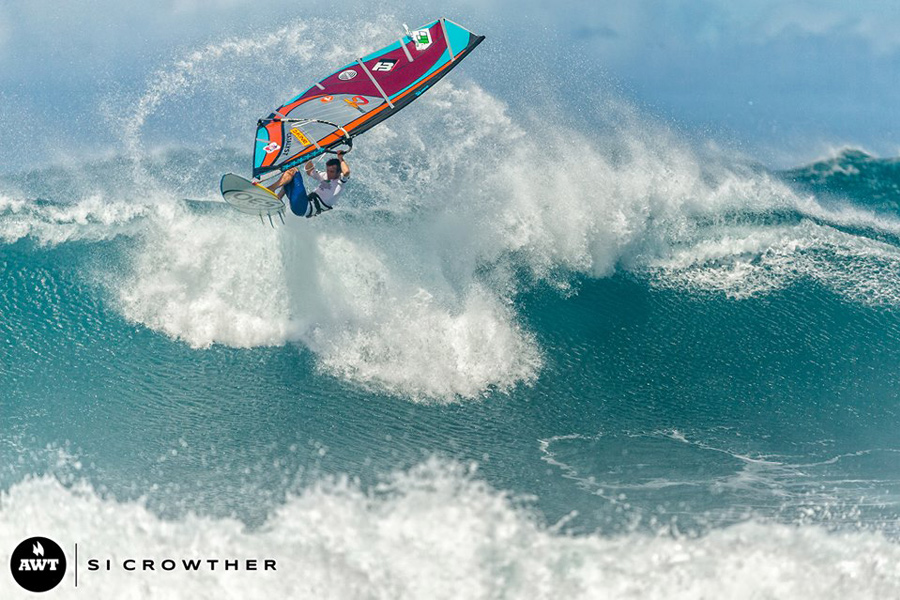 How long has Dakine been a part of the Aloha Classic? Probably since its inception, but back in 1997 or 1998 the Aloha dropped out and Dakine picked up the spot and kept the event going. It was called the Dakine Classic Pro/Am. After a couple of years of Dakine running it the PWA jumped back in. The Aloha Classic has to be the longest running professional wave event in the world.
Dakine is so great at supporting the AWT in general. Why do you feel it is important or necessary to do so? Wave riding in windsurfing is by far one of the most exciting and visual sports out there and we need to keep it alive. As the only remaining windsurfing wave series in the US, there really needs to be venues across the country for wave riding windsurfers to show off their skills. Sam Bittner has done an unbelievable job allowing for this to happen. Without her determination and drive the only wave riding event in the US would probably be the Aloha Classic on Maui.
Dakine has been a part of windsurfing since the beginning. Can you tell me a bit about Dakine's relationship with Maui and Ho'okipa? Dakine's windsurfing roots are on Maui and more specifically at Ho'okipa. Back in 1979, owner Rob Kaplan would walk the beach with prototype foot straps (today's Primo Strap) and hand them out for free to sailors, getting feedback and seeding the sport with the Dakine name. To this day, the Dakine name continues to be synonymous with great windsurfing products; the only difference is Rob's not down there handing out the free stuff anymore.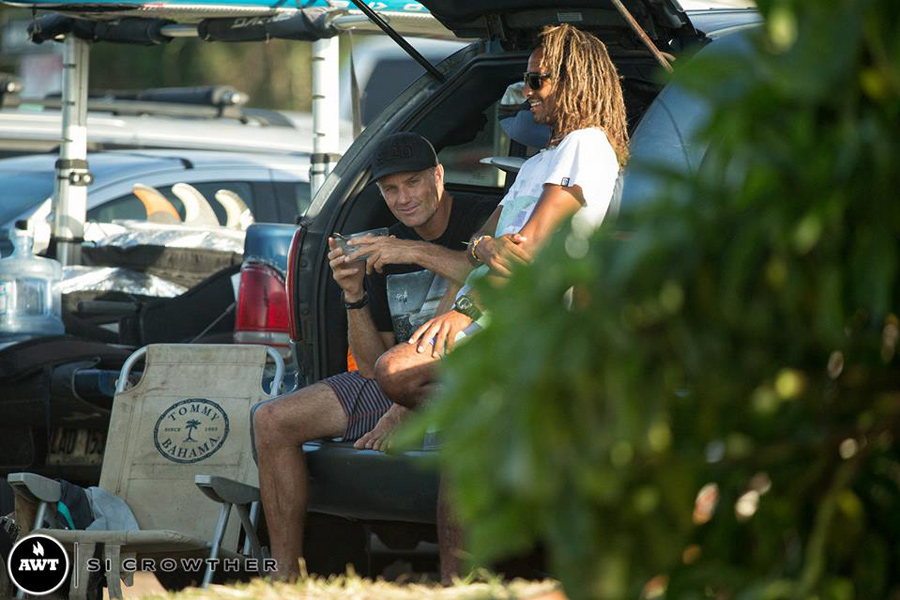 Dakine is such a powerhouse when it comes to windsurfing gear and accessories. What are one or two windsurfing specific products that you are excited about now? Our new hybrid NRG, a lower profile harness that delivers great back support with an internal support structure really sold well at Surf Expo and will be available soon. The T-7 Thermo Formed harness is the latest in the Thermo Form collection. Dakine pioneered the Thermo Form harness process back in 1979. This process is now used by every harness manufacturer out there. The T-7 with its sliding spreader bar continues to be our bestselling windsurf harness year after year: great styling with great support, and comfort.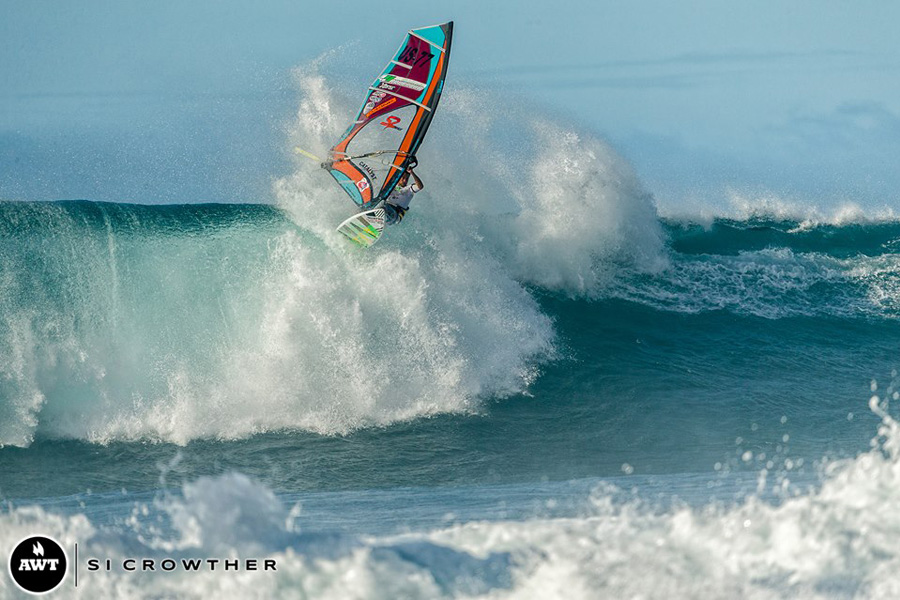 Dakine athlete, Kevin Pritchard has some work to do to clinch the AWT title. Do you have any words of encouragement for him? Kevin is the ultimate true professional and an incredibly gifted athlete. He's been in this position before and knows what it takes to battle back to the finals to win the overall. He's got the whole Dakine family behind him wishing him luck. Other than that, more downhaul and less outhaul in those light conditions!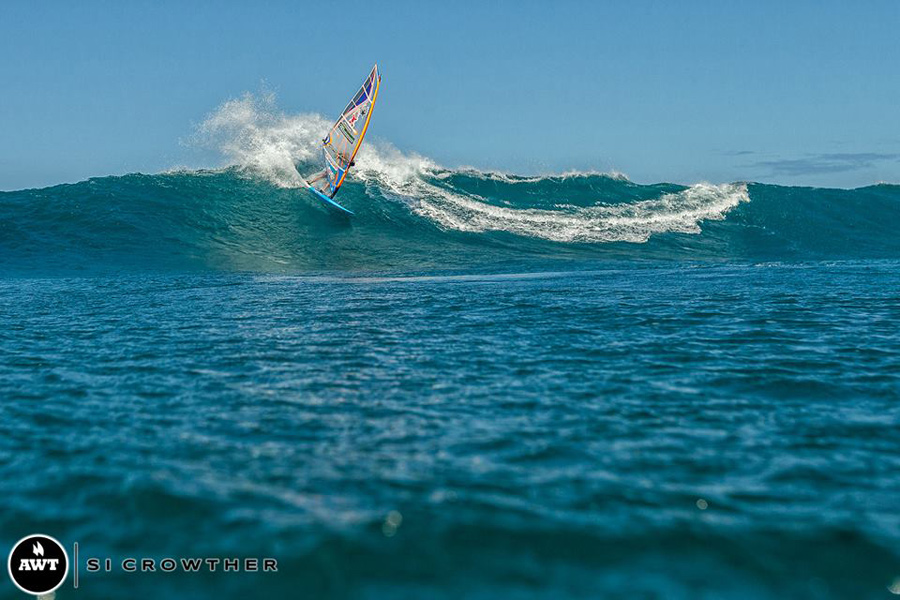 Big thanks to Dakine and NoveNove for being a part of this wonderful Maui Aloha Classic. Stay tuned to our live feed at AlohaClassicMaui.com to stay up to speed on all the action and keep an eye out for our next daily recap.
**Full photo album and video recap posted on our Facebook page.**
**Tune into the live stream at AlohaClassicMaui.com/live.**
Stay tuned to our Facebook, Instagram (@americanwindsurfingtour), and Twitter (@windsurfingtour) pages for up to date information and exciting news about the 2015 NoveNove Maui Aloha Classic!
A huge thanks to the Maui Visitors Bureau, Nalu Kai Lodge, and all of the other sponsors listed bellow. Please check them out and thank them for their support if you have the chance.