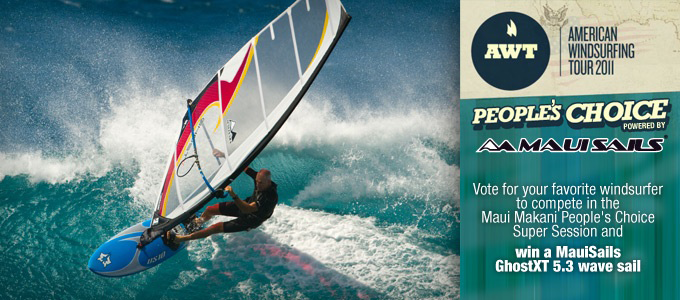 American Windsurfing Tour Special Event
Be the Maui Makani Classic People's Choice Champion
The American Windsurfing Tour is launching a special People's Choice event at the Maui Makani Classic event Oct 20-Oct 30. Five riders will be selected by open voting to compete in a Super Session Final on October 30th, which will be judged directly by the fans in attendance. The winning rider gets a package deal consisting of the following: 2012 American Windsurfing Tour Event Registration, Dakine Wheeled Duffle, Chinook Pro 1 Carbon Boom, Afternoon Hookipa Photoshoot with High Res. DVD by Jimmie Hepp and the coveted title – Maui Makani People's Choice Champion.
How do I enter?
If you're registered to ride in the Maui Makani Classic you are already entered.
Where do I cast my vote?
Go to http://www.internationalwindsurfingtour.com/ and look for the voting widget on the home page.
How can I compete in the Final?
The top 5 vote-getters participate in the Super Session. Encourage your fans, friends, and family to visit the website and cast their votes for you. Leverage your social networks by sharing the link on Facebook and Twitter.
Your fans can win too
The American Windsurfing Tour is also conducting a fan giveaway. Every fan that visits the Prize screen and clicks the "Share to Win" button will be entered to win a MauiSails Ghost XT 5.3 Sail – go let your friends know to vote for you!
If you have any questions or need more information please contact: kgaree@uifoundry.com
Good luck – and we'll see you on the beach!