We asked for a few windsurfing shots from Brian, and he dug up some classics.  Brian Caserio is the latest "Rider of the Week".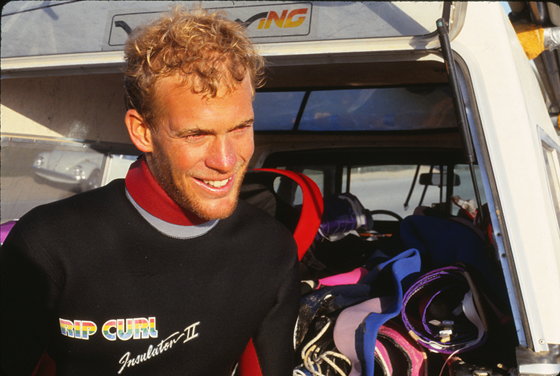 I am originally from Laguna Beach, CA.  I graduated from high school in 1980 and moved to San Luis Obispo to attend Cal Poly.  The surf blows out at 9 AM in the spring in San Luis Obispo so I started windsurfing in 1982 when I was 21,  started wavesailing in 1983, started competing in 1984 at the California Surfsailor's Tour, turned pro in 1986. I graduated from Cal Poly in 1985 with a degree in Architectural Engineering, but became a pro windsurfer instead.  Mom must've been so proud.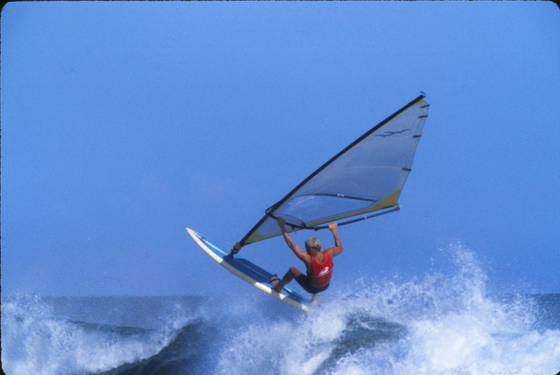 I competed professionally in all disciplines for about 10 years.  Once the writing was on the wall with all these young hot-shots like the Pritchards beating me all the time I started shooting video.  I produced my first windsurfing video in 1992 called Wind Obsession, thus my business Side-Off Video was born 20 years ago this spring.  I have produced several windsurfing and kiteboarding videos since then both action and instructional, but the production side of things has fallen off recently so my main business is video distribution, which is also falling off due to the internet age.  I also build underwater camera housings.  I shoot more still images now than video.  It has been a struggle to stay in the wind industry all these years, but I'm still here, with countless epic waves under my belt that I likely couldn't have gotten any other way.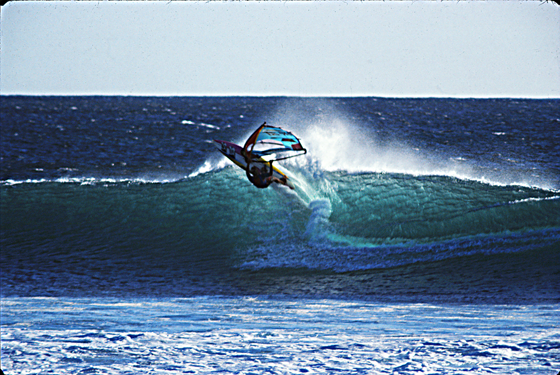 Currently I live in Cambria and my 11 year-old son Spencer takes up most of my time.  He is just learning to windsurf.  I mostly kiteboard now, but still have ties with Jeff Henderson at Hot Sails Maui, my long-time windsurf sponsor.  I ride some old Starboards that are somehow still holding together that I got from Kevin Pritchard.   I competed in the Master's division of the AWT at Santa Cruz last year.  I was also a judge.  My favorite part of doing the contest was seeing the old guard and the new guard connect for the first time in a competition setting.  That was something that was very close to being lost.  For 2012 I suppose I am going to have to try to defend my title.  I just hope I don't have to jump, because, well, no one wants to see that, especially my knees.

Words of wisdom:  Life is nothing more than a continual cycle of preparing for and recovering from Baja trips.