REFLECTING ON CHILE and the Growing Impact of the New Unified PWA IWT Wave Tour.
Leon Jamaer wrote in SURF Magazine this week that he thinks Chile's Surazo Infernal was the first down the line left hand competition to count for the Wave World Title since Brazil in 2007. That may explain the hunger that fueled the much larger than expected turnout and the astonishingly high standard on display here at this 'little' 4 Star event.
Germany's 5 x World Champion Philip Koster and Australia's Jane Seman stole the show taking out Pro Men's and Women's divisions in powerful displays, but the depth and breadth of talent here is the big story.
41 Pro Men, 23 Open Am, 21 Masters, 5 Women, 5 Youth, and 3 Grand Masters, with a total of 75 heats, on 18+2 20 minute cycles for 75 x 20 minutes = 25 hours of wild competition to complete all divisions. Intense. Many big name riders struggled to make the top 16 in the pro men's bracket. Some didn't make the top 24. A few didn't even make the top 32.
There was shock on many faces as results were called out to the waiting riders on the beach, but that's life in this new bigger world of riders and events. If anyone thought Chile was going to be easy points they were sorely disappointed. Everyone was warned about how good the locals are, and there are a lot of them… not just Chile, but brilliant talent also poured in from Argentina, Uruguay, Brazil, the Caribbean and more. Riders are coming out of the woodwork for the exciting new Unified PWA IWT Wave Tour. That's the big story. Something started here… something big… something unstoppable.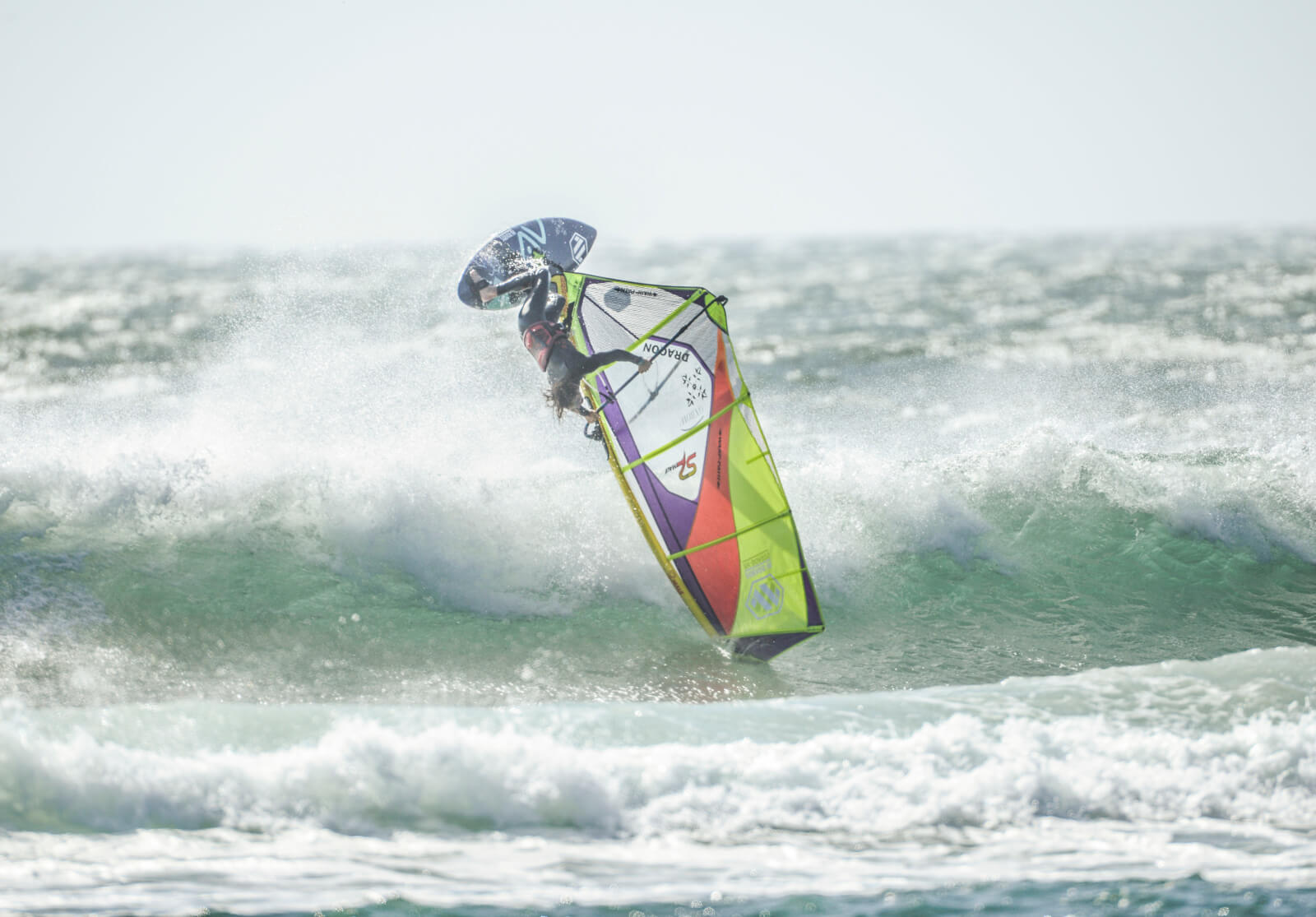 The 9 day event ran like a riders' dream, with wind and waves showing up right on cue to give us a complete set of results across all divisions: Men, Women, Youth, Masters, Grand Masters, and Open Am.
We marched through the comp as we ran with our standard wave riding heats running at 18 minutes with 2 minute transitions. That gives us a clean predictable 20 minute cycle that started on the hour, or on the hour 20, or the hour 40, for 3 clean rider heats per hour. Every rider sailed at least twice using the round one 'seeding round' and the round two 'redemption round' system like the WSL for surfers. 4 rider heats with the top 2 advancing.
All this is familiar territory for experienced IWT riders. We've found this is a great system for wave riding events but for jumping events we, like the PWA, reduce heats to 2 riders to ensure we see every single ride and jump in each each heat for scoring accuracy. This was a full wave riding only event so we went full WSL.
The men's final was a terrific showdown between diverse riders. Philip Koster 6 foot 2 and 210 pounds of raw power combined with his extraordinary control, power and precision. Camille Juban 5 foot not much and 140 pounds wringing wet combined with his riders' flowing style always searching for the ultra critical lip crack and launch moments. Julian Salmonn 6 foot lots and lean build was hunting for bigger waves for his radical hard carving and long aerial style. Baptiste Cloarec 5 foot something, maybe shorter than Camille and similar weight, is utterly electrifying to watch because he's totally NUTS!!
The Women's finals were dominated by Australia's Jane Seman. She won three from three finals with power drive riding, and down the line aerials. Left hand wave riding is this woman's specialty. Harking from Western Australia and calling mighty Margaret River home, she's very hard to beat in conditions like these lefts. The battle for second place was close between local living wild women Björte Pürschel originally from Germany and Carolyne Vita originally from Canada with a 2 to 1 final result going to Björte by a whisker.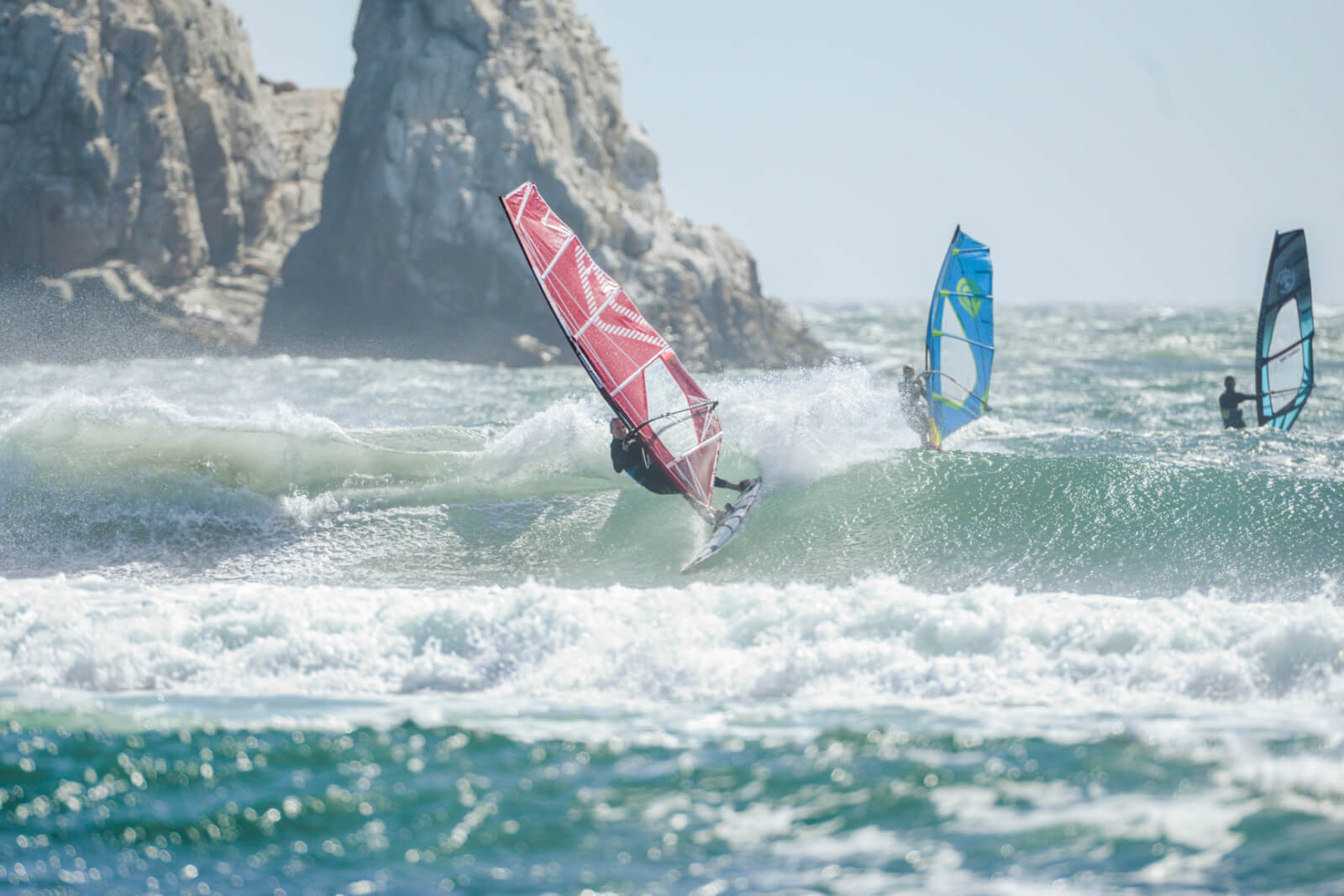 The Youth division was dominated by Spain's Liam Dunkerbeck despite very impressive opponents, Japan's Hayata Ishii and Chile's own Iñaki Maturana and Jose Fabres. Liam has an impressive mindset. He's a non stop cheeky kid on the beach always up to mischief but when it comes time to hit the water for a heat, this guy is all business. He smashes out wave after wave of power moves. One to watch. They all are.
The Masters field was crazy stacked and we went to Topocalma to ensure the challenge got very real. Three years of Covid and the bracket is suddenly full of pro riders cracking 45. As the perfect example, French now local legend Killian du Couedic came =7th in the stacked Pro Men's field and then 'only' managed 3rd in Masters!!! How's that! The de-facto leader of Chile's windsurfing community is the legendary Felipe Wedeles, and he shone brightly in the Masters final to take the high status title of Masters champion here in Chile. Second was Arnaud Frennet (=13th Pro Men). Argentina's Mariano Pecora took 4th despite very impressive sailing. Suffice to say the masters field is pretty epic high standard and seriously huge fun.
A big congratulations to the Grand Master riders (55+) who competed in Masters and showed up many of the younger souls. Spain's Michael Friedl, France's Nicolas Recordan , and Australia's Olly Barta. Hats off to these tough old bastards. They are bloody good and they show so much grit to keep pushing this hard. Very special congratulations to winner, Friedl who ended up =7th in Masters and 2nd in Open Am. Impressive. He threw down the gauntlet while laughing over a beer afterwards and challenged all Masters to come try and beat him on Gran Canaria…. We've seen the videos… yikes this guy is good! The overall Masters World Title is going to be an incredible battle.
The Open Am division was also huge with talent from all over the world and with a final four who would have all made a respectable showing in the Pro fleet. Franky St Martin from Argentina took the title after a fierce battle in Topocalma's long lines. Spanish Master and Grand Master and serious danger man Michael Friedl stormed in for second. Tato Octavio Caravalo picked up third and ripper Juan Ignacio Marisio brought up 4th spot in the hotly contested final. Big respect to Franky and Tato for being excellent judges for the Pro field days.
All riders here in Chile showed moments of pure brilliance and all have hearts full of passion, drive and aloha. They had the stoke and they brought their best good vibes which matters so much to the way the sport is perceived. Every single rider deserves high praise for great spirit.
Watch the videos, check out the shots, the performance level had the beach crowd in raptures as they cheered and whooped and hollered for more.
One thing is sure, the wave riders of the world are showing up to rip the worlds best waves and they love this.