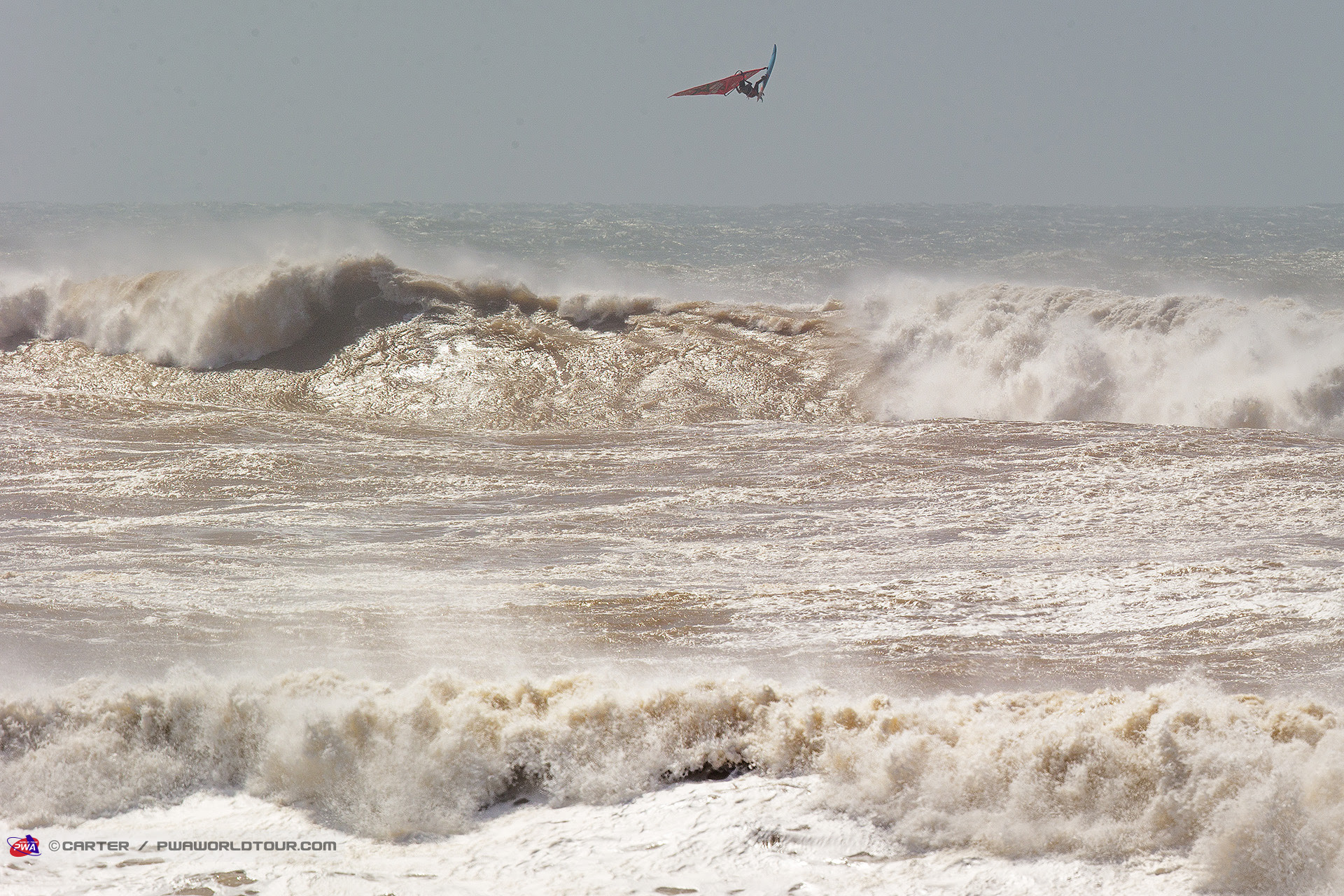 Day 9 of the 2018 Morocco Spot X had been billed as big Wednesday and it certainly more than lived up to expectations, but it was too big if anything with Moulay looking fully out of control, which led to the women being released shortly after noon.
Despite the massive swell, which saw the waves breaking for as far as the eye could see, Lena Erdil (Starboard / Point-7 / AL360) bravely grabbed her equipment and headed for the water, while she may not have made it out back it was still a ballsy move, which eventually tempted a few of the other women out on to the water to play around on the inside for an impromptu jumping session.
Once the women were released, local hero Boujmaa Guilloul (Starboard / Severne / Mystic / Shamal) waited for the tide to rise before heading out to put on one hell of a show for everyone on the beach, as the Moroccan used his extensive local knowledge, while riding his luck at times, to hit some monstrous sections and launch into a truly rocket air! Guilloul admitted he wasn't sure whether to turn around or to hit this double mast high ramp, but once it didn't break he decided to embrace the fear and launch into a massive jump as he stole the show for the day!
With Guilloul heading out on the water Brazil's Edvan Sousa (Flikka / Severne) and Guadeloupe's Antoine Martin (NeilPryde) – who won the Pro Men division – were also tempted out on to the water. Sousa gave a jumping masterclass with textbook backloops and radical one-hand, one-foot forwards, but never looked like he wanted to make it out back, while Martin couldn't find his way through the relentless whitewater avalanches, which stretched all the way to the horizon, which is perhaps testament to how impressively easy Guilloul made it look, while one of the best wave sailors in the world failed to make it out. Once Guilloul returned to the beach he was understandably fully pumped after delivering a world class display in truly gnarly conditions.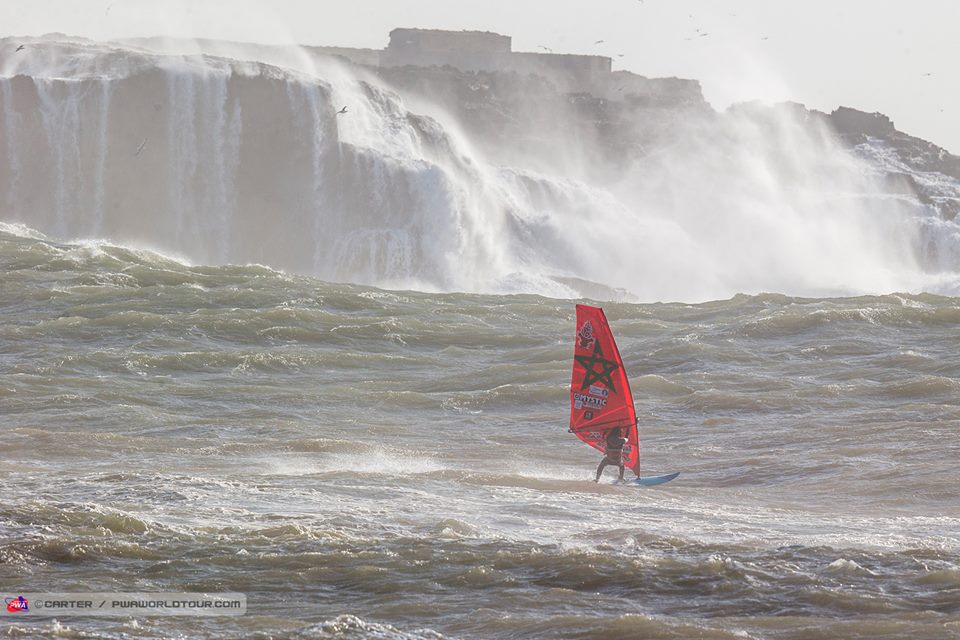 The women will meet again tomorrow morning at 9:30am for the skippers' meeting with the action commencing from 10am (GMT+1) onwards. The forecast looks as though the swell will drop slightly but it remains large (3.4m @ 15 seconds dropping to 2.8m @ 14 seconds during the afternoon). After speaking to the locals it seems that they rate the chance of wind tomorrow as 50/50, but realistically tomorrow may be the last chance to finish the double elimination with another big swell expected to hit Moulay's shores on Saturday.
Thank you to local event coordinator Boujmaa Guilloul and all our local sponsors in Morocco: MASEN, OCP, ONMT, Sultan, redbull, Easyjet, Seat, Essaouira Lodge, Beach and friends, Relais de Paris, Medina M Gallery, Sofitel Essaouira, Ain Atlas, Quadran Maroc, Dolce Freddo, Magic Fun, Ozo Club Lounge