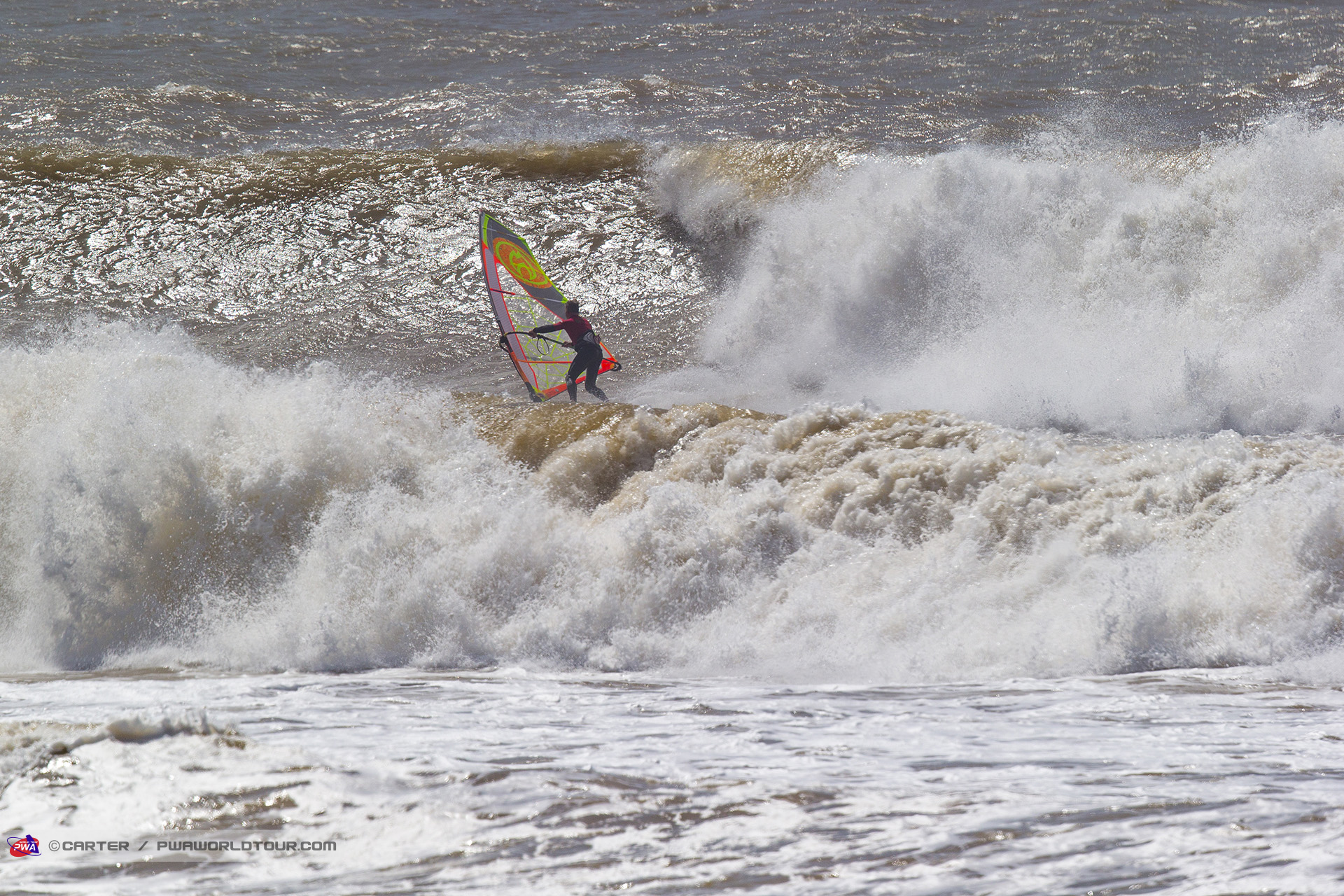 Simeon Glasson
The swell was forecast to drop slightly from yesterday on day 10 of the 2018 Morocco Spot X event, but while the swell may have been slightly smaller, the conditions were still extremely tricky and daunting with light winds and big, heavy closeouts making it a brave decision to venture out.
During the morning, a few sailors headed out but had varying degrees of success. With the tide on the push things seemed to become ever so slightly easier and Marine Hunter's (KA Sail) perseverance eventually paid off as she made it out back. The 25-year-old had this to say upon returning to the beach: "It was really, really scary, so I spent most of the time just free riding between the sets. I didn't take any risks and I stayed out the back for a long time with the other guys who were out. I spent one hour just trying to get out, but eventually, I found a gap between the sets, but once I was out I was just like I'm staying out here! No doubt the biggest conditions I've ever sailed in."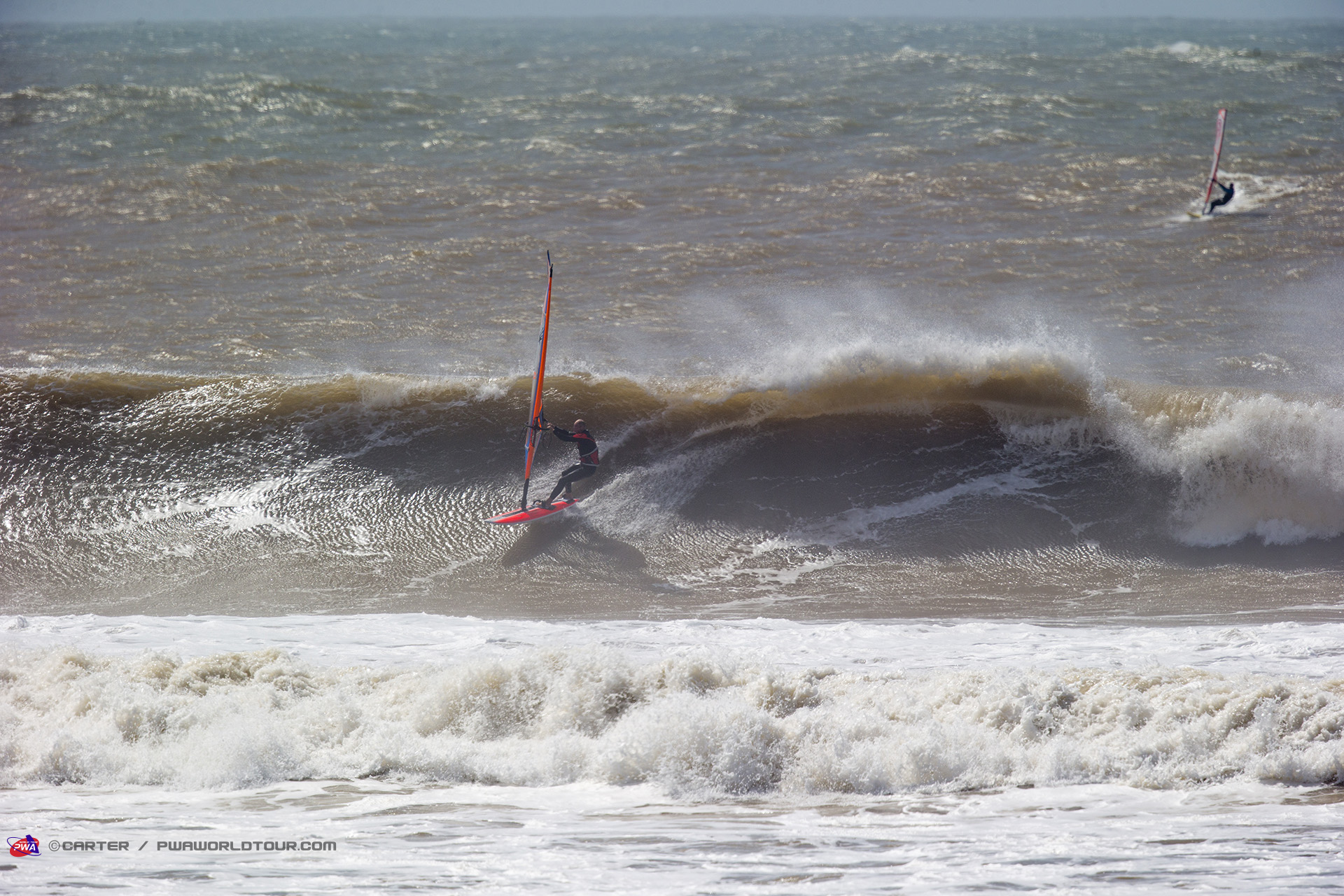 Erik Priester
Late in the afternoon both IWT Masters, age ranging from 45 to 55, decided to brave the elements and commence heat 2. Erik Priester had been warming up for an hour before the heat began fatiguing his energy slightly while Simeon Glasson was fresh and wowed the judges and crowed alike with his first wave of the heat with massive top to bottom turns blasting down the line on a very well chosen wave earning him high scores straight off the bat. Erik Priester caught a wave soon after but did not score high enough to match Glasson's impressive first wave. Priester found himself caught on the inside as a mammoth set came in filling the horizon with white water. The top of Glasson's sail disappeared on the horizon between waves then reappeared on yet another king sized wave earning him two solid wave scores while Priester's attempts to reach the outside proved unsuccessful. The two very talented men are now tied in the Master's division with one win each in the first two heats. If conditions allow, the men will sail off in a final on Saturday.
Marine Hunter
After a long day of waiting for the women, the decision was made to try and begin the double elimination with Heat 24, which featured Annamaria Zollet (Hot Sails Maui / AL360), Maaike Huvermann (Starboard / Severne / Maui Ultra Fins), Caterina Stenta (RRD / RRD Sails / Maui Ultra Fins) and Aurora D'Apolito (Flikka / Severne).
Huvermann, who is the women's vice-world champion, made a bright start to the heat as she looked to improve with almost every wave and she was a little unlucky to see the heat cancelled when firmly in control of the heat. The 20-year-old quickly earned scores of 6.5 points and 7.62 points after showing excellent wave selection and execution.
Maaike Huvermann (Starboard / Severne / Maui Ultra Fins): "I had a lot of fun, but it was big and quite scary at times, but it gets your heart pumping. I didn't actually realise that the heat was cancelledas I was swimming for my gear, but as soon as I got to it I was like 'ah what', but it was definitely a lottery in getting out. Once I lost my gear I had a bit of time to take a couple of breaths before the next wave hit, but I've never been washed like that… I wanted to come up for air, but just had this current holding me down."
Current youth world champion – Nicole Bandini (Fanatic / NorthSails) – showed no fear today as she navigated her way out back almost immediately this afternoon and her bravery was rewarded as the young Italian caught a massive bomb.
Meanwhile, Lena Erdil (Starboard / Point-7 / AL360) was another sailor who was persistent in her efforts and eventually made it out after hours of trying.
Maaike Huvermann
A lay day has been called for Friday with virtually zero wind forecast. The skippers' meeting for Saturday will be confirmed tomorrow and that will be the last chance to finish the double elimination. The current forecast for Saturday has a new long period swell – 3.1-3.4m @ 16 seconds – with light to moderate northeasterly winds.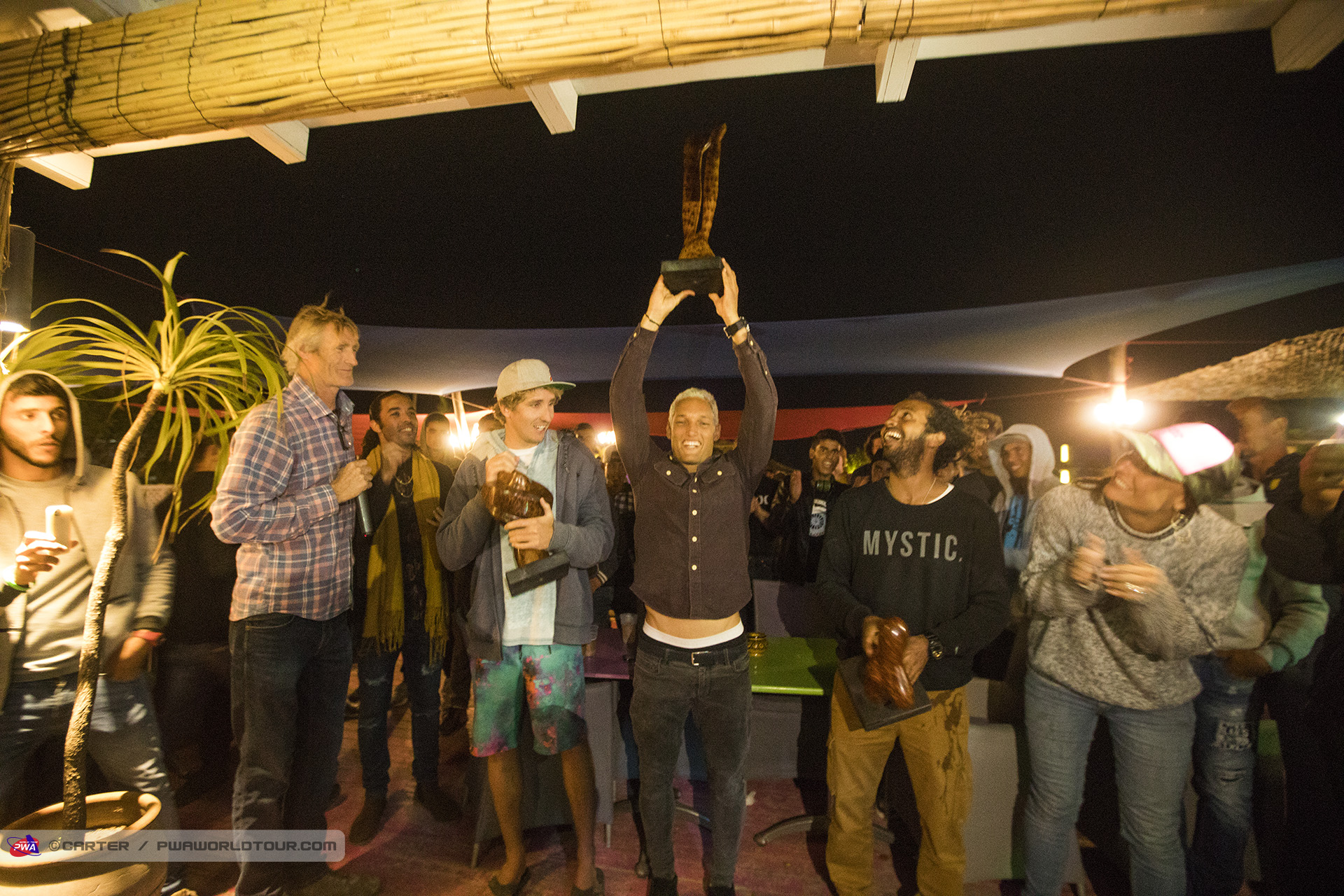 Pro Podium from left: 2nd Morgan Noireaux, 1st Antoine Martin, 3rd Boujmaa Guilloul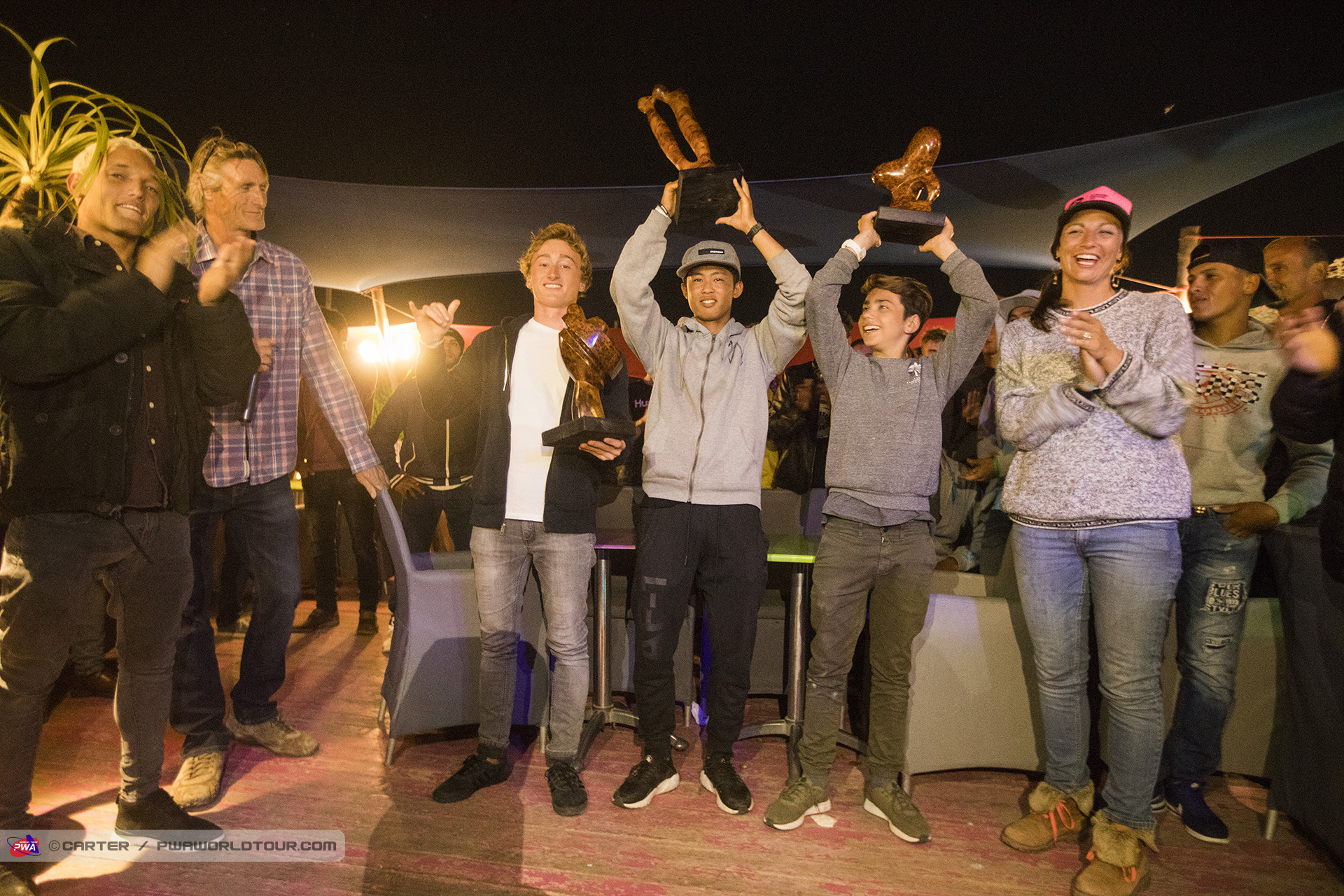 Youth Podium from left: 2nd Alex Grand-Guillot, 1st Takara Ishii, 3rd Jahden Tyger
Thank you to local event coordinator Boujmaa Guilloul and all our local sponsors in Morocco: MASEN, OCP, ONMT, Sultan, redbull, Easyjet, Seat, Essaouira Lodge, Beach and friends, Relais de Paris, Medina M Gallery, Sofitel Essaouira, Ain Atlas, Quadran Maroc, Dolce Freddo, Magic Fun, Ozo Club Lounge