With a lay day being called we caught up with event organiser Boujmaa Guilloul (Starboard / Severne / Mystic / Shamal Sunglasses), who is following in the footsteps of the Moreno twins and Dany Bruch (Flight Sails / AL360 / Shamal Sunglasses), who have also organised events as sailors in Gran Canaria and Tenerife, respectively:
Boujmaa Guilloul on bringing the PWA to Morocco for the first time in history:
"For me having a PWA event here in Morocco is something that should be almost natural as Morocco has the potential to host all kind of world cups – specifically talking about windsurfing and specifically in Moulay & Essaouira there is plenty of wind and you have amazing conditions so consistently. You can see the potential that it has so easily. We have everything you need here to hold world class events and I think the Government and the local people are really happy and really honoured to have a PWA event in Morocco for the first time. I think it should become a consistent event that appears on the calendar every year and I hope the Government will follow my aspirations and I hope the local people get behind the event as well. I hope this becomes a positive development of the country and that we can really create a positive movement. That's the way I see it.
Boujmaa Guilloul
In terms of tourism, I think there's huge scope to develop the sports tourism with windsurfing. The beauty of Morocco is that it has a year round climate with year round conditions, so for windsurfing holidays its perfect. The best months for windsurfing I would say would be the 6 months between say March/April until September/October. It's windy almost everyday, so it's certainly a destination to look at and it should be a beautiful journey to watch. I believe Morocco can develop a huge sector through sports, watersports and specifically windsurfing."
You've obviously been working hard behind the scenes. What's it like to switch from sailor to event organiser?
I really, really questioned myself about why I am doing this… you know I still have fun windsurfing and I still have the hunger to win events and to compete and travel the world. I can still do it because of my sponsors – Starboard / Severne / Mystic – who support me to do just that.
Sometimes looking at the office job of organising an event I certainly questioned why I am doing this and there were times when I wanted to give up and call it quits. There have been moments when I was struggling to raise finances to make it happen and I almost gave up. At that point it really makes you think should I do this and why should I?
Even today I'm thinking I shouldn't do this again, this will be the last time, but at the same time if I don't do it, who else will? I see and believe in a positive future for Morocco and I want to see the next generation thrive and follow something/sports that are nourishing for the soul…
I can see it for myself… say for example I didn't windsurf and I just followed my childhood brainwashed thoughts… going the normal route of just school, degree and then into an office. That makes me think about what would've happened had I followed this route… would I still have the same mentality as I do now?
For me, with windsurfing, I completely discovered life in general. I see life in a very different way. There is a picture that I see and I don't think some people realise the opportunity we have to be so close to these elements – so much sun, so much wind, the ocean and the coastline, which bring waves and vibration and ultimately lots of energy. I think that we forget about this a lot and I believe in the spirituality of sports. Through ocean sports, I think you can link even deeper into spirituality."
What are your thoughts about Wednesday? There's some thinking that it could almost be too big…
"I think the forecast looks super good. I think it's the sort of forecast I was dreaming of when bringing the PWA here. I believe it will be solid for the girls, but I also know they are capable of performing and challenging themselves in such conditions. I know they will do it and I'm preparing my ski just to keep an eye on them and hopefully, that will give them more confidence. They will survive and there's nothing to be scared of. It's a good sized swell with plenty of wind to plane out and I just hope they choose the right kit setup you know… big fins, big boards and that's what you need for big wave sailing. I know a lot of girls who love these kind of conditions."
Will we be seeing you out on the water again?
"I really, really hope so. With JC being here that makes me want to go out on the water even more. I wish we could move to Essaouira and sail the slab in the harbour, but if it's not big enough then we will sail the heavy waves of Moulay."
Is there anything else you would like to add?
"I'd also just like to bring attention to the fact that it may look like I'm doing a lot here, but I'm not doing it by myself. There are so many people involved and the whole country of Morocco is behind this project, they believe in it. It's a new thing so they have to be careful and look at it with closed eyes, but this country does believe in windsurfing and sport in general and also in the youth's, so I would just like to say thank you to everyone who has supported us morally and financially and of course to all of our sponsors. They are the ones that make this real by believing in it. I hope this is the first of many years to come and that we can have an even bigger event in 2020 – next year we hope to keep the same concept with the PWA & IWT, and then hopefully, in 2020 we will be sharp enough to have a really big grand slam PWA festival."
We also had a quick chat with the Moreno twins…
Iballa Moreno (Starboard / Severne / Maui Ultra Fins) on returning to Morocco: "I've been to Morocco two times before. One time in Dakhla in the south and also up here in Moulay – probably about 10 years ago. It's good to be back. The town changed a lot, but the conditions are still pretty fun.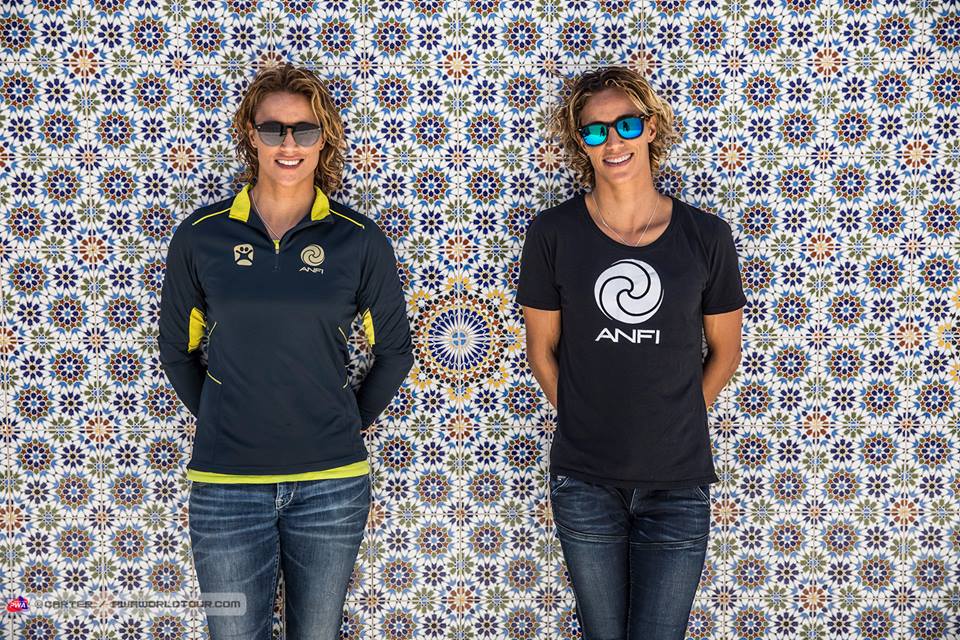 From left: Daida Moreno, Iballa Moreno
I like the culture but it's very different, you just have to adapt. The Moroccan people seem happy and funny and certainly, from the women's perspective, it's very different from what we are used to. But we are really proud to be here – especially as a women's only contest – hopefully, this can be a stepping stone to making next year both a male and female event. Also stoked for Boujmaa [Guilloul] that he has a great spot up here and now we're just looking forward to a great competition."
Daida Moreno (Starboard / Severne / Maui Ultra Fins) on adding a new location to her list, while also talking starboard tack: "It's my first time in Moulay and we've been here about a week and we've managed to sail for about 4 of those days, so it's been fun. It's an easy spot if it's not way too big and it's just amazing to be here for a women's only event.
For jumping its a bigger deal it being starboard tack because Pozo is a (port tack) jumping spot, so I'm used to jumping that side, but for wave riding, I think it's pretty much the same. I'm not bothered about it being starboard tack and this winter we had a great winter with starboard tack conditions. Obviously, you always have one tack that you favour and that may come from whether you surf regular or goofy. If you are regular then you are going to feel pretty comfortable wave sailing on starboard tack. If you are goofy you might be a little bit less comfortable, but with practise, you can overcome that and don't forget we also used to live in Maui for 7 years, so it's not like you forget… it can just take a bit of time to re-adjust."
What are your feelings about Wednesday? It currently looks massive on the forecast… 4.5m @ 18 seconds…
Iballa: "Yeah… a lot of the girls are worried… I don't know I guess we will just have to wait and see. I saw how the Men's Qualifier went on the final day and that was smaller than what was predicted for Wednesday. So, like Boujmaa says: "It's going to B.I.G. Wednesday.". He has a jet ski ready. There's going to be a lot of current and big waves. Hopefully, everyone stays safe and we have good finals and just see how it goes.
Daida: "Yeah, safety first."
Are you excited for Wednesday?
Iballa: "Not excited (laughing)."
Daida: "We are excited about starting the event and gaining a result, but Wednesday looks pretty extreme and could be a bit too much, maybe, but we'll see."
Thanks to Boujmaa and the Moreno twins. Interview by PWA, Photos by John Carter
Before big Wednesday though, there is still the possibility of at least starting the single elimination tomorrow afternoon with moderate northerly winds and 1.6m waves @ 11 seconds currently being predicted. The skippers' meeting has been called for 11amtomorrow morning with the action commencing from 11:30am (GMT+1) – if conditions allow.
IWT Morocco Spot X Photographer Nick Jones is inspired by the beauty offered in Moulay.
"I have picked the theme of the colours and textures of Moulay. A change of gear. My thinking is how Moulay on the surface doesn't appear that striking – but when you look more closely, then there are all sorts of things to appreciate and enjoy. And in the same way – once we adjust to the rhythms of Morocco, there is so much to enjoy – the warmth of the people, the rich depth of the culture and the amazing flavours of the wonderful food etc etc." -Nick Jones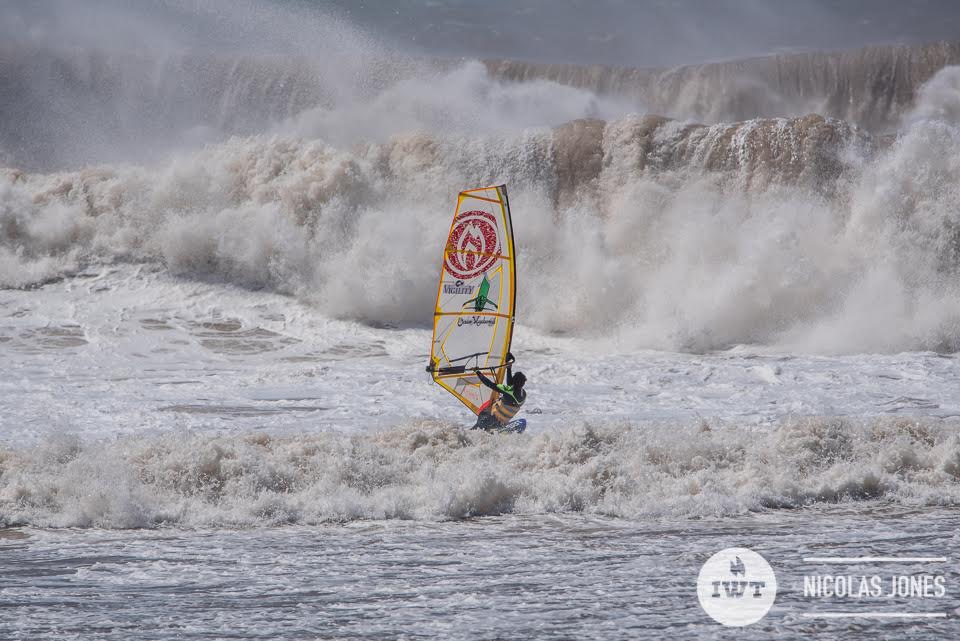 Thank you to local event coordinator Boujmaa Guilloul and all our local sponsors in Morocco: MASEN, OCP, ONMT, Sultan, redbull, Easyjet, Seat, Essaouira Lodge, Beach and friends, Relais de Paris, Medina M Gallery, Sofitel Essaouira, Ain Atlas, Quadran Maroc, Dolce Freddo, Magic Fun, Ozo Club Lounge