The final day dawned and it was solid wind but small waves. After checking all the possible spots the decision was made to run at the point, The Punta, to take advantage of the stronger wind there and the longer smoother waves that this place is famous for. The phrase "You should have been here last week" was used a lot that morning! Even though the waves were mostly only waist high, it was still the best conditions we had seen all week. The long clean lines and solidly rising swell gave us enough confidence in the day ahead to ATTACK!!!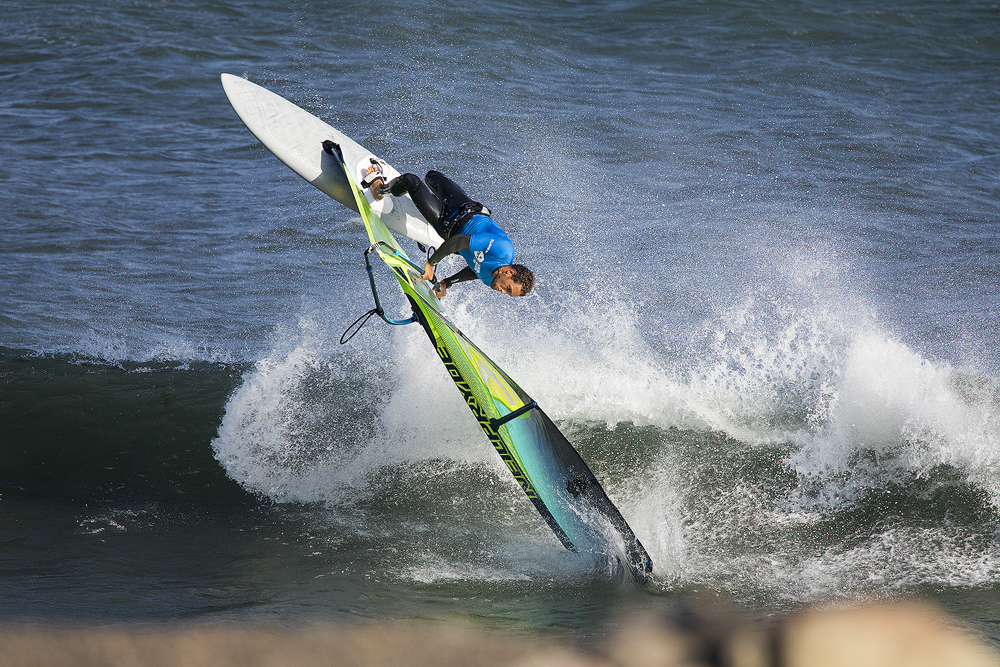 First up…
Youth Final – The youth had one more heat today to conclude their contest. The first formal round held the previous day saw 15 year old surf ripper Atsuki from Japan dominate ahead of Alex from the UK. This round saw the results flip. Alex was picking off great waves and attacking the lip aggressively in the stronger wind to claim first spot for this heat. Similarly it was Haru who turned the tables on little Hayata in the windier conditions taking 3rd this time. This set up an extremely close set of results between all four riders for the overall event result. In the end it was Atsuki on top for the event by the slimmest of margins ahead of Alex in 2nd, Hayata in 3rd and Haru in 4th. All four sailed extremely well.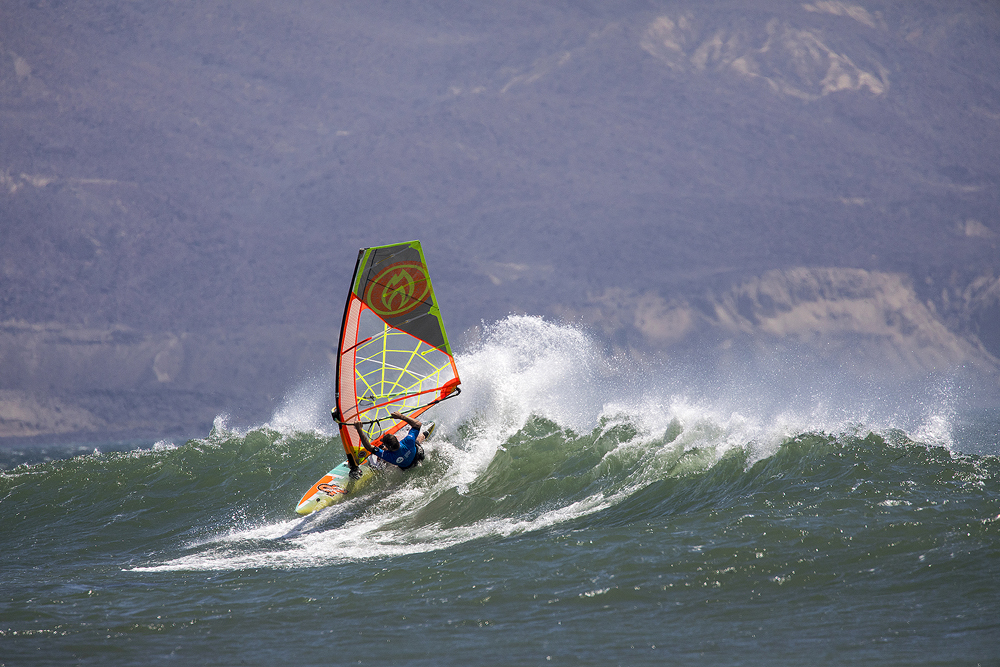 Masters Finals
There were two heats to decide the Masters division. In the first heat it was Ferdinando Loffreda who blasted his way across the face of two very well chosen waves, hitting the lip hard multiple times to pull 6's and 7's for his best rides. Current Masters tour leader Simeon Glasson struggled to find waves and did what he could to carve up a few waist high rollers, but couldn't crack more than 5's and 5.5s. Carl Spiess was sporting a 6.3m2 (!) sail in the strong gusty winds and was charging around getting into position for many fast wave rides for 3rd place. In the second heat of the day's two rounds, Ferdinando pulled out and it was left to Simeon and Carl to battle in the small waves. Simeon was back on form pulling 6's and an 8 on his better waves to take the top spot. Carl was also in better form this heat scoring in the 4's and grinning from ear to ear as he blasted around out there loving his life choices. Sadly for Tour legend Ferdinando, pulling out of the second heat meant he was relegated to 2nd overall for the event, with Simeon taking top spot and Carl coming in 3rd. Ferdi, as he is known has been a part of the IWT since the start and his sense of fairness and sportsmanship combined with a fierce competitive spirit, huge aerial skills and a wonderfully Italian sensibility makes him one of the great riders and great characters on tour in our ever expanding IWT family.
Grand Masters Finals
There were also two Grand Masters final heats to hit the water. Andrew Cunningham has been coming to Baja for 20 years and that depth of experience really showed as he picked off set wave after set wave to rip his way to an indomitable lead. Newcomer to the tour this year, Pali Gueltrini, patiently waited for quality waves granting him second place in the division. Tour legend Scott Shoemaker struggled to find quality waves to match Andrew, but was fast and furious on the ones he rode! Tying in third place with Scott saw longboard legend and long time member of the tour Steve Roy. Colby Deer rounded out the Grand Master fleet with a smile on his face.
Amateur Final
With two Youth 13 and 15 and one G Master over 55 this was an unusual Amateur Final displaying the very best of IWT older and newer talent. But age never played a part in the challenging conditions as it was Canadian rastafarian DuoTone-Tom who picked off the biggest wave of the day so far and rode it to a Final dominating score.
Women Final
Maria dominated with great wave selection, down the line speed and power turns. Elise and Kana had a tight dual with less than half a point between them both catching many smaller waves and both running down the line with multiple lip hits per wave. Elise threw in two one handed top turns and it looks like that was just enough to squeeze ahead of Kana and claim 2nd place. Sabine couldn't find great waves in the small conditions. Her flowing style appears to be better suited to the bigger waves and she struggled without those big lips to charge and open faces to carve.
Pro Men Final
It was touch and go if we would run the Pro Men's Final, but right at the end of the long day the tide and waves finally produced just enough to convince us it was a GO. The finalists had been helping all day long as judges for the amateur side of the fleet and now the crowds gathered on the cliffs with their cow bells to watch the very best of them strut their considerable stuff. The final was close. Very close. 2nd, 3rd and 4th places were separated by no more than 2 points. Morgan didn't find any great waves but still pulled an extraordinarily high aerial with a massive head dip and full body arch to secure between 6.5 and 7.0 from the judges. Sadly for him his second wave score was only between 4.0 and 4.2 and with no big second wave score the champ was squeaked back into 4th spot. The tussle between Federico and Boujmaa was intense with both trading wave for wave with almost identical scores for both their best waves between 6.0 and 7.5. In the end two of three finals judges had them tied – 12.5 total from best two waves from one judge, another tied with 13.3 each, and the third deciding judge 13.5 and 12.5 making the difference. It was a contrast of styles with Fede riding classic hard carving top turns and linking smooth aerials on long rides with lots of flow, just outdoing Boujmaa who was going wild with big tweak rail grab airs and hack turns, but his overall wave score was brought down by less impressive secondary moves and less overall flow. Fede is widely known for his very Italian emotions and when he found out he had edged out two major wave riding stars in Morgan and Boujmaa he was beside himself with excitement. What a great character! Love him. Needless to say first place was in a different category in this Final. Titoun blasted the field with 7.5 to 8.0 on his second best wave score and 8.5 to 9.0 for his best wave score. He ripped out goiters landing fully planing, big rail grab airs landing planing, a smooth flaka, sick gouges and all of these moves on one wave! Seriously on form and dominant in these smaller down the line conditions. He is on his first full year touring with the IWT and has this far been dominating with wild style airs, impossible goiters and a sense of Caribbean flair that is electrifying. He now has 1st in Morocco, 2nd in Pistol and now another 1st in Baja. He's looking likely to become the 2018 IWT wave riding champion. However, with formidable competitors like the Moroccan WildMan Boujmaa Guilloul (3rd Morocco, 1st Pistol, 3rd Baja), Hookipa Dominator Morgan Noireaux (2nd Morocco, 4th Pistol, 4th Baja) and perhaps the Italian Stylist Federico Morisio (DNR Morocco, DNR Pistol, 2nd Baja – and last years Pacasmayo giant killer champion) hot on his heels the tour may be at the half way mark but it sure ain't over yet! Stay tuned!