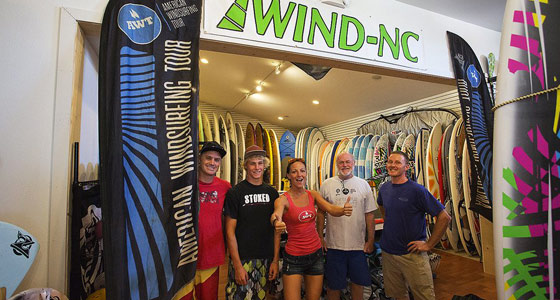 Get ready. The Hatteras Wave Jam is nearly upon us. Next week we kick off the East coast portion of the AWT, and if you are thinking about those last minute travel plans, the time is now. The forecast is looking promising, and we have an action packed week ahead of us. The crew in North Carolina is very welcoming with parties and events planned every day, to coincide with the Main Event.
Here is a schedule of event activities.
Contest Window: September 16th-21st. Location and time to be determined each day depending on conditions.
Sunday: 7pm: Wind-NC: Check In/Registration
Monday: 7pm: Wind NC clinic Kevin Pritchard and Movie, The New Hawaii with Fabrice Beaux
Tuesday: 7pm: Fox Sports
Wednesday: 7pm: Ocean Air
Thursday: 7pm: Avon Sail house
Friday: 7pm: Klub Koru Closing Ceremony
Saturday: Finish up contest if needed with Awards on the beach