The long wait was worth it because the conditions on the FINALS DAY at The Topocalma Infernal were truly stunning. The fast and powerful left hand waves were head to logo high, with occasional larger sets. This may not sound totally 'epic' but the Topocalma wave is so good, so fast, so powerful, so perfect, that even over head waves here allow the best riders to put on a truly spectacular show of speed and power. The riders were sailing so well that it will be remembered for a long, long time. It was small enough for all the divisions to get out and rip, large enough for the Pro riders to go completely nuts. Perfect.
The conditions here are so good that The Topocalma Infernal looks set to become a long term fixture on the IWT calendar. The event is already planned to be bigger for 2020. This place really goes off, and it wasn't even at its best this time around. Topocalma is a place of pristine wild coastline at it's most pure. Stunning natural beauty, rugged and raw, it's very exposed on the beachfront. The fine black sand flies around when the wind is strong, there are no facilities, no creature comforts. It requires patience and tremendous resilience from riders and crew but… the rewards for enduring all of that are HUGE. This is one of the best left hand breaking waves for wavesailing that we've ever seen.
By the final day the riders had been whittled down to the hard core best in each division.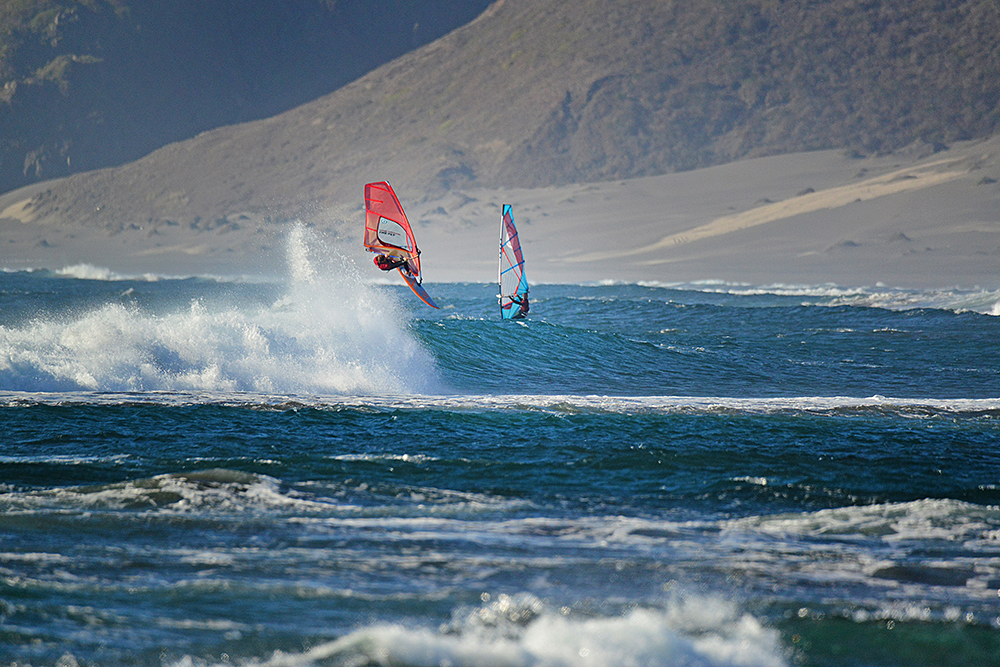 The Women were first out as the wind started to flow across the beach on the Finals day. They had enough wind to move around comfortably and the waves were smooth and powerful. Once on the waves, the riders accelerated on the Topocalma freight train and things got hot. Maria Andres (ESP) again dominated with her great wave selection giving her terrific down the line speed to charge the lip and throw clean arcs of spray. After many years as one of the top PWA slalom competitors in the world, Maria knows speed. She clearly loved blasting down these fast waves. Earlier in the competition window, in the opening heat of the Women, Angela Cochran (USA) was second behind Maria but, she looked to be just warming up. It had been 20 years since she 'went left'! What we saw in that opening heat from the past 2 x professional world wavesailing champion was a fierce attack of the wave. This women means business and she knows how to deliver. It was clear that she had more power to unleash once she could settle into the go-left groove again and we all wanted to see it. Sadly, that opening display of world champion power warming up never got a chance to really explode across the scene here because Angela had to leave the competition early to be with family back on Maui and was unable to compete on this final day. Thus 2nd place in the Women's division was effectively ceded to the up and coming young Irupe Lamanuzzi from Argentina. Irupe is not yet in the same league as the seasoned international riders like Maria and Angela but she is still very young at 17. She is always pushing herself to ride faster and harder. It will not be long before Irupe Lamanuzzi is a force to be reckoned with and we can't wait to see her at the next event, likely Peru, where she will strut her latest moves and impress the crowds.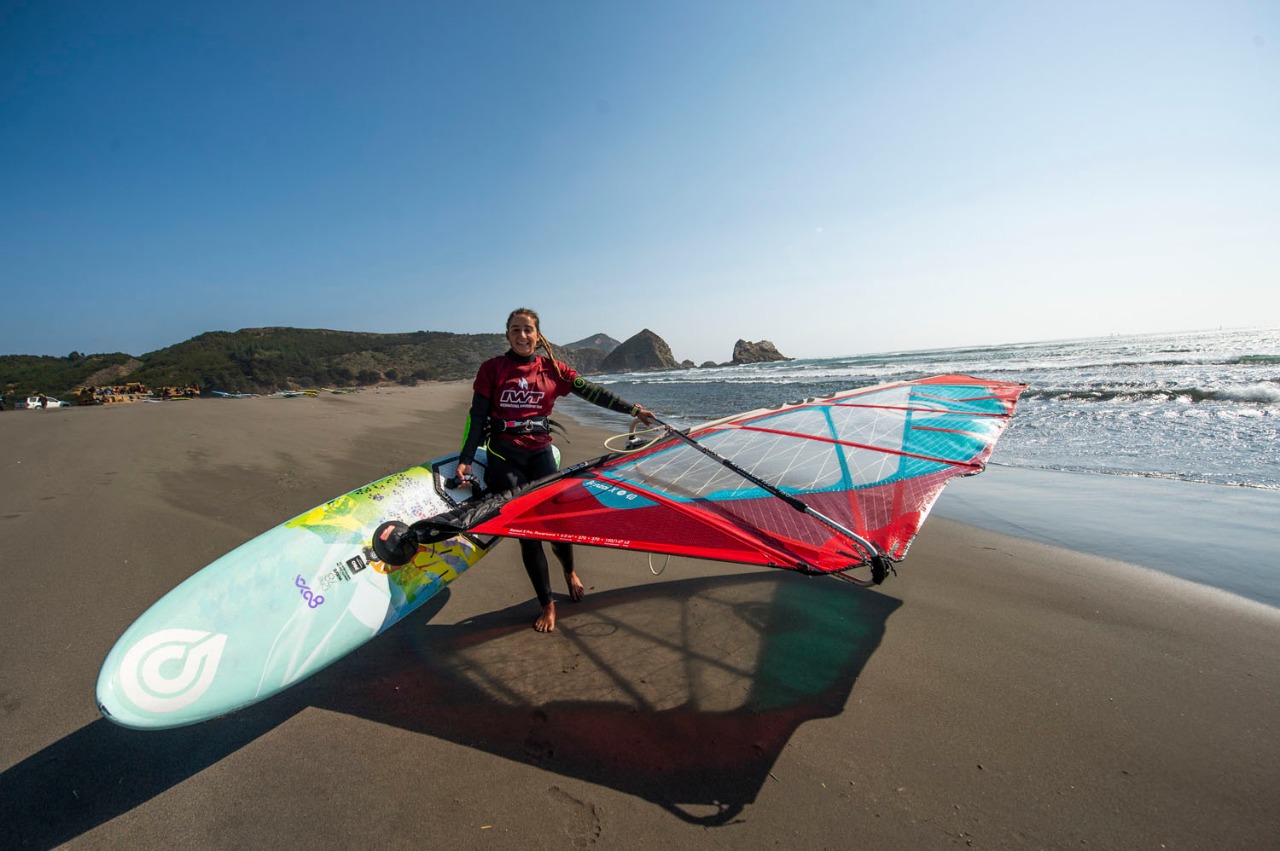 The Finals day saw two more youth final heats run to give a total of 3 final heats. Each heat result contributed equally to an overall score that decided the winners of the division for the Topocalma Infernal. Takara Ishii (JPN) dominated all three Youth finals and easily took first place in the end with a perfect score. Takara was a shock exit in the Pro Men when he was knocked out before reaching the top 16. After reaching the Pro Men's Final in the IWT Omaezaki Japan Cup only weeks before, this was a huge upset. As previously reported, Takara set himself the task of not just winning the youth, which he did without a serious rival at his very high Pro level, but he was determined to DOMINATE every heat in order to atone for his early exit in the Pro Men's bracket. So he did just that. Takara was smashing the lip, flying giant aerials, and going for fully inverted goiters in the most critical sections. It was quite a show from a youth! Young local lad, Martin Fabres sailed very well in the first final earlier in the competition window to claim second but sadly was unable to attend the FINALS day due to school commitments and missed the two extra Youth Finals heats on this day. He thus effectively ceded his overall 2nd spot to Simbad Lamanuzzi from Argentina (Irupe's twin 17 year old brother) who took 2nd overall. The Lamanuzzi family riding high and rewarded for their long drive from Argentina to Mantanzas and Topocalma with papa Lamanuzzi (Felipe) pulling 3rd in the Masters, but more of that later.
The long event window demanding greater flexibility from some local riders than they can easily manage which was a frustration because young Martin Fabres is seriously good and we missed him on that last day. With the absence of Martin, an opportunity also opened up for the youngest local lad, Iñaki Maturana (15 years old), to move up a spot and take 3rd overall in the combined results for their Topocalma Infernal after the 3 Youth heats. Iñaki is relatively new to the waves but he is an extremely determined young rider and was improving before our very eyes in every heat sailed. He even nosed ahead of older and more experienced Simbad in the last of the 3 finals to claim a 2nd place in his 3 heat total. Not quite enough to move him ahead of Simbad overall for the event but the other Youth will have to watch out for this guy next year as his learning curve looks very impressive. The IWT always looks forward to coming back to every event location to see the progress of these local young riders. It is remarkable how fast they can improve!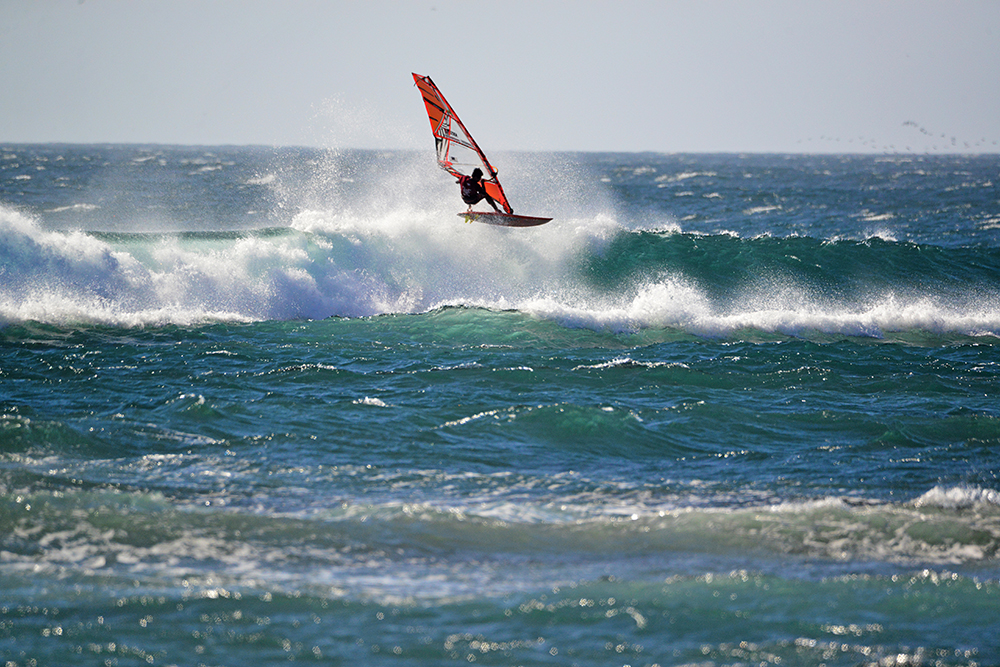 Masters
A few beautiful big clean waves came through. Simeon Glasson (AUS) appears to be a bit of a port tack specialist, regularly selecting the best set waves and tearing them apart. Simeon's best wave saw him open with a searing cutback on the first section, then gathering for an under the lip speed turn, followed by another powerful closing hit. Nicolas Recordan (CHI), competing in both the Masters and Pro divisions was a worthy adversary. He knows this wave well, and impressed the judges with clean critical riding. Nicolas didn't quite match Simeon's power and speed, but was very good nonetheless. Felipe Lamanuzzi (ARG) mostly sails on lakes in Argentina, but has become a solid wave sailor competing on the South American portion of the IWT, placing well both in Peru and Chile. Felipe sailed a strong competition, and will take home 3rd place in the Masters division.
Open Final
The Open (Amateur) Final saw conditions ramp up a notch. The waves seemed to be a bit more consistent, and the wind came in stronger as well. Cote Priewer (CHI) continued his dominating run through the bracket, putting in a very solid performance to take the win. Cote looked like one of the pros with power carves and aerials to match. It was not a walk through for Cote however, with both Thibaut Imbert (FRA) and Roberto Carrasco (CHI) finding set waves and racking up the points. Roberto was pushing hard and pulled a couple nice aerials securing his second place position, while Thibaut had some solid carving turns on a set wave to finish in third.
Pro Men Final
These top riders exploded at the opening buzzer. The first 60 seconds of this heat saw every rider coming in on bomb sets matching turns with aerials. The opening exchange set the tone for the rest of the 28 minute final. Antoine Martin (GPE) started with a fast wall linking a couple power turns with a very critical and perfectly executed goiter. Federico Morisio (ITA) found a perfect set wave hitting 2 big aerials to go along with perfectly timed pocket turns. Diego Fabres (CHI) and Morgan Noireaux (HAW) matched each other with nice running waves and good turns to score just behind Federico and Diego. The rest of the heat was back and forth with each rider pushing to one up the other. Morgan put on a vertical turning display of riding that is hard to match, but he was unable to land any of his moves. Diego chose nice peeling waves allowing him some of the most radical cutbacks of the contest, but also fell just short, missing on his Taka attempt. The day belonged to Antoine, sailing just a bit more radically than the others. Federico, with the perfect heat strategy, connecting long waves with many well timed hits secured him second place, while Diego and Morgan rounded out third and fourth position.
The final was so close between these pros, that the anticipation on the beach was high for the result. All finalists were ripping the waves to pieces, and in the end it came down to execution of maneuvers, which Antoine was just a step above.
The formal closing presentation event will be hosted tonight by the Hotel Surazo in its stunning beachfront, open fire lounge and bar area under the stars. We are excited to all be together and celebrate the achievements of the riders and the successful conclusion of the second event on this years International Windsurfing Tour.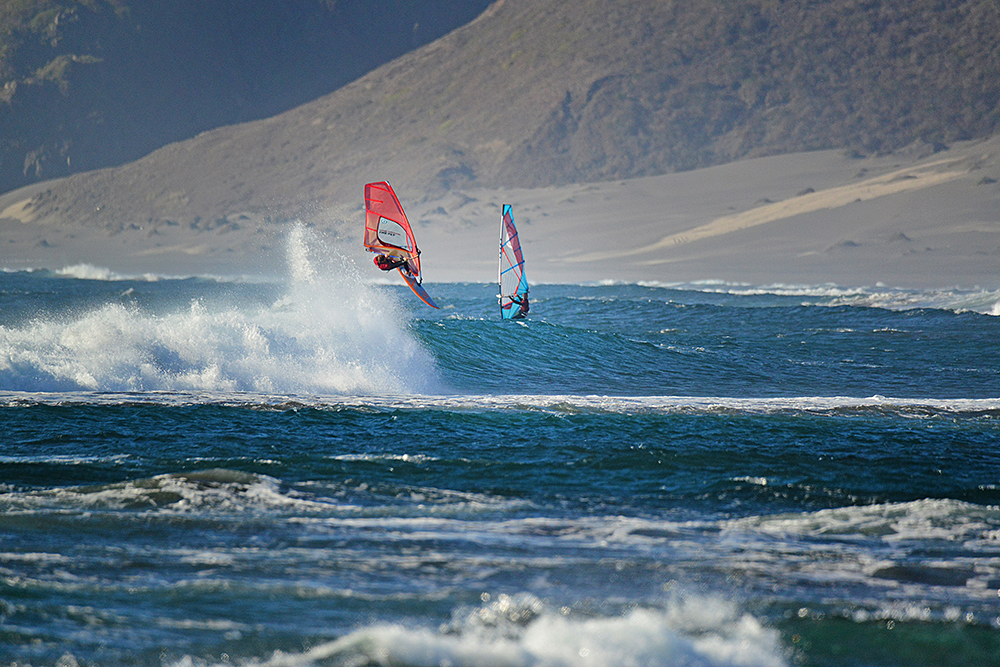 The results here mean that overall rankings are starting to form up in each division. For the Pro Men it is clear that Antoine Martin is taking a blistering big early lead with two first places. He is very, very strong but international touring competition can be a long and hard road. Apart from the incredible high standard and depth of talent to compete amongst, there are many things that can go wrong on tour including airlines losing your luggage (Morgan has lost equipment in 3 recent trips that have affected his results), sickness (two years ago Maria Andres was very sick with a mystery bug in Peru) and injury (Camille Juban has missed the first two events this year due to injury). With so many variables, achieving two top spots from the first two events is a major achievement for Antoine Martin.
His main rivals for the IWT 2019 Pro Men's Championship so far are: Bernd Roediger (HI) who made the final in Japan and came 2nd and then missed the making the top 8 here earning =9th; Morgan Noireaux who missed the top 16 in Japan earning =17th and then made the final here coming 4th; Takara Ishii made the final in Japan coming 4th and then missed the top 16 here earning =17th; Federico Morisio didn't come to Japan and then came 2nd here so he wont be high on the overall rankings for a while to come but he is sailing very, very well and has a steely determination and a remarkable focus this year; The current Aloha Classic Champion Camille Juban will join the tour in Pistol River for his first event and he plans to then compete in Baja, Peru and Maui to make up the 4 event results to count towards overall – Camille is a 2 x Aloha Champion and 3 x AWT Champion so he is going to be another threat to his Guadeloupe countryman Antoine, but he cannot drop any results and now needs all 4 of those last events on the tour to go his way; Jake Schettewi made the final in Japan and came 4th then didn't follow up with Chile but if he gets to 3 more events (school commitments pending) he will also be a serious contender; the mighty Boumaa Guilloul just missed the final in Japan coming 5th and then did not come to Chile but will be in Pistol, Baja and Maui so he is definitely a serious threat; Levi Siver 5th in Japan and may come to more events; Edvan Souza 5th in Japan and then was bundled out before reaching the top 16 here in Chile but will be back for Pistol where his jumping game will make him ultra dangerous; Russ Faurot, tour co-founder and ripper, also just missed the final in Japan earning a 5th place there and then a 9th here in Chile so he is once again in with the big guns; Graham Ezzy earned a 9th in Japan and may be back for more and he is always a major threat at any international wavesailing contest; and there are many more riders, too many to name here.
The point is clear, it's tough to win on the IWT any year with so many variables and challenges, but it is especially tough this year, with so many top riders gunning for the overall US$50,000 prize.
The Pro Women have yet to have any riders rack up more than one event score so overall results have not yet formed up, but the winner of the first event in Japan, Arrianne Aukes and the winner of this event in Chile, Maria Andres are the clear front runners so far for the US$10,000 1st place prize money. Two time Aloha champion and 3 x IWT champion Sarah Hauser will join the tour for her first scoring opportunity in Pistol river and then will build her points from there with Baja, Peru and Maui. Sarah is perhaps the most dangerous woman on tour this year with her strong record of IWT overall victories and coming from behind with the points to unsettle the other top women. Sarah is determined to claim that big cash prize for herself! Many other big names will join the challenge as the events unfold. Fighting for equal prize money this year, this is a big opportunity for the top female wave riders of the world.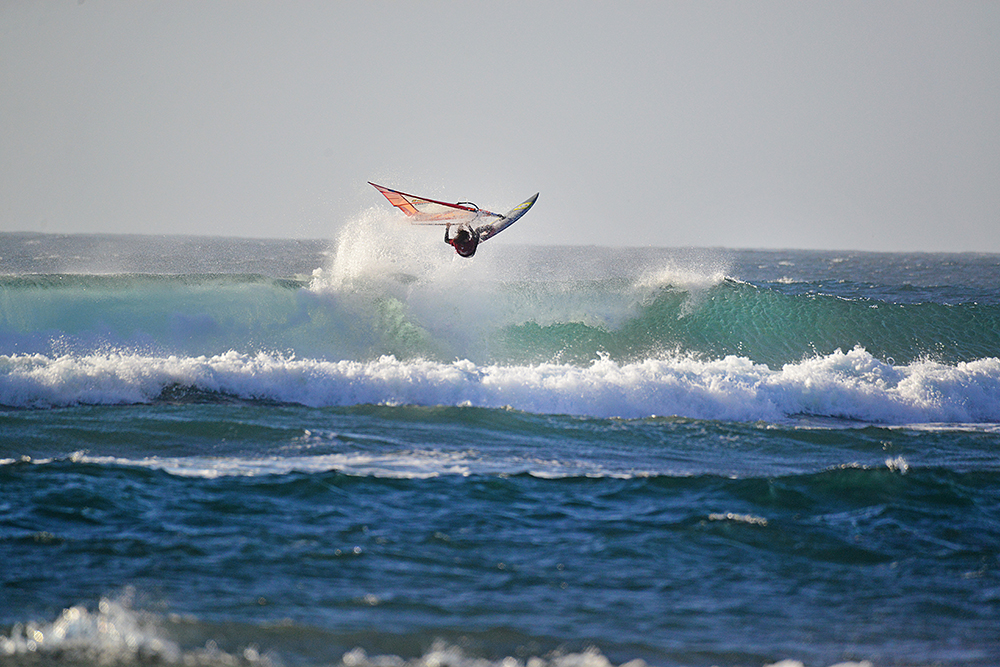 The Youth overall is currently being dominated by Takara Ishii with a 3rd in Japan and a 1st here. He is charging ahead in the rankings ahead of arch rivals Jake Schettewi, and Takuma Sugi but both of those riders can beat him on their day so it's still a long road ahead to the top of the youth podium at the end of the year and the youth only need 3 events to count.
The Amateur division has been renamed the Open division for the IWT. So far no Open division riders have competed in both Japan and Chile so there are no overall results forming up here yet. This will change dramatically with Pistol and Baja as many Open riders will compete in both and then get pumped up for one more in either Peru and or Maui. The Open division also only needs 3 event results to count towards overall. This will create a very competitive field with many more riders being able to reach the full competitive total of 3 event results.
The Masters division (45+) is currently being led by Simeon Glasson with a 5th in Japan and a 1st here in Chile. He is the early leader but it will get much harder from here onwards as more very talented Masters join the fray in coming events and only 3 event results need to count. Pistol River is likely to have some serious legends of the sport come down to strut their stuff in this increasingly prestigious division. We may well see Masters like Kai Katchadourian, Keith Teboul, Ferdinando Loffreda, Patrick Bergeron, Sean Aiken, Paul Karaolides, Michi Schweiger, Glen Haslbeck, Adrian Levy, just to name a few. If things really heat up we could see superstars like World Champion Fransisco Goya, or even the King himself, Robby Naish is just a plane ride away and competed in the first Pistol River Wave Bash 10 years ago in 2010 that kicked off the whole AWT/IWT. Will we see a return of the KING? All of these riders are truly outstanding talents in the Masters bracket these days and we hope to see them strut their stuff in coming events.
The tour has now had two-for-two very successful opening events with genuinely stunning conditions in both and seriously strong competitors across divisions. Standards are high. Conditions are excellent. IWT Head Judge Duncan Coombs is enjoying his first year with the IWT (he remains the Head Judge for PWA wave and Freestyle events) and has brought his exceptional skills to bear on each event to lift standards and push riders harder than ever. All in all, windsurfing has a lot of energy behind it, and it is great to see everyone pushing so hard.
Photos by Chris Caromaisson