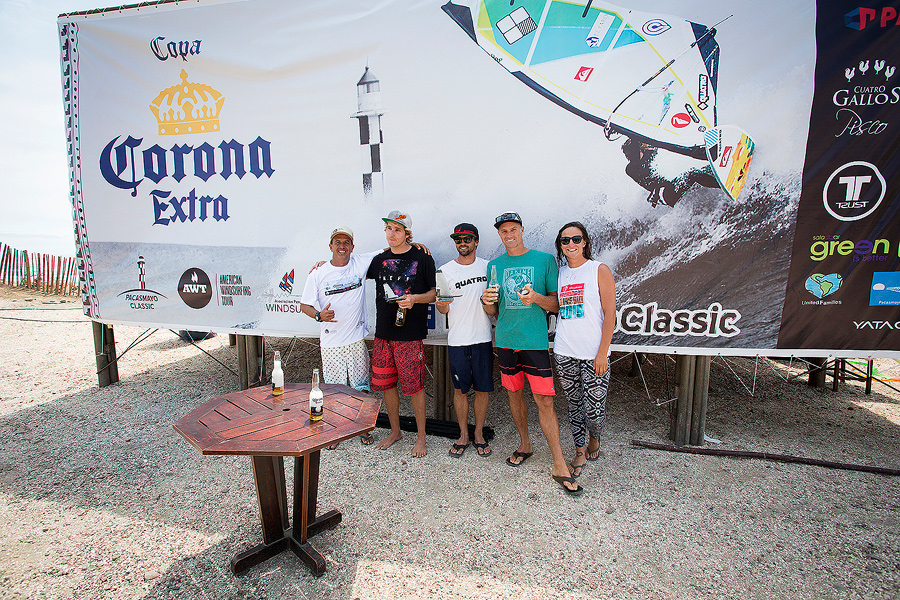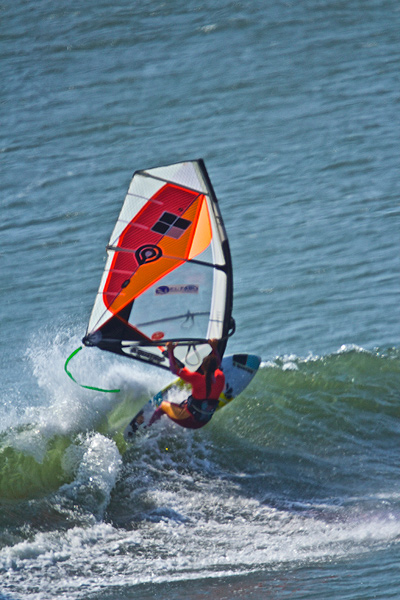 Riders awoke to powerful waves and wind. While some headed for breakfast, several, including Morgan Noireaux, jumped out onto the water at 8:30am. Pretty soon, it was evident that we would have an early start, and the first heat was called for 10am. The morning would see the resumption of the Women's and Youth, and the start of the Masters brackets in the bay in front of the hotel. A plan was put in place to move to the point for the finals after lunch to take advantage of the changing tide.
In the Women's bracket Maria Bazo (PER) had already booked her place in Round #3 and Kate Barker (AUS) followed suit after winning the tactical battle, and catching some solid waves in the light winds. In the repechage Round #2, Carolina Butrich (PER) and Bjorte Purschel (GER) dominated to advance. The Semi-Finals saw Carolina and Kate further stake their title claims with 13.04 and 12.47 heat totals respectively. Bjorte and Bettina also advanced to the Final while Maria who had impressed in early rounds was forced to retire with a knee injury. This would later keep her out of the Youth Final. I am sure that we will see much more of the 17yr old ripper who demonstrated excellent wave knowledge and powerful riding.
The Masters had been on hold until today and the three-man division would sail three heats today. Two would be in the bay, and one at the point. Reining Tour champion Ferdinando Loffreda (ITA), who has been here for a couple of weeks enjoying the waves, took an early lead in Heat #1, forcing Mike Colee (USA) into second and Damon Facco into third. Ferdinando who also competes in the Pro division is a seasoned and well loved AWT competitor. He claimed Heat #2 in impressive fashion which would all but seal the title for him ahead of the final heat later in the day.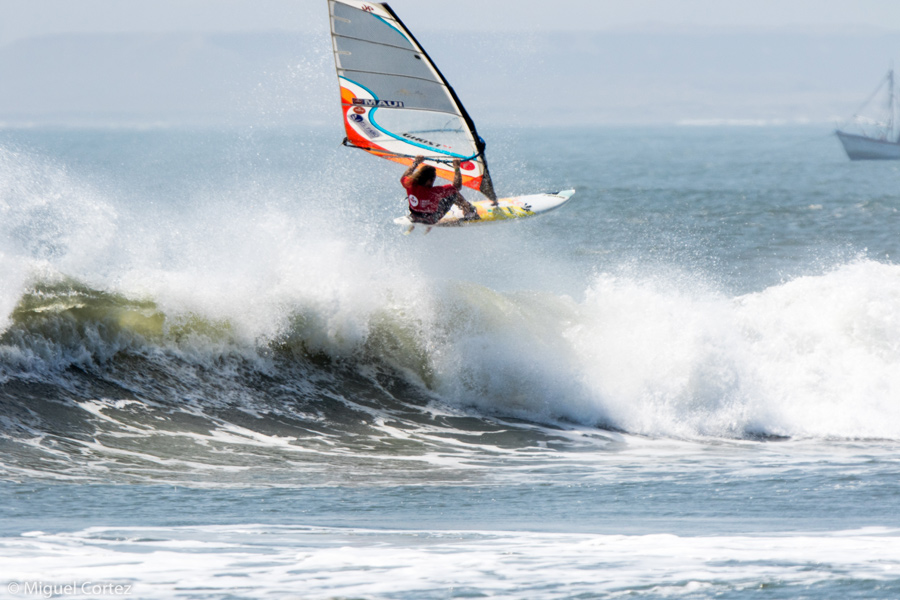 Maria had taken an early lead in the Youth fleet in impressive fashion, and the guys were eager to catch up. In Youth Heat #2 Alessio Botteri (PER), who a day before finished 2nd in the Amateur bracket, was in no mood to lose. After a slow start and low scores, he battled hard scoring the highest Youth wave score of 7.43 to add to his already good score of 6.37. The combined total was enough to beat William Perez (PER), pushing him into second. William has been one of the highlights of the event. Originally from the mountain regions, he only started windsurfing this year. Clearly, he is a natural talent, and has been improving wave by wave. You can't help but imagine what another 12 months of Pacasmayo action will do for his riding. With the Youth title now wide open, Maria's injury somewhat helped Alessio and gave a William a change of glory.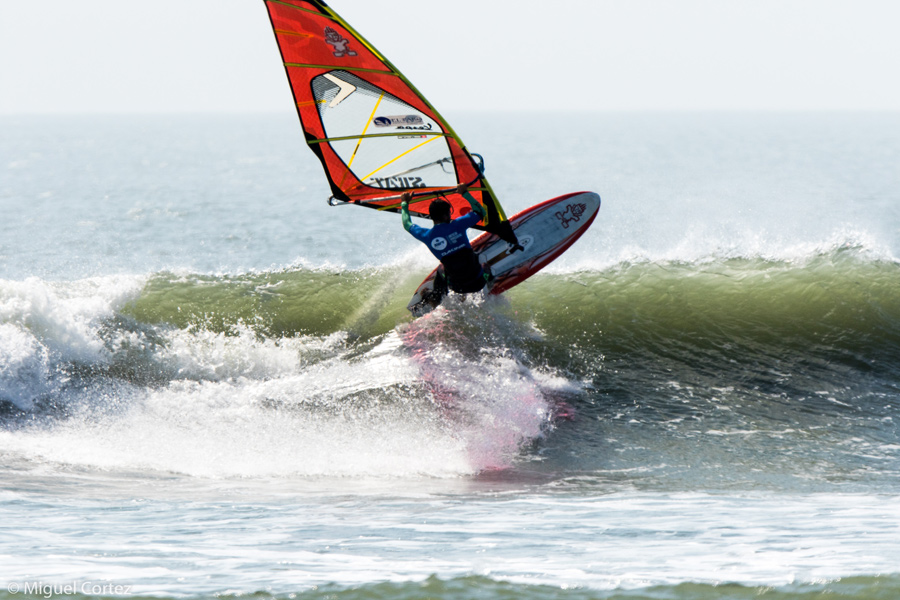 For the final five heats of the contest, the action would move to the point with judges positioned on the beach under a makeshift shelter. Thankfully the internet has been great here thanks to the 3G service and live scoring could continue. The addition of our new scoring system has been a major step forward in terms of judging, but also in sharing of scores.
Check out all the individual waves scores, heat totals and completed brackets here.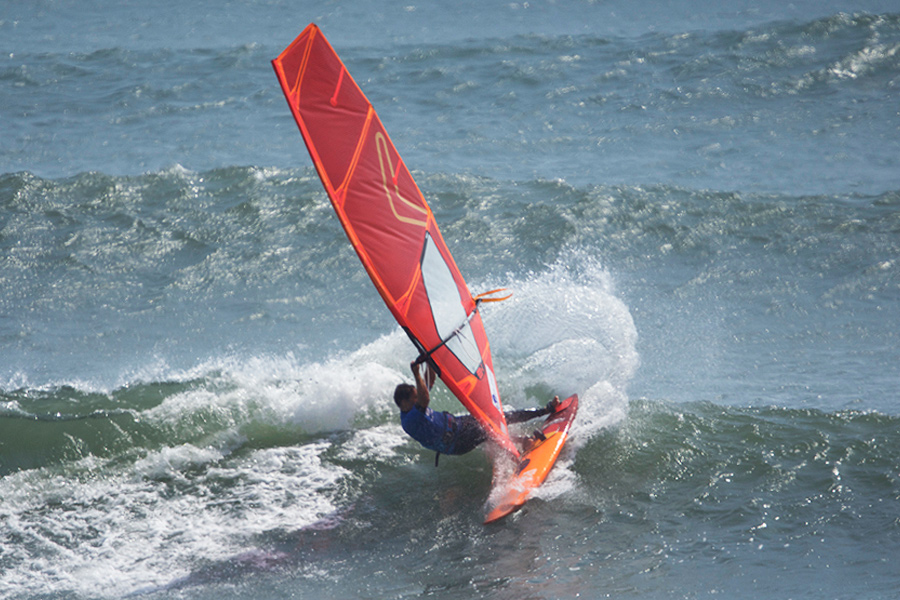 With a two heat break, the timer was adjusted to give riders a little more time in the now extremely light winds and head high waves. First up would be the battle for 3rd place in the Pro division with Kevin Pritchard (USA) taking on Ben Severne (AUS). Both riders have been ripping all week, and it was interesting to see two of the most experienced riders in the bracket go head to head (both are also the respective reining national champions). Kevin took an early lead with a couple of long waves and aggressive turns. His second wave scored 7.9, and that would prove significant later. Working from behind, Ben improved his score with each ride, and linked powerful turns and some smooth aerials equaling Kevin's 15.57 total in the dying second to leave the heat tied on points. Kevin takes the win with his 7.9 which was the highest wave total and with it 3rd place in the contest by just 0.03 points!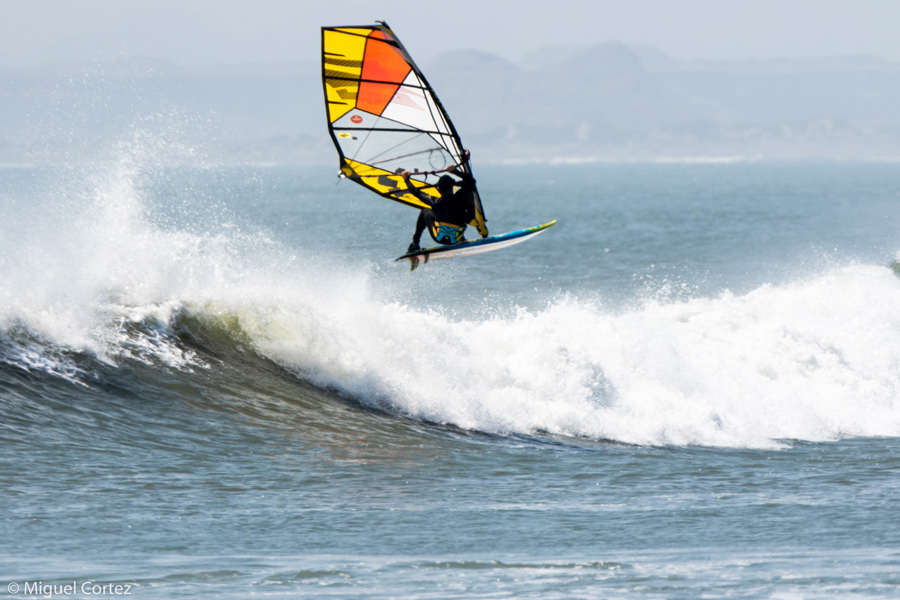 The Master's final heat saw Damon riding his home spot (he first moved here from Italy 15yrs ago), and he gave the others a point master class. His first wave saw flowing turns linked into a powerful aerial and it was clear that would be hard to beat. His wave score of 8.57 would all but seal the heat win. Ferdinando and Mike both had good waves, but Damon just needed a score in the low average range. He found it hard to get a second wave, but did eventfully, and his last small wave would be just enough for him to take the win by a mere 0.04 points.
The Women's final featured riders from Peru, Germany and Australia, and the two front runners from the earlier round took early leads. The local knowledge was really helping Carolina find the best waves close to the El Faro lighthouse. Bjorte's second wave put her within reach, but Carolina dominated the second half of the period with the two highest scores of the encounter. Kate (a reining World Champion in Touch Rugby for Australia) knows how to dig deep, and pushed hard to find the better waves in the dying minutes, getting her board vertical in the tricky conditions. Her final wave score of 4.57 was just enough to edge Bjorte into third.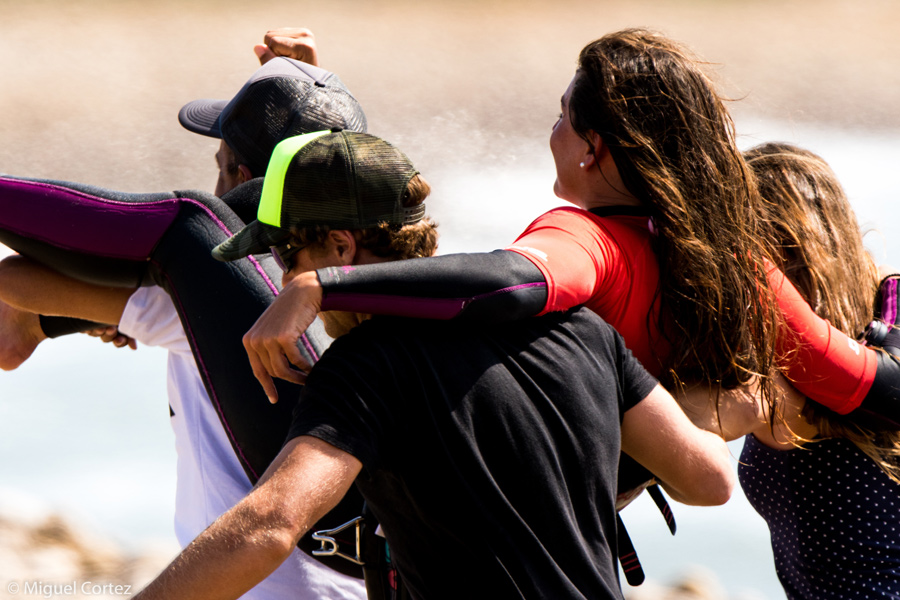 Maria would have to sit and watch the Youth Final with her knee wrapped in ice, and we wish her a speedy recovery. A win in this heat would have seen her take the title. This left Alessio and William in the title race. The deciding factor would be Alessio's timing as he racked up three waves in the 6+ range. He comfortably took the heat with a mix of powerful turns, linked with airs. Simon, sailing his best heat of the contest clinched the second spot leaving William in third this time.
The Pro Final would be a fitting end to the last moments of competitive action here in Peru. Camille had been battling sickness all morning and we were unsure whether he would be able to sail to his best. He did look rather broken as he took to the water. His friend and fellow finalist, Morgan Noireaux was already waiting in position. Camille opened up with a big set wave and went for broke landing a giant hit on a powerful section, but he was too deep and his ride was cut short. Morgan took his opportunity, and picked off a wrapping wave with more than ten linking and smooth turns, was awarded an 8.0 and the early lead. Camille's second and third waves would not add much to his total while Morgan took complete control with a 7.47.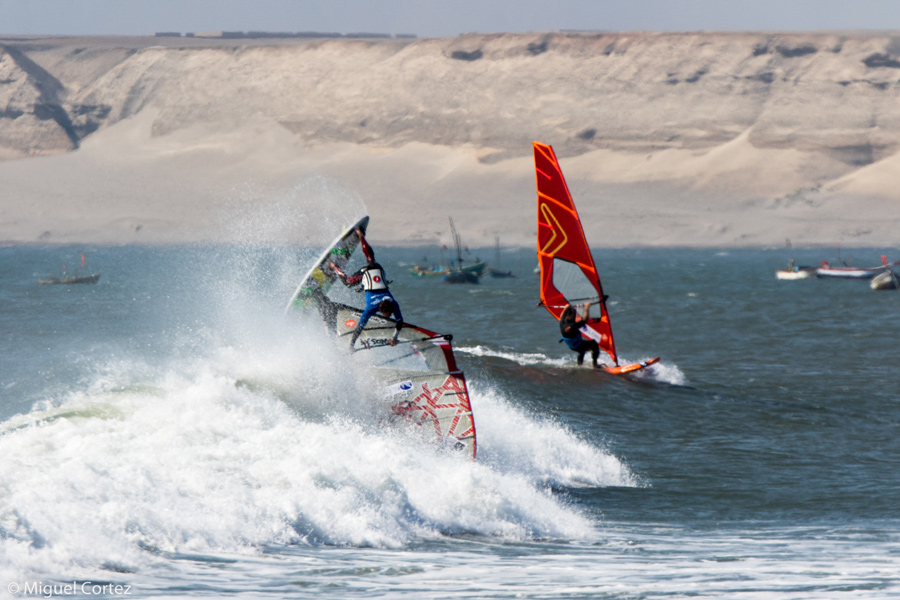 The adrenaline must have kicked in moments before Camille took his fourth wave. His riding suddenly went up another couple of levels with more speed, more power and more spray. Then he added in a couple of insane aerials, and more flowing turns, leaving the judges amazed, awarding the highest wave score of the contest. Both riders knew that they needed more to claim the title, and went in search of the wave that would give them the necessary canvas. Camille found the best wave and once again tore it apart, finishing with a clean goiter (the only rotational move landed in the contest) and was rewarded a 9.43 and a now almost unbeatable 19.03 total. Morgan pushed hard and increased his score but it wasn't enough. Camille wins the Pro title with Morgan in second.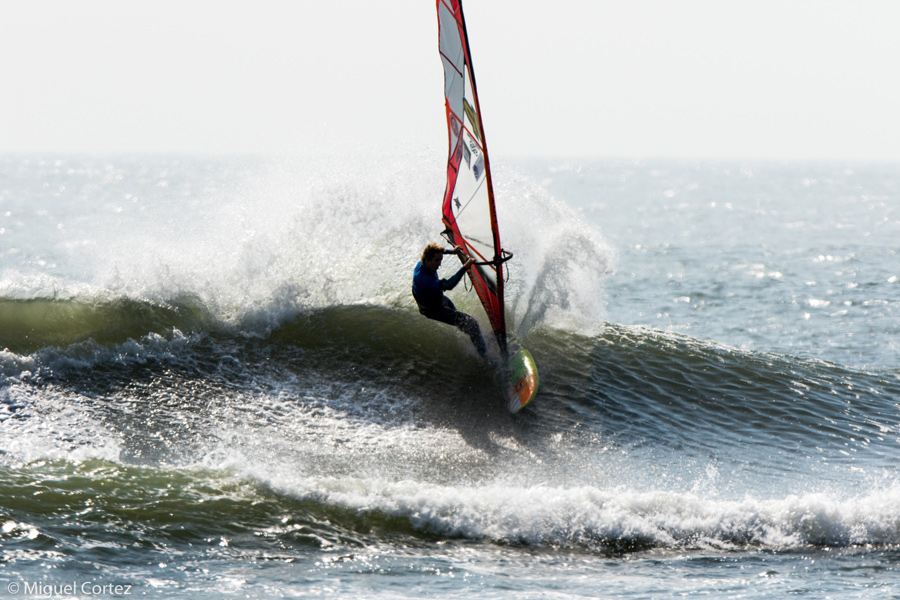 When we review the data it shows the full picture. Such was Camille's dominance this week he had 7 of the top 10 wave scores. Now, with two wins this year, could the two time AWT Champion make it three? He'll need to go to Hatteras and Maui if he wantss to fight off Kevin and Boujmaa. It will be an interesting climax to the 2015 Tour.
Sam Bittner caught up with a few of the top riders to get their views on the action;
"This morning I woke up really sick. I was in bed feeling really bad before noon so Chris wanted us to go in the water around 3pm so I just wanted to rest as much as I could to save energy to do well in the final. One hour before going out, I didn't think I could go out because my stomach was so painful and I somehow found the energy and realized the heat was only 20 minutes and even if I lose or can not even stand on the board I will just try so I went in the water and at the beginning of the heat it was really hard. I didn't even get a good wave and Morgan got the set. I had no energy but after 10 minutes I got a wave and it was my best score. I realized I needed to give all I had. Morgan got another wave and I thought I was screwed. The wind was super light and I was trying to go up wind. In the last 2 minutes of the heat I thought this was my chance. I got the wave and had a goiter at the end and went straight to the beach. I knew Morgan had really good waves so I was not sure about my score but when I got to the beach I was told I had a 19.3 heat score. The fact that I had to do the final against Morgan and we have been sailing together for a long time now and we keep pushing each other like Antoine, they are really young and keep pushing me and I hope I push them too. At the end I was really happy to make it with him. It was another AWT Family event with the final with friends and it was good." Camille Juban | PRO Winner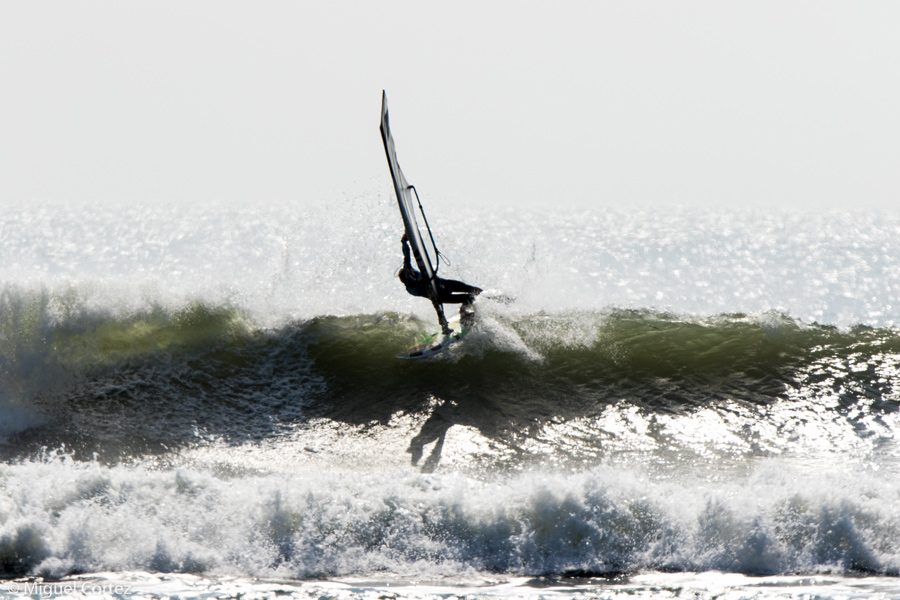 "I was not sure about the final. I was not sure Camille was going to show up for the heat but then I saw him sailing up and I was glad because it would have been no fun sailing the final alone. I figured he was going to sail really badly and not do anything or he would do his heat and get 2 sick scores. I did not take it easy because he was sick. I tried my best. I missed a good wave which Camille ended up catching that ended up being his best score and he kicked my ass the rest of the heat. I am looking forward to the next two events. If I have any chance at the title I need to win the next two events so I am planning to work hard and looking forward." Morgan Noireaux | Pro Runner Up
"I felt like I was sailing pretty well until I saw Camille go out there pushing it. It was inspiring to see someone sailing so well. I felt my sailing was mediocre. Its awesome to come here with the amazing wave and sail and learn. One of the best parts of Pacasmayo for me is that I can see how my first turns are then improving with each wave and each turn. Thank you to Pisco and Corona sponsors as well as the Pacasmayo Cement sponsor." Kevin Pritchard | Pro Third Place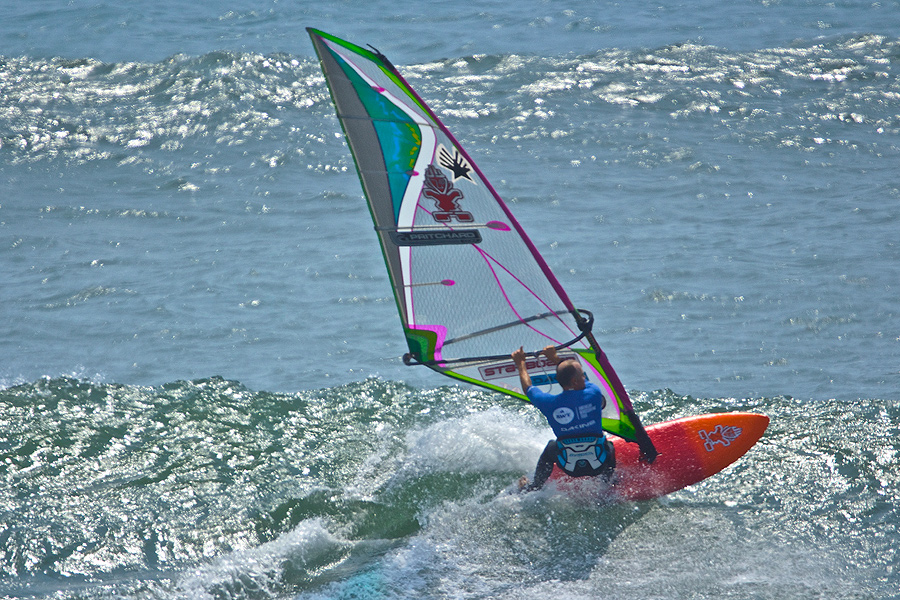 "The contest was really nice. I am happy to have people here in Pacasmayo because it is my home spot. I love this place. Its so fun and the wave is so long giving to time to improve. I am supper happy at how I sailed. The conditions were really tricky in the final because the wind was really light but I got a couple of good waves. The waves were perfect. It was super glassy making it really nice to turn. We were just missing a little bit of wind to get up wind but it was really nice. I am happy. The other girls were sailing really well. Congratulations to Kate and Bjote." Carolina Butrich | Women's Winner
Thanks to the following event sponsors;

This wraps up another successful AWT event which was full of highlights. We now have a fun day of action ahead of the closing party!