All Guns Blazing at Pistol River
20-25 knot side shore winds blew across head to logo sets and saw riders air games take control. Morgan Noireaux and Antoine Martin started at opposite ends of the Pro Men's draw and met in the final for a classic showdown. As the GO FLAG went up and the siren blew to start their final heat, both riders charged out toward the same peak to explode into action. Two of the greatest riders on earth launched into back loops 30 feet into the sky and landed them side by side in perfect unison and harmony. Aerial ballet.
The crowd went wild applauding and cheering and whistling. From there things got hotter. Neck and neck these two seasoned champions pushed each other. Martin threw the first double forward around the half way mark of the heat, but landed too wet. Morgan saw it, decided it wasn't a risk to his big one hand (briefly no hand) back loop and monster stall forward scores. He kept his focus and carried on hunting the best waves to ride and tear apart. A second double from Martin also made it around but also too wet for the big score he needed to take the lead in the dying minutes. Noireaux carried on the wave hunt. On his third attempt Martin made the starboard tack double. Morgan was forced to respond with time running out to re-take the lead. He sailed in, push upwind as much as possible, turned on the inside, ready. He saw his mark immediately.
A building wave peak out the back, solid wind over his shoulder, and a clean flat run all the way out to pick up speed. He launched high into a reckless end over high starboard double knowing he needed to not just match Martin's attempt, but exceed it if he were to still have a shot at the US Wave Title and an eye to being crowned the overall RIDERS CHAMPION OF 2022! Over once, full vertical mast clear of the water, into the second rotation, with a near vertical mast pivot, into an astonishingly well timed landing given the degree of difficulty. There was a lot of spray bursting from the impact of the landing… it was dry enough, just, to score big. Moments later the red flag was raised and the siren sounded to indicate the end of the Pro Mens final, a new US Wave Champion, and first 3 Star blood to a pumped up Hawaiian raised Noireaux determined to wrest the overall IWT Rider Crown from his friend and rival Martin, reigning since 2019.
Pro Men
1. Morgan Noireaux 🇺🇸
2. Antoine Martin 🇬🇵
3. Boujmaa Guilloul 🇲🇦
The women ripped!!! In the 4 rider finals the focus and aggression and power on display was inspiring, energising, transformative. The pro men judging the women were in shock at the huge energy and hard charging, go-for-it attitude on display from start to finish of every heat from every woman: Australia's Jessica Crisp, Hawaii's Angela Cochran, the UK's Vickey Abbott and Canada's Jen Carlisle. World Wave Champions from the 90's, Cochran and Crisp put on a masterful display of what it means to be serious pro riders. The table tops were tweaked, high, flat, one handed, landed and clean. They were fast, aggressive moves. These women meant business and there was nothing held back. Back-loops. Forwards. Table tops. One hand versions. Tweaked versions. Everything was on the table. Waves were shredded. Buckets thrown. Jaws were open. Cheers were offered, applause and screaming encouragement from the dune hills crowd of riders, friends, family and locals all come down to watch. Cochran and Crisp were outrageously good and genuinely aggressive. Their raw energy and positive power lifted and inspired power performances from Vickey Abbott and Jen Carlisle. These words do not and cannot convey the gravity of what went down here. Woman's wavesailing just got an adrenaline shot from two veterans of the game. It was freekin' awesome.
Pro Women
1. Jessica Crisp 🇦🇺
2. Angela Cochran 🇺🇸
3. Vickey Abbott 🇬🇧
Two of the hottest young wave riding talents in the world today went head to head. These guys have energy to burn and they burned bright.
Young Titouane traveled to Oregon from France with his older brother Julien. Their mission: compete on the IWT Wave Tour, ride the worlds best waves, test themselves against the best riders, in the best conditions, accelerate learning curves in this hot house cauldron of talent and opportunity, win the youth title, take on the rider rankings and find out how good they could be in the Grand Final Aloha Classic with the best of the best.
Noam travelled from Maui, Hawai'i with his dad Ilan. His mission: get wave riding and jumping experience outside of his Hawaiin home, ride great waves, with world best riders, push himself, challenge himself on the rider rankings and lay claim to a coveted spot in the Grand Final Aloha Classic.
These guns went headlong into every move. Wild jumps where Titouane excelled, and power flow wave riding where they were neck and neck. Both are heading for big things but it was Titouane on the day.
Youth
1. Titouane Flechet 🇫🇷
2. Noam Artzi 🇺🇸
The Cypriot god Paul Karaolides won the day! Paul was good before the world shut, but after two years locked on Maui he's now very, very good indeed. Powerhouses Kevin and Sean were ripping but they couldn't match the 'Greek' god on this day.  The Masters really strutted their stuff looking like the pros that they are.  Kevin and Sean were pulling double duty, also showing excellent form in the pro heats.
Masters
1. Paul Karaolides 🇨🇾
2. Kevin McGilivray 🇺🇸
3. Sean Aiken 🇺🇸
After a patchy first round, we saw the true talent of local Dana Miller come to the fore as he dominated the GM final.
Grand Masters
1. Dana Miller 🇺🇸
2. Marty Rosse 🇺🇸
3. Colby Deer 🇺🇸
The Canadians really put on a big display in the Open division, taking out the top 3 spots.  Ilan, from Montreal, has moved to Maui where his skills have progressed tremendously, but most of these guys made the long drive down from Canada to show what they could do in the wild cold waters of the Oregon Coast.  Dan Thomson showed the most consistency through the rounds with superior jumping and solid wave riding to take the win with a dominant scoreboard putting him well ahead of the hungry pack.
Open Fun
1. Dan Thomson 🇨🇦
2. Ilan Artzi 🇨🇦
3. Jesse Cohen 🇨🇦
Judging Panels:
For Pro Men & Open.
Head Judge: Simeon Glasson 🇦🇺
Scoring Judge #1: Jess Crisp 🇦🇺
Scoring Judge #2: Angela Cochran 🇺🇸
Scoring Judge #3: Vickey Abbott 🇬🇧
Runner: John 🇺🇸
———————
For Women, Youth, Masters, G.Masters.
Head Judge: Russ Faurot 🇺🇸
Scoring Judge #1: Antoine Martin 🇬🇵
Scoring Judge #2: Morgan Noireaux 🇺🇸
Scoring Judge #3:Boujmaa Guilloul 🇲🇦
Runner/Judge: Federico Morisio 🇮🇹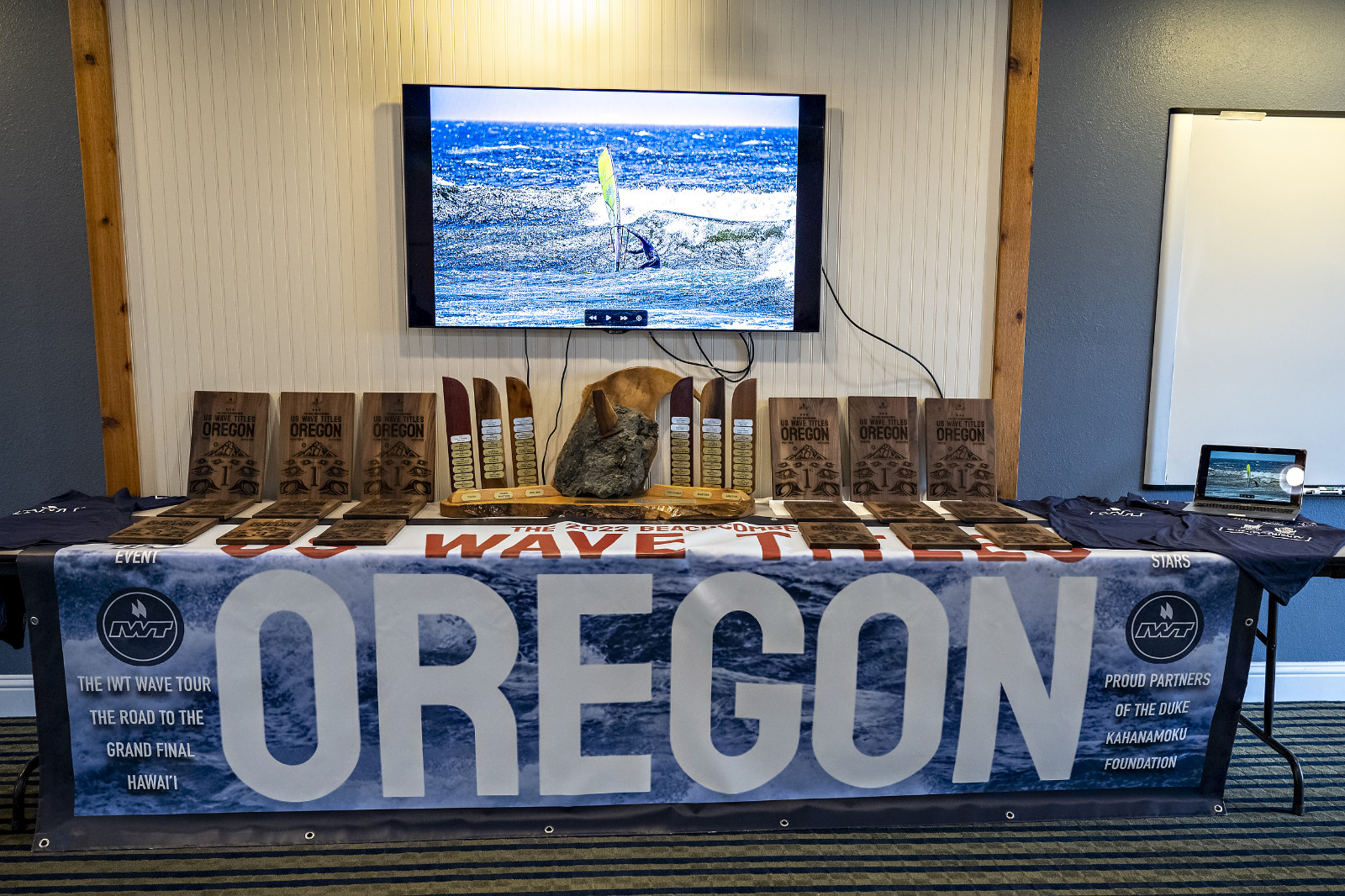 Final Results 2022 IWT Beachcomber US Wave Titles
Pro Men
1. Morgan Noireaux 🇺🇸
2. Antoine Martin 🇬🇵
3. Boujmaa Guilloul 🇲🇦
4. Phil Soltysiak 🇨🇦
=5. Titouane Flechet 🇫🇷
=5. Julien Flechet 🇫🇷
=5. Russ Faurot 🇺🇸
=5. Sean Aiken 🇺🇸
=9. Vlad Rud 🇬🇵
=9. Noam Artzi 🇺🇸
=11. Federico Morissio 🇮🇹
=11. Ferdinando Loffreda 🇮🇹
* Kevin McGillivray 🇺🇸
Pro Women
1. Jessica Crisp 🇦🇺
2. Angela Cochran 🇺🇸
3. Vickey Abbott 🇬🇧
4. Jen Carlisle 🇨🇦
Youth
1. Titouane Flechet 🇫🇷
2. Noam Artzi 🇺🇸
Masters
1. Paul Karaolides 🇨🇾
2. Kevin McGillivray 🇺🇸
3. Sean Aiken 🇺🇸
4. Simeon Glasson 🇦🇺
=5. Dan Thomson 🇨🇦
=5. Ferdinando Loffreda 🇮🇹
=7. Philip Newmarch 🇺🇸
=7. Ilan Artzi 🇨🇦
=9. Tem Gronquist 🇺🇸
=9. Angela Cochran 🇺🇸
=11. Rafal Leonczuk 🇵🇱
=11. Roman Ratusznik 🇵🇱
Grand Masters
1. Dana Miller 🇺🇸
2. Marty Rosse 🇺🇸
3. Colby Deer 🇺🇸
4. Leo Granizo 🇵🇪
5. Dwight Bode (Sick DNS) 🇺🇸
Open Fun
1. Dan Thomson 🇨🇦
2. Ilan Artzi 🇨🇦
3. Jesse Cohen 🇨🇦
4. Ryan Allderman 🇨🇦
=5. Philip Newmarch 🇺🇸
=5. Rafal Leonczuk 🇵🇱
=7. Roman Ratusznik 🇵🇱
=7. Tem Gronquist 🇺🇸
=9. Leo Granizo 🇵🇪
=9. Marty Rosse 🇺🇸