Marcillio Browne IWT Big Wave Champion, Winter 19/20. Photo by Fishbowl Diaries
IWT Big Wave Challenge Leaderboard Update
OPEN PRO:
Thomas Traversa from France has taken the leading position in the 20/21 IWT Big Wave Challenge with a massive wave in Nazaré Portugal. On November 3rd 2020, famous French big wave charger Thomas Traversa sailed out in giant conditions at the world famous big wave location Nazaré on Portugal's west coast to ride the massive swells generated by the long lasting North Atlantic storm called Epsilon. He was hoping to ride the biggest waves in history. In the process, he would challenge the Hawaiian JAWS riders currently at top of the leader board for the IWT Big Wave Challenge. Could Thomas take the IWT Big Wave crown from the Hawaiians and bring it to Europe? With this ride, officially measured at 36 feet, Thomas Traversa is now in the lead on the 20/21 IWT Big Wave Leaderboard, but still well short of the ALL-TIME record rides of 56 feet by both Robby Naish (2002) and Camille Juban (2018).
OPEN PRO:
Thomas Traversa from France is one of the best big wave hunters on the planet and earlier this year he saw another chance to ride monsters of the deep with a large storm system forming in the North Atlantic and sending swells to hit the Atlantic west coast of France. Thomas hit the road with his van, his gear, a photographer and the dream of riding the storm. He attacked it with his hallmark fearless riding style. Launching at this particular giant lip that defies all instincts of human self protection, he catapulted himself to the top of the MOST RADICAL BIG WAVE RIDES for 20/21 and is now challenging the ALL-TIME top of the leader Marcilio Browne from Brazil for his reigning ride earlier this year at Pe'ahi JAWS that has become an iconic moment in the 50 year history of the sport.
WOMEN:
Katie McAnena from Ireland dared to head out in a huge swell at the lesser known Mullaghmore to ride cold dark monsters emerging from the depths of an unforgiving North Atlantic. This wave is short of the Guinness World Record holder and IWT ALL-TIME BIGGEST WAVE RIDER Sarah Hauser with her 36 foot ride last year, but is an incredible ride nonetheless.
JAWS SWELL COMING:
These early IWT Big Wave entries are hugely impressive. However, the massive swell that is heading toward Pe'ahi JAWS on the north shore of Maui looks set to challenge the early leaderboard positions taken by France's Thomas Traversa to set up a classic contest between the Europeans and the Pacific hemisphere. Stay tuned to see all the swell updates from JAWS.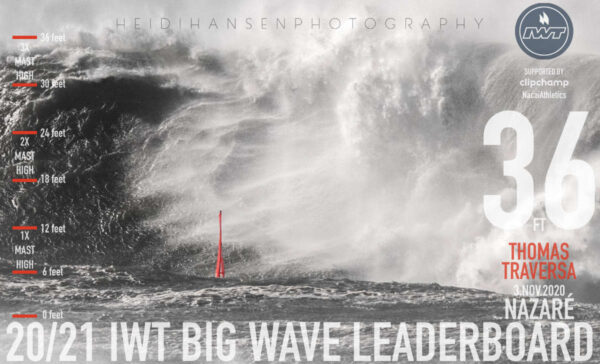 20/21 IWT Big Wave Challenge Leaderboard update:
*all these entries since April 2020 for the 20/21 season:
1st 20/21 Open BIGGEST WAVE photo
Rider. Thomas Traversa
Photographer. Heidi Hansen Photography
Place. Nazaré PORTUGAL
Date. Oct.'20
Size. 36+ feet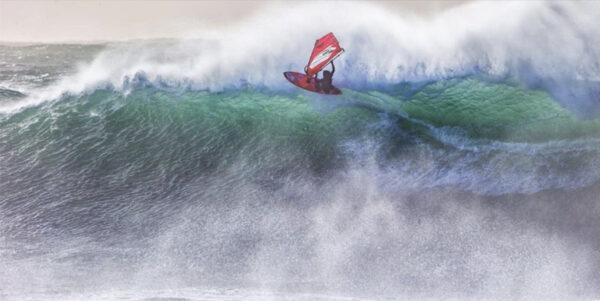 1st 20/21 Open MOST RADICAL BIG RIDE —photo
Rider. Thomas Traversa
Photographer. John Carter
Place. FRANCE
Size. 30+ feet
Women All-Time BIGGEST WAVE entry video
Rider. Katie McAnena
Photographer.
Place. Mullaghmore, IRELAND
Date. Jan. '20
Size. 20+ feet