Brawzinho wins the 2013 AWT Santa Cruz Goya Windsurfing Festival
Marcilio "Brawzinho" Browne claimed his first wave victory by taking the American Windsurfing Tour's first event of the year… and what an amazing event it was to kick off the 2013 tour. Head judge Keith Teboul fit in a full double elimination contest over three days with an insane amount of action. Let's get into some of the specifics of what went down just so you can see how incredible this event really was.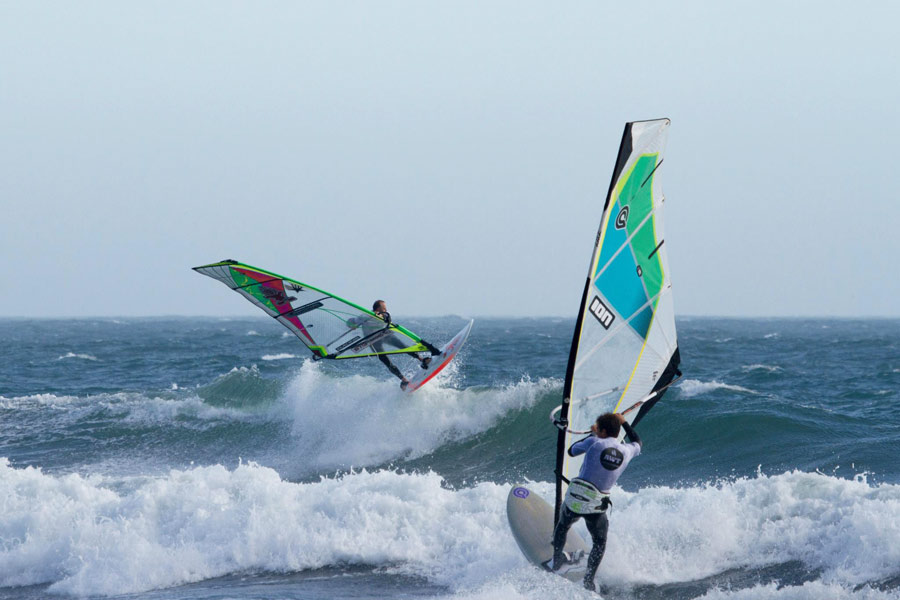 BEST MOVE AWARD
One rider at this event landed FOUR incredibly difficult moves that no one else in the contest even attempted. This set this rider apart to take the $1,000.00 prize for best move, which could have been any of these. Who was the rider? Marcilio "Brawzinho" Browne of course! What were the moves? First, you've probably already heard about all the Double Forwards he stuck cleanly. Second, his massive one-footed and one-handed Back Loop help him to victory in a tough heat. Third, his Air Chachoo at the end of a heat was simply incredible. Finally, the freestylers out there will be impressed by his Taka Diablo—a Taka with him finishing by ducking the sail behind his head! Congrats to Brawzinho for pushing the limits of wavesailing here at Santa Cruz and earning this award and prize money.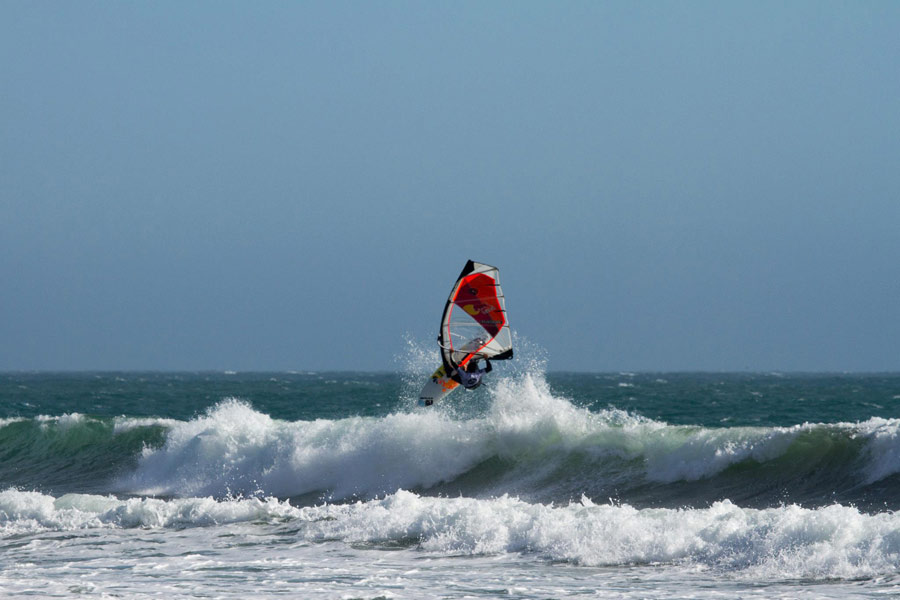 PRO DOUBLE ELIMINATION
The Double Elimination bracket allows all sailors a chance to comeback in the competition and improve their ranking or possibly take it all. The two sailors who took advantage of this more then any others were Kevin McGillivray and Ferdinando Loffreda. Both started the day tied for 13th with Loffreda moving all the way up to 9th and McGillivray to 8th overall. Advancing through the Double bracket means you have to sail a lot and Camille Juban found his groove landing tweaked Push Loops and stylish wave rides through his five heats advancing his position to 4th overall in the competition.
The Double Elimination ended with head-to-head battles against each of the finalists from the Single bracket. Juban narrowly defeated Morgan Noireaux in the first man-on-man heat earning the right to take on Bernd Roediger. Juban was on a roll and advanced to challenge Levi Siver in the Quarter Final for 3rd place. This was a super close heat with Siver taking out Juban with his Wave360 as the heat came to a close. Both had big jump scores with Siver sticking a nice one-handed Back Loop and Juban nailing a tweaked Push Loop. The semi final saw Brawzinho get a nice one-handed Back Loop while Siver struggled to find his jump early. Brawzinho seemed to start every wave with a new-school Backside 360 and linking it with some nicely connected turns down the line. Siver was throwing buckets of spray and hitting some nice aerials in tough conditions to keep the heat close. Siver finally got his jump, a one-handed Back Loop, with 30-seconds left in the heat, but it wasn't enough as Brawzinho had better scores and advanced to meet Kevin Pritchard in the final.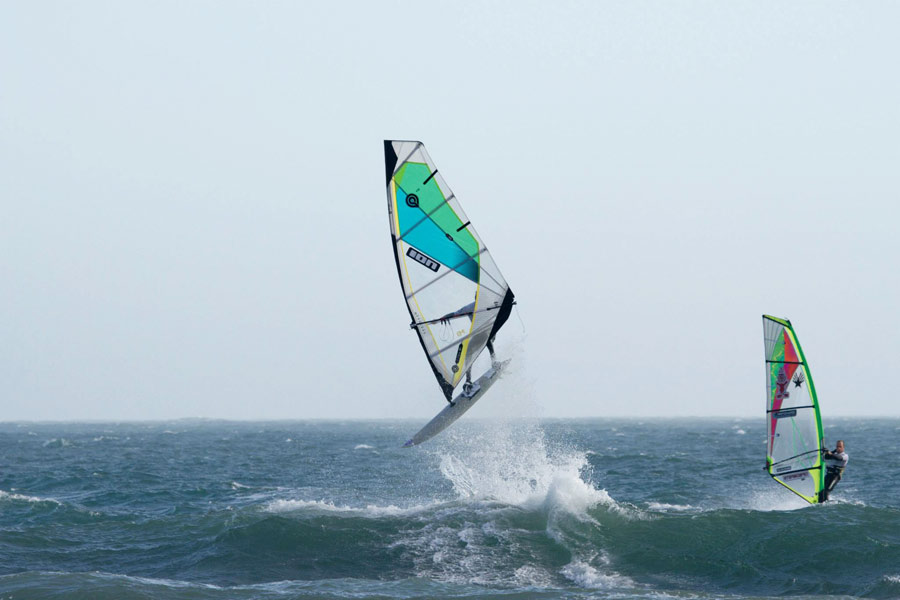 Final:
The final heat was extended to 14-minutes giving ample time for max scoring two waves and one jump. Pritchard looked to be struggling a bit in the lighter conditions while Brawzinho seemed to be spinning down the line scoring big. Pritchard did manage to find some nice waves and a solid Back Loop but it wasn't enough to overtake Brawzinho's jumps and his wave ride with a Taka Diablo. So they had to sail again.
Pritchard looked a lot more on his game in the re-match. His riding was powerful with big hits and some nice aerials. He hit a big one-handed Back Loop and was looking good to take the title. But Brawzinho looked determined nailing an insane Air Chachoo and some incredible new-school wave rides. In the end Brawzinho took it. Congrats to Brawzinho, the AWT Santa Cruz Goya Windsurfing Tour Pro champion!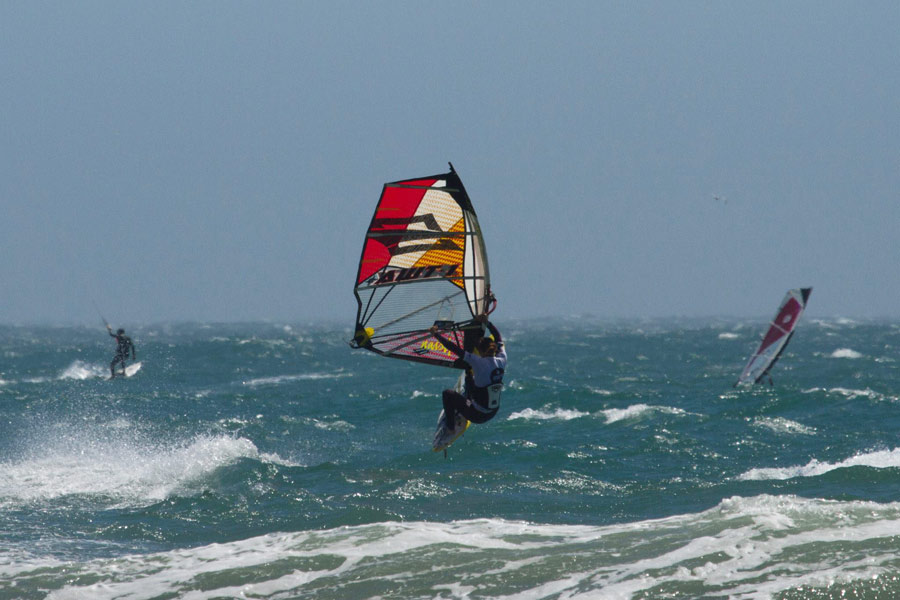 WOMENS DOUBLE ELIMINATION
The first round saw Sam Bittner ripping up her waves to take the heat and Fisher advancing riding one of the biggest waves of the day. Up next they ran into Miho Tanaka and Sarah Delaunay. Tanaka was on fire hitting some aggressive lips while Delaunay picked off some big set waves allowing both her and Wylde to advance to meet Fiona Wylde in the semi final. With only one rider advancing to the final, Wylde was on fire hitting some aggressive lips and earning the right to battle Ingrid Larouche for the title. Over the next few contests expect to see these two women match up in some heated battles. Larouche's experienced shone through with her scoring the best wave of the heat and her clean Forward Loop made sure she defended her title. Congrats to Ingrid Larouche, the AWT Santa Cruz Goya Windsurfing Tour Womens champion!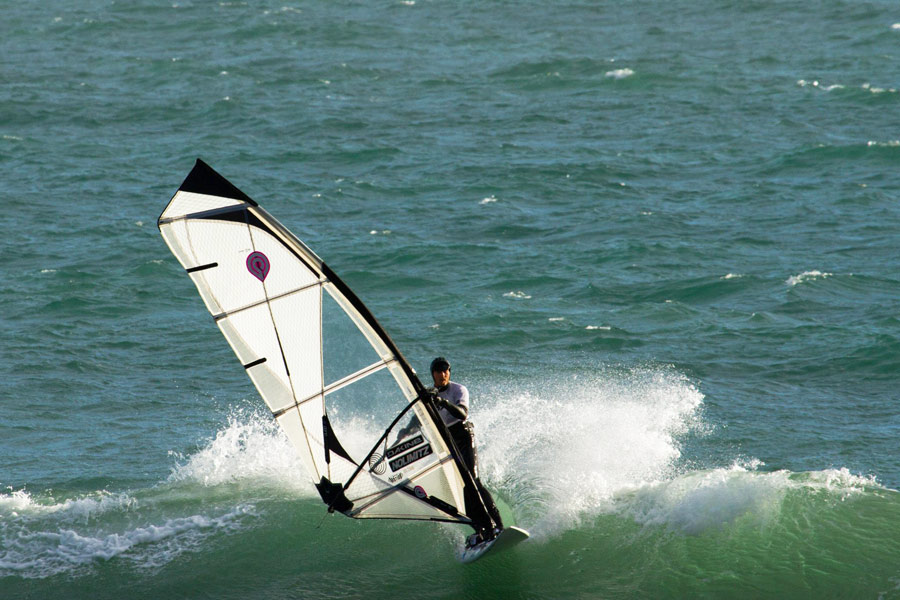 AMATEUR, MASTERS, GRAND MASTERS and YOUTH DOUBLE ELIMINATION FINALS
Action was intense across all the divisions for the double eliminations. Riders took full advantage of their second chance to improve their standings. The amateur final came down to a Simmer Style battle needing two heads of Reed Nelson versus Jerry McKay. Both these guys scored some epic wave rides but Jerry McKay's absolutely sick Back Loop gave him the title.
The Masters final also took two heats with defending champ Brian Caserio up against Ferdinando Loffreda. Caserio scored better in the rematch but it wasn't enough to match Loffreda's vertical hits. Congrats to the new champ.
Davenport Surf Sail owner Joe Ray sailed a strong second heat giving him the Grand Masters title for the event. Ray obviously knows the break as well as anyone can finishing ahead of Steve Roy, Bruce Dilbeck and Andrew Cunningham.
The youth final came down to Casey Rehrer against Fiona Wylde. Both looked very strong but Rehrer slashy style and bigger jumps gave him the crown over Wylde.
Special thanks to Wind-NC for donating a nice portion of the prize money here at the 2013 AWT Goya Windsurfing Festival in Santa Cruz. It's great to see a shop from the east coast supporting the tour in such a big way. Check them out online at wind-nc.com.
Also helping out with prize money are Olivia Jenkins, Jaipal Tuttle and MFC.
Words by Pete Dekay Windsport Magazine, photos by Mike Archer AWT