Kevin Pritchard takes Single Elimination at Goya Windsurfing Festival
Once again conditions showed up for day two at Waddell Beach Park for the AWT Santa Cruz Goya Windsurfing Festival. The swell size picked up a little from the previous day and the wind filled in nicely to finish all division single eliminations and then getting a good chunk of the double done as well. Let's look at where we stand.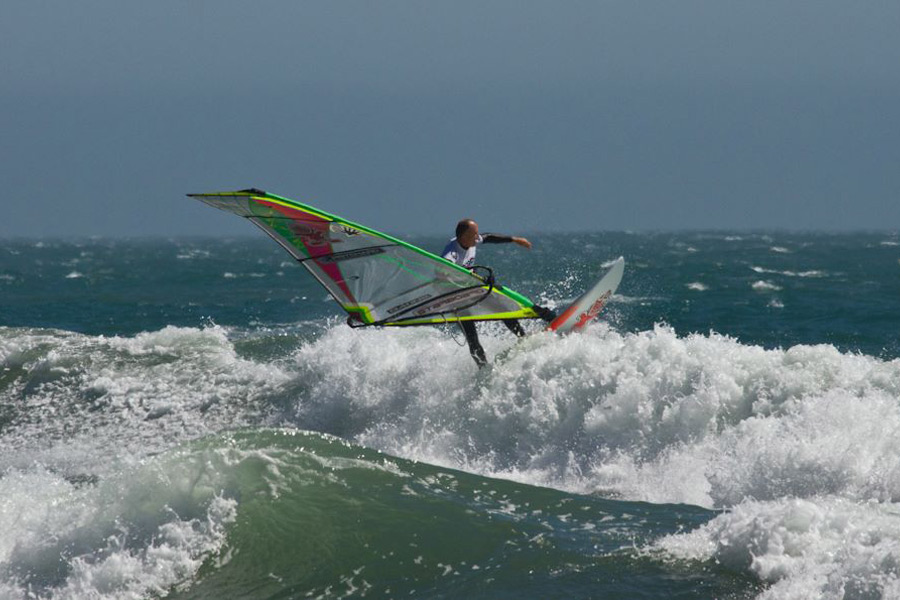 PRO – Single Elimination Semi-finals
The first Pro semi-final got underway with defending champion Levi Siver up against Bernd Roediger, Morgan Noireaux and Kai Katchadourian. A stacked heat for sure. Siver found some meaty waves early landing nice aerials and stuck a big one-handed Back Loop ensuring his spot in the final. Kai Katchadourian sailed solidly and consistently with ripping rides and big Back Loops but it wasn't enough to put him through. The battle for that second spot in the final between Roediger and Noireaux was intense. These guys have had countless battles over the past three years and this one was just as intense. Both landed huge one-handed Back Loops and stylish wave rides…but in the end the judges gave the decision to Roediger. The biggest cheer of the heat came at the very end with Siver landing a huge Wave 360 but then getting swallowed by the massive wall of whitewater.
The other semi-final saw 2013 overall AWT champ up against Kevin Pritchard, Marcilio "Brawzinho" Browne and Bryan Metcalf Perez. Brown took the heat sticking his third Double Forward of the comp (that makes him 3 for 3 up to this point) and some incredible new-school wave rides. Metcalf Perez and Juban sailed well but just couldn't match Kevin Pritchard's smooth yet aggressive style. The Pritch is on a roll!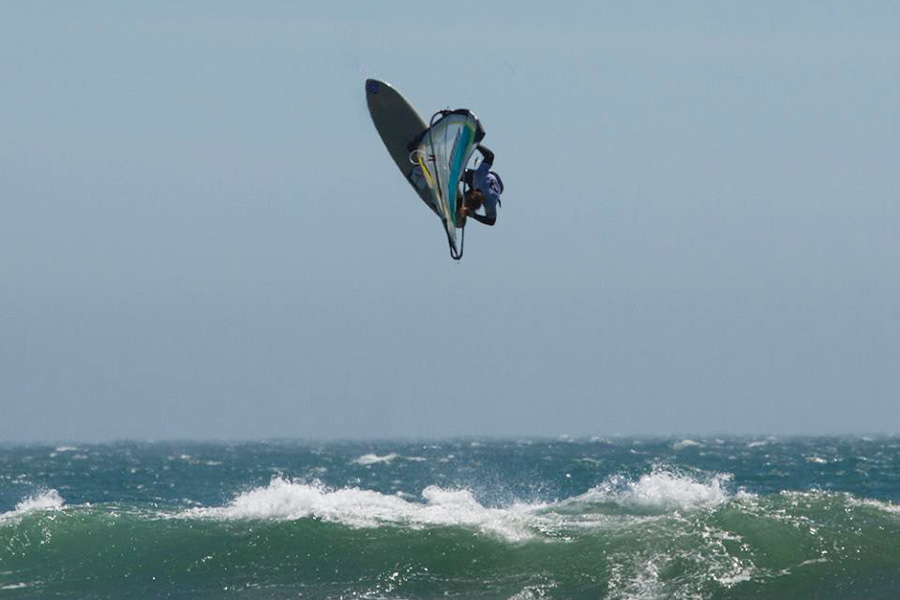 PRO – Single Elimination Final
The heat began with Browne speeding out looking for his Double Forward. He found his ramp, but something went wrong and he crashed for the first time on a Double in the contest. What would this mean for the rest of the heat? Roediger and Siver soon racked up their one-handed Back Loops and solid wave rides. Browne looked a little off his game crashing on a Backside 360 to start a big wave…but this is what the AWT is all about—going for big moves at the start of big waves. Halfway through the 16-minute heat Pritchard took the lead landing a huge one-footed Back Loop and then a super-highspeed Wave360 on his ride. Suddenly Browne found his groove landing a giant one-footed Back Loop of his own and a stylish Taka at the critical section of a big wave. The action was intense and no one knew who would win.
Following the heat at the awards AWT Director Sam Bittner announced the result… Kevin Pritchard took the final narrowly ahead of Browne, followed by Siver and Roediger. Congrats to all.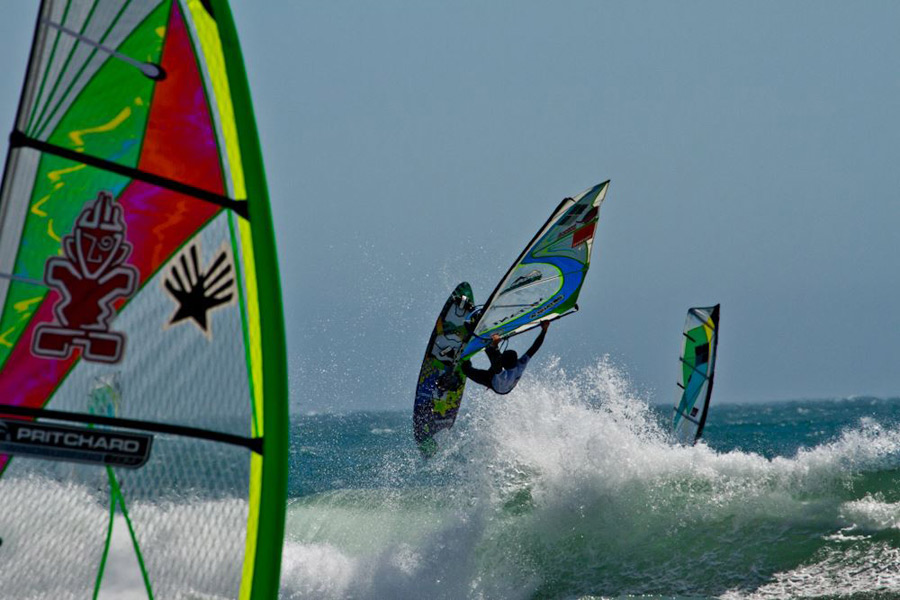 WOMEN – Final
Some big set waves were rolling through for the women's final with defending champ Ingrid Larouche taking on Sarah Delaunay, Fiona Wylde and Miho Tanaka. Delaunay's came all the way to Santa Cruz from New Caledonia and showed very impressive riding style on some big waves…this girl really charges. Miho Tanaka and Fiona Wylde. In the end Ingrid Larouche took the heat linking countless impressive turns on the biggest waves.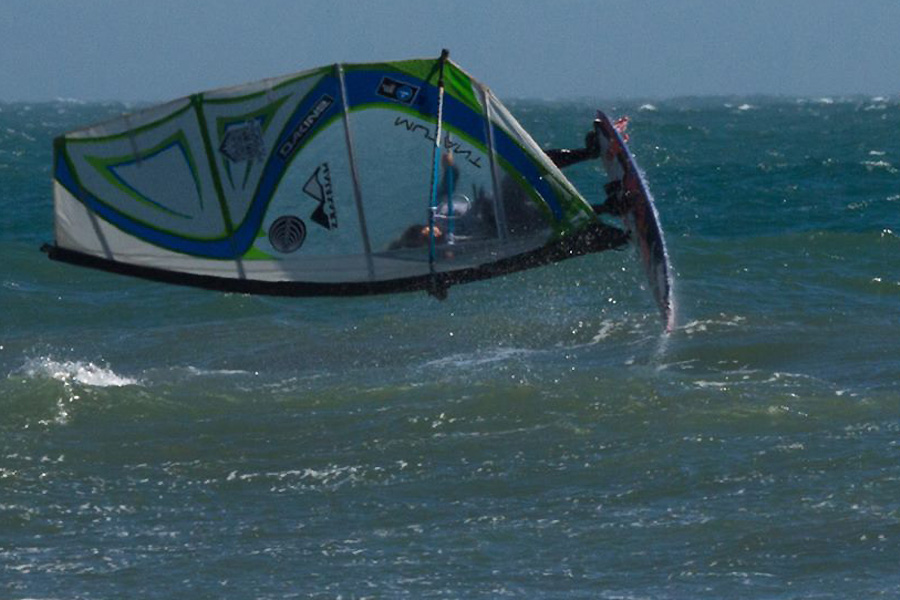 AMATEUR and MASTERS – Finals
The Amateur semi-finals kicked off with Jerry McKay sailing an incredible heat to advance along with Brett Greene to the final. McKay and Greene seemed to find the nicest set waves and did the most with them. The other semi saw Casey Rehrer's slashy style and Marc Bitoun's powerful riding propel them into the final.
The first semi-final of the Masters division saw Dana Miller and Ferdinando Loffreda slash their way past their opponents. The other side saw Brian Caserio and Gerritt Rutgers loop and ride their way on the best set waves into the final. It looked like Caserio had a plan for the final to get his Forward Loop in early and then ride his way to victory…and it worked. Caserio took the final ahead of Loffreda, Miller and Rutgers.
Special thanks to Wind-NC for donating a nice portion of the prize money here at the 2013 AWT Goya Windsurfing Festival in Santa Cruz. It's great to see a shop from the east coast supporting the tour in such a big way. Check them out online at wind-nc.com.
Also helping out with prize money are Olivia Jenkins, Jaipal Tuttle and MFC.
Words by Pete Dekay Windsport Magazine, photos by Mike Archer AWT