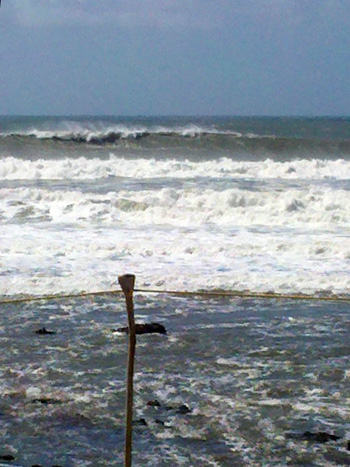 After the best January and February in recent memory we had a crappy March. Only four days of windsurfing. So when a week out we could see it was going to be windy on April 1st some stoke returned and we began counting the days 'till we were back on the water.
But nature had an April Fools joke on tap. We were hit with a swell peaking at 23 feet from 280 degrees. (That angle is a direct hit for us. Usually a swell that large is more like 300 degrees or more.) Waddell was over double mast high while Scott Creek and Davenport were nearly triple mast high. In town, nameless outside reefs at Steamer Lane were breaking a mile off shore and the Mavericks crew was out at Swift Street.
All the windsurfing beaches were washed out. There was so much water moving it was insane. It was windy – like 20 to 30 knots but the channels at Scotts and Davenport were completely closed out. A couple guys tried but gave up. For the first time ever, as far as I know, windsurfing was canceled in Santa Cruz due to size!
The really interesting thing was Waddell was firing on outside sandbars about a half-mile off shore. There were beautiful rights and lefts with like 30-foot faces. The only problem was the relentless mast high walls of whitewater from the inside closeout sets a couple hundred yards from shore. It was like an act of God preventing anyone from reaching these amazing outside monsters.
In the end not a single wave was ridden by any of the NorCal crew. We were joking that if the contest was being held in such conditions the winner might score just by making it outside. I'm sure someone would have pulled it off and it would have become legendary.
The footnote is that on the April 2nd the waves were half the size – back down to a mere mast high. With 25kts and tons of surf there were smiles all around. Let's hope for something like that next month!
-Words by Jaipal Tuttle