As expected from the forecast, the conditions came back to Moulay for the final day. With a full day's competition ahead, the format was set with 2 waves and one jump to count. The first round of the Pro Double saw an early exit for Igor Yudakov and Luigi Madeddu who couldn't match the local talent on jumping. Moroccan Abdelrahim Elabdi scored highly with a one-footed back loop early in the heat. Czech Zdenek Maryzko (Naish) was on fire – safely securing his place in the second round.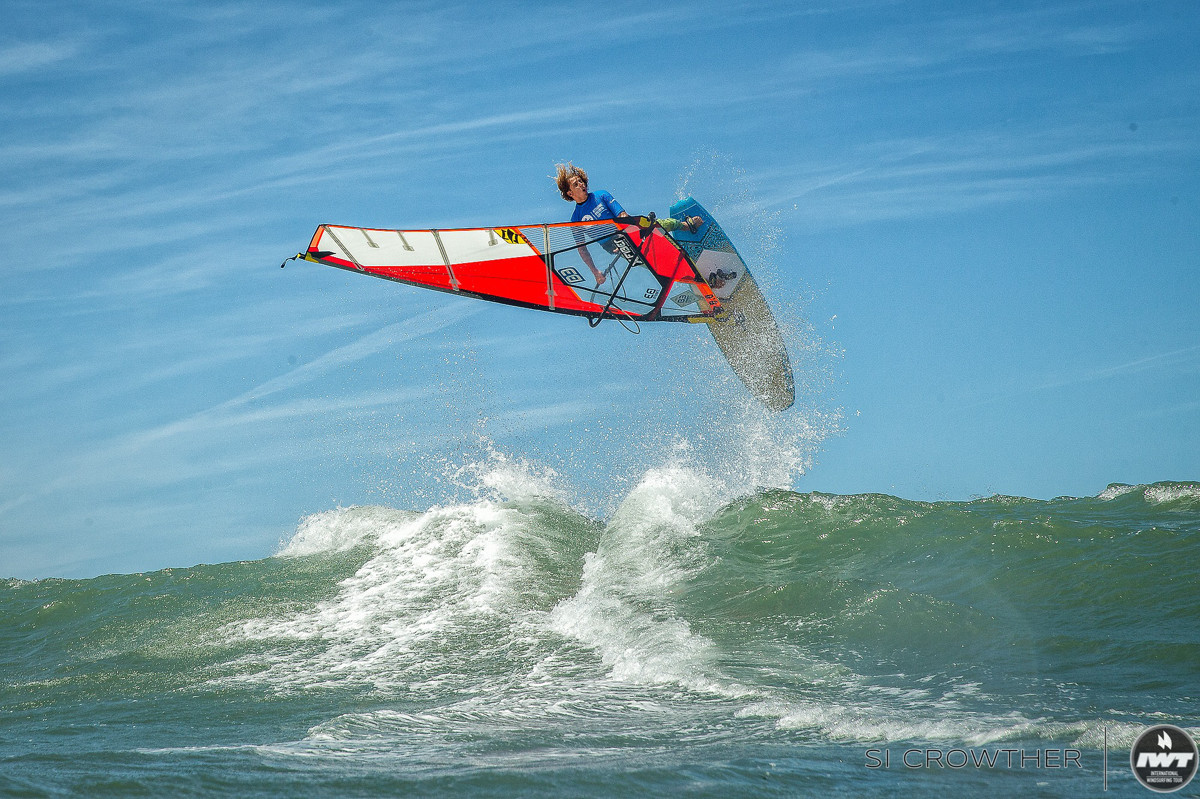 Zdenek Maryzko
Round 2 saw another surprise exit for Russ Faurot who was knocked out by Zdenek who went from strength to strength landing planing forwards and clean back loops, joining Toufik Elabdi (Hot Sails) in progressing to Round 3. Federico Morisio narrowly missed getting to the third round despite having some of the highest wave scores in the heat, losing on jumping. Maxime Fevrier (Simmer) advanced with excellent wave choice while local Abdelrahim Elabdi pulled out another one-footed back loop to secure his third round spot.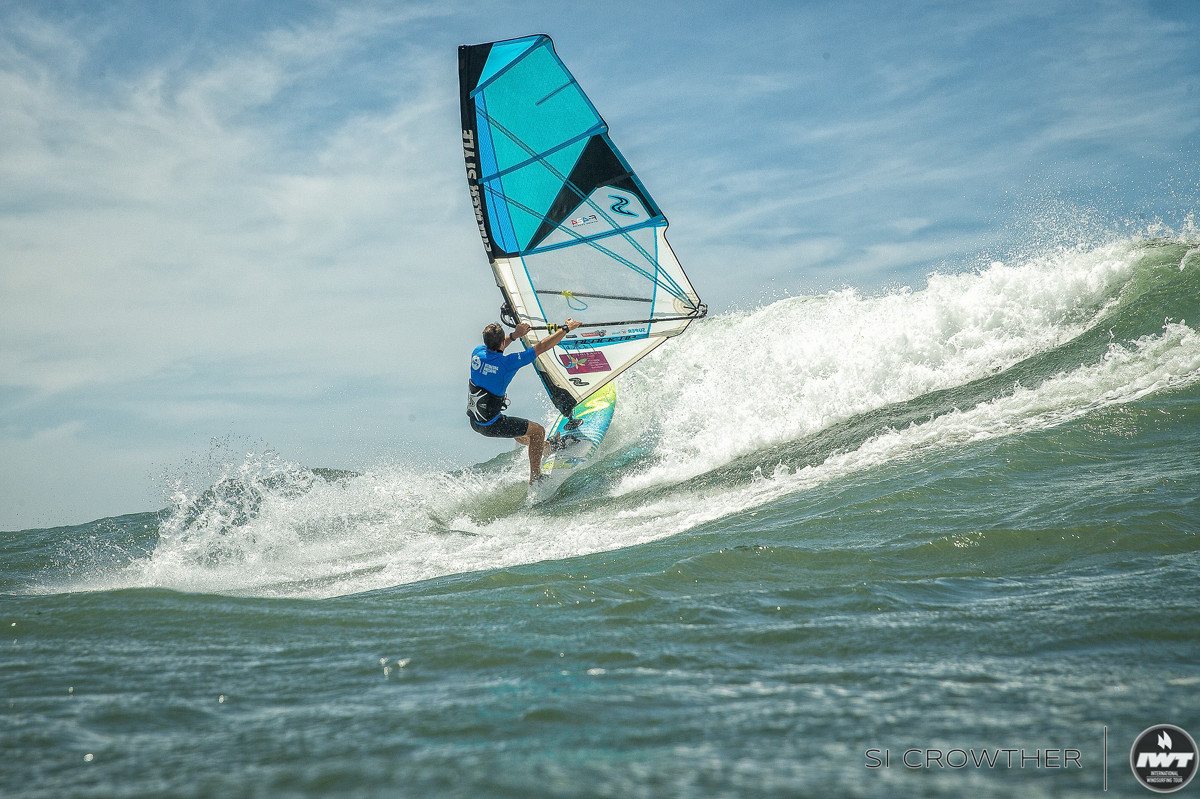 Maxime Fevrier
Round 3 was a sudden death heat to see who would go up against local Soufian Sahili (Severne) sitting in the fourth spot. This was the closest heat by far, with blazing action from the start. Zdenek's amazing run from the first two rounds came to an end, coming third above Toufik who was also knocked out. Advancing from the third round was Maxime Fevrier in 1st place with a 2 to 1 decision from the judges – again with his better wave selection getting him through.
The first of the 2 man heats in the Double saw Soufian and Maxime going head to head. In tricky conditions, local Soufian edged through to meet Edvan Souza (Severne) from Jericoacoara in the fight for 3rd place.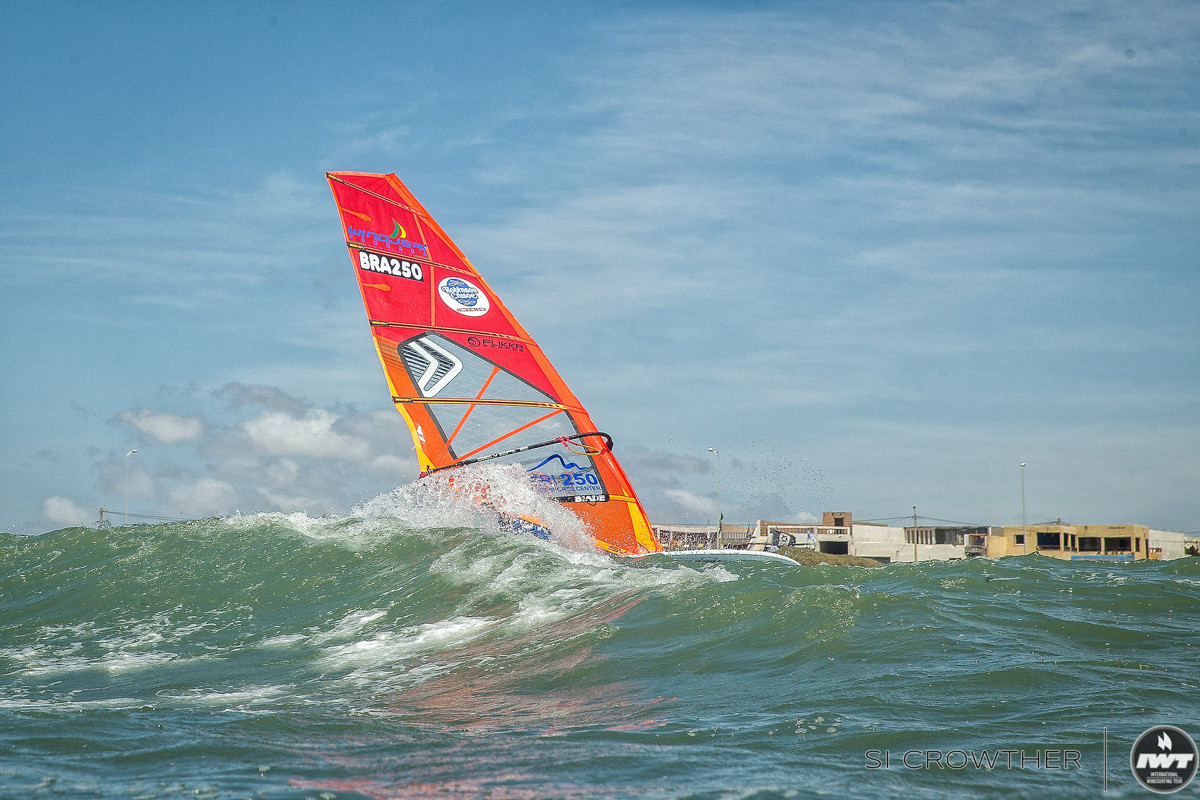 Edvan Souza
The next round saw the two Severne riders starting the heat with fireworks – both landing perfect back loops and forwards. On Edvan's first wave he scored the highest individual of the Double Elimination with an Air Taka and two solid hacks giving him a 9 point ride. He continued with this form throughout the heat looking in strong form, worrying Boujmaa who he would meet in the next heat.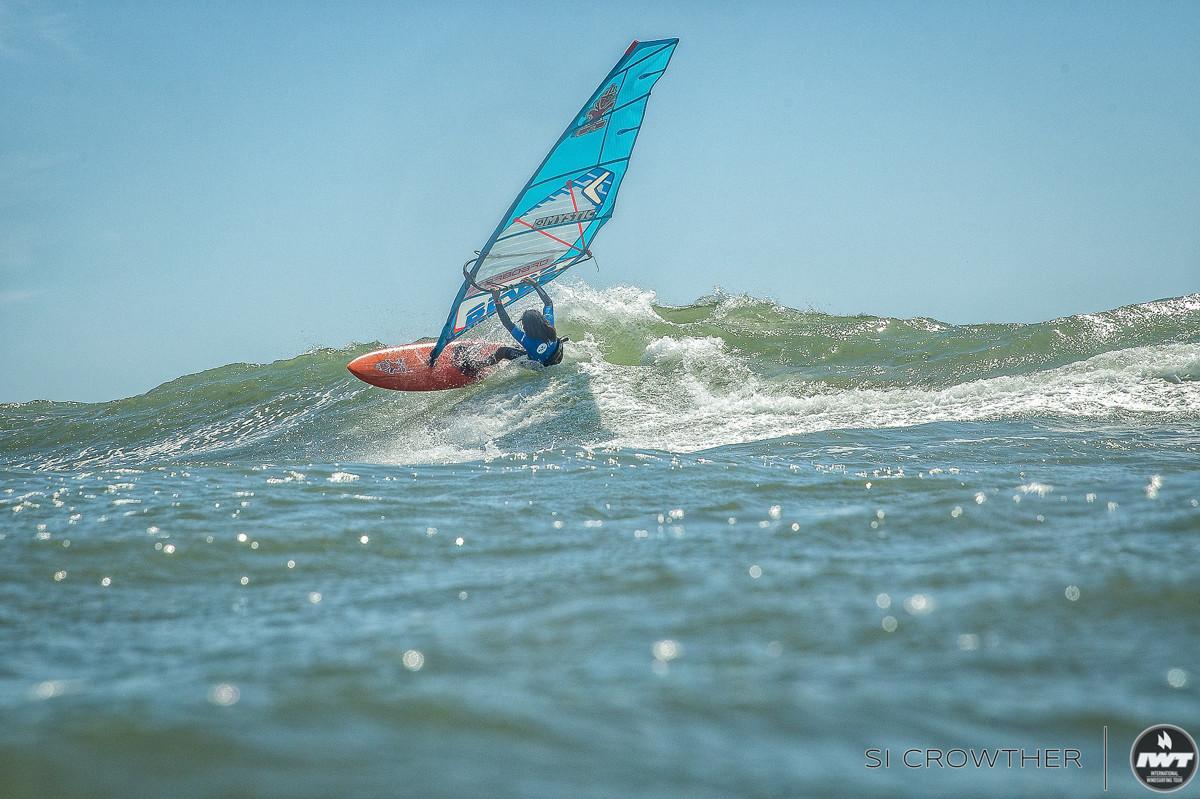 Boujmaa Guilloul
Local hero Boujmaa Guilloul (Severne / Starboard) didn't disappoint the cheering crowd on the beach, throwing one foot back loops with long linking turns down the point of Moulay reef, with aerials and aggressive hacks. Edvan was pushing hard on his rides but couldn't match his last heat form despite his jumping being second to none with push loops, forwards and one foot back loops in his repertoire. His performance puts him on the podium in 3rd place. Locals were cheering loudly from the beach for Boujmaa's win.
Waiting in first place from the Single Elimination was Aloha Classic winner Kevin Pritchard (Ezzy / Starboard). As expected the two riders matched one another jump for jump, one foot back loops were their counting jumps leaving rides to decide if there was to be a Super Final. In the closing minutes of the heat, Boujmaa picked up the set wave and didn't falter by destroying it with 6 strong turns, thus forcing the Super Final.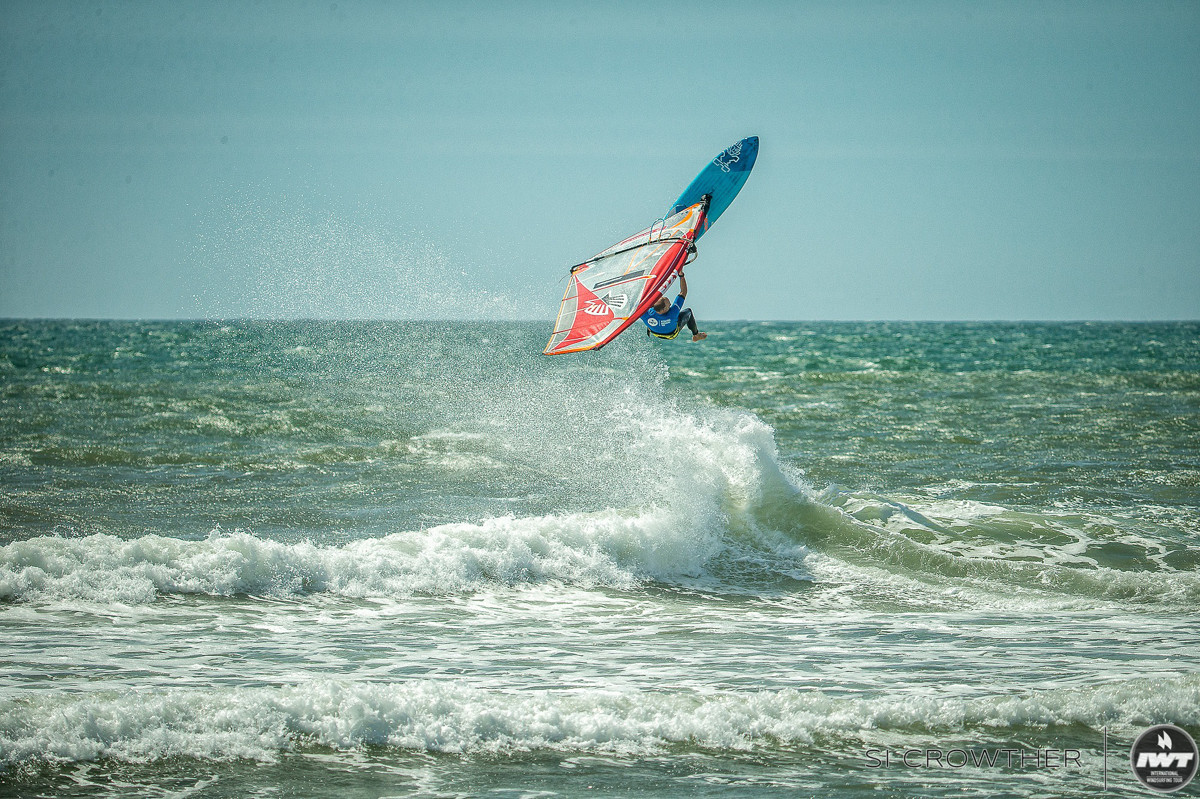 Kevin Pritchard
The full attention of the crowd on the Moulay beach was focussed on the water. TV crews and photographers fixed on the final showdown. The conditions in this heat were very testing, both scoring one foot back loops again, with Kevin Pritchard scoring slightly higher. Boujmaa was determined to not let the win slip through his fingers and pushed hard on the small surf that was on offer. Highlights in the riding included KP's one-handed aerial. At the end of the nail biting heat only a fraction of a point separated the riders with a 2 – 1 decision giving Boujmaa the win to the delight of the screaming local crowd.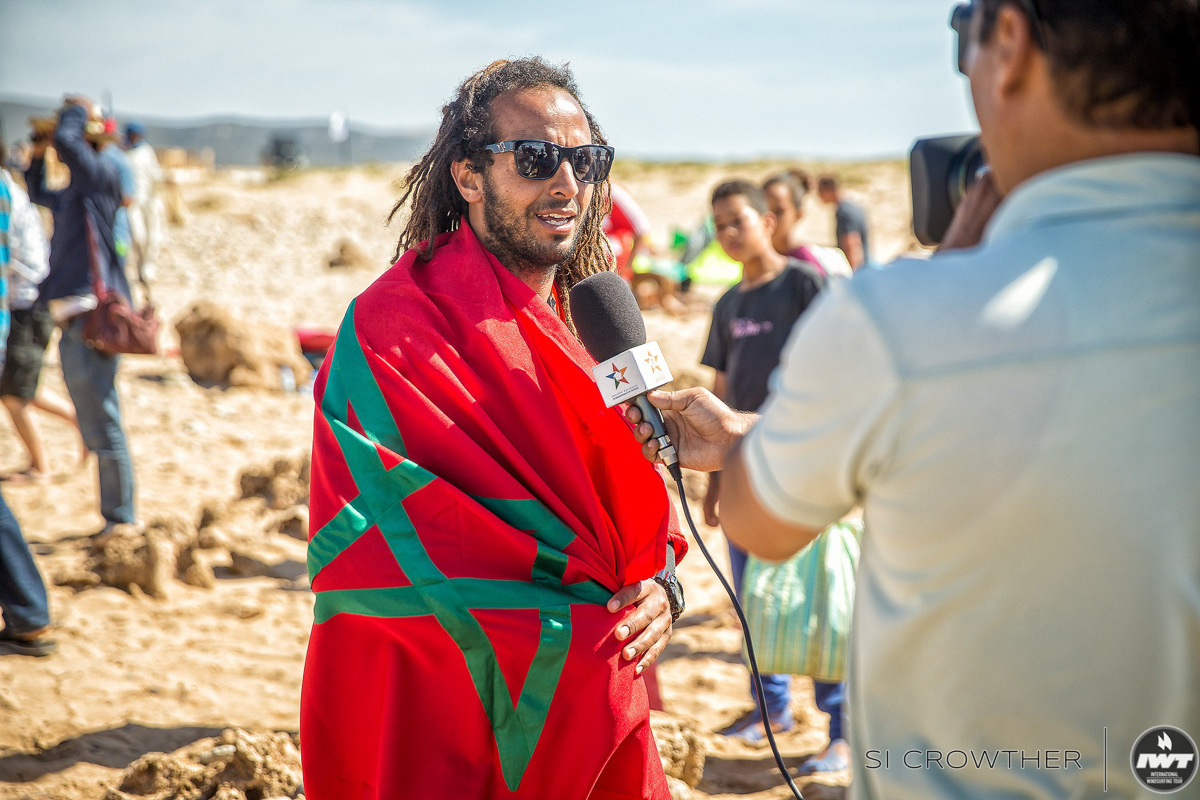 Boujmaa Guilloul
Women's Double Elimination
Round one match between Sana El Arbaoui and Aurora D'Apolito (Severne) started the Women's Double in explosive style. Aurora linked some smooth turns together on both her scoring waves to be too much of a match for Sana.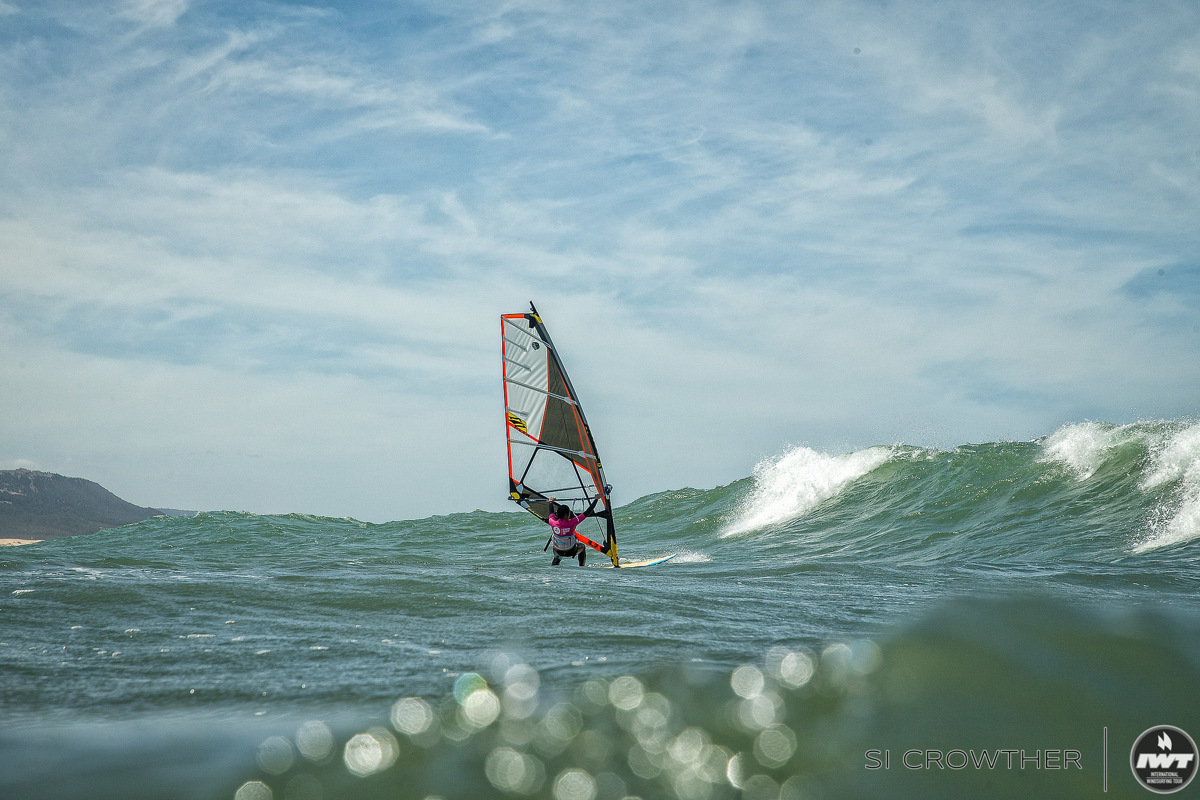 Sana El Arbaoui
Aurora met Sam Bittner (Naish) in the second round with Sam matching Aurora's riding and narrowly advanced to meet Annamaria Zollet (Gaastra) in heat 6.
With no change in results from the single elimination it was Annamaria Zollet who stopped Sam in her tracks, securing her podium position.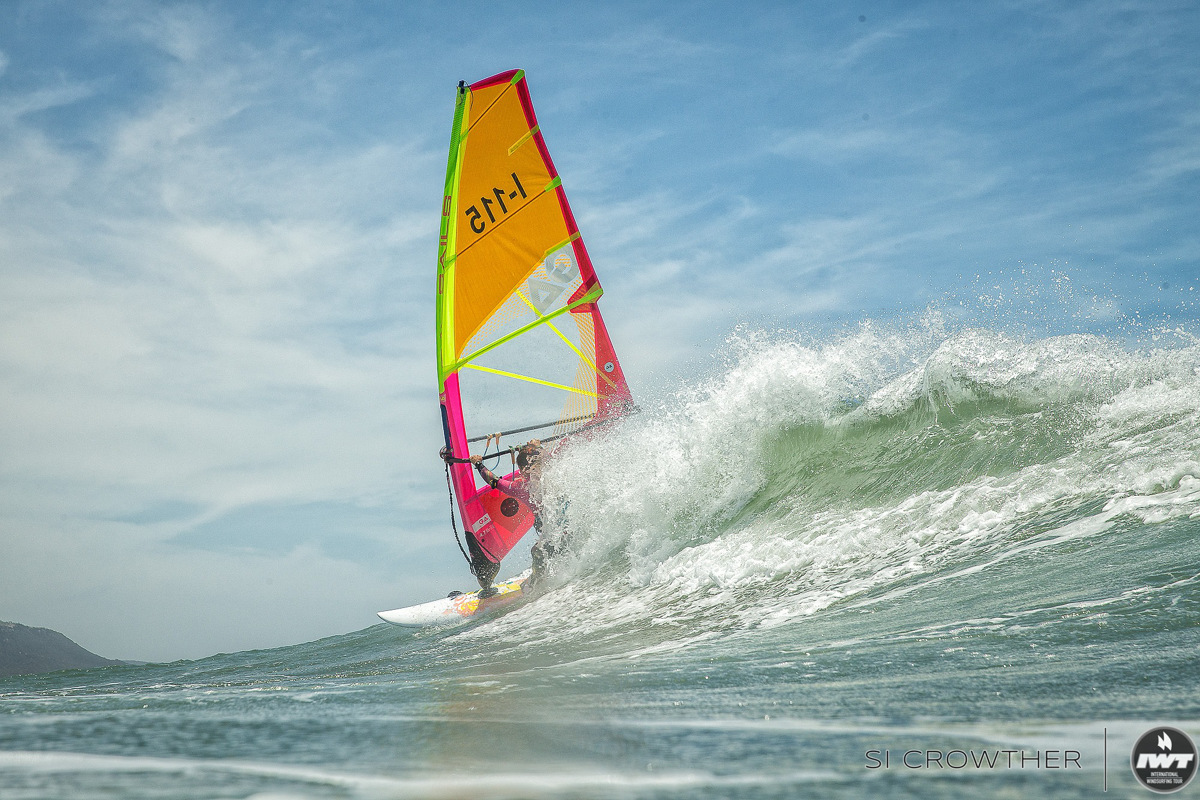 Annamaria Zollet
Heat 7 saw Maui based Tatiana Howard, experienced starboard tack sailor, beat Annamaria with aggressive top turns and good wave choice to meet Sarah Hauser – the winner of the single elimination – in the final.
The final opened with Tatiana ripping the small Moulay surf. Sarah Hauser had her chances with good wave choice. She hit the first section hard but couldn't seal the deal after falling on her second turn. Sarah did the highest forward but Tatiana's landing was cleaner on her attempt so was rewarded higher. Sarah must have known the Super Final was looming.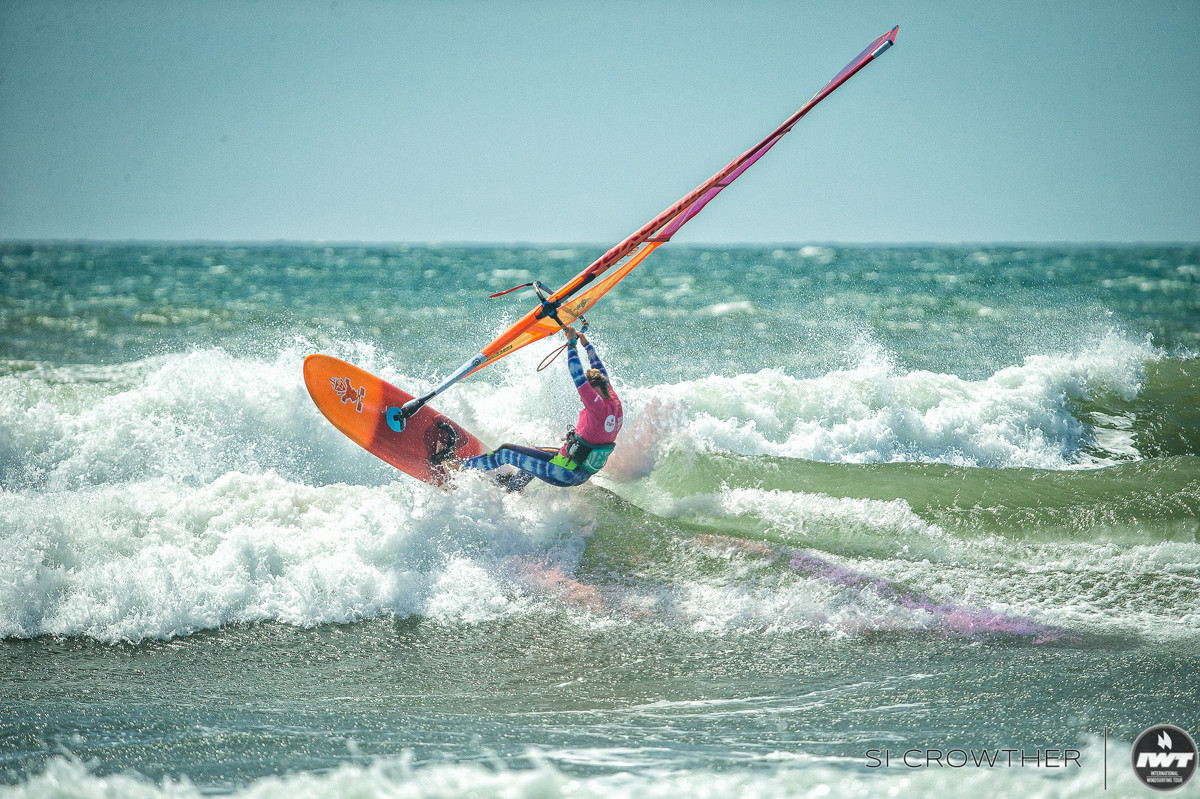 Tatiana Howard
The Women's Super Final was a repeat of the action from the first. Tatiana went from strength to strength picking better waves than Sarah and throwing buckets of spray to the crowd's delight claiming the win in the Double.
Youth Double Elimination
In the Youth fleet of predominantly local sailors we saw talent from Saad Houssine who advanced through 3 heats and Mouhamed Anssais who secured third place. The final showdown was between Jahdan Tyger (Severne) – the young starboard ripper from Jericoacoara – and local Bakh Anas. Jahdan was a stand out, landing clean back loops and front side aerials on his riding. Definitely one to watch for the future.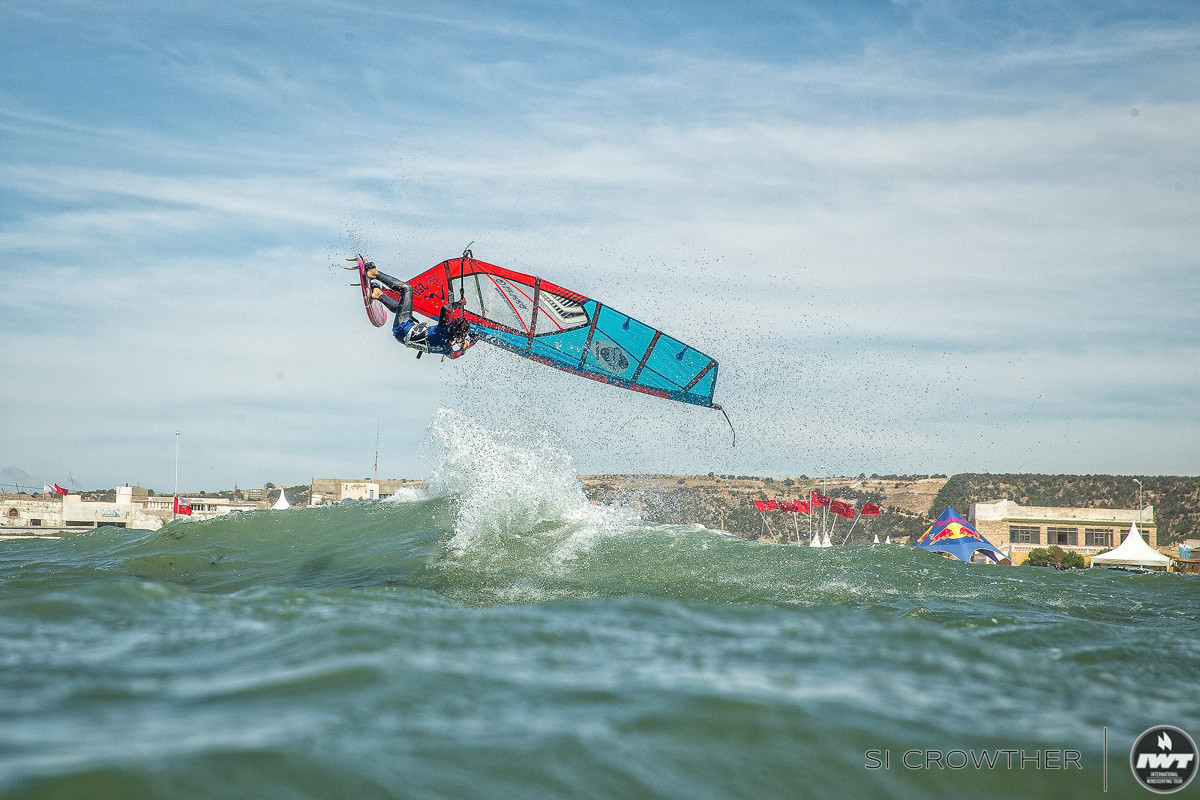 Jahdan Tyger
Amateur Final
Local Yves Masnada (Hot Sails), last year's winner, met Canadian Tom Soltysiak (Sailworks). Tom busted out a decent forward early on but Yves saw that and landed a back loop in response. Tom was no match for Yves' riding and his local knowledge paid off, securing his win.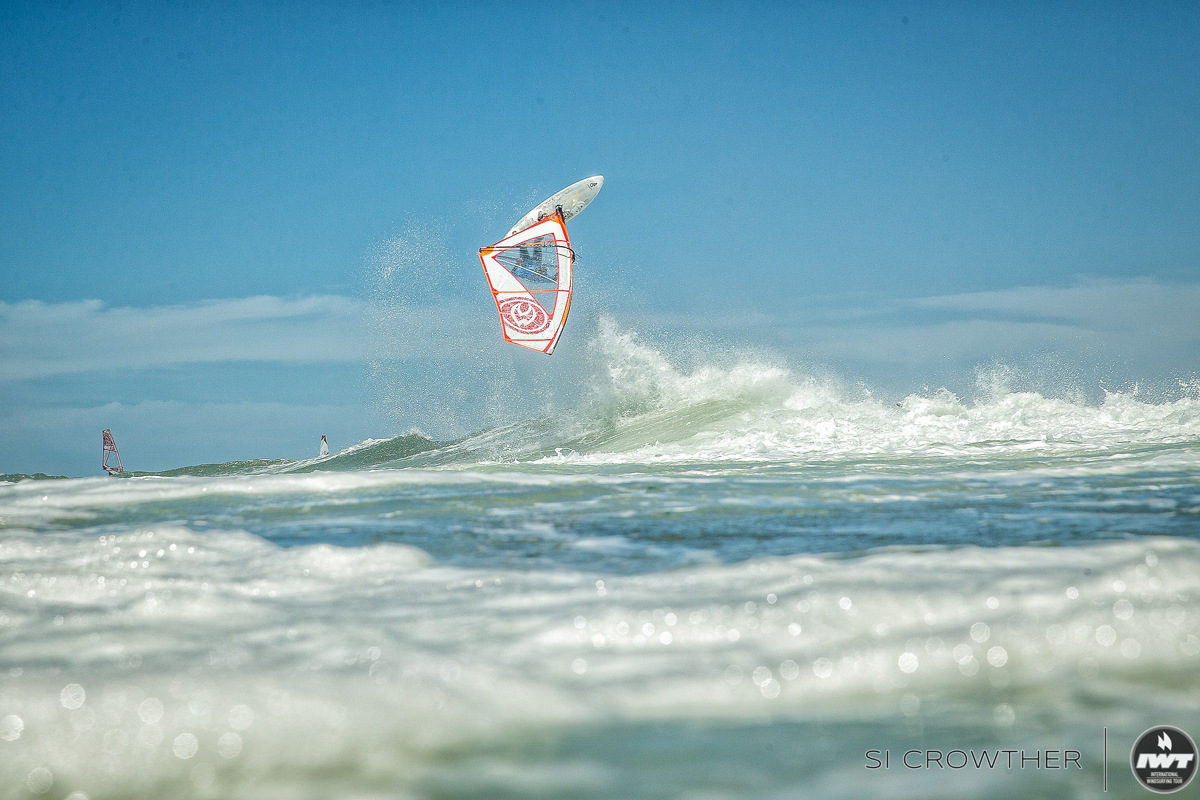 Yves Masnada
Masters Final
JP Pooley dominated all three rounds with three first places to take the title with Carl Spiess (the Big Canadian Guy) taking second place overall but third in the single elimination today to Simeon Glasson, who flew in from Maui three days ago to compete.
Grand Masters Final
Colby Deer secured his first place podium here in Moulay with two first's and a third place in today's action. Gerhard Thaler held his second position and late entry Chris Pow taking the win today but finishing third overall.
We didn't see the full glory of Moulay's potential but the competition has been a great success with three days of good competition sailing in a mix of conditions from starboard riding in the single and port tack riding in some of the Double and back to traditional Moulay starboard conditions to close the contest. With both Singles and Doubles completed in every category, we look forward to coming back next year. A massive 'Thank you' to Boujmaa Guilloul and his crew for all their hospitality and great organisation.
Text by Dawn Pooley and Duncan Coombs. Photos by Si Crowther
Final Results