No wind today in Moulay. The riders were very busy though, giving interviews in Essaouira for different French and Moroccan national TV channels. Without the wind on their sides, the organizers of the IWT Morocco Spot-X were creative, and many fun activities took place around the beach like a fitness bootcamp, a zumba class, and some tow-in sailing.
Reflecting on the competition, and more particularly on the young Moroccan windsurfers, we wanted to share more about the collaboration between the IWT and the non-profit Beyond Boardshorts. which has allowed 7 youths to enter the event and 2 young amateurs by taking care of their registration fees.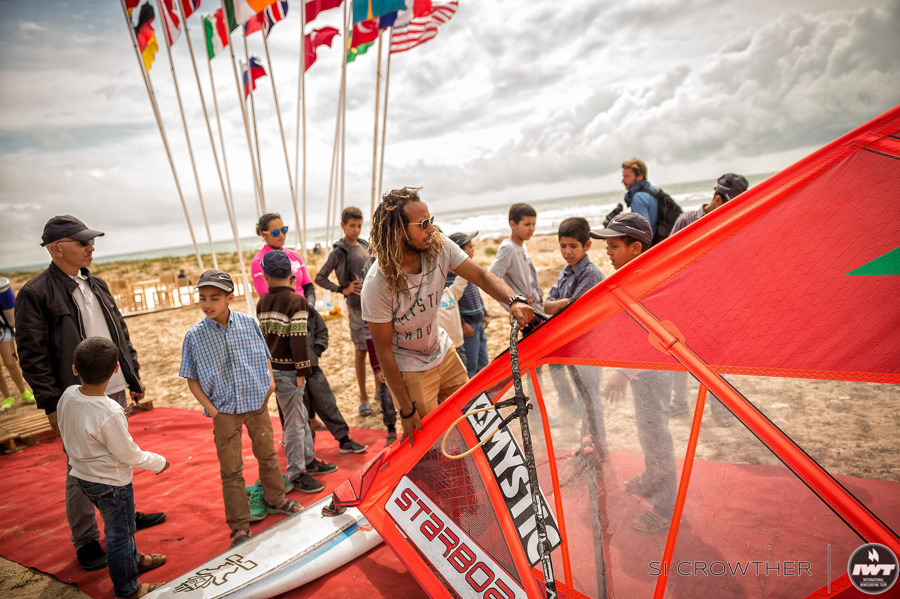 Sam Bittner: "This year I heard about Beyond Boardshorts and all the good they are doing for windsurfing kids around the world who could use a little help with their desire to windsurf. Boujmaa has always told me about the great energy coming from Morocco with the youth windsurfing and the struggle for them to access gear. Boujmaa is an amazing inspiration and help to these kids, but Beyond Boardshorts has stepped in to support the youth even more. The image of these kids smiles coming on and off the water from their heats during the IWT event is unforgettable and I hope to collaborate with Beyond Boardshorts for years to come in an effort to support the kids!"
Beyond Boardshorts: "Beyond Boardshorts was founded by professional windsurfers (Wyatt Miller, Tyson Poor and Bryan Metcalf-Perez), who saw the future generations struggling because of a lack of quality, up-to-date equipment, limiting their time on the water and training.
The mission of Beyond Boardshorts was established. "To bring our passion for water sports to the worlds youth by providing inspiration, training and equipment to those who would not otherwise be able to participate in water sports such as windsurfing."
In 2016, Beyond Boardshorts became a recognized US nonprofit organization. This means that the organization is a public charity and therefore donors can deduct their contributions. All of the donations received are distributed 100% to the cause.
Thanks to the generosity of donors, the nonprofit organization has been able to supply local kids with quality windsurfing gear in countries like the Dominican Republic, Mexico, Cuba and Colombia. In one event, enough money was raised to purchase a chase boat and trailer for the windsurfing club in La Paz, Mexico. Incidentally, the boat is used to assist the free instruction given to the locals.
Just recently, Beyond Boardshorts collaborated with the International Windsurfing Tour and local Moroccans, Boujmaa Guilloul and his companions, and were able to sponsor 9 local youths to the competition!
"We got involved with the International Windsurfing Tour because of its profound influence to inspire the future of windsurfing and the opportunities it provides for everyone to be involved and showcase their talents in a fun event that leaves everyone smiling!"-Beyond Boardshorts Team
The goal for Beyond Boardshorts is to continue supporting the future of windsurfing youth internationally and here at home."
Soufian Sahli is a great example of the amazing potential that exists in Morocco. He made it to the finals of the single elimination in the Pro division and left a big impression on the judges that day. We stopped by Bouj X Sports (Boujmaa's windsurf center, where Soufian works) in Moulay and asked him a couple questions.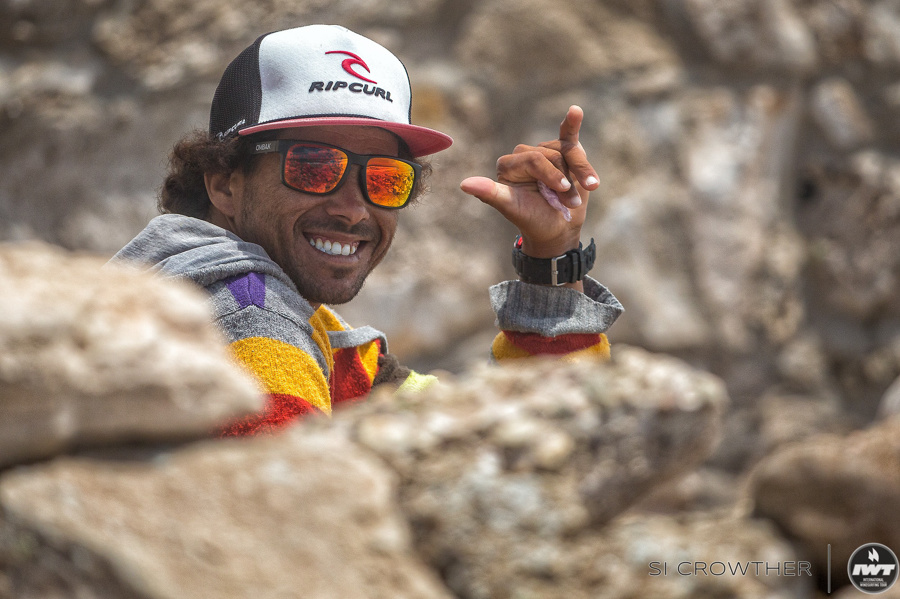 Soufian Sahli
Soufian, how did you start windsurfing?
I started with my friends Fetta Lamara and Boujmaa Guilloul 12 years ago. I was 16 years old. Boujmaa and Fetta were partners of Bouj Windsurf Adventure and I was working with them. Tourists would come here and leave a mast or a board. That's how I was getting equipment, but here in Moulay it's a wave sailing spot so you break gear. Boujmaa, who already had sponsors, has always helped me. Otherwise I would not have been able to continue.
What does windsurfing represent for you?
I feel good when I am in the water, when I sail I feel good energy. I don't know how to explain it. I just love it and I never want to stop.
What can you tell to people who are hesitant to come sail in Morocco?
I would tell them not to hesitate because here we have really good conditions. For jumping and surfing. We have a good spot.Yes there are a few rocks but it's not the most dangerous, they are actually really flat. I know a lot of people say "Moulay, be careful with the rocks!" but it's really not that bad. It's a great place to improve and attack the waves.
What is your favorite move ?
The cheese roll backloop because it's a rotation that is completely different than anything else. You turn in every direction. I hope I will land it soon! The move that I prefer to land is the cheese roll planing, I love the sensation it gives me.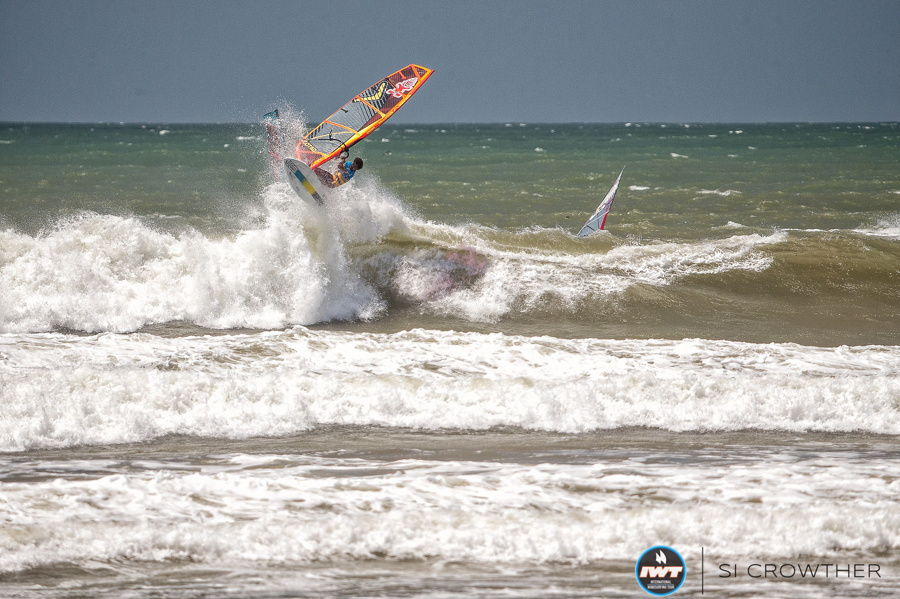 Soufian Sahli
Do you have sponsors ?
Right now I use the sails and the masts that Boujmaa lends me, and for boards Sailboard Tarifa shapes custom boards for me.
How did it go for you during the competition ?
I am really happy because I went all the way to the finals. There were some really strong and stylish riders like Russ Faurot, Julien Taboulet, Federico Morisio. I'm so happy I made it against those guys.
Have you done some windsurf trips before?
I've been to Cape Verde and to the south of France with Boujmaa. I hope I will be able to go to Hawaii for the Aloha Classic this year if I find enough support. It will be my first time there. It has been one of my dreams to go there, to ride those waves, to see how it is. Boujmaa told me so many stories about Maui. I really hope I will be able to go there with him.
Thank you Soufian and good luck if the double elimination runs tomorrow. We really hope to see you in Maui!


Text by Sarah Hauser and photos by Si Crowther