The American Windsurfing Tour was once again blessed with wind and waves as the 2012 Pistol River Wave Bash presented by Naish got off to a stylish start. The juniour heats got underway at 11 am and the conditions just seemed to build, and were truly blasting by the time it came to run the pros!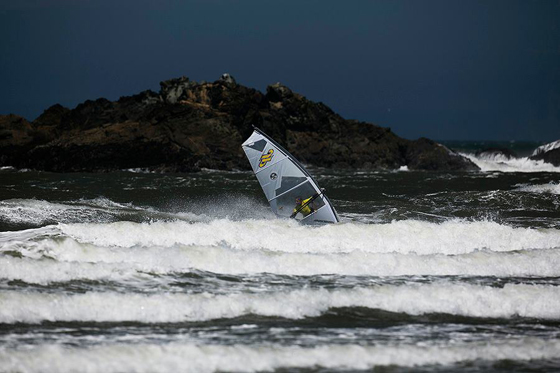 Morgan Noireaux was ripping from the first heat on as he took the youth single elimination against some stiff competition. Despite challenging wave riding conditions he was still able to get incredibly verticle lip-hits that always impress the judges. Ingrid Larouche was back defending her Women's title from last year and really put on a show, but now she really has to look back over her shoulder with 15-year-old Fiona Wylde charging the way she is. One sailor everyone noticed on the water was Attila Tivadar. This guy was always on the best set waves and making the most of them with "bucket-throwing" slashes and impressive airs. Tivadar took the Amateur single elimination and was narrowly beaten by Brian Caserio and Jeff Albright in the Masters.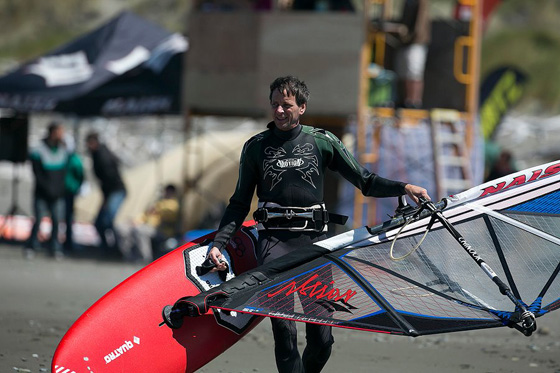 The rider of the day in the Pro division has to be Sean Aiken (pictured above). His silky smooth style and plan on where to go to get the best waves have taken him all the way into the final, which will run first thing today. Joining Sean in the Pro final are Levi Siver, Kai Katchadourian and Bernd Roediger… it will be quite a show. Other highlights included Kevin Pritchard's impressive Wave 360 in difficult conditions and Graham Ezzy losing half a tooth (OUCH!) to his boom in a heat!
-words by Pete Dekay, Windsport Magazine