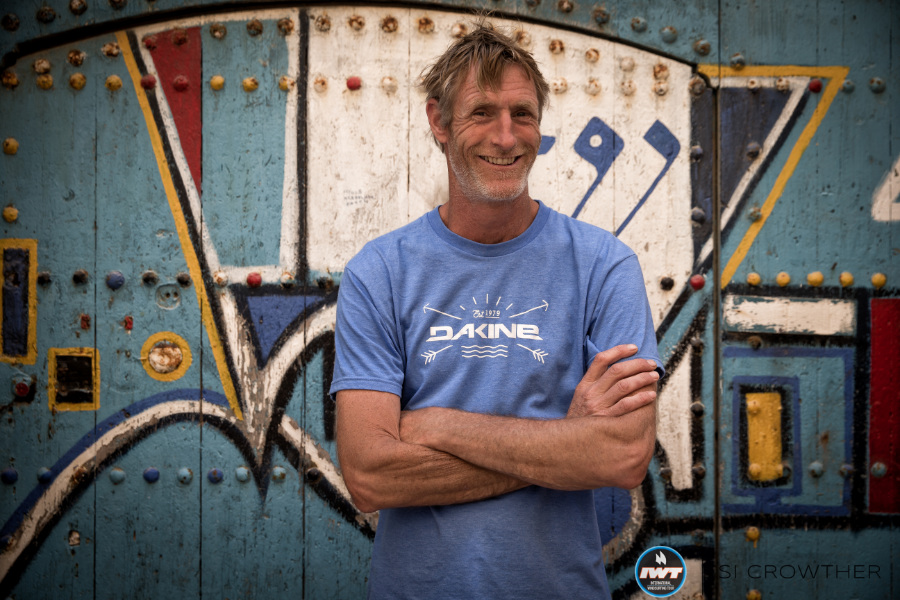 Duncan Coombs
Day 2 was a rest day for the IWT Morocco Spot-X after an amazing first day, completing the single elimination of all 6 divisions! It was a good day for relaxing and sharing stories between riders.
Today the wind did not blow but the waves were still quite fun for those who had surfboards and paddle boards. There were many fun activities taking place around the beach including a very relaxing Yoga class given by Women's finalist Annamaria Zollet on the beautiful beach of Moulay at sunset.
This event is the first IWT competition allowing the PWA to use the Pro results to feed their wild card list. We sat down with Head Judge Duncan Coombs and asked him a couple questions.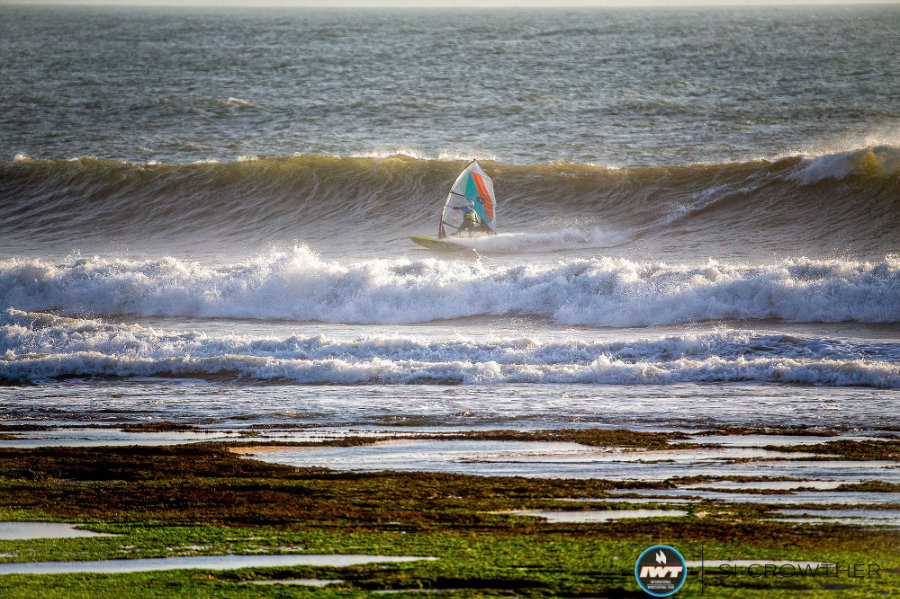 – How did the idea of having the IWT and the PWA collaborate come up?
It's something that comes together from the Maui event, the Aloha Classic. Organizing a windsurfing competition together worked there. Now the purpose is to have the joint event be a qualifier. It is good to spread the word so more people can be aware of it!
– Can you explain to us what the benefits are for the riders?
It is a positive thing because it's really hard for the lower rank sailors to break through to the PWA. One of the biggest problems is if you go to the trials and get through, you're against top ranked riders because of the seeding. So you're most likely to be knocked out at your first heat. Having a qualifier event is good for the rider's confidence and for his sponsors: they are able to say they won an event. It's also really good for the future, getting more experience, riding more heats, and it's perfect for local kids who can't afford to travel. They can show their talent, it gives them the ability to get sponsors and to compete.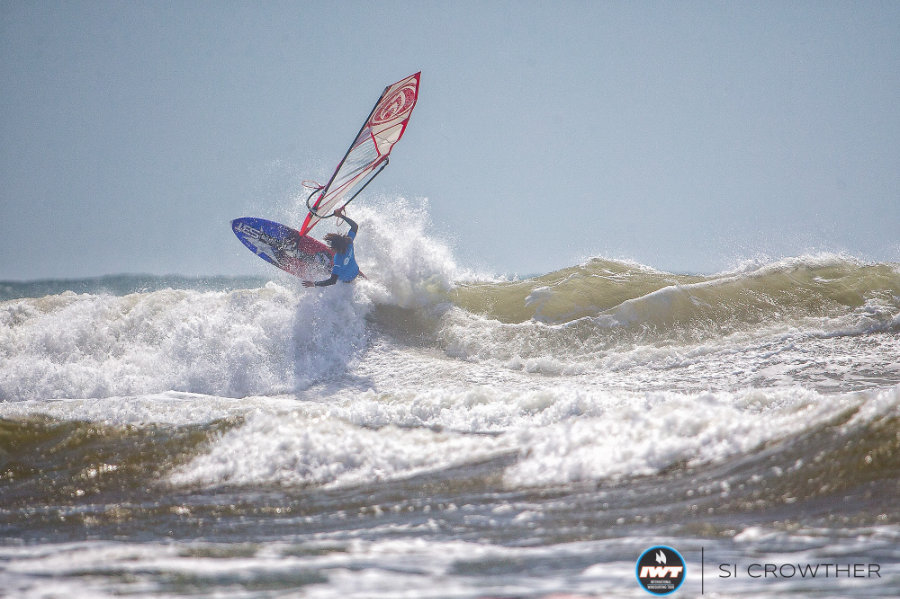 Toufik Elabdi
– How do you see this collaboration growing in the future?
I think in the future it would be better to have people qualifying on a spot similar to where they're gonna go compete. Port tack would make sense for Pozo and Tenerife. But it's still good for a rider to do a qualifying event and make it all the way to the final. Hopefully La Torche will be back. That would be great because it can be starboard tack there.
– What did you think of the spot of Moulay after the first day of competition?
It's a great spot for intermediate right through top level riders. The set up is really good thanks to Boujmaa's knowledge and experience at doing events. He set up an event without us having to ask for much more. If the Moroccan government see the contest is bringing more people to the region, hopefully they'll keep helping with the financing of the event and maybe in years to come there will be enough funding to run a full PWA/IWT event. Also it's cheap for the riders to get here from Europe and the conditions are quite consistent. There is a good set up with accommodation. You don't need to rent a car. And it's a good training ground especially because the level is really high here with the locals.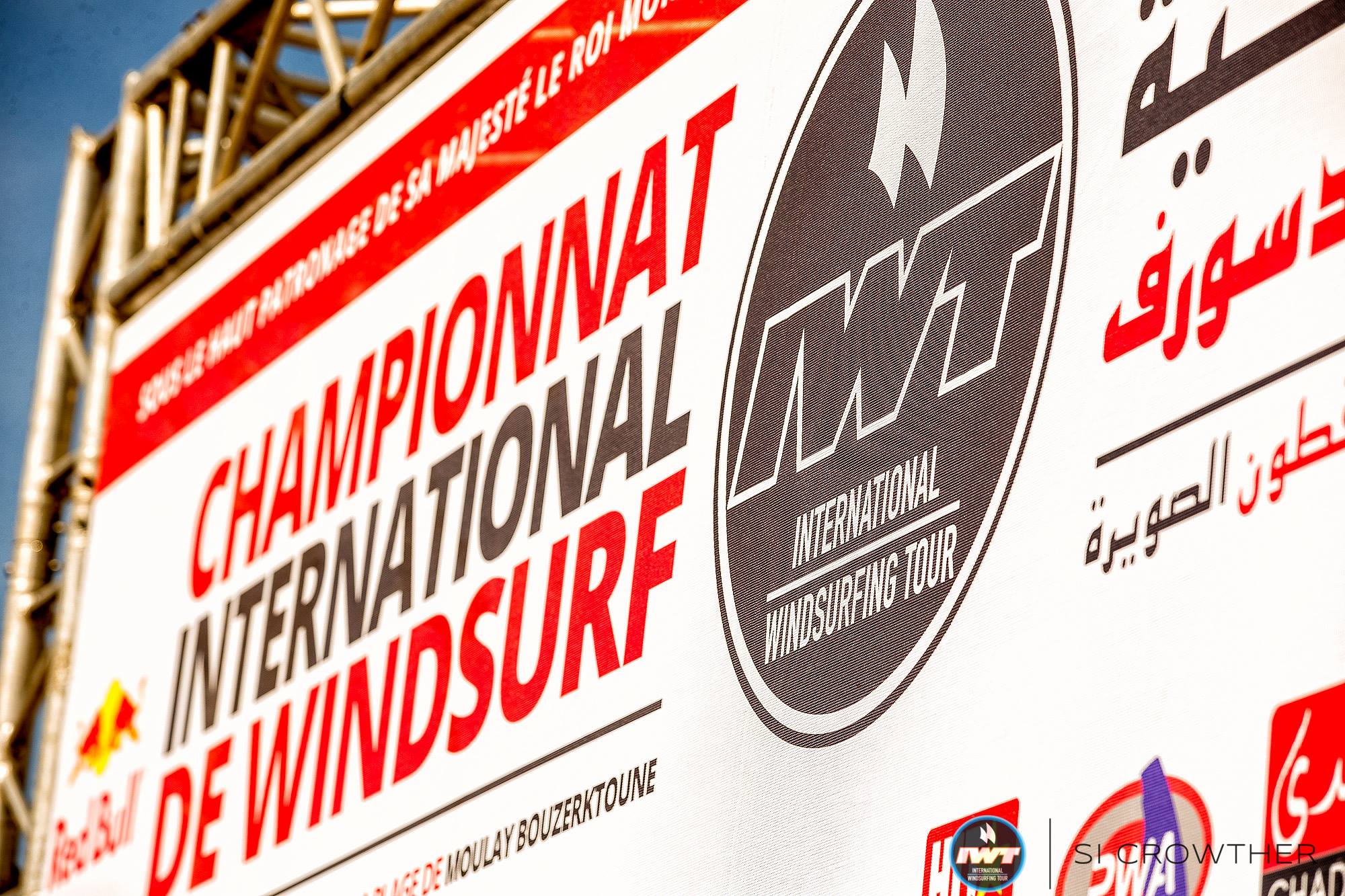 – Will you run a double elimination this week?
It's important for me to do the double. It gives a second chance to people. The forecast looks like some great conditions with strong wind on Saturday so we will try to run the double for the Pro and maybe do an exhibition. It will be interesting to see Federico Morisio who was knocked out in the first round. I think his result will change a lot, he has a great potential. I heard he's been ripping in Maui. Also Soufian Sahili, who's one of the finalist, has the potential to challenge the top 3.
– How would you compare the judging here and in Pozo?
This week end will be quite similar if it's windy!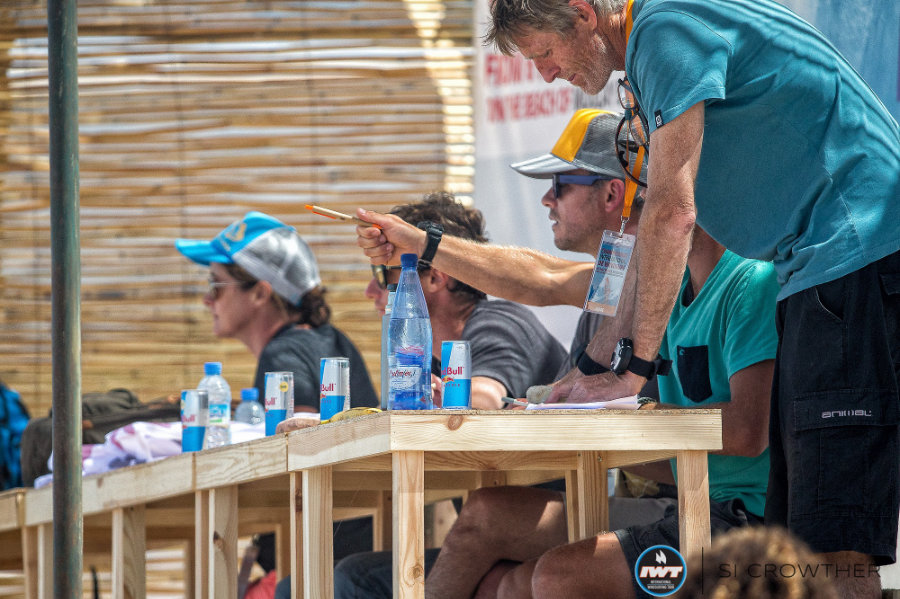 Judges
– What do you think of the interactions between the Amateurs and the Pro during the IWT events?
I think that's why they come. In general the event feels less stressful. It has more of a family kinda feel to it. Everyone is sharing the experience!
– Do you think the young kids of Moulay will be the next "Bonaire kids" in wave sailing?
If the tour had more starboard tack events maybe it'd be possible. That's what we want to see! We want to see local talents competing on those qualifier events. They've got to want to compete though. But yes, there could be another Boujmaa, no reason why not! Boujmaa was discovered by people traveling to Morocco. They recognized and recommended his talent. Another reason why it's great to get people excited about coming to this region.
Text by Sarah Hauser and photos by Si Crowther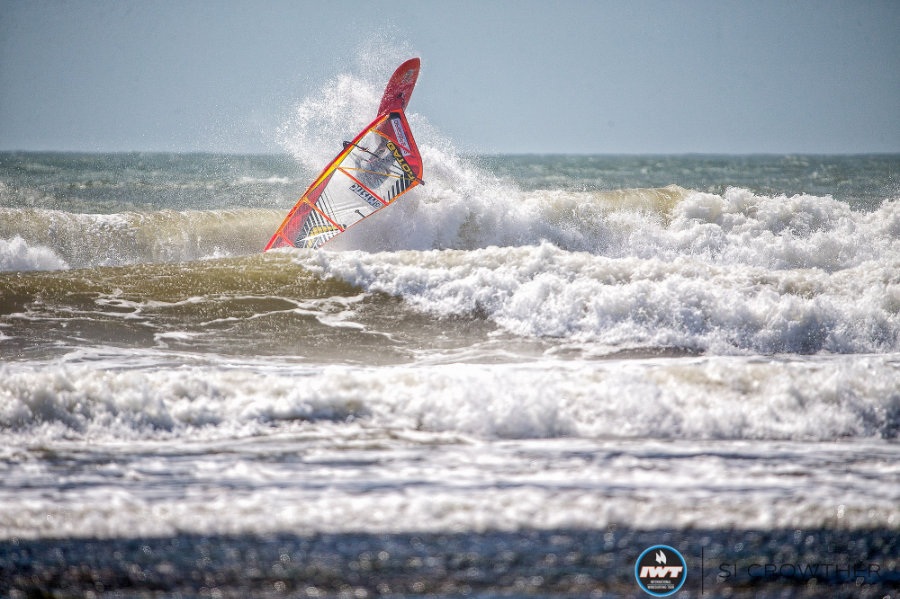 Boujmaa Guilloul