Conditions are continuing to cooperate allowing the Aloha Classic to run on five out of six days so far. We have seen both the AWT Pro and PWA Single Elimination completed and the decision was to dedicate Tuesday to the continuation of the Amateur, Women and Masters fleets with the PWA and Youth riders released. The forecast is looking fantastic with wind and bigger waves later in the week which will be the perfect setting for the Double Elimination of the PWA as Levi tries to hold onto his title and others try to steal it from him.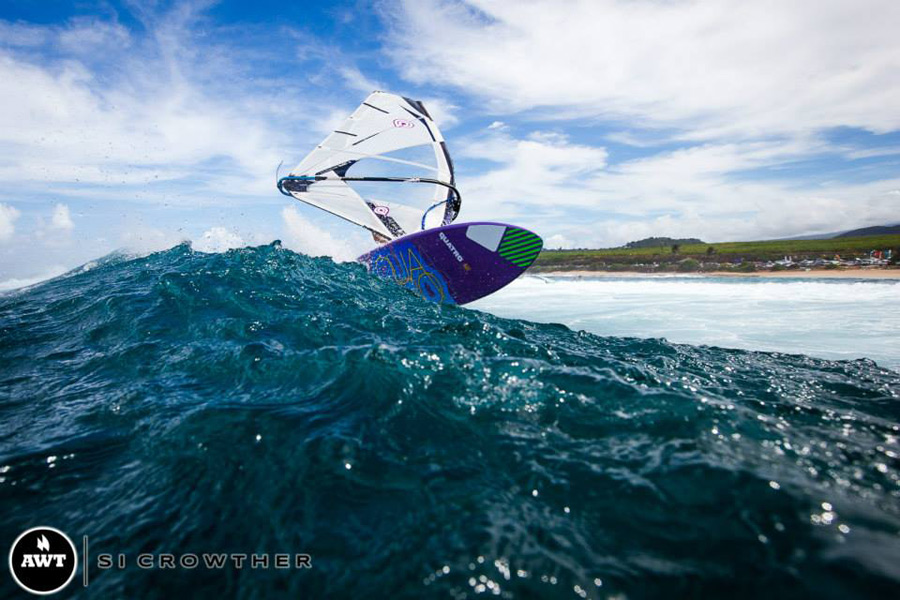 The AWT is an organization, which aims to promote windsurfing and riders of all levels, in many ways the Amateurs are the people who fund much of the Tour and the industry. It is amazing to see the level of sailing and competition rising event by event. The message to those considering joining the Tour is simple – Just do it! In many ways the Amateur division can be seen as the proving grounds for riders looking to move up to the Pro Tour where riders can gain valuable experience and sail the most amazing wave sailing spots in the world alone with just a few friends.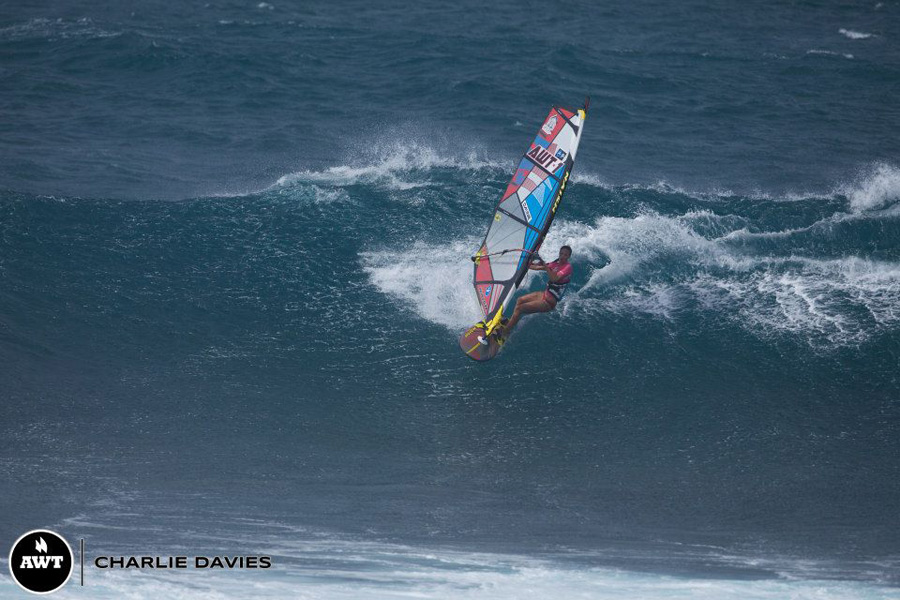 "Hookipa with only two or three others is well worth the trip to Hawaii and AWT entrance fee. I had an awesome day on the water today and decided to go big right at the start; not a great idea for the contest but it got me a free ride on the RedBull rescue sled. Maui has been a great experience so far; beautiful landscape, water and nature. I enjoyed watching the best in the world in great conditions. AWT events have brought me lots of new friendships and made me travel in places where nature is at its best. Thanks Sam, AWT riders and organizers!" Marc Bitoun (Goya Windsurfing, Quatro), AWT Amateur current Tour leader
With logo to mast high surf the Amateurs were the first to take center stage at Ho'okipa today and the completion of Round #1 saw some impressive action. With a number of riders making the trip over from the mainland many are here for the first time and what an experience to get Ho'okipa to yourself during the 18 minutes, for many this is a dream come true and such a motivation to progress through the rounds. The winners of each heat advance straight to Round #3 while the others seek redemption in Round #2. Sailors advancing straight to Round 3 were Lemmens, Baker, Torkildsen, Troup, Rehrer, Devanney, Kubota, Grier, Boeker, Bergeron, Terenzi, Garcia, Fiona Wylde, Escario, M. Wylde and Turpin. The biggest upset from Round #1 was the defeat of current Tour leader Marc Bitoun's in Heat #9 by Stephen Boeker (who is responsible for the Live Cast at this year's event) who sailed an amazing heat. The AWT format encourages riders to go big and Marc went for broke and destroyed his equipment, luckily he had a Pro caddy and was able to continue riding but he was too far behind to catch up. He will be one to watch tomorrow. A highlight of Round #1 was Neil Turpin's powerful turns, he reached the final last year and not many would bet against a repeat of that performance. Round #2 onwards will be held in the days ahead.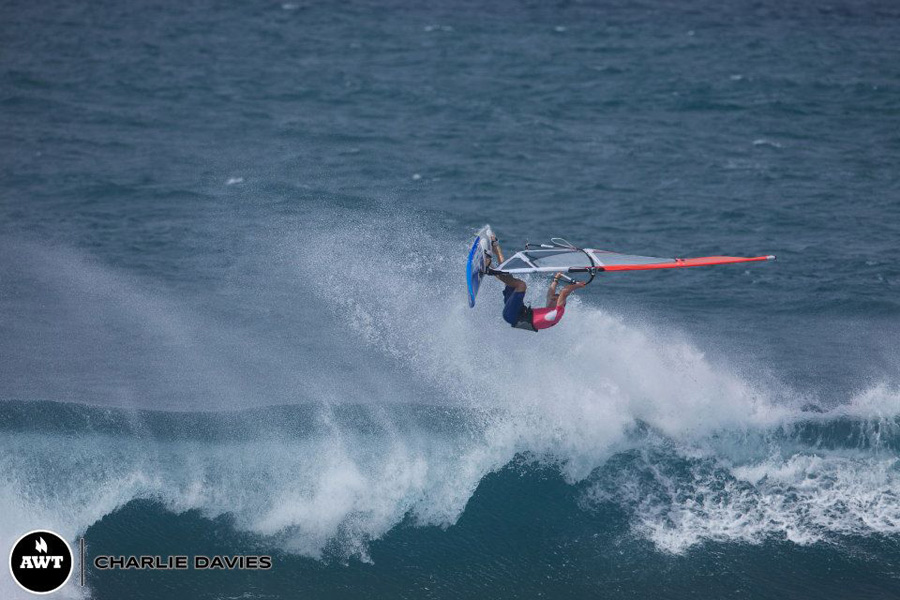 As we moved into the resumption of the Women's bracket Ingrid Larouche knew that she had already sealed the 2013 AWT Women's overall title but the Aloha Classic is special and a good result would cap off another amazing year as she considers the possibility of attending some PWA events in the future. Fiona Wylde is pushing hard and the local contingent are hungry for victory at their home break. Tatiana Howard, Junko Nagoshi, Tiffany Ward and Shawna Cropas all sail Ho'okipa every day and it shows, amazing wave selection, powerful turns and huge hits were the order of the day.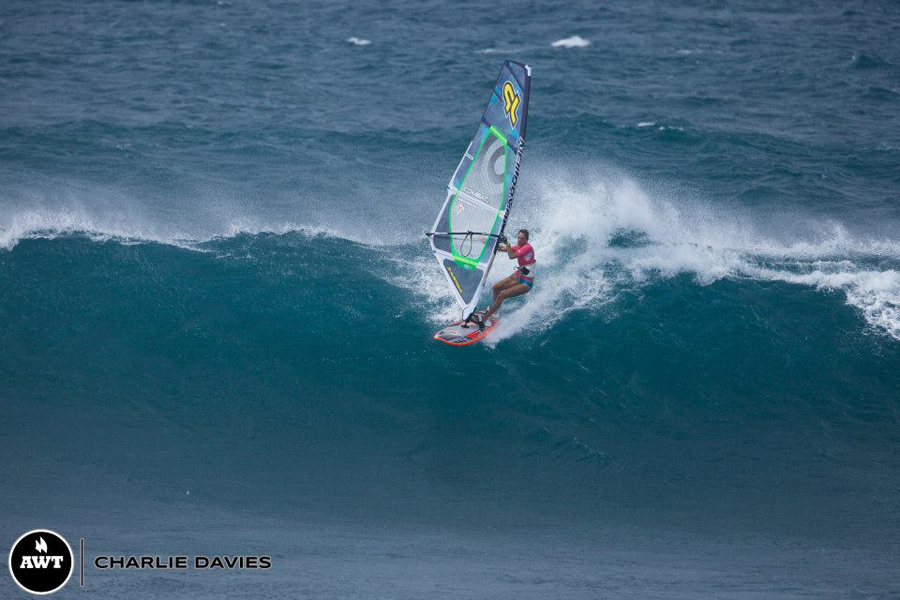 Fiona Wylde (Quatro, Sailworks) seems to be improving with every wave, going bigger, later and more vertical. Shawna Cropas (JP, Neil Pryde) showed her local knowledge, picking big waves and throwing some spray and hitting some thick lips! Alize Bergeron (Simmer) demonstrated how her riding has developed this past year selecting good waves and making smooth, stylish turns. AWT Tour Director Sam Bittner (Naish) caught what may have been the largest wave of the day and without hesitation went for broke but was swallowed up and failed to advance.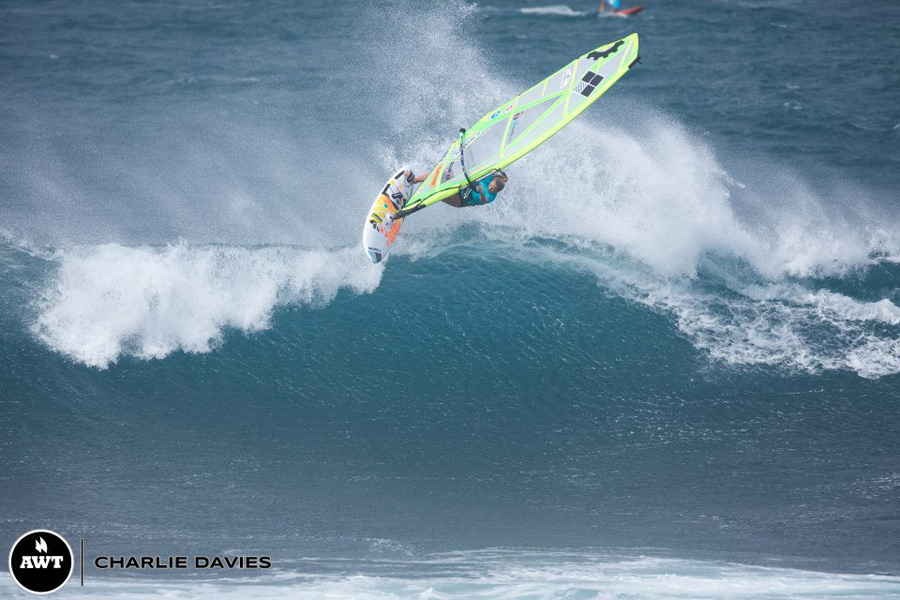 The first Women's Semi Final saw powerful turns by Junko Nagoshi (Goya Windsurfing) as she dominated the heat to book her place in the final, as the defending champion she is brimming with confidence. Tatiana Howard, a fantastic surfer and founder of the Butterfly Effect pushed Junko hard with stylish waves but had to settle for second and one more chance to sail uncrowded Ho'okipa while Fiona and Shawna who couldn't repeat their performances from earlier heats will have to come back next year!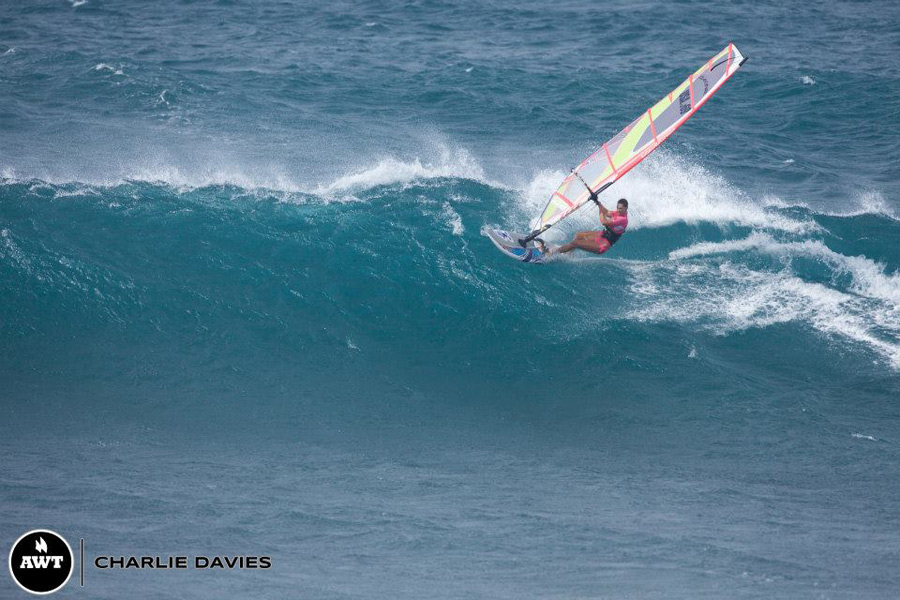 In the second Semi Final Ingrid and Tiffany applied pressure early on, both catching good sized waves early and linking tight turns. Sarah from New Caledonia also showed her motivation to go big and win here at Ho'okipa. Trying to find and rip the biggest set waves, not surprising for a rider who rode Jaws last winter! Miho's strategy of staying upwind at Middles seemed to pay off as she caught the largest and longest wave of the heat but she couldn't quite match the power and aggression shown by local Tiffany Ward and Tour Champion Ingrid Larouche.
The deciding final will be schedule in the days ahead with the final four: Junko Nagosh (Goya Windsurfing, MFC) Tatiana Howard (JP, NeilPryde), Tiffany Ward (Naish, Starboard) and Ingrid Larouche (Fanatic, Maui Sails, Black Project Fins) and is set to be a huge battle between the skills and determination of Ingrid and the local knowledge of the others.
The wave riding displayed so far by the final four women has clearly shown that they could all pose a significant threat if given the chance to compete on the world stage, unfortunately unlike with the Men there is no PWA event in Maui for the ladies this year, if Chile happens and there are women it is likely that Ingrid would put her name down for a Wildcard entrance.
With the conclusion of the Women's Semi Finals, the Masters were given the chance to show their experience at Hookipa. Despite being the the oldest competitors on Tour, their experience shines through and the fleet included three riders; Ferdinando, Sean & Jeff who were part of the AWT Pro bracket as well as a number of riders pushing hard in the Amateur fleet, the eventual winner is going to have to sail to the highest level and take a few risks to claim Aloha Classic victory!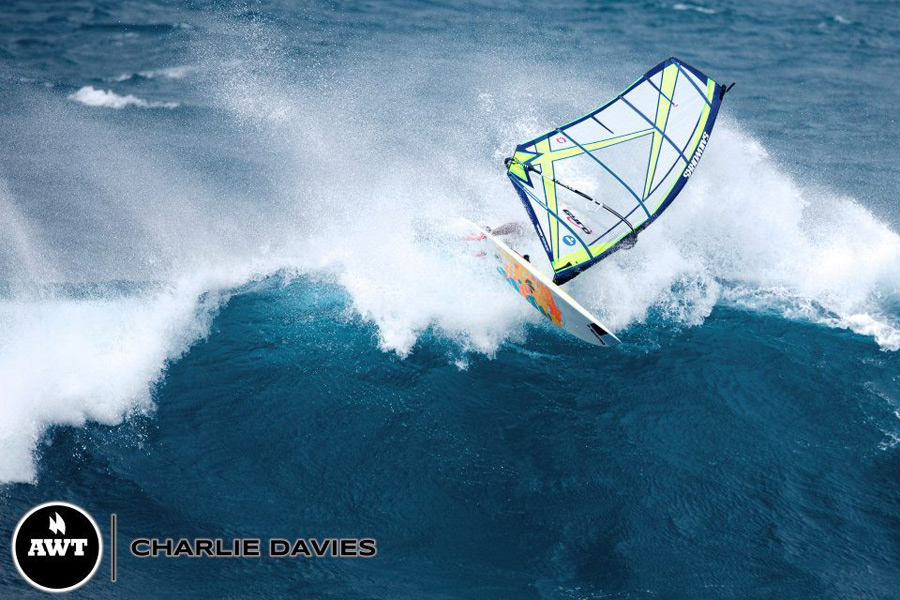 Today's competitors helped showcase Ho'okipa and shows only part of the reason why this contest is so special. With many riders completing the whole Tour camaraderie between Pro, Am, Women, Youth & Masters is amazing all helping each other, Pro's jumping in to caddy when others break down, chatting strategies and giving advice over breakfast, this is greatly appreciated by all. Being a part of this and watching the synthesis develop has been extremely rewarding. The result is that we have a healthy and development Tour which is boosting the participation of windsurfing across the USA and further afield. From an industry and sponsor perspective it is clear to see that those brands which have been supporting the Tour and in particular sending lots of riders to events are seeing a growth in sales to Tour riders thanks in part to the demo opportunities and support given by the Pro contingent. These Tour riders then go back into their communities and spread the message further.
There were no major upsets in the 27 strong Master's fleet with a number of locals progressing into the third round including AWT Judge and Ho'okipa legend Rob Funk (the only competitor to have his own chair at Flatbread – who have been providing the staff lunches and dinners, thank you Josh Stone!) who impressed with his wave selection and out all approach. Jeff Henderson (Hot Sails Maui) who won this division two years ago (he also won the Am title last year) was calm and collected picking up some set waves and gauging his turns, pushing hard he went down hard but had already sealed the deal and will face 2013 Master's Overall Champion Ferdinando (Maui Sails) in the next round. It is great to see Sean Aiken (Naish, Quatro) back at Ho'okipa and he dominated from the onset effortlessly floating over the pitching sections.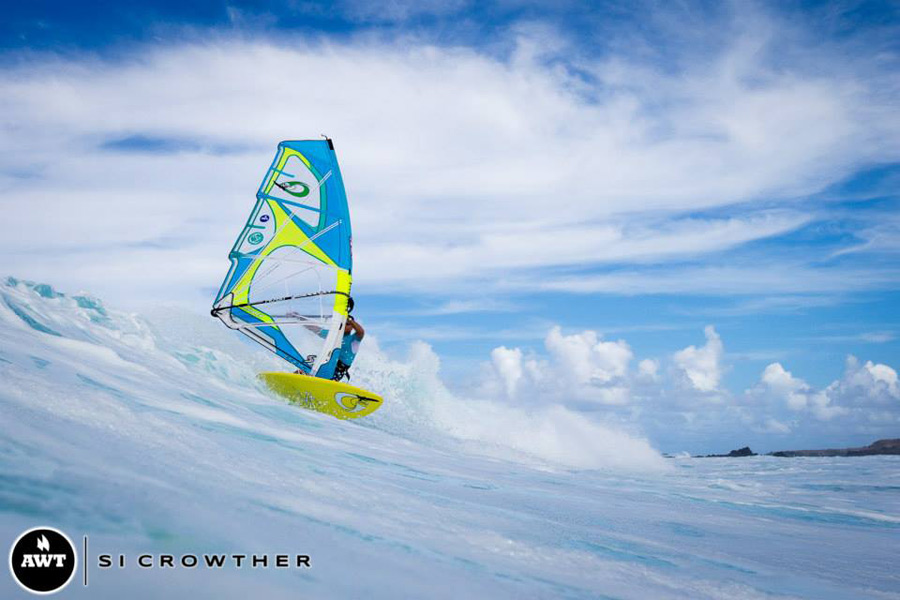 We now have the first round of the Amateur and Master' completed as well as having both the Women's and Youth finals all ready to sail. With only 36 AWT heats left to sail it looks good that we will finish in plenty of time and keeping with AWT tradition which has been blessed by the wind gods since its formation in 2010. The successful completion of events is not just down to the wind and waves, Sam Bittner has instilled a level of professionalism and dedication that you would be hard to find elsewhere, the level of detail that goes into the planning of brackets, heat duration etc. helps to ensure that we get the job done, every time!
The Amateur bracket with 50 riders competing here in Maui is extremely strong both in terms of participation and rider level. This is something that we have tried to encourage throughout the Tour. The Amateur Tour has two main functions, firstly it provides riders which an excellent level of competition for a range of riders and secondly it can be seen as a proving ground for (often young riders like Casey Rehrer) riders with higher aspirations. While many of the riders featuring in this completion could be at home in a Pro heat the experience that they get from sailing a whole event and challenging for a title is far more important that possibly winning one heat in Pro in a glory moment. Those riders who have followed the Tour and sailed lots of heats are more prepared for what is to come next year. The winner of the Amateur overall title is obligated to move up to the Pro division. Last year's winner Chris Freeman has made the transition and while he has found it hard to make it through heats he finished 13th overall in the Pro division for 2013 and has focused on Judging, he was recently named Head Judge for the 2014 AWT Tour, neither of these would have been possible without the experience gained by competing in the Amateur division.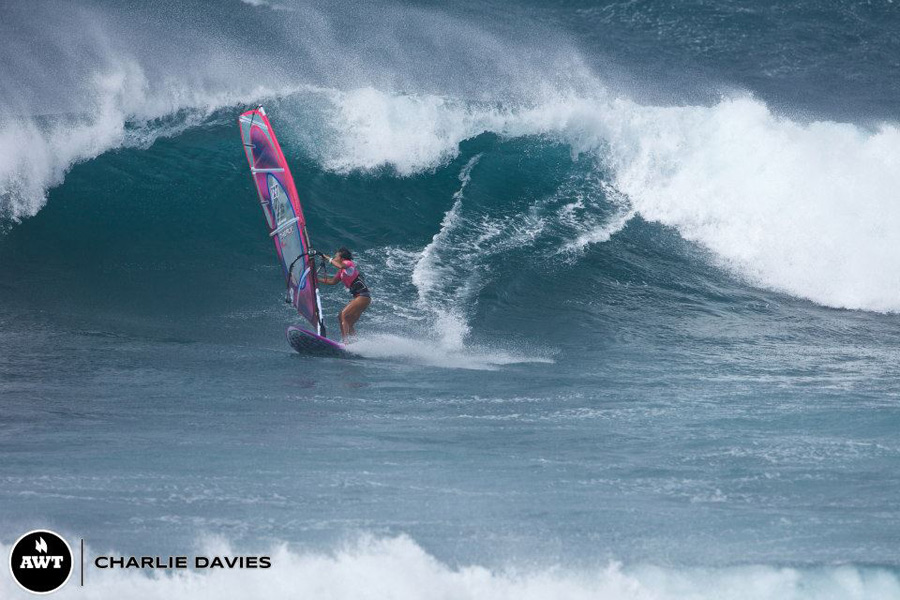 With the wind and waves continuing here in Maui Wednesday looks like it will be another fun packed day!
Aloha Classic Weather Update by Tom Hammerton (Hot Sails Maui, Black Project Fins)
An epic week of windsurfing is ahead of us. Thursday could potentially be the best conditions seen in a contest period in a very long time!
Wednesday 30th – Wind E 14-24 knots normal trades a little gusty with an occasional shower. Surf 6-10 early rising to 10-14 foot faces with bigger sets peaking at 16 feet.
Thursday 31st – Wind ENE 16-26 knots normal trades with an occasional shower. Surf starting the day with 12-18 foot faces and occasional sets in the 20 foot or bigger especially later in the day. This is a really nice swell out of 310 with a 16 second period. It will produce the best surf of the competition period but as is usual with long period swells it can sometimes be a long time between sets.
Friday 1st – Wind NE 20-30 knots. Surf decreasing slightly but still in 10-16 foot range with 20 foot growlers possible. Faces will be a bit choppy.
Saturday 2nd – Trade-winds NE 15-30 knots, gusty squally conditions. The epic surf will be gone. Expect blown out surf 6-10 feet choppy and confused.
Sunday 3rd – Trade-winds NE 15-30 knots, gusty squally conditions. Surf 5-7 feet choppy and confused. Expect long periods when the surf goes flat.
Monday 4th – Trade-winds ENE 15-30 knots, gusty squally conditions. Surf 6-9 feet choppy and confused.
Tuesday 5th – Wind ENE 14-24 knots normal trades with an occasional shower. Surf 5-7 feet choppy and confused.