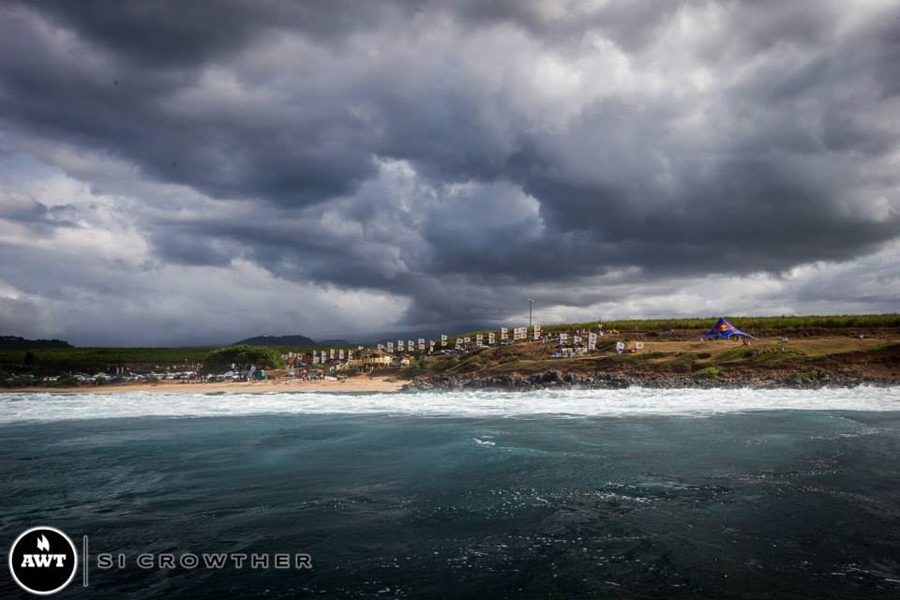 The decision was made early to release all PWA, Women & Youth and focus on the Amateur and Masters brackets once more. We continue to score with the conditions and Thursday and Friday are setting up to be amazing Ho'okipa days for the PWA Double Elimination. With the planned PWA Chile event now cancelled the JP Aloha Classic will decide the PWA World Title for 2013!
The AWT has been running under a different format to the PWA for a few events now with riders bypassing Round #2 if they go big and win in Round #2. With first round heats already completed those who had advanced could relax a little today with the wind window expected to be a little smaller than on previous days. They remained on hold for the whole day but would not see action other than at Lanes.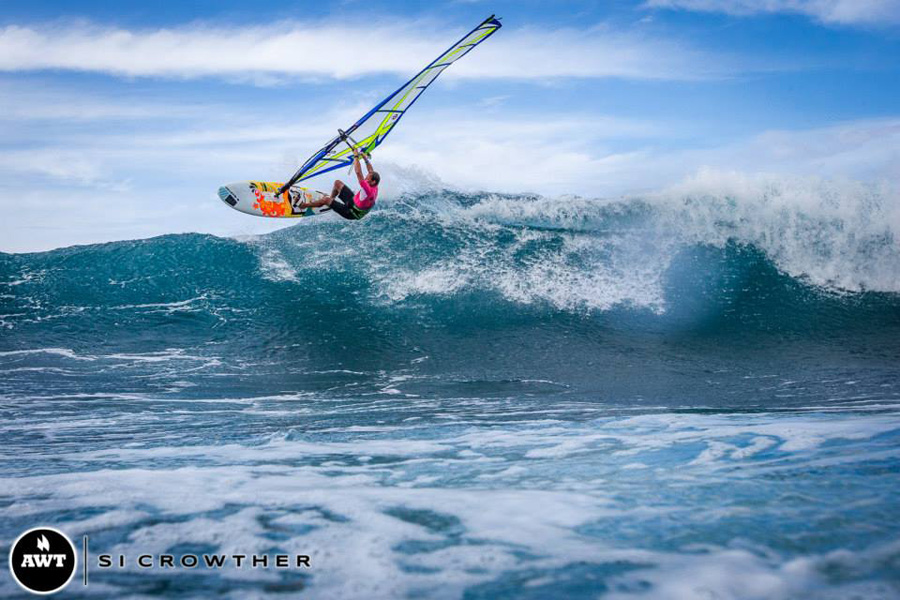 It would be a day where riders risked it all in search of redemption in Round #2 and the chance to continue their progress. At the start of the day there were 50 Amateur riders who could have won the contest, by the end those were whittled down to just 24. When faced with a do or die there are two contrasting strategies and we saw both played out on the water today. With riders like MacRae Wylde (father of Fiona) charging hard and going for broke contrasting with the safer style of Californian based rider Marty Rosse, both would prove successful.
In the Amateur fleet Kimo and Jamie Brown from Oahu (another father, son combo) were clearly getting more used to the local waves and demonstrated their surfing skills in the light winds. The wind is lighter around Oahu's waters and Wednesday's conditions really played into their hands. Heat #20 featuring Kimo (who was winning at the time) had to be cancelled due to lack of wind, but he just stayed out and ripped it up some more. Once back on the beach he didn't care that he had to do it all again, he was just stoked to get another heat with the waves to himself! Not surprisingly once the heat was re-started he dominated again and riders waiting for him in the next round should be extremely nervous!
Looking down the list of names for Round #3 I can see some crunch battles and this title is not only the most competitive we have seen at Ho'okipa for an AWT Amateur contest the depth of talent is amazing with the likes of the two Brown's, the two Wyldes, Morgan Henderson (Jeff's Nephew), Gronquist, Rehrer, Lemmens, Bitoun and more riders are going to have to pull out something special or be packing their bags. Unlike with the PWA there is no Double Elimination; this is it, go big or go home! The overall Amateur title for 2013 is still on the line and could be decided after the results of this series of heats.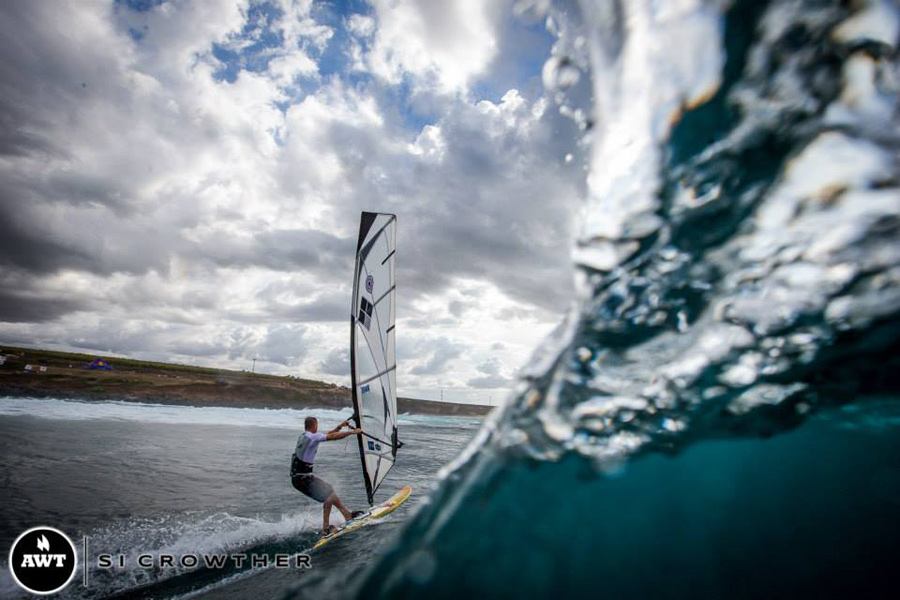 The Masters fleet would see the return of a number of the Amateur riders and once again the search for redemption. A place in last 16 was at stake and every rider wants to stay out there and have more fun. Jamie Brown once again sailed a strong heat to book his place in the next round as did MacRae Wylde who like his fearless daughter Fiona seems to be getting better wave by wave. As we have seen all year, he just goes for it and usually makes it! With long heats you can afford to go down although with the surf on the rise a more conservative strategy may be worth developing. Local rider Baker also made up for a less than perfect first round and won himself another heat demonstrating consistency and clear local knowledge, Colin spends more time at Ho'okipa than most and it is great to see him so stoked, nobody deserves it more. Unfortunately as expected the wind begun to shut down and the final heat of the Masters Round #2 had to be cancelled. Special thanks to the safety crew today who seemed to be ferrying equipment and riders much of the day thanks in part to that go for it attitude on display we had a fair amount of broken gear! Their help makes it possible to run heats in lighter winds and bigger waves and thus push windsurfing further at all levels.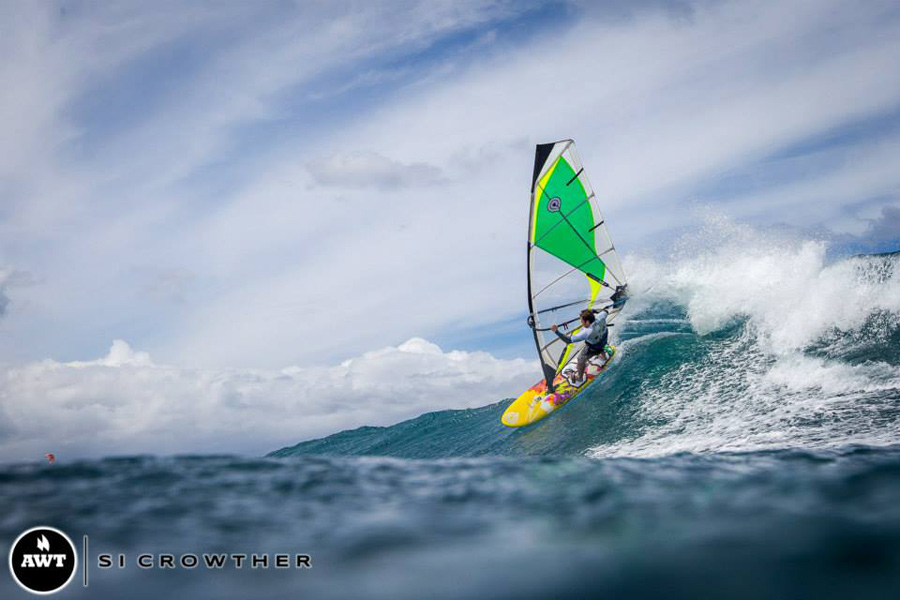 With the likelihood of the resumption of the PWA on Thursday the riders will wait it out and prepare for the next round of battles and I for one cannot wait to witness!
Thursday 31st – Wind ENE 14-22 knots trades with scattered showers in the morning. Should clear up somewhat in the afternoon. Surf starting the day with 10-15 foot faces and occasional sets in the 18 foot or bigger. This is a good swell out of 310 with a 13 second period. It will produce some of the best surf of the competition period. A high surf Advisory was issued for the other islands but not Maui.
Friday 1st – Wind NE 20-25 knots. Surf holding in 10-15 foot range with 18 foot growlers possible. Surf will slowly fade throughout the day. Faces will be a bit choppy. Isolated showers.
Saturday 2nd – Trade-winds NE 15-28 knots, gusty conditions. The epic surf will be gone. Expect blown out surf 6-10 feet choppy and confused. Isolated showers.
Sunday 3rd – Trade-winds NE 15-28 knots, gusty squally conditions with occasional showers. Surf 4-10 feet choppy building throughout the day.
Monday 4th – Trade-winds ENE 15-25 knots, gusty squally conditions. Surf 6-9 feet choppy.
Tuesday 5th – Wind ESE 10-20 knots. Surf 5-7 feet.