PWA Double Elimination Aloha Classic from American Windsurfing Tour on Vimeo.
With much of the day dedicated to the continuation of the PWA Double Elimination it was decided to run the AWT Aloha Classic Women's final during one of the required heat breaks to enable us to stream the heat LIVE to the world and showcase the amazing talent encompassed within the division.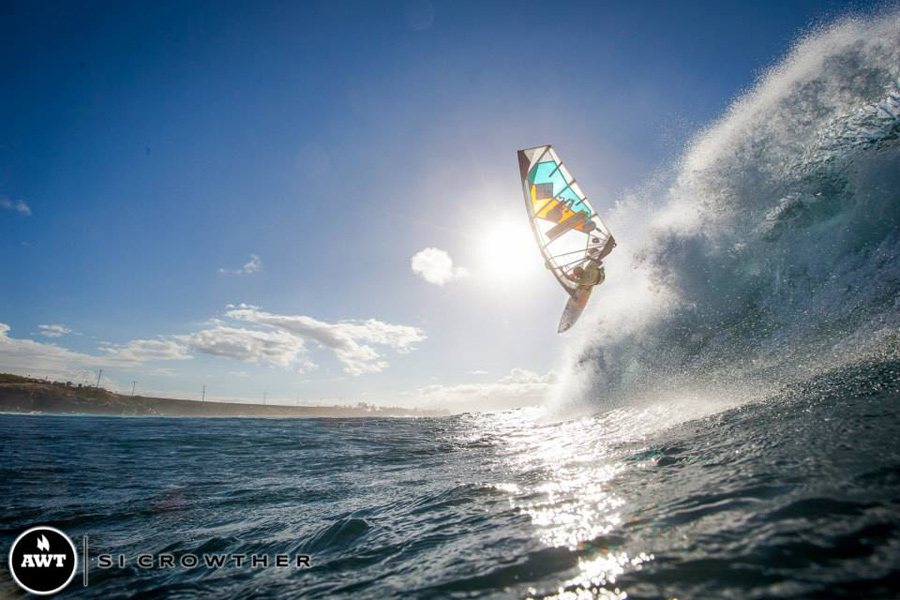 The finalists Tiffany Ward (Starboard), Tatiana Howard (JP, NeilPryde), Ingrid Larouche (Maui Sails, Fanatic, Black Project) and Junko Nagoshi (Goya Windsurfing, MFC) had all previously fought hard, risking all to make the final four. With solid sets rolling through Ho'okipa Beach Park all riders would demonstrate during the 16 minute heat what they had in their arsenal in an attempt to wow the judges and on looking crowd.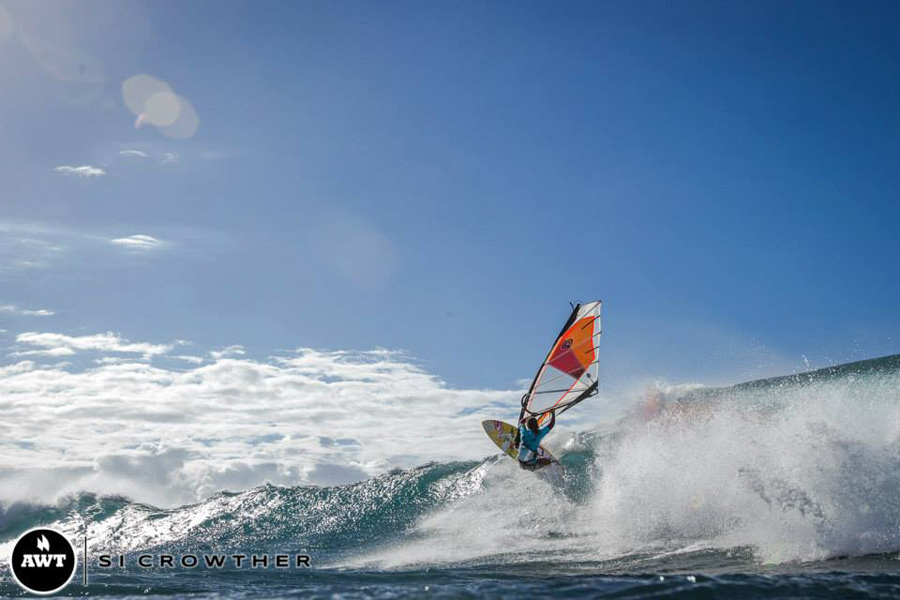 Reining event champion Junko is always at home in the Ho'okipa surf, the Goya rider is known to push hard on big days, fearlessly going deep and hitting thick lips. This contest has been no different and the girls know that they have to sail smart but also be aggressive if they are to knock her off the top spot.
Ingrid already crowned AWT Tour Champion had nothing to loose and everything to gain. Her in the pocket riding was pushing Junko all the way. When Junko waited outside and found the wave of the heat she was offered the perfect canvas and drove hard off the bottom setting up a huge cutback right in the critical section of the mast high wave, as the wall opened up she painted beautiful lines racking up a huge score, at the same time dashing the hopes of her fellow competitors who could only watch. With the race now for the remaining trophies Ingrid continued to drive her rail and Tatiana and Tiffany looked for the better waves.
Wave selection was critical out there, with some of the sets opening up and some shutting the rider down early. You could see the pure stoke as riders traded waves with Tiffany taking set waves and carving hard. It was the vertical turns of Ingrid and fluid style of Tatiana that would eventually result in them claiming 2nd and 3rd behind the dominant Junko.
It has been amazing to see the Women's fleet sail with so much skill, aggression and determination this week. My hope is that these role models help to promote the female aspect of our sport further, much like in tennis the women's fluidity and gracefulness on the wave is often far more beautiful to watch that the pure power and big hits of the guys. Riders like Fiona and Alizée are the future and it will be interesting to see who else joins those ranks.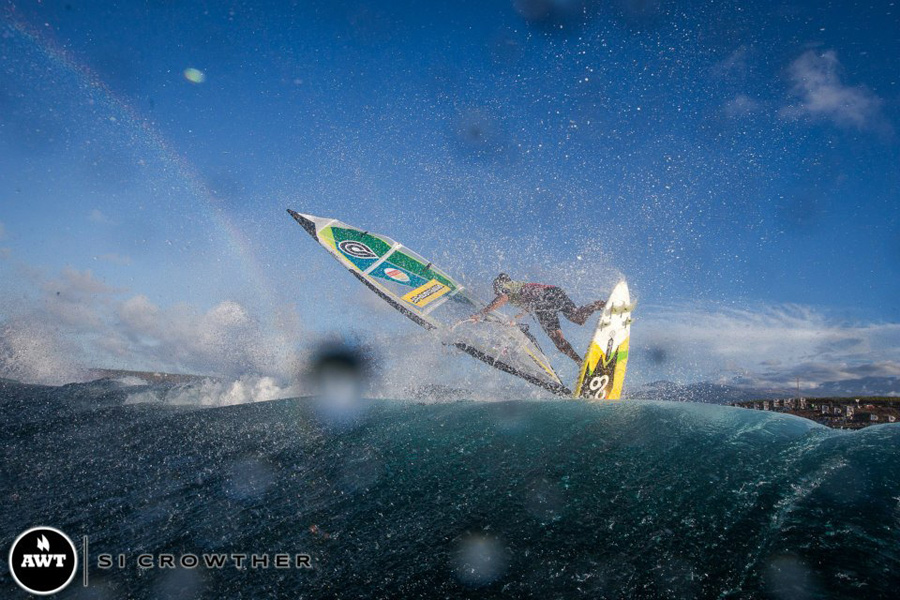 The other big news of the day, was that the PWA would be crowning a new World Champion at Ho'okipa as Philip Koster reining two time world champion crashed out in Heat #16 dashing his hopes of glory. This would leave the title race wide open with Marcilio Browne and Alex Mussolini the two favorites to take home the title for the first time. One by one title contenders would fall and by the end of the day we are left the next Heat #28 with Browne, Angulo, Swift and Mussolini, whoever advances further will be crowned champion, if they both advance the decider will be Heat #29 with the winner booking himself a chance to challenge for the JP Aloha Classic title. The Double Elimination bracket is quite difficult to explain, with riders returning to the bracket where they previously fell, hence we have the four finalists from the Single Elimination still waiting to see who will challenge them. Friday looks to be a very exciting day so stay tuned to the LIVE cast!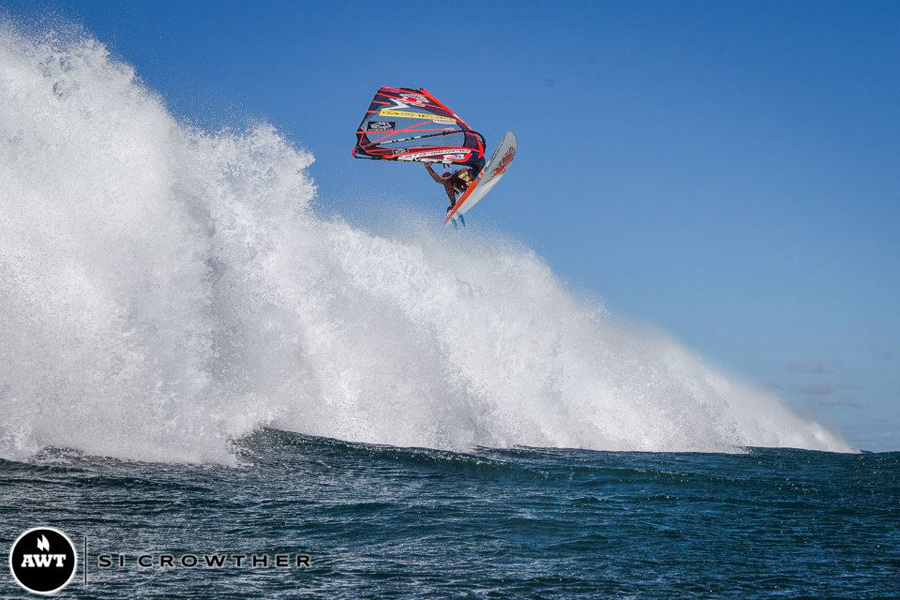 "I am so proud and inspired by all the women in the AWT. They truly are charging every day in training and in contest. The girls are having a good time too! With cheering, encouraging and hugs before and after each heat. I am happy to be a part of such a great group of girls! GO AWT!!!" Sam Bittner, AWT Tour Director
"Congratulations Junko!! I'm so happy for her, she sailed great. Her style simply encourages everyone to ride by making it look so easy and natural even on those mast high sets and strong offshore winds the final was on. Sometimes you wonder how she have been dominating every event at Ho'okipa the last few years and the answer is that she just been riding most of her life all around the world, also with a racing background and training all the Freestyle tricks during the summer and she just keeps on challenging herself more and more." Francisco Goya (Goya Windsurfing, MFC)
"For me, Ingrid for me displays all the characteristics of a true athlete with the drive, determination, skill and finesse required to be successful in our sport and any sport. Through the AWT we have become great friends and I am honored to have her riding with our fins. The Aloha Classic is special and to see her training so hard and talking risks in the name of glory is what it is all about. While she narrowly missed out to Junko, who is quite simply an amazing rider she should be immensely proud of winning the AWT Tour again (for the third time) and I would love to see her mixing it up on the PWA World Tour next year." Chris Freeman, Black Project Fins
"I had really good time at the final. It was very special! The condition was great and I was just happy to sail 18 minutes at Hookipa with all the finalist girls Ingrid , Tiffany and Tatiana!! This year especially I was very impressed by some of the girls like Ingrid and Fiona who improved a lot from last season. And Tatiana and Tiffany are 2 of my favorite sailors to watch here at Hookipa. I think all the girls had fun too.
I just want to thank to Sam for making Hookipa event happen this year again. Also I always appreciate all the support from my sponsors Goya windsurfing, Da kine and carvy wetsuits who provide me best products in the world!!! A last big thanks to 2 of my bosses at work Keith Holland and Michel McCoy who gave me time off for this event!" Junko Nagoshi (Goya)
"It has been awesome to charge big waves at Ho'okipa.
Competing against the best locals and having the jet ski rescue when your gear goes on the rocks:)" Miho Tanaka (NeilPryde, RRD)
"To watch some of the top women wave sailors battle it out in a final at Ho'okipa is something you don't get to see everyday. As a young woman in the windsurfing world, it's a sight beyond inspirational. I want to congratulate all the women in the women's division and big acknowledgement to the winners! You girls rip!!" Fiona Wylde (Sailworks, Quatro, O'Neill)
"This final was unforgettable because of the high energy and smiles we all had. The four of us are friends and sail Ho'okipa often. With so many talented girls these days, we were all super stoked to make it to the final. We were all out there having fun, trying our best, and enjoying uncrowned Ho'okipa!" Tatiana Howard (JP, NeilPryde)
"What an awesome way to close this AWT year! Fun Ho'okipa conditions. Amazing ladies. Inspiring Pros. Supporting crowd of windsurfing friends and enthusiasts. Windsurfing is such a great sport and being able to compete with the other girls in such a friendly environment and pushing our limits is a unique experience to me. Can't wait for next year and hopefully take my skills to the next level. A win at Ho'okipa would be any windsurfer's dream… one can only hope." Ingrid Larouche, 3x AWT Tour Champion (Fanatic, Maui Sails, Black Project)
Our Closing Party location has been changed to the Maui Tropical Plantation. Stay tuned for further details.
Weather Forecast
Friday 1st – Wind NE 12-20 knots. Surf holding in 8-12 foot range with bigger sets possible. Surf will slowly fade throughout the day. Isolated showers.
Saturday 2nd – Trade-winds NE 15-20 knots, gusty conditions. Surf 6-8 feet choppy and confused. Isolated showers.
Sunday 3rd – Trade-winds NE 15-20 knots, gusty squally conditions with occasional showers. Surf 5-7 feet choppy.
Monday 4th – Trade-winds ENE 12-18 knots, gusty squally conditions. Surf 7-10 feet choppy.
Tuesday 5th – Wind ESE 10-20 knots. Surf 6-8 feet.