Levi finally claims his crown!
JP Aloha Classic PWA Finals from American Windsurfing Tour on Vimeo.
What an amazing few days! With the resumption of the PWA Double Elimination and the World Title decider set to sail the action was electric from the outset. The wind did not seem to want to cooperate and this only helped to add further suspense as fans tuned in from all over the world. The passing showers kept shutting the wind off leaving riders stranded out to sea. As the wind started to settle down Head Judge Duncan Coombs decided that with the fading swell that it was now or never and set long heats and hoped for the best.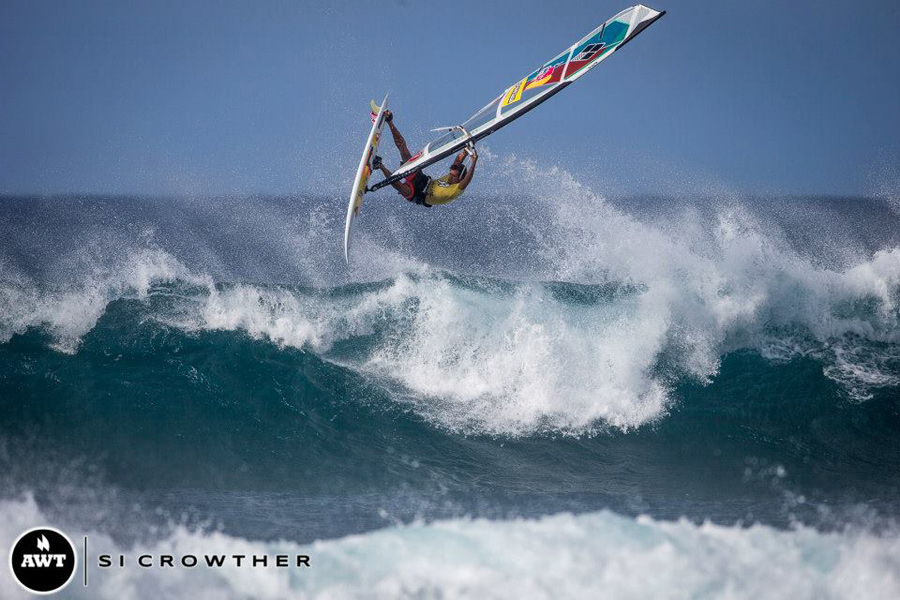 First up saw Heat #28, which was the first potential for Marcilio or Alex to stake their claim on the PWA title. Yesterday Alex was on fire, he looked like a true champion, today it was Brawzinho's turn, sailing flawlessly he turned and gauged his way into the contention with the combination of perfectly rotated takas and goiters he stormed through the heat with the ever competitive Josh Angulo shattering Alex's dreams coming in second. The beach went wild with the Paia based Brazilian bringing the PWA World Wave title back to Hawaii. In Heat #29 Marcilio continued his dominance with super fast-rotated air takas, which Josh could not match despite his brilliance and ultra radical style.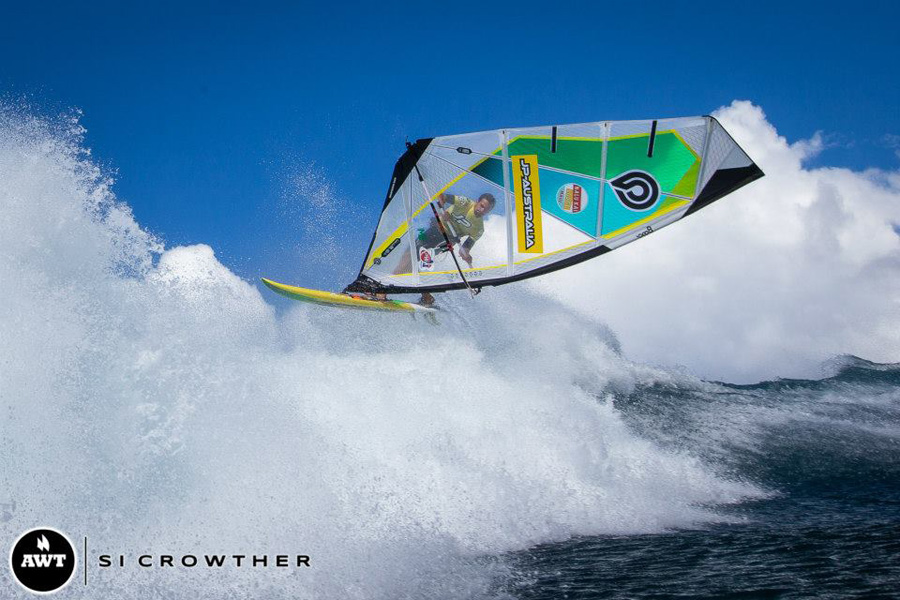 Local boy Morgan Noireaux would not lie down so easily, waiting patiently for the best set waves in the now extremely light wind. The two contrasting styles were to highlight what the judges have been looking for all week as the vertical and super late snaps of Morgan outstripped the more trick orientated style of Brawzinho. Unfortunately for Morgan he rotated through a 360 on his way back to the beach and badly hurt his foot. The contest was put on hold as Sam from Deep Relief tried to get him strapped and back on the water. Morgan's valiant effort to compete for third against his good friend Bernd was in vain as the pain was too much and rather than risk the winter season he came back to the beach almost immediately leaving Bernd alone at sea and handing him victory.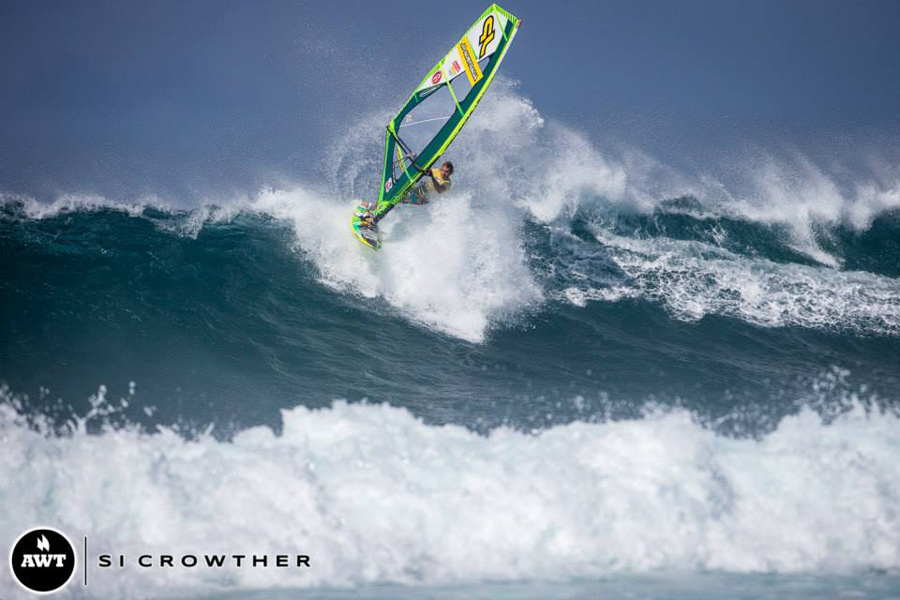 When Morgan finally hit the water after a couple of days of waiting everything changed, rotational moves would not be enough to unseat the Maui local, his powerful, snappy turns were too much for the newly crowned World Champion!
Kauli was waiting for Bernd in Heat #32 and it would take something special to unseat the 3x World Champion. The riders exchanged waves but then something magical happened. Bernd lined up at Middles firing into a taka at the peak of a mast high set, coming down he drove his rail hard and gauged his remaining turns, even the judges were cheering. With the beach going wild as the 17yr old Maui local built such a lead that Kauli was forced to take risks, which, didn't pay off.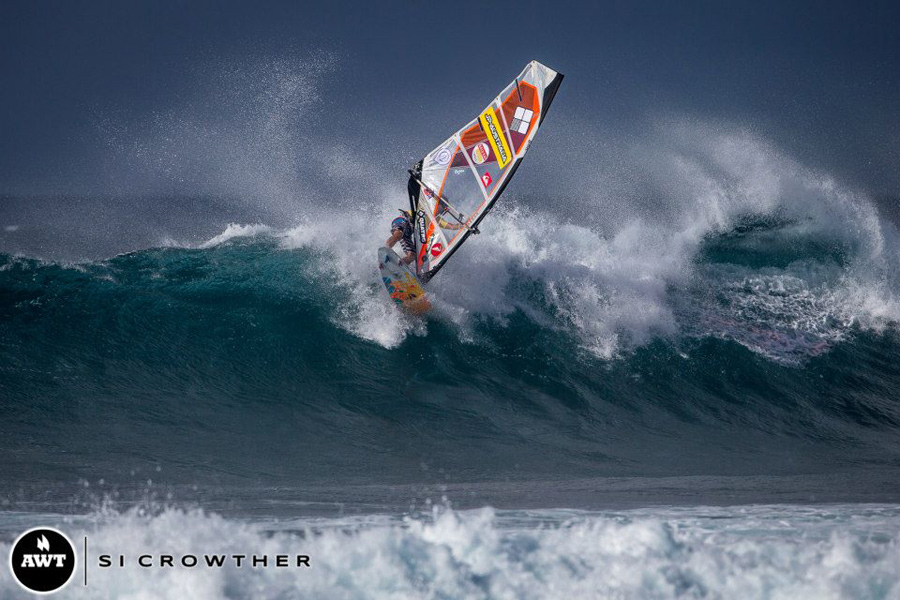 Bernd's heat against Kauli saw the highest scores of the entire event, with the 17yr old dominating over the 3x World Champion with a mix of radical late turns and amazing gravity defying takas.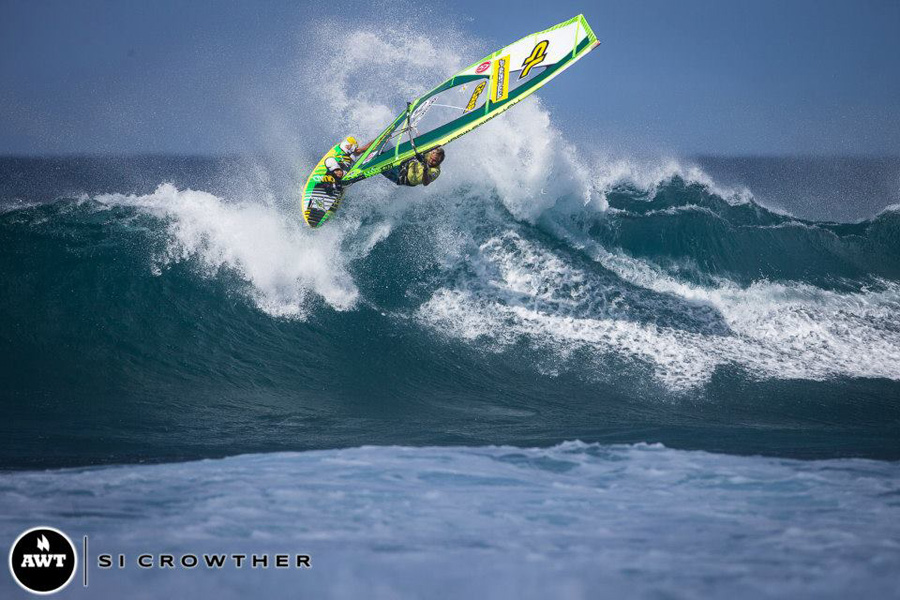 The Final – Levi and Bernd head to head, two team mates, best of friends and inspirations to many. If Bernd could repeat his performance in the previous heat then he would have a chance of forcing a super final and he was going to give it everything. Lining up another perfect mast high set he went for the taka at the peak again, as the onlookers gasped he crashed out hard. He would continue to go for broke and push as hard as he knows but he couldn't quite stick enough leaving Levi the opportunity to sail his game plan with super tight turns and tweaked airs. One thing is for sure, Bernd will win the Aloha Classic and many PWA titles but today was just not going to be the day when everything came together.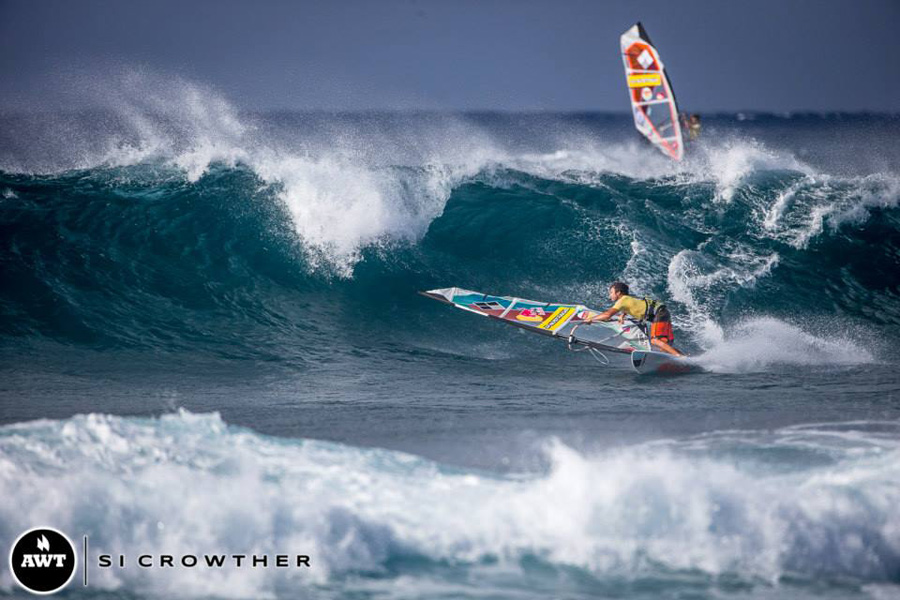 Many of us have watched Levi in amazement for the past 20 years, to witness him claim Ho'okipa and PWA glory today was an experience that will stay with me and countless others forever. Congratulations Levi, you are the King of Ho'okipa and nobody deserves that crown more!
We the conclusion of the PWA event we now have just 25 heats to sail to ensure results in all AWT divisions. With plenty of time left in the contest window and the forecast for more wind and waves we look good to complete the contest within the next two days.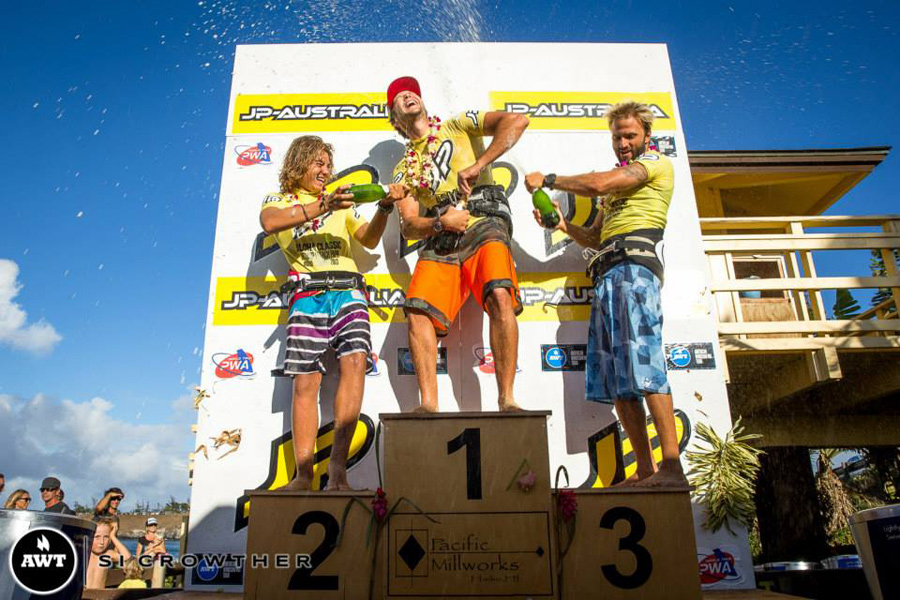 PLEASE NOTE THAT THE CLOSING PARTY HAS BEEN MOVED TO MAUI TROPICAL PLANTATION AT 6PM ON SUNDAY.
There has been so much reaction the to events from the past few days below are a selection of quotes from industry and riders;
"MFC (Maui Fin Company) has come a long way; it was born in 1986 and we have been in so many different situations, being also World Champion for 13 times already. But this season is a little special since each one of our rider riders uses a different fin set-up as far a shape, system and profile. We worked hard with all team and the results are paying off. We cannot thank enough the 2013 World Champion Brawzinho, the 2013 AWT Champion Camille Juban, The 2013 Aloha Classic winner Levi Siver with Bernd Roediger and Kauli Seadi in 2nd and 3rd place, you guys are incredible. We are extremely happy and grateful, and looking forward to the 2014 season! Mahalo AWT and PWA for putting together this spectacular event, the wave sailing world was hungry for it! Thanks, thanks thanks thanks!" Pio Marasco, MFC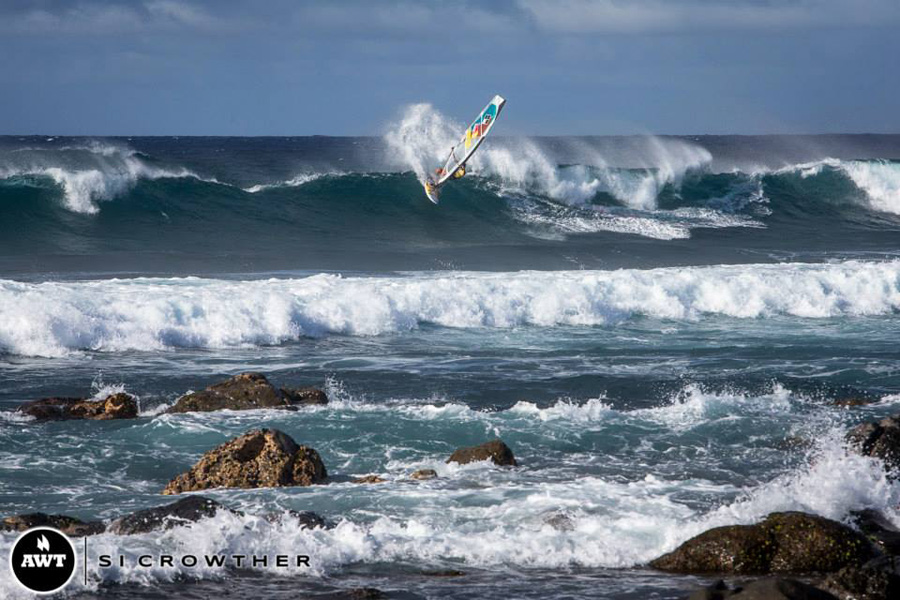 "I'm such a small part of windsurfing. I know what you're thinking. You just won the AWT event and placed second in your first PWA event! That's huge! Yes for me it's huge. But when I think of the history and all the talent that has graced this sand here. All those sailors that I look up to and still sail with today. Sailors that may not shred Ho'okipa today but have left such a huge mark on the spot that people still talk about them and the contests they were in. I feel small. That's a good thing in my opinion. It means that I'm still hungry. I want to be one of those guys that years from now someone will say "Remember that guy?" He did amazing things out here. I felt that way seeing Josh Angulo, Kai Katchadorian, and Robby Naish sailing this event. I mean are you kidding me!!!! It doesn't get cooler then that! Only thing better would have been to see Mark Angulo throwing down insane Mutants…
Then my heats against Morgan, Kauli, and Levi. First off, I'd just like to say that Morgan was on fire today. Seeing him rip out there in his tight heat against Brawzinho, I didn't know how I was going to compete! But the fates were cruel for Morgan, and he came limping in off the water with what looks like a broken foot. That guy is my good friend and it hurts to see him go down that way.. Kauli, ever the tactician, schooled me in the lineup. He definitely pushed me to sail my absolute hardest inside and outside the break! And finally Levi. What can I say about Levi other then the guy is absolutely the most deserving guy I have ever sailed against. It was awesome to see the energy he had on the water all throughout this event. Love you bro, keep it up!
Thanks so much to Keith at Quatro for sticks that never fail. Clearly! Francisco Goya for your huge smile and encouraging words. I will try to live up to your standard! Pio from MFC. Thanks for the fins that keep me moving in the right direction! Quiksilver for putting a shirt on my back… And all those sponsors and individuals behind the scene that make my dreams come true!" Bernd Roediger (Goya Windsurfing, Quatro, MFC)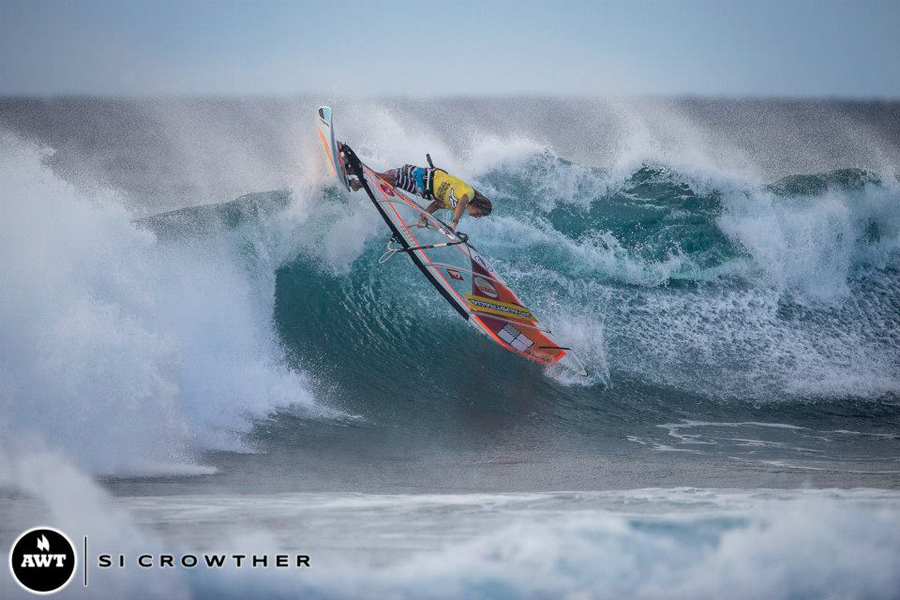 "I had an up and down day. I got a come from behind win against the new world champ, which felt great, but I hurt my foot on a wave right after my heat which prevented me from competing any further. Fourth is still a good result though and I'm happy with how I sailed. Congratulations to Marcilio and Levi for great performances." Morgan Noireaux (JP, Hot Sails Maui, Maui Ultra Fins)
"I feel like today is truly a dream come true. I have worked so hard for so many years for this moment. I want to thank Rich Page for working with me to bring the PWA here to Maui and also congratulations to Levi and all the others who participated in the event!! Cheers!" Sam Bittner (AWT Tour Director)
"The sailing was classic Maui challenging ultra light wind and watching Morgan Noireaux take down the newly minted world wave champion MB was amazing. But it was such a crushing heat following though when Morgan tried to sail with a possibly fractured foot against Bernd and simply could not stay on the water. He had to hand the win to Bernd without competing. Kauli's heat was a bomb unfortunately with no set waves, virtually no wind, and Bernd sailing in top form. He won that 2nd place from Kauli fair and square. Congrats to all!" Jeff Henderson (Hot Sails Maui)
"What can I say, it just been a dream event all the way, the conditions, the riders, the title on the line, the AWT and the PWA working together, the support from all the community and industry, Levi with his first win at Ho'okipa, Bernd with his AWT win, Junko winning women and Braw winning the world title, all within hours apart, just a dream to be here." Francisco Goya (Goya Windsurfing, MFC)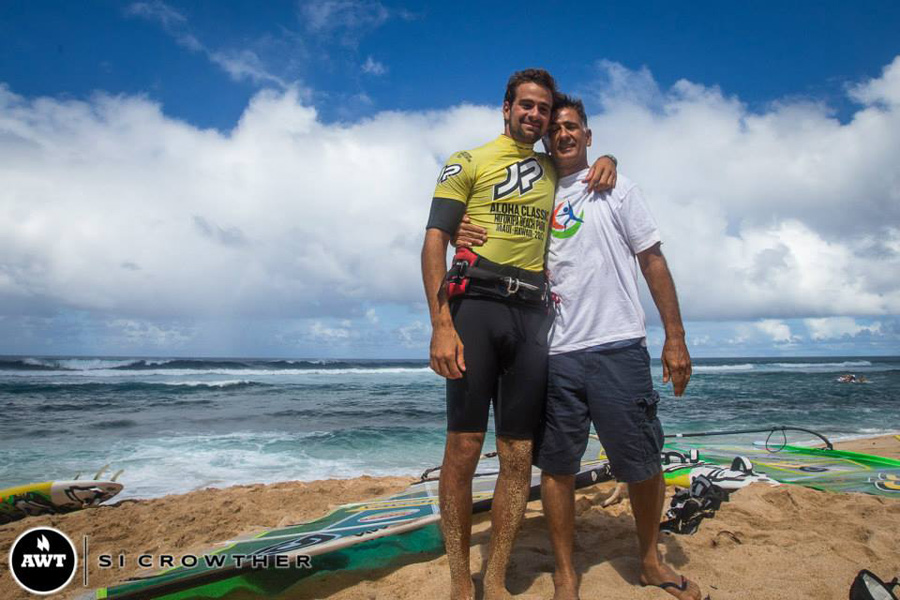 "What a day in Ho'okipa! Out of the 21 editions of the Aloha Classic I've seen, this is one of the most epic! The show today was glorious and the action so exciting with all those top pros and former World Champions in the same fleet. I couldn't hold the emotion. It was so nice to see the two Maui kids Bernd and Morgan getting in the final heats" Pietro Porcella pioneer windsurfing journalist since 1978
"The AWT has been such a great venue for Windsurfers from all around the World and all levels to get together and compete in a friendly environment. I feel privileged to be part of it and get front row seats to the ever-improving show. Windsurfing has been a big part of my life and the stoke never seems to fade. Looking forward to see everyone next year!" Alex Bitoun, AWT & PWA Judge
Aloha Classic Weather Update by Tom Hammerton (Hot Sails Maui, Black Project Fins)
Yesterday we saw the devastating effect that rain showers have on the wind. Unfortunately it is going to get worse over the weekend. There is an upper level trough that is deepening and that will eventually spawn an upper level low. This will significantly destabilize the air. In fact we could actually have thunderstorms this weekend, most likely over Oahu but can't be ruled out for Maui as we have a lifted index of -3 and increasing CAPE with abundant moisture below 800mb. Sunday has the greatest threat of heavy showers but I suspect Saturday will have enough squalls to make life difficult. There is a bump in the swell coming though in the early hours of Saturday and I doubt there will be much evidence of it by the late morning. The rest of the period is not looking encouraging and Saturday looks like the lesser of the evils for getting anything finished as long as the squalls are not too frequent. We will have to wait and see. It is likely to be quite windy down the coast at Kanaha but be significantly weaker at Ho'okipa.
Saturday 2nd – Trade-winds NE 13-23 knots, gusty conditions with rain squalls. 5-30 knots in squalls. Surf 6-8 feet choppy and confused.
Sunday 3rd – Trade-winds NE 13-23 knots, gusty squally conditions with numerous showers. 5-30 knots in squalls Surf 6-10 feet choppy.
Monday 4th – Trade-winds ENE 12-18 knots, gusty squally conditions. Surf 4-8 feet.
Tuesday 5th – Wind SE 4-12 knots. Surf 4-6 feet.
Wednesday 6th – Wind ESE 6-10 gusty. Small NW swell with long period will produce surf in the 6-10 foot range.