With the PWA Double Elimination completed yesterday it was again time for the Amateur, Master's and Youth riders to take to the water at Ho'okipa Beach Park, the undisputed home of windsurfing.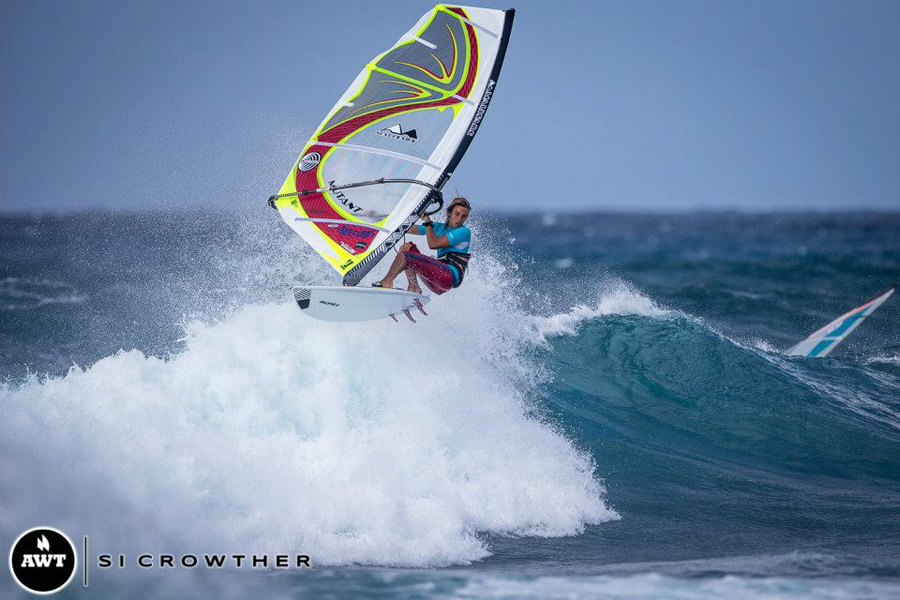 Once again the showering weather played havoc with the riders and the heats, but despite this added difficulty riders shredded the surf as judges and spectators alike took cover.
The Quarterfinals of the Master's division would see Maui local and owner of Hot Sails Maui, Jeff Henderson and visiting ex-professional Sean Aiken dominate their heats both staking a claim for their first Aloha Classic title. Jeff won the Masters Maui Makani Classic two years ago and his fluid riding impressed the panel which is comprised of local and international judges. Sean back in Hawaii from his home in Oregon continued to float over meaty sections and carve his lines into the Ho'okipa surf. Ferdinando Loffreda has already been crowned overall AWT Master's champion for 2013 and he progressed with ease with his trademark aerials, it will be difficult to take him down at his home spot. The title is still wide open and riders will need to take risks if they are going to have their slice of Aloha Classic glory! Missing from this year's line up is 2012 Champion Giampaolo Cammarota who missed the draw after having damaged his knee and undergoing surgery last week, not to miss out he has been helping out on the judging panel for the AWT and we wish him a speedy recovery.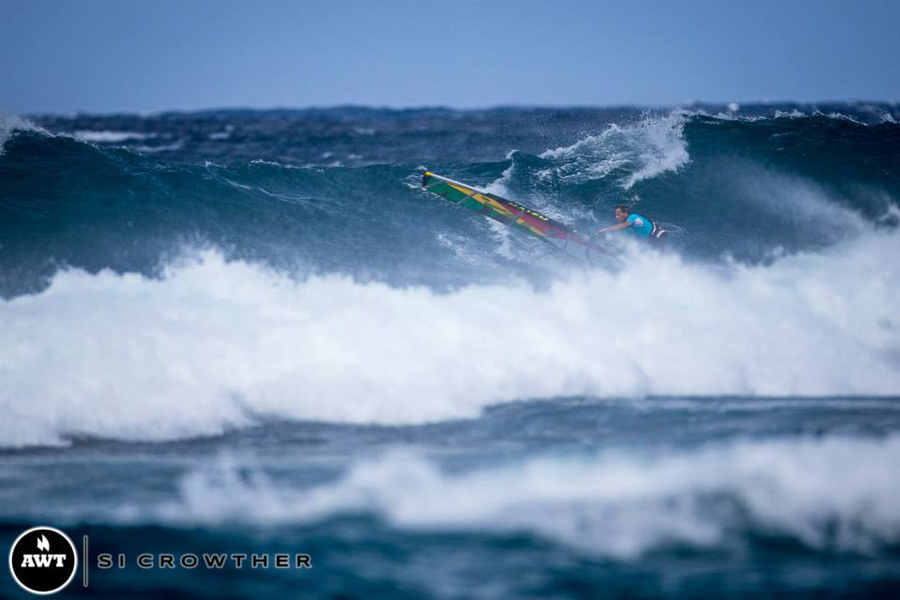 The Amateur bracket was the largest of all the divisions with 50 riders in search of victory. With a number of the Youth and Master's riders also in the bracket it would generate some interesting match ups and with riders from all over the world and of all ages this is an incredibly tough one to call. We started the day with 24 riders still in with a chance. The conditions were still very difficult and with the fading swell riders would need to watch carefully and pick the best waves possible to give them the best opportunity. The two Browns from Oahu have demonstrated their wave selection and fluid styles all week and today was no different, totally unfazed by the light winds their riding was fun to watch and they booked their places in the Semis, a father vs. son final would be very interesting and would ideally represent this diverse division of the Aloha Classic.
Riders to watch as we move into the Semi-Finals include but are not limited to; Paul Hunt (PWA Judge from UK), Mark Bitoun (living in CA, originally from France) and Casey Rehrer (Haiku) who have all demonstrated their aggressive and fluid riding during the past days. It its likely to be the last Amateur competition for both Rehrer and Bitoun as they are both expected to move up to the Pro division for next year's AWT Tour.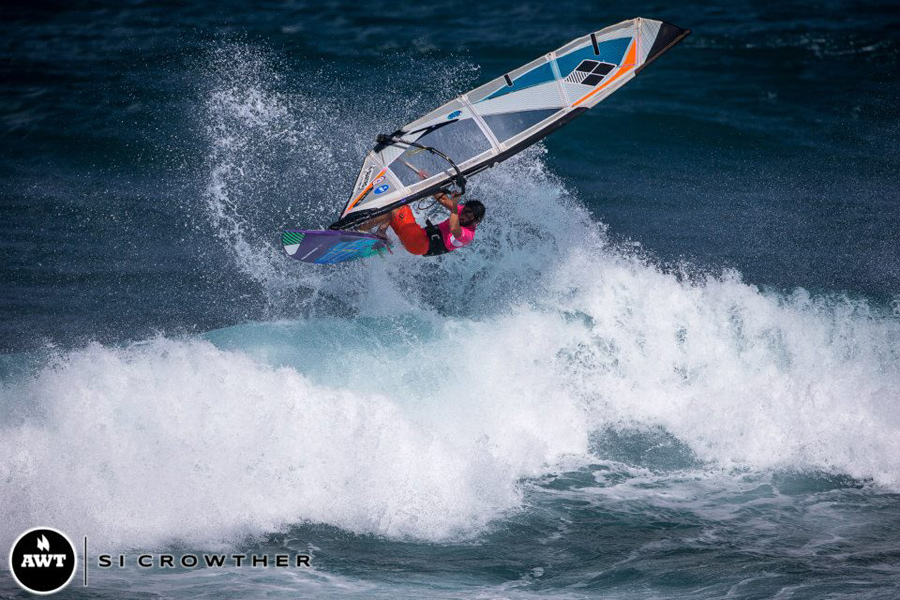 The Youth final had been on hold all week as the PWA riders had taken center stage and to ensure that no riders missed school is was planned to hold the final at the weekend if possible. The final pitted the local talent Harley Stone (Naish, Quatro, MFC) and Casey Rehrer (Maui Sails, Quatro, MFC) against Tom Juban (Quatro, Goya Windsurfing) from Guadeloupe and Fiona Wylde (Quatro, Sailworks, NoLimitz) from Oregon. The youngest rider in the AWT Pro fleet, Harley had impressed the judges with his critical turns and immediately set about finding set waves and staying tight in the pocket to rack up points. Tom Juban a great surfer and younger brother of 2x AWT Champion Camille is normally at home in the Ho'okipa surf but struggled to find the best waves. Fiona is a Tour sensation, who competes in more divisions than any other riders, she splits her time between, The Gorge, Mexico and Maui and has been pushing hard all year. Narrowly missing out on the Women's final and making an earlier exit than expected in the Amateur division she was motivated for this heat. Known for her fearless riding and powerful turns her presence in the final must have made the others nervous. Despite smaller waves than she would like, her powerful cutbacks were enough to claim the final spot on the podium and the overall 2013 AWT Youth title.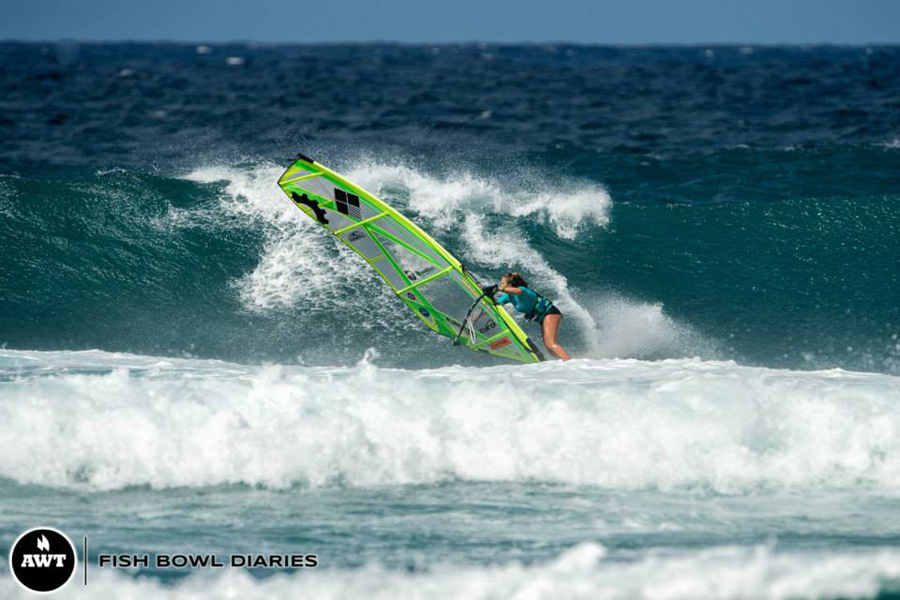 Casey has been surfing more and more recently and this is showing in his riding, in the light winds he was able to generate and maintain speed, which the others couldn't. This translated into super late, fast and snappy turns. Opening up at the end of his waves he increased his scores with perfectly timed and executed aerials with one nonchalant head dip aerial to seal the Aloha Classic Youth title for 2013.
1st Casey Rehrer (Maui Sails, Quatro, MFC)
2nd Harley Stone (Naish, Quatro, MFC)
3rd Fiona Wylde (Sailworks, Quatro, NoLimitz)
4th Tom Juban (Goya, Quatro)
It will be interesting to see Casey and Harley compete on the Pro Tour next year and I personally expect that they will shock a few riders. With this level of talent on display it is clear that the future is bright. If you are interested in getting your child into windsurfing or helping them progress into the waves please do not hesitate to get in touch and we can help point you in the right direction.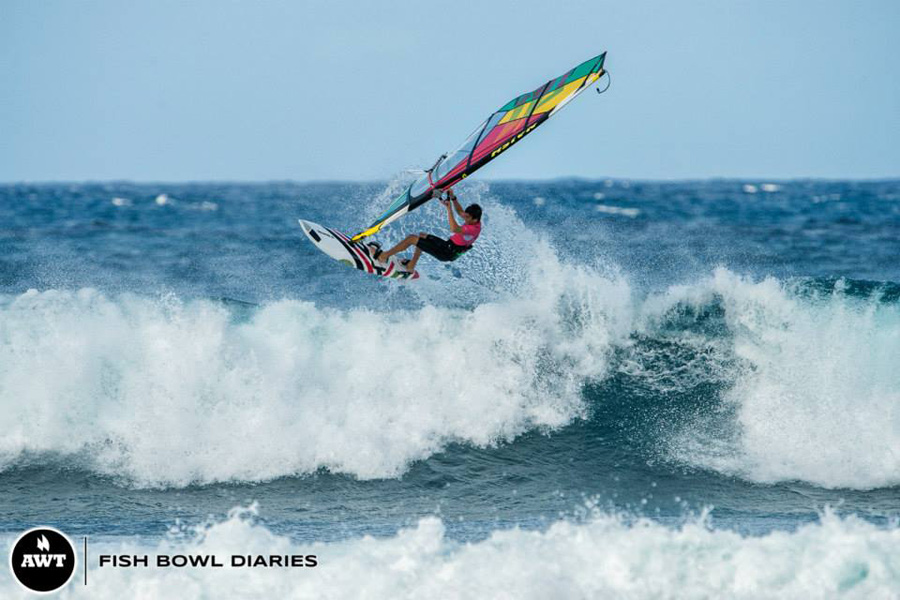 Sunday (weather permitting) will see the conclusion of the Amateur and Master's heats and decide the remaining event and overall titles. The closing party and awards ceremony will be held from 6pm at the Maui Tropical Plantation.