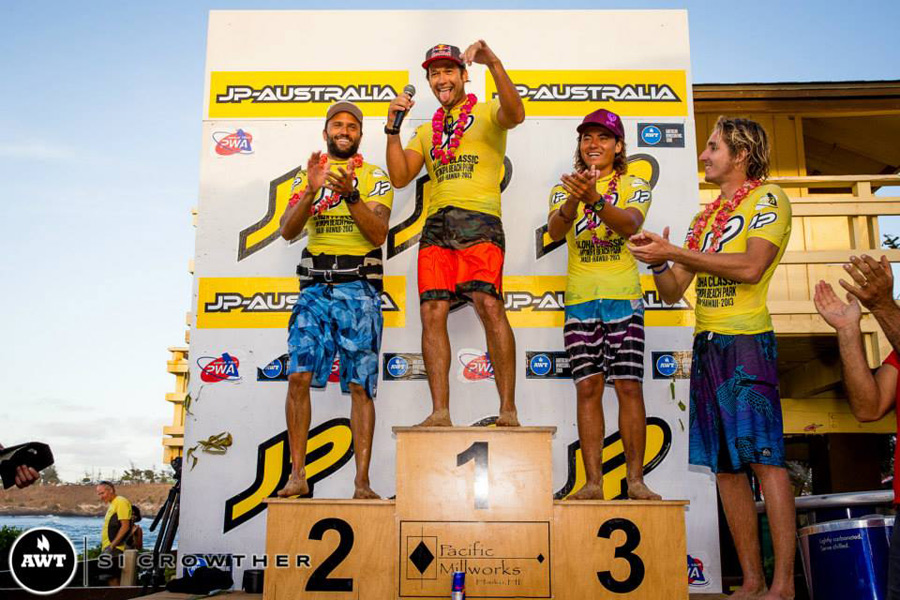 The biggest names in windsurfing came head to head at Ho'okipa today for the Single Elimination of the in what has been dubbed the 'Clash of the Titans' with the top PWA and AWT riders pitted against each other in the mast high surf. As the NW swell continued to build through the morning so did the action.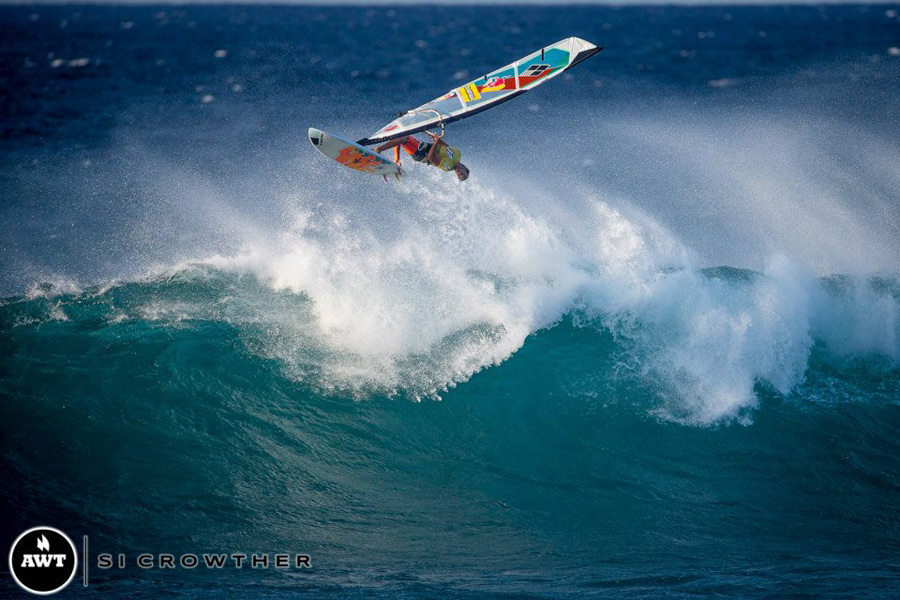 Those watching LIVE from Europe might have been surprised by some of the upsets. A number of the Hawaiian based riders with unfamiliar names who had won qualification to the PWA (via the AWT) sailed well and even dominated in some cases. One of the upsets of the day was in Heat #1 AWT Tour regular and Maui local Russ Faurot (Ezzy, Black Project, Hi-Tech) waited way on the outside to catch some of the biggest bombs of the day. With top to bottom and powerful turns he took down 7th ranked PWA rider Ricardo Campello (JP Australia, Neil Pryde, MFC) and 11th ranked Klaus Voget (Fanatic, Simmer, MFC), this set the tone and more names would fall in the first round including 2010 World Wave Champion Victor Fernandez (North Sails, Fanatic, MFC), legend Robby Naish and current Wave World Champion Philip Koster (NeilPryde, Starboard, Maui Ultra Fins).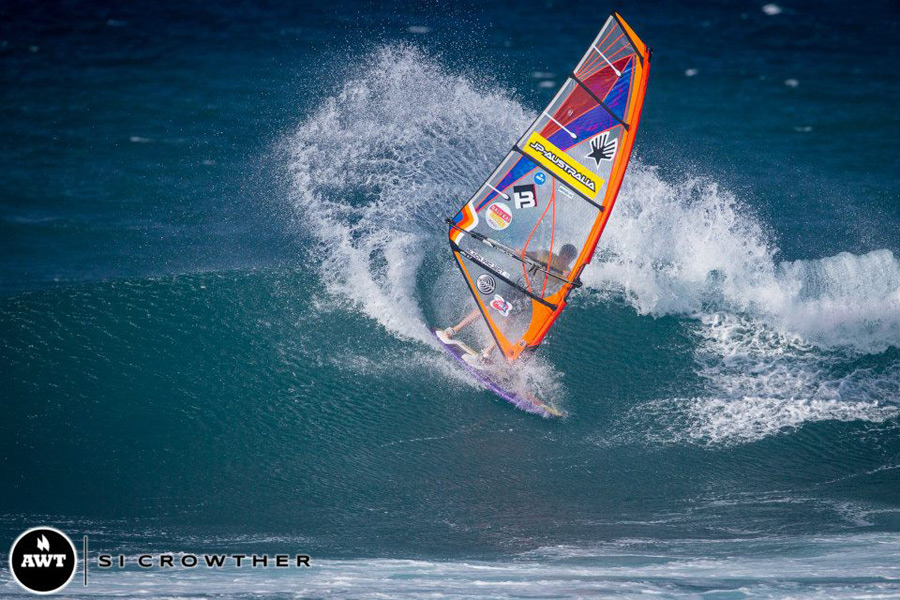 The waves continued to build as we moved into Round #2. We now had all time classic Ho'okipa conditions on tap and the best riders in the world motivated to impress! As the riders watched on, they saw their fellow competitors and friends bust bigger and bigger moves and this only helped to increase the level further. Levi Siver (Quatro, Goya Windsurfing, MFC, Red Bull) started to show is class with vertical turns and trademark tweaked airs. It was amazing to see the previous Aloha Classic winner Josh Angulo (Angulo, Gun Sails) charge the biggest waves he could find, smacking the fattest sections and booking his place in the third round. The aggressive styles of Morgan Noireaux (JP Australia, Hot Sails Maui, Maui Ultra Fins) and surf style of Bernd Roediger (Quatro, Goya Windsurfing, MFC, Quiksilver) ensured their progression. Graham Ezzy (Ezzy Sails, Quatro, K4) demonstrated that he could go all the way with a combination of powerful turns and rotational moves.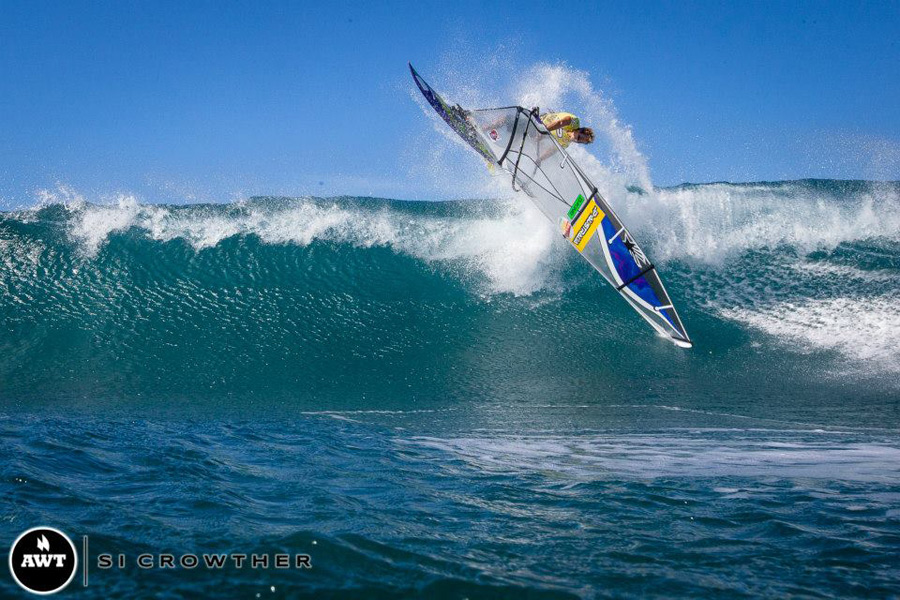 Semi-Final #1 featured Bernd, Graham, Levi and Matt Pritchard (Gaastra, Tabou, Pritchard Windsurfing) all hungry for a spot in the Final and to keep sailing perfect and empty Ho'okipa waves! Graham continued in typical fashion but couldn't quite stick his moves. It has been great to see Matt competing at the highest level again but he couldn't match Bernd & Levi who both advanced to their second Ho'okipa final in the last three days. The second Semi-Final saw Morgan take on three ex-World Wave Champions and I am sure there were a few nerves even if he didn't show them. With Morgan and Kauli sailing with matching equipment it looked like a photo shoot at times out there. The snappy turns of Morgan combined with powerful hits were enough to claim second and secure a place in his first major final alongside team mate Kauli who totally dominated the heat despite solid performances by Kevin and Josh.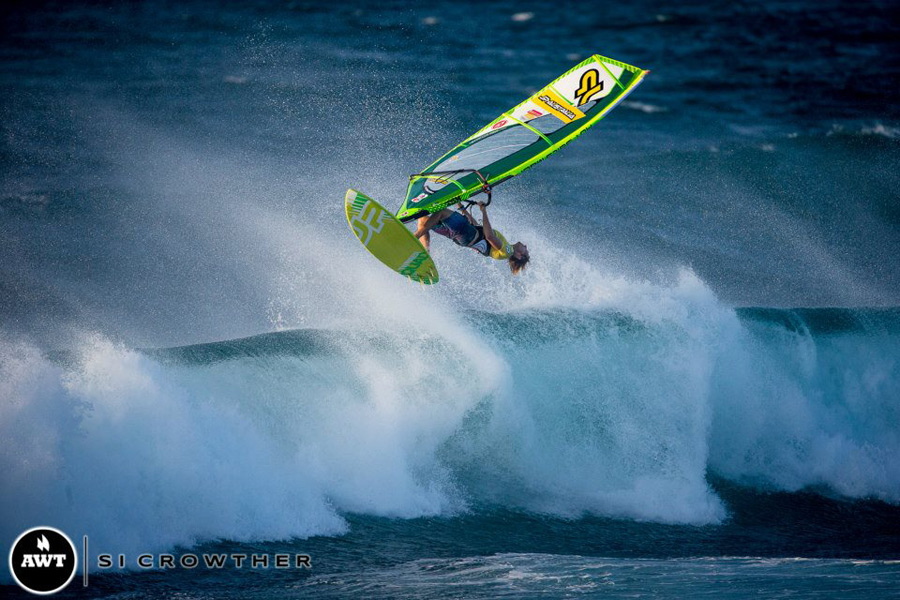 Josh Angulo in typical fashion found the biggest waves and went huge but lacked the fluidity of some of the new school and didn't make the final, now in 5th Josh is an amazing competitor and Ho'okipa legend, he will be charging in the Double and nobody would bet against him!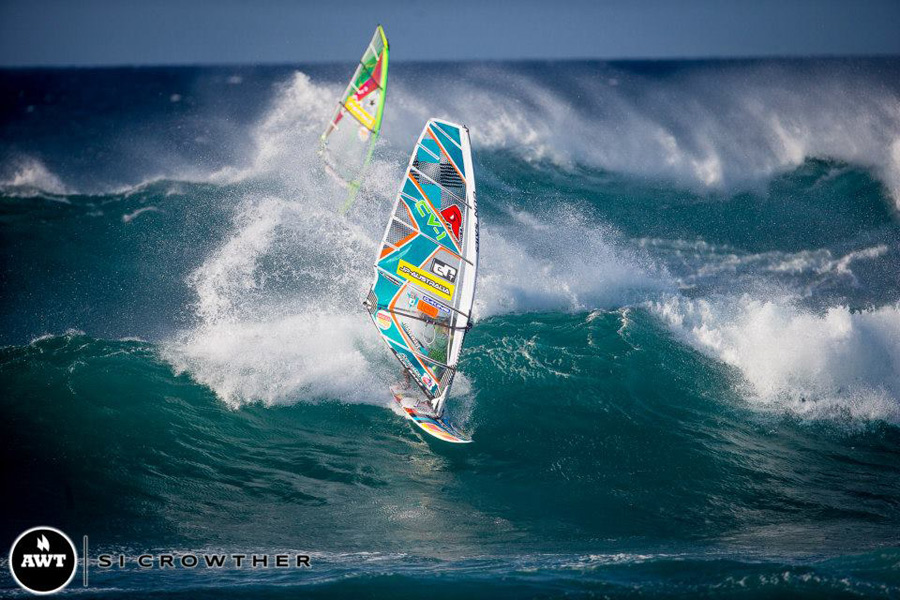 The Single Elimination Final was set to be a classic duel between Levi, Morgan, Kauli & Bernd who prior to stepping on the water for the extended 22 minutes heat had already demonstrated to on looking crowd their dominance at Ho'okipa today with a combination of the sharpest tunes and most radical moves. With the wind dropping slightly we had amazing wave riding conditions and wave selection was becoming critical. Kauli was patient and waited for the right wave, scoring a massive 8.5 on his first attempt (one of the highest of the day), this settled him into the final but despite catching lots of waves he didn't log a great second score which clearly cost him the win. Coming from behind Levi kept his cool and delivered yet another massive ride linking powerful turns and a huge aerial, this was backed up with another couple of 7+ point scores as he fished with 14.7 points narrowly ahead of Kauli on 14.68. Morgan and Bernd went in search of the perfect wave and pushed it hard with their takas and 360s but neither could quite deliver a knock out blow unlike in previous rounds and would have to settle for 3rd and 4th.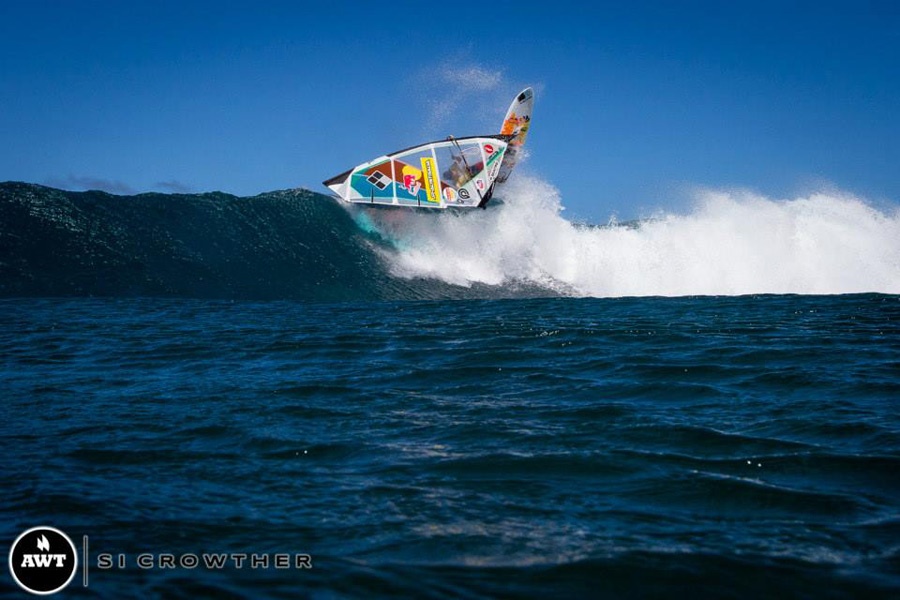 Single Elimination results
1st Levi Siver (Quatro / Goya Windsurfing / MFC)
2nd Kauli Seadi (JP / Hot Sails Maui)
3rd Bernd Roediger (Quatro / Goya Windsurfing / MFC)
4th Morgan Noireaux (JP / Hot Sails Maui / Maui Ultra Fins)
5th Matt Pritchard (Tabou / Gaastra)
5th Josh Angulo (Angulo / Gun Sails)
7th Kevin Pritchard (Starboard / Ezzy / MFC)
7th Graham Ezzy (Quatro / Ezzy)
We now wait for the start of the Double Elimination bracket which based on the current forecast is likely to start Tuesday morning. Tune in LIVE and check out the action.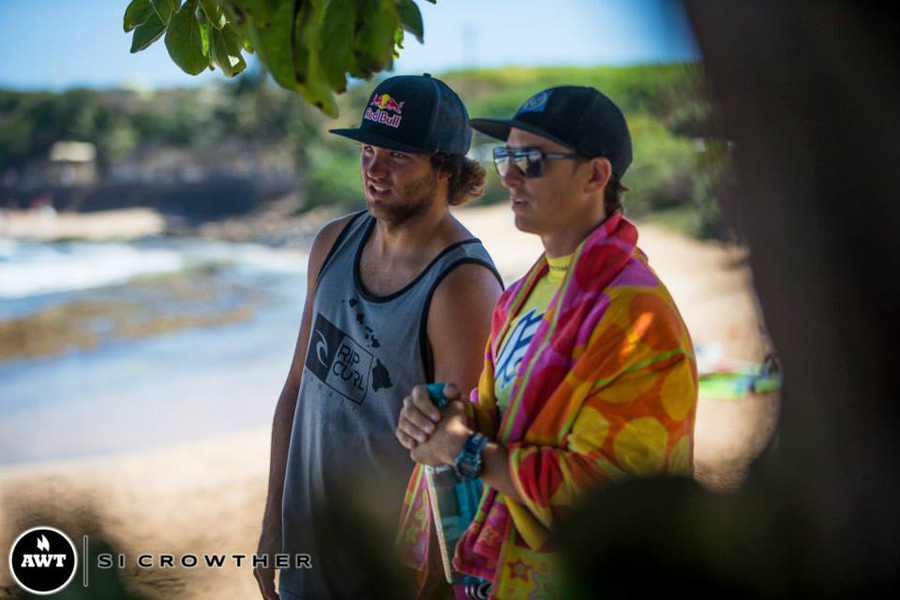 Rider comments
"What an amazing event! To win the AWT and qualify for the PWA event is beyond words! Sailing in today's conditions was incredibly fun. It was like free sailing Hookipa with a few friends. Everyone was ripping and the level of windsurfing has gone through the roof. When I made it to the finals and sailed out with Kauli, Levi, and Morgan, I thought I'm the luckiest dude on the planet! To stand at 3rd place at the end was sweet! Tomorrow I'm gonna give it everything I've got left!" Bernd Roediger (Quatro, Goya Windsurfing, MFC, Quiksilver)
"I wasn't super happy with my result in the AWT contest so I spent the weekend looking at my heats trying to figure out what I should fix in my approach and trying to get my mind in the right place before the PWA event. It seems like it paid off. I started the day well and kept the momentum up until the final. Overall it was a great day, it was amazing to share some epic Ho'okipa with three other guys, and I'm looking forward to climbing up the steps of the podium tomorrow!" Morgan Noireaux (JP Australia, Hot Sails Maui, Maui Ultra Fins)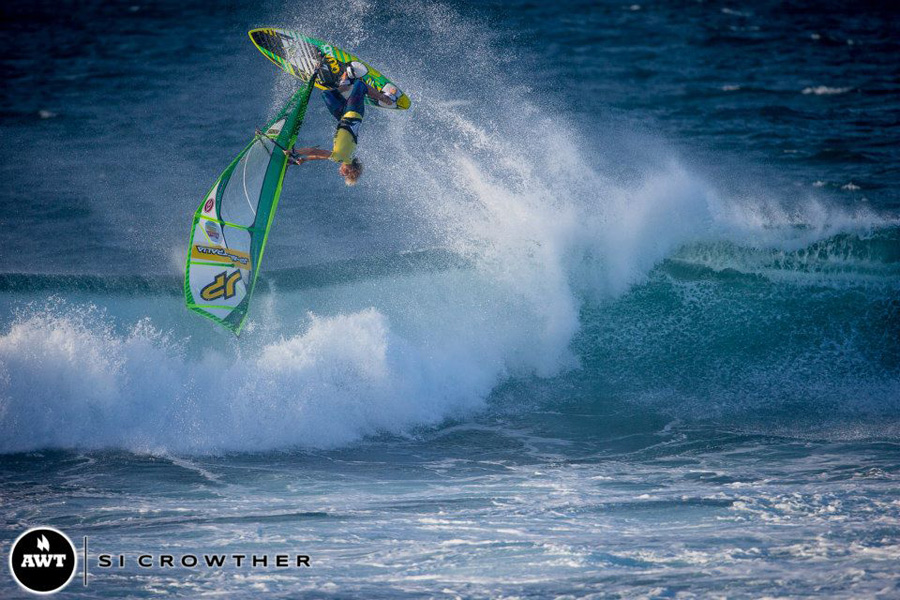 "After living on a boat for 5 months and being able to get away from the Tour for the first time was nice, I think it gave me extra motivation to come compete again with the boys, and especially at HOOKIPA that is really the mecca of the windsurf wave!! I love wave riding conditions and today was a really fun day, I couldn't ask for more, being able to be in the water with only 3 other guys, on those nice waves…. really the second place was a present!" Kauli Seadi (JP Australia, Hot Sails Maui, MFC)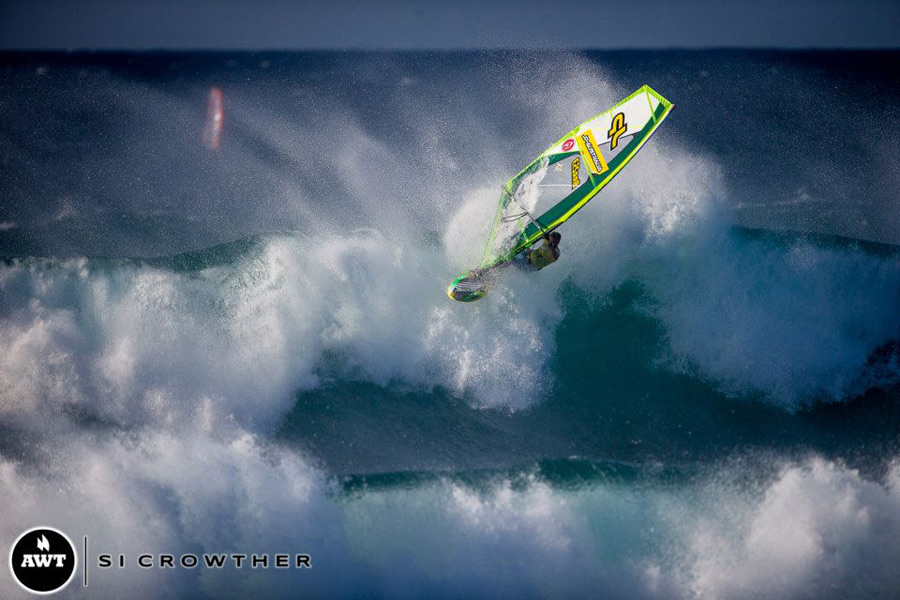 "You know we are here with the best people in the world at the best beach in the world and Ho'okipa went off today! I just tried to give it my best and try not to think too much when I was out there. I just wanted to have fun, enjoy it and keep improving. Like I've already said I was not really competing the whole time, I just told myself that I want to enjoy it. At the end of the day we're all friends who love this sport and I think we should keep that spirit of Aloha, and just keep encouraging each other. I'm feeling really humble, there are so many good sailors and they are all first place in my eyes, they all rip so hard! Thanks to everybody!" Levi Siver (Quatro, Goya Windsurfing, MFC, Redbull)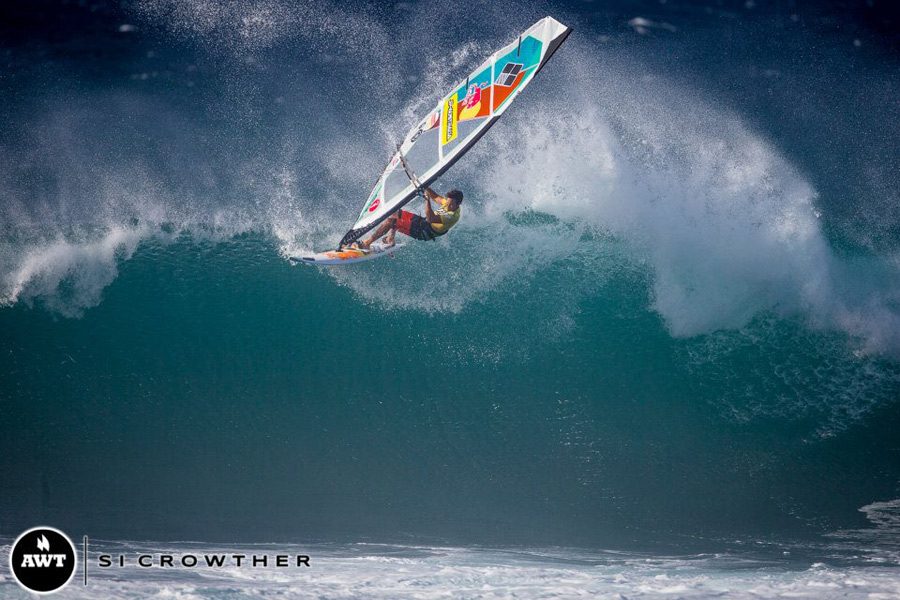 Judges, organizers and industry reaction
"We at JP are obviously super stoked that two of our riders made it into the final of this great event we all have been waiting for, for 7 years since we had the last PWA event on Maui. Kauli and Morgan represent basically two generations of sailors. Kauli is a 3 times world champion who has been very influencial for wave sailing and the equipment used and Morgan represents the new generation and school of wave sailing. Morgan has worked very hard to be where he is now in this event and I am especially happy about that. Both have sailed incredibly well. Congratulations to both of them but it is not over yet. Hopefully we will see a double elimination which is just as exciting as the single. I also want to mention that the whole JP team sailed really well except for Ricardo Campello who was very unlucky with his wave selection Antoine Martin, Robby Swift and Jules Denel sailed really well." Martin Brandner, JP Brand Manager
"What a day eh? I'm glad to hear that even by Maui standards these conditions are considered to be quite special, because I thought it was amazing! Although the judging wasn't always easy (we sometimes had to watch and score four competitors riding waves at the same time), I thoroughly enjoyed myself today. It's not really chore watching the world's best windsurfers ripping it up in these conditions! Levi definitely deserved to win, combining powerful turns with stylish airs and clean tricks in the critical part of the wave, and he was the most complete wave rider out there today. I'm already looking forward to what the double elimination will bring!" Thijs van der Meer, PWA Judge
"Today was everything we worked so hard to achieve. With big waves, steady wind, great judging and the best sailors in the world, today was a true demonstration of skill. Congratulations to everyone who competed. Thanks again Duncan and the PWA / AWT team of helpers!" Sam Bittner, AWT Tour Director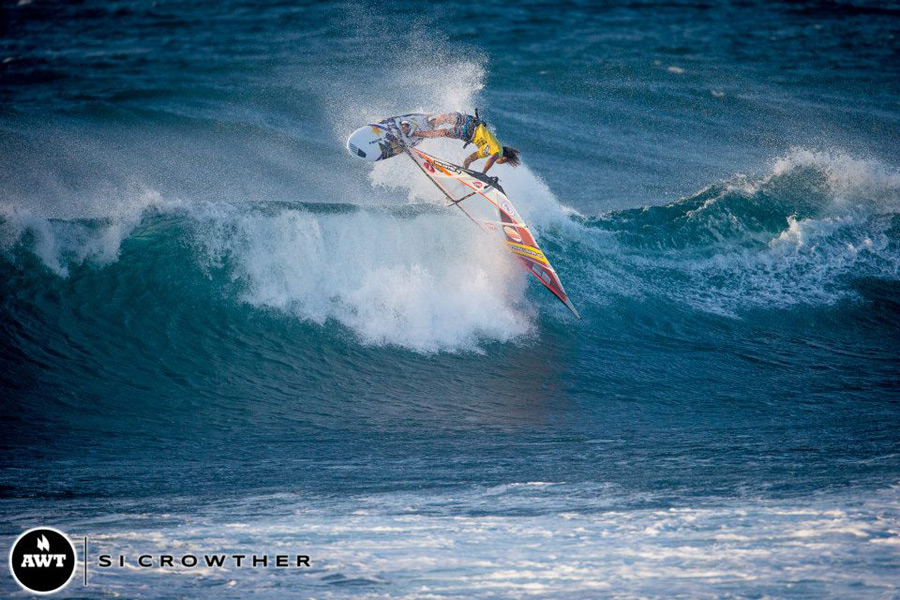 "This was a great contest for Hot Sails Maui with two of our new KS3 sails in the final sailed by Kauli Seadi, who inspired this sail project and young Morgan Noireaux who is such an incredible rider! I couldn't be more proud and excited" Jeff Henderson (Hot Sails Maui)
"One of the things we love taking care in our brand is in tuning in with each one of our riders, looking in at their needs and giving them the support that will allow them to ride their best, there is no magic, just consistent love and attention to each detail everyday. With all the team we are just SOOOO STOKED!!! CONGRATULATIONS Levi!!!!! over the last months he tuned himself and his gear to the mm working with Jason Diffin on the sails, Keith on the boards and Pio on the fins and how he went back at working with his dad filming him showed how much he wanted it to sail his best today, and he did! not only by winning the single elimination but how he did it, his moves were simply defying gravity and my feeling is that he is just getting started here. I'm just thankful for everybody that had made this event possible, starting from all the riders and their sponsors, the AWT, PWA and all their staff, JP Australia, Nalu Kai Lodge, RedBull, MauiElements.com, Vousht, Flatbread Restaurant, County of Maui and many more. Thank you all" Francisco Goya (Goya Windsurfing, MFC)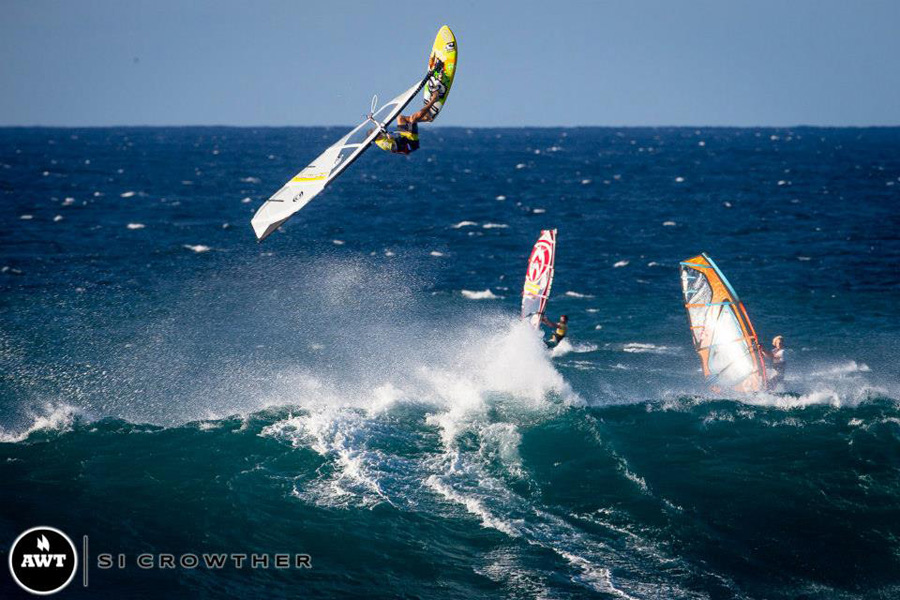 There is all the play for here in Maui, Hawaii and as competitors are waking up this morning there are 32 riders who could still win this event!
Aloha Classic Weather Update
Things are looking up with excellent conditions forecast for the whole week. The swell is constantly being refreshed and should keep the sets coming at logo high or bigger right through Friday. The weekend is still looking pretty darn windy but the swell will also be pretty small and messy.
Tuesday 29th – Wind ENE 15-21 knots normal trades. Surf decreasing slightly with 8-12 foot faces occasional bigger sets up to 16 foot faces.
Wednesday 30th – Wind ENE 16-22 knots normal trades. Surf 6-10 foot faces with bigger sets peaking at 12 feet. New swell might start to appear late in the day.
Thursday 31st – Wind ENE 16-22 knots normal trades. Surf starting the day with 12-16 foot faces and slowly dropping throughout the day to 8-12 foot faces.
Friday 1st – Wind ENE 20-26 knots. Surf decreasing from 10 down to 6 foot during the day. Occasional big set with 15 foot faces.
Saturday 2nd – Trade-winds 15-30 knots, gusty squally conditions. Surf 6-8 feet choppy and confused.
Sunday 3rd – Trade-winds 15-30 knots, gusty squally conditions. Surf 5-7 feet choppy and confused.