I guess today is a great example of why you simply cannot trust the forecasts; you cannot even trust your eyes because you never know when it is going to turn on. With today's forecast being poor, we had a more leisurely start to the day. Riders and staff took the opportunity to catch up on a few more emails and a little much needed sleep.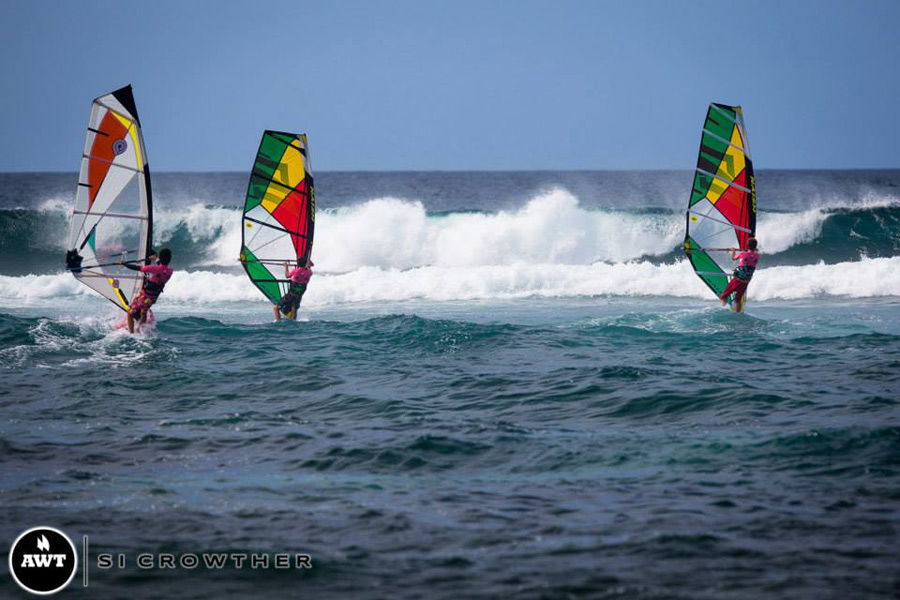 Today was planned to be 'Youth Day,' and Pro riders Kevin Pritchard (Ezzy, Starboard, MFC), Levi Siver (Goya, Quatro, MFC), and 2013 AWT Aloha Classic winner Bernd Roediger (Goya, Quatro, MFC), held a 9am clinic for the Youth riders at Ho'okipa. It is great to have such experience on hand to help advise and inspire the next generation. Wiley Daniel (Hot Sails Maui) at 8 yrs old is the youngest competitor in the field and boy does this kid rip!
While we had the Pro riders on hand we had them sign a couple of AWT hats, which we will be offering to the windsurfing public. More details to follow! We secured signatures by Kevin Pritcahrd, Bernd Roediger, Levi Siver, Alex Mussolini, Marcillio Browne & current wave world champion Philip Koster. These will for sure make an amazing memento for the lucky fan!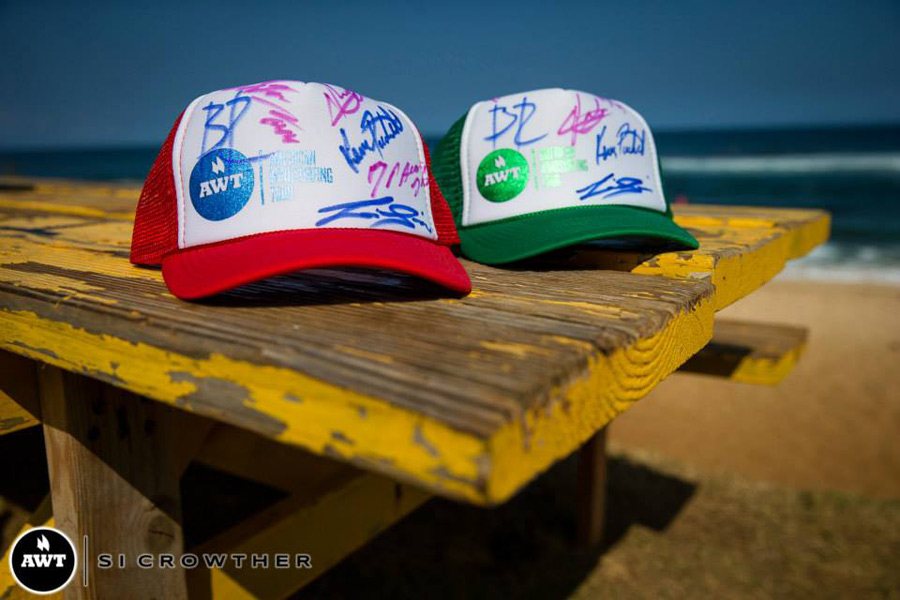 With the wind light, it was decided to release all fleets, except the eleven Youth riders. Following the clinic, they were keen to show the Pro riders what they could do, and asked Head Judge, Duncan Coombs, if they could run. With surfers still dominating the break, the gang of sailors took to the water as soon as the first signs of wind emerged. It is amazing to see these riders, most of which are lighter than the average Ho'okipa sailor, bob out in virtually no wind and catch wave after wave.
All riders were impressive, but the onlooking crowd were particularly amazed to see Wiley Daniel take down some waves, which for him were mast high on his 2.6 Hot Sails Maui KS3. By 1pm, the wind was consistent enough to start heats. First up were the Juniors, Wiley Daniel and Naveen Hanig, who had Ho'okipa all to themselves for the first time. Nerves didn't come into it at all. They just caught wave after wave! Wiley appears to have all the tools to become a windsurfing champion, and I wonder how long it will take before he is challenging for the main title?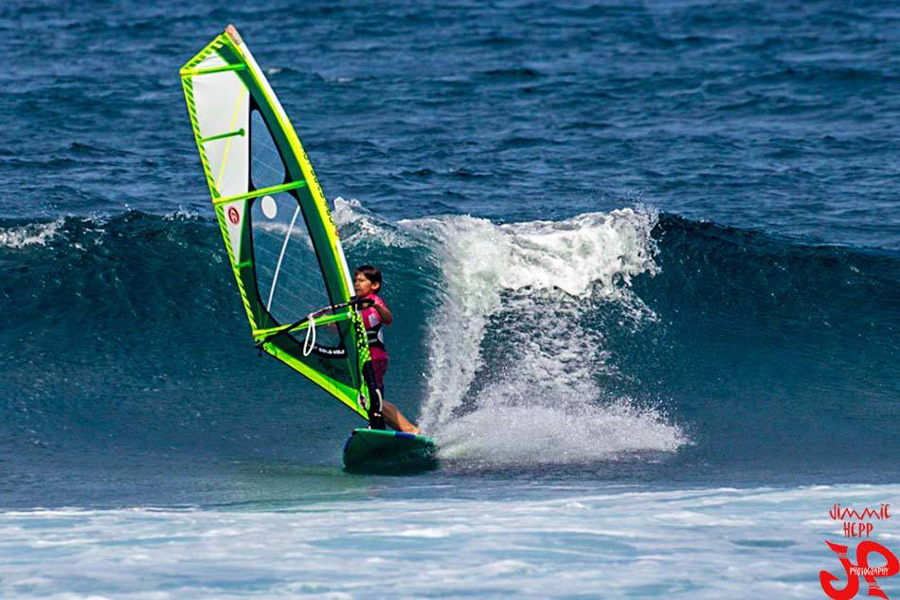 The Youth division hit the water with Casey Rehrer (Maui Sails, Quatro, MFC), Harley Stone (Naish International), Tom Juban (Goya, Quatro, MFC) and Fiona Wylde (Sailworks, Quatro, Vector Fins) all winning their opening exchanges to adavance to Round #3 and wait to see who would challenge them. Wave of the round must go to Casey for busting a huge aerial at the Point right in front of the judges. Ridge Lenny, Justin Denel, Wiley Daniel and Alize Bergeron all battled hard to make it out of Round #2 with some impressive wave rides in the now lightening wind and head high plus surf.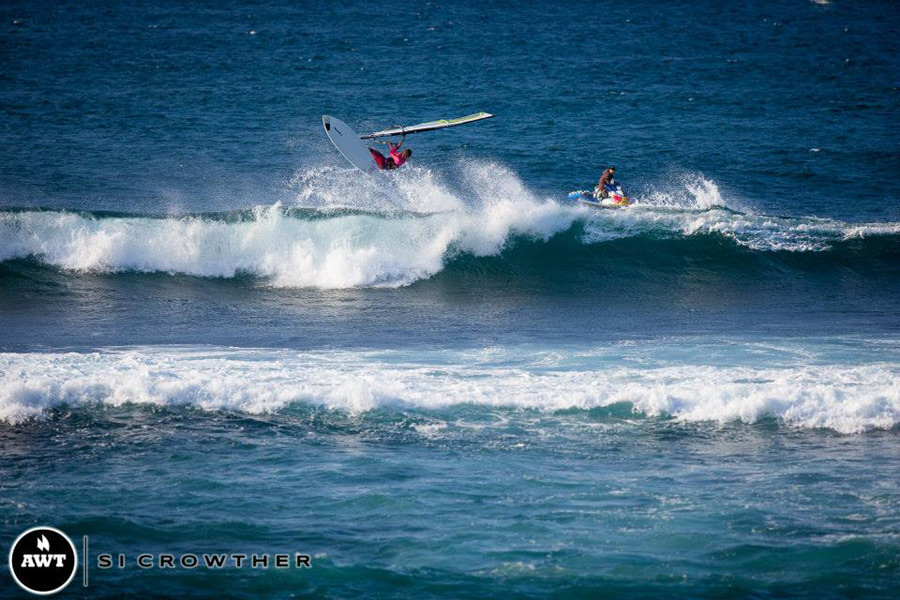 The Semi-Finals were tough, with Heat #8 a battle between local talents, and Justin Denel (RRD) from France. Knowledge of Ho'okipa seemed to help Rehrer and Stone who sail here daily. Picking off the biggest waves, both riders demonstrated their surfing abilities keeping tight in the pocket and slashing hard. Ridge Lenny (Naish International) and Denel chased them hard but in the end they would not advance. Heat #9 saw Wiley again wow the crowds; he clearly has no fear and a lot of wave knowledge already. In the end the experience of Fiona and Tom could not be overcome. Both are regulars on the Tour, with Fiona narrowly missing out on the overall Women's title this year, and Tom having his brother Camille, 2012 and 2013 AWT Tour Champion, as a mentor! With the wind dropping, Head Judge Duncan Coombs decided to wait for better conditions, which are expected to arrive tomorrow onwards. The hope is that the Youth Final can be held during the PWA bracket and streamed live to the world. These sailors are all Ho'okipa regulars who will charge in mast plus surf without the slightest fear, and with the title on the line, expect them to risk it all in the hunt for glory and social media bragging rights! It is interesting to note that three of these four riders are enrolled in online schools so that they can concentrate on their windsurfing. Harley Stone is the only one who attends regular school, so he will be in lessons again tomorrow morning as he waits for his heat!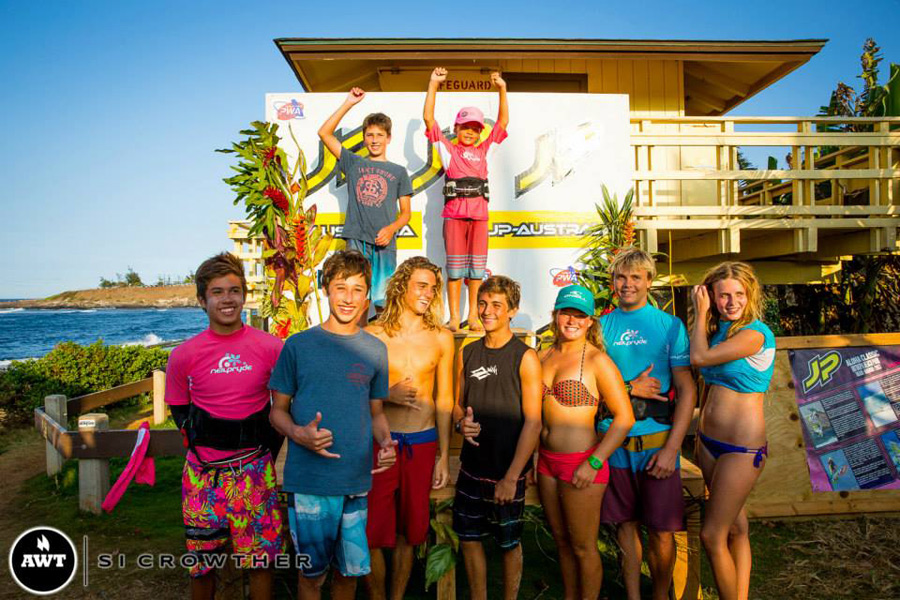 Looking ahead to MONDAY – with the conditions expected to improve we are likely to be running early tomorrow and throughout this week. The order of play will be called by Duncan, and announced on Monday morning. All fleets should be ready to sail, and we advise that you attend the 10am briefing to ensure that you are fully informed. You are invited to come early, grab a prime parking spot and take part in the 'Free Yoga on the Hill' lead by Trish Bianco (www.trishbiancoyoga.com), who will be helping you to increase your endurance, stamina, mobility, stability, and balance. She will be incorporating breath with movement to open our body and quiet your mind to stay calm and focused. Make sure you bring a towel and water. This session will be repeated on Wednesday and all are invited.
Skyler Haywood (Goya, Quatro, MFC) is one of four riders eying up a PWA spot!
Before the PWA bracket can start we have a sail off for the last two spots in the 32 man draw. Masahiro Motohashi, Fabrice Beaux, Casey Hauser, and Skyler Haywood will all be charging hard for their right to challenge the best riders in the world. If you talk to most riders, they will tell you that they are motivated to win just so that they can sail again. We do suffer from more than the odd crowd at Ho'okipa, so having the playground to yourself for the 12 minutes in a heat is simply mind blowing!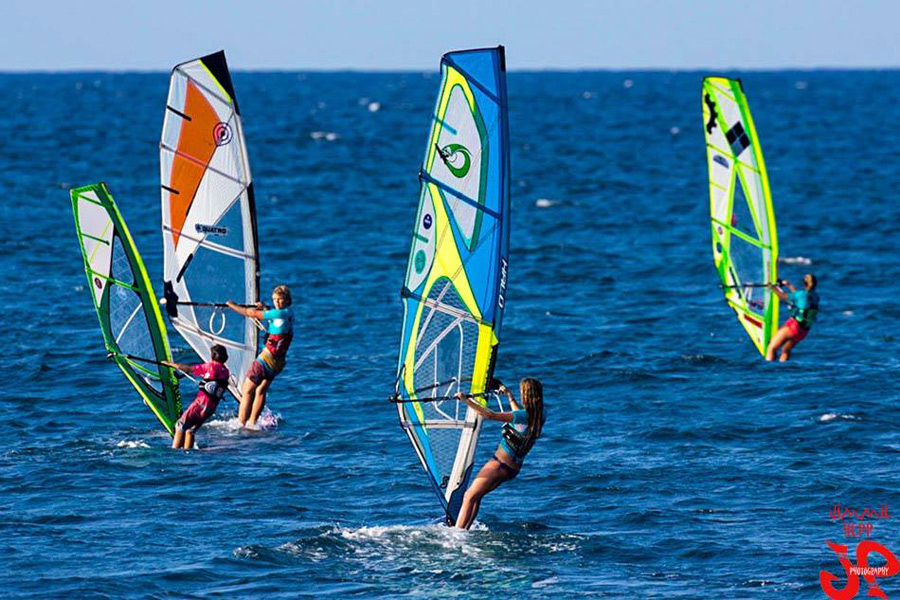 Social Media Minute
We actively encourage you to interact with the event, please use the hashtags #AlohaClassic #AmericanWindsurfingTour and tag yourself in the brackets and images.
Aloha Classic Weather Summary
Monday 28th – Wind ENE 13-18 knots normal trades. Nice long period NW swell will produce good quality surf in the 10-14 foot range. The big sets could top out at 20 feet on the face.
Tuesday 29th – Wind ENE 15-20 knots normal trades. Surf decreasing slightly with 8-12 foot faces occasional bigger sets up to 16 foot faces.
Wednesday 30th – Wind ENE 17-22 knots normal trades. Surf starting in the 6-10 foot range rebounding late in the day with reinforcing WNW swell with faces in 12-14 foot range. The big sets could top out at 20 feet on the face.
Thursday 31st – Wind ENE 15-20 knots normal trades. Surf maintaining with 10-15 foot faces occasional bigger sets up to 20 foot faces.
Friday 1st – Wind ENE 20-25 knots normal trades. Surf decreasing from 9 down to 6 foot during the day.
Saturday 2nd – Trade-winds 15-30 knots. Surf somewhere between 7-12 feet as the one swell is fading another might reinforce.
Santa Cruz, CA | June 5th to 8th
Pistol River, OR | June 12th to 15th
Pacasmayo Classic, Peru | August 3rd to 10th
Baja, MX | August 16th to 23rd
Hatteras, NC | September 15th to 20th
Maui, HI | October 29th to November 11th