An action packed day of waveriding power and speed was on show at Ho'okipa Beach today as the world's best amateur riders battled it out to progress towards the much coveted finals: Youth, Masters, Grand Masters and Amateurs. All of these four finals will be run tomorrow as a special finals day.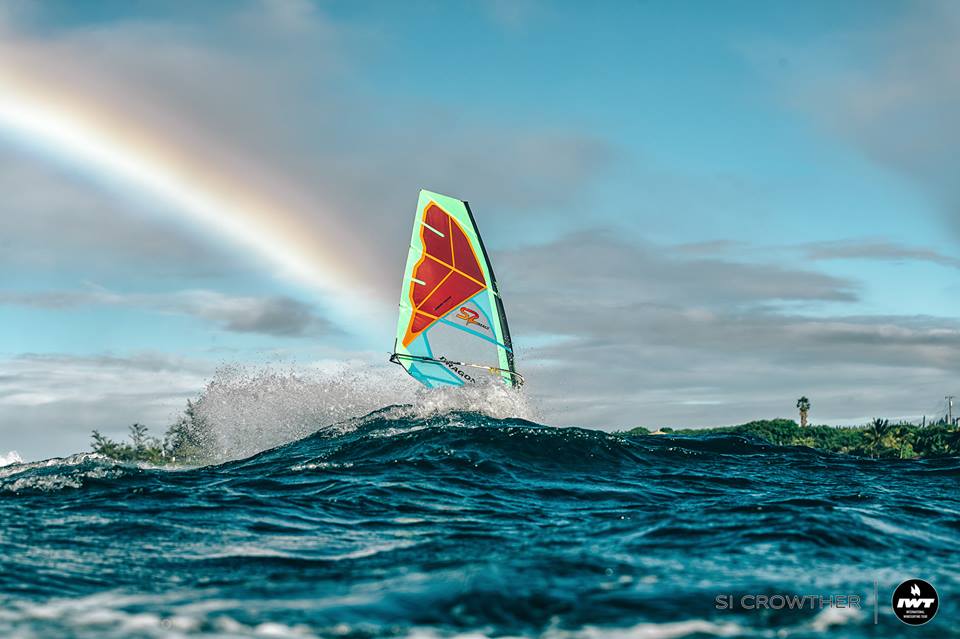 The Youth division final now includes Jake Schettwei, Takuma Sugi and Takara Ishii who are all PWA World Cup Youth contenders. After a full year on tour, two of them are in the final straight for a shot at the overall PWA Youth World Cup Podium. Depending on their results in the coming final Schettewi and Ishii could both end up on the overall PWA Youth World Cup podium for 2018 so the results of this final are a very big deal! The fourth young rider to join this elite group of Youth is young Nicolò Spanu who has sailed like a demon to reach this high level final.
The Masters division was super competitive as always. The four most competitive riders on the day have come down to the legendary long time professional Maui stalwart Kai Katchadorian, the intense Canadian big air master Patrick Bergeron, the famous Cypriote photographer from FishBowlDiaries Paul Karaolides and the wild ex Spanish professional Ilya Escario.Ilya has been a man on a mission and is still running as hot favorite for this division after a series of blistering victories to reach the final.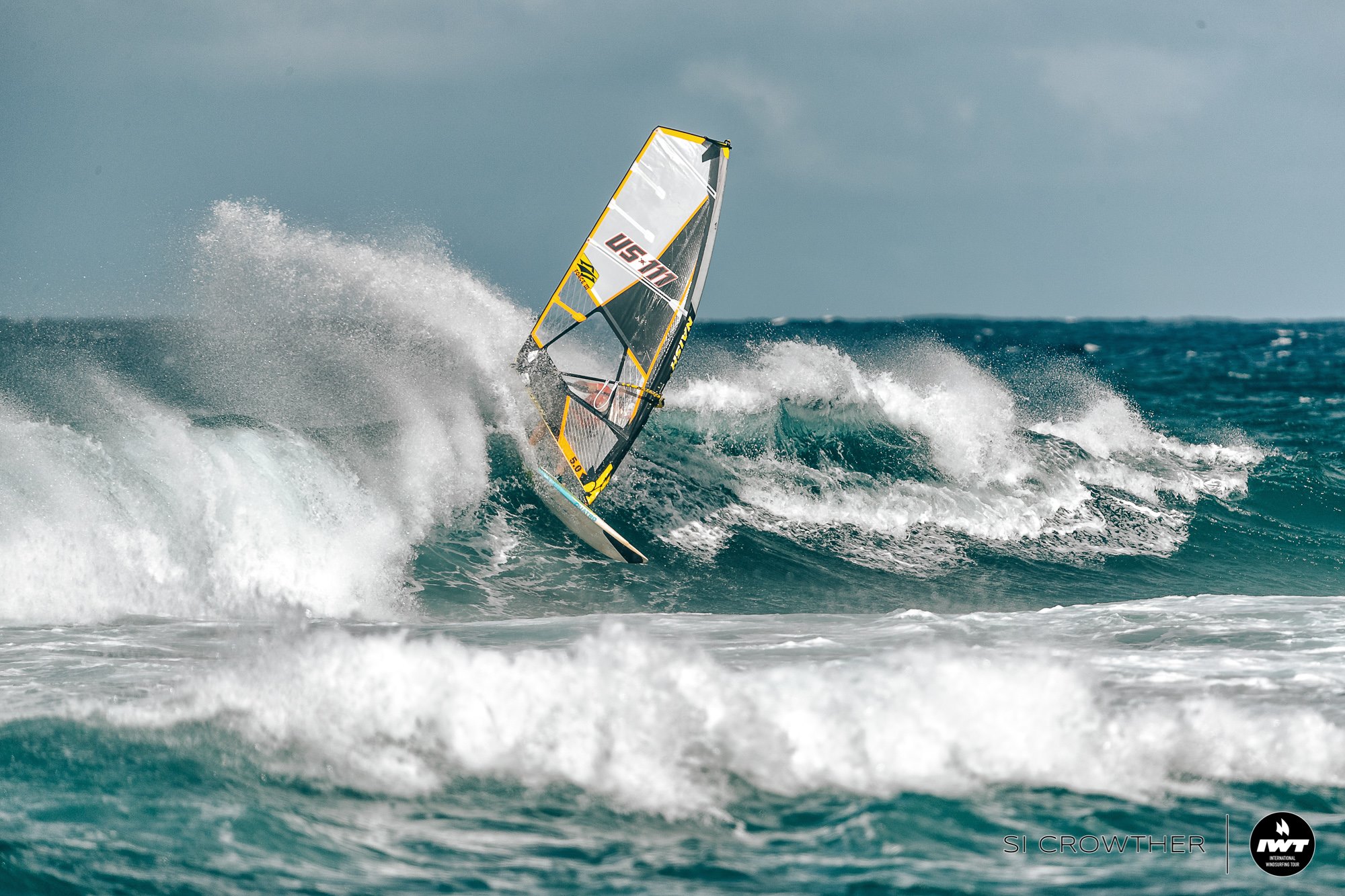 The Grand Masters final includes local Maui HotSails maker and many time Aloha Masters Champion Jeff Henderson, the in form father of Aloha Classic Pro Men's runner up from Guadeloupe Eric Martin, the local Maui unofficial Mayor of Ho'okipa Rob Funk and another legend from the early days of the sport and local big name Greg Aguera.
The Amateur final now includes the aforementioned and prolific heat winner Jeff Henderson, the also aforementioned red hot favorite Ilya Escario, the IWT Amateur champion for 2018 from Australia Simeon Glasson, and the local young gun who has surprised everyone Luc Guidroz
The stand out story of the day was local boy, Luc Guidroz who stunned the Aloha Classic field of experienced international riders fighting his way through the largest field to become the first 14 year old, since Jake Schettewi 3 years ago to make the Amateur Final. Jake is now a seasoned pro competing at the highest level of the sport. Luc appears ready to follow in his footsteps. Luc was born and raised on Maui and his father Leonard competed in the first ever Aloha Classic back in the early 80's.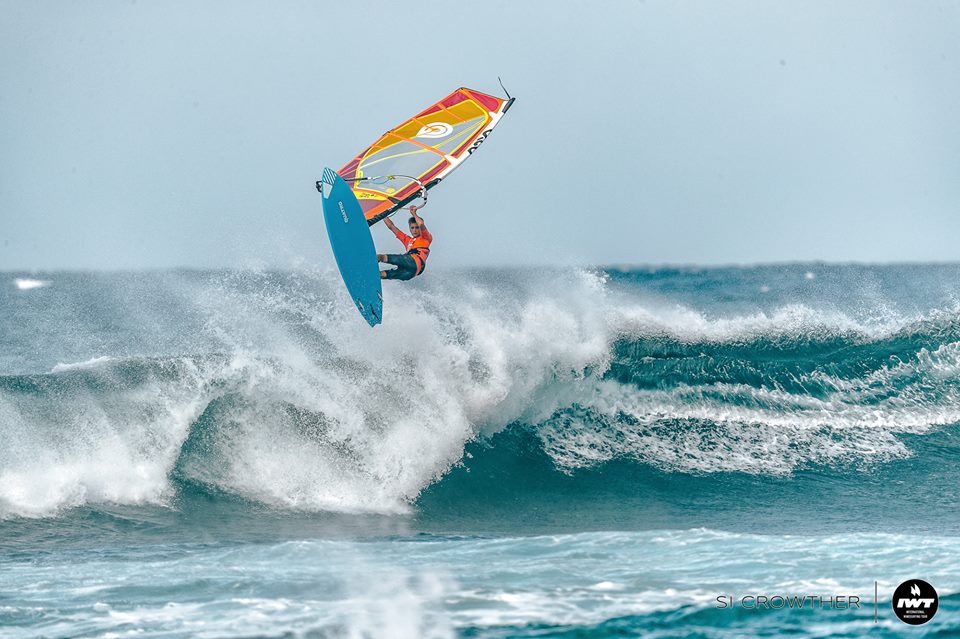 All of these finals look very likely to run tomorrow at Ho'okipa. All will be fierce battles with an international field of riders who have come here to test themselves against the best in the world at this year's edition of the Aloha Classic.