Day 6 got underway with the strongest wind of the competition. Coupled with some of the cleanest swell, occasionally over mast high, the NoveNove Maui Aloha Classic was cued up for another epic day. Head judge, Duncan Coombs, wasted no time and got right in the action with the Pro Men's Double Elimination bracket.
The first order of business was to carry on with the first round of the Double Elimination, starting promptly at 11 AM with 20 minute heats. Heat 28 was up first with Klass Voget acting as the stand out followed by Guillemin. Heat 29 had Kai Katchadorian and a hard charging Ross Williams advancing over Pascal hardy and Joey Sanchez. Heat 30 had Boujmaa Guilloul coming back to full form to advance with Flo Jung over Marc Pare. The last heat of the first round saw Fernandez Lopez and Schweiger advancing over Brian Talma and Jake Schettewi.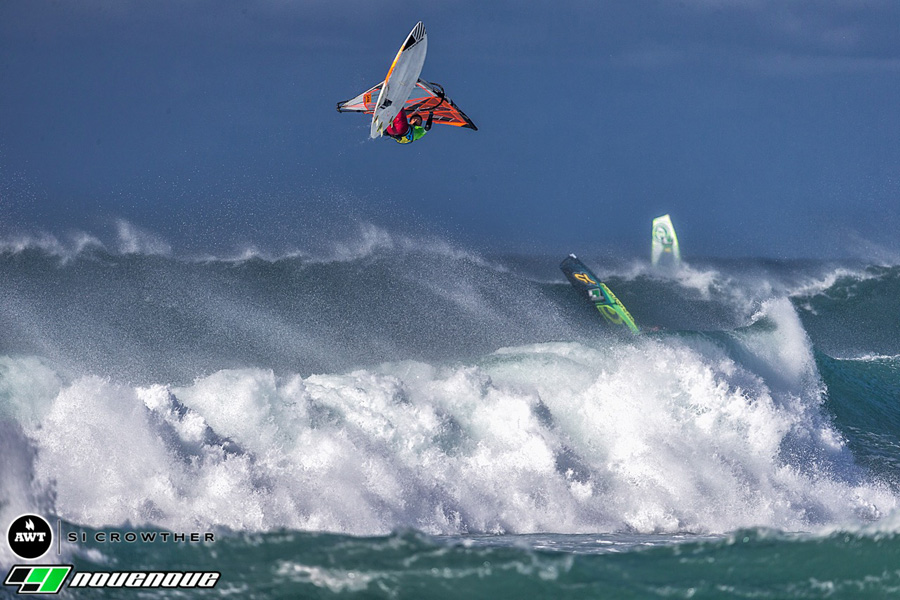 Photo: Juban flying high
Moving into the second round, Heat 32 had Angulo, Martin, Guadagnino, and Taboulet. From the start the hard charging Martin took control of the heat with Taboulet comfortably in second place. Angulo had a decent wave on the board and caught one at the buzzer, but couldn't quite hold on to a big aerial that potentially would have put him through.
In Heat 33, the crowed was fortunate to see two legends, in Naish and Polakow, go head to head again, alongside Brian Metcalf-Perez and Kevin McGillivray, who both put down some nice waves, but were no match for the seasoned veterans. It was great to see Naish and Polakow trading off on over mast high waves, and slicing them up with expertise.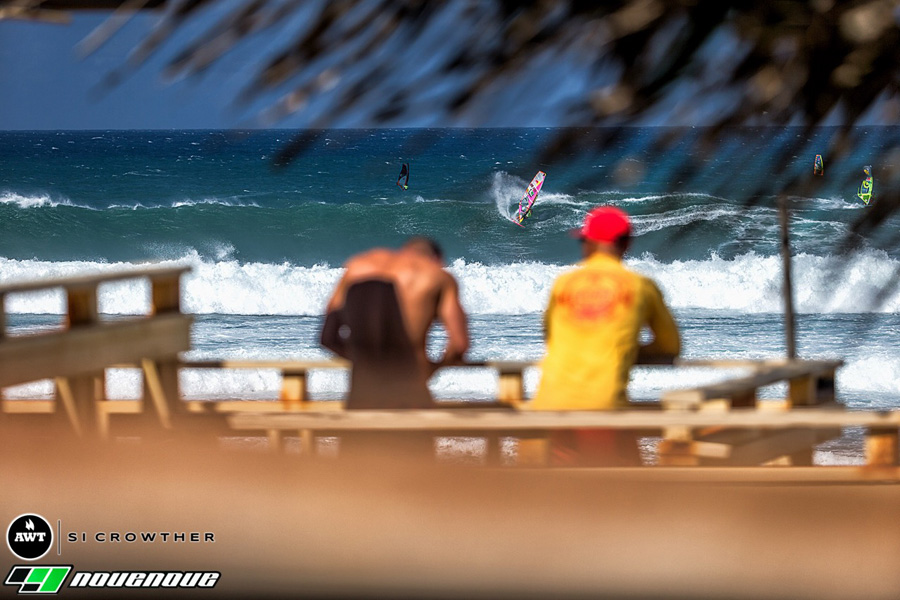 Photo: Ho'okipa Life Guards look on during Robby Naish's heat
Next up, Voget, Katchadorian, Williams, and Guillemin took the stage in Heat 34. Williams continued to put together an impressive performance while Voget took the top seed. Voget was looking dangerous as he attempted several 360s and seemed poised to go on a run.
Heat 35 had Guilloul, Fernandez Lopez, Jung, and Schweiger. Guilloul, the AWT leader, struck first going top to bottom on a nice set wave starting upwind at Green Trees. Fernandez Lopez reaffirmed his position at the top of the PWA rankings as well, by putting up two nice scores to sit in first in the heat. Guilloul continued riding well to take second as the heat came to a close, with Schwieger just missing the cut.
The third round of the Double kicked off with Jamaer, Martin, Skye, and Naish in Heat 36. Jamaer put together an impressive performance, charging hard and unafraid to attack the lip. In a close match, Martin's last wave of the heat was enough to put him above Naish, with Jamaer the winner. The next heat had Juban, Seadi, Polakow, and Taboulet. This heat was quickly apparent to be one to watch. The first round of exchanges saw a massive aerial from Juban, and vertical snapping turns from Seadi and Polakow, all scoring 7+ point waves. Juban's next wave included an impressive 360 right in the critical section of the wave scoring him a 9.13 to put him in first. As the heat played out, Seadi maintained his second place position, but it was Juban putting on a show with more high flying aerials, much to the delight of the Ho'okipa crowd.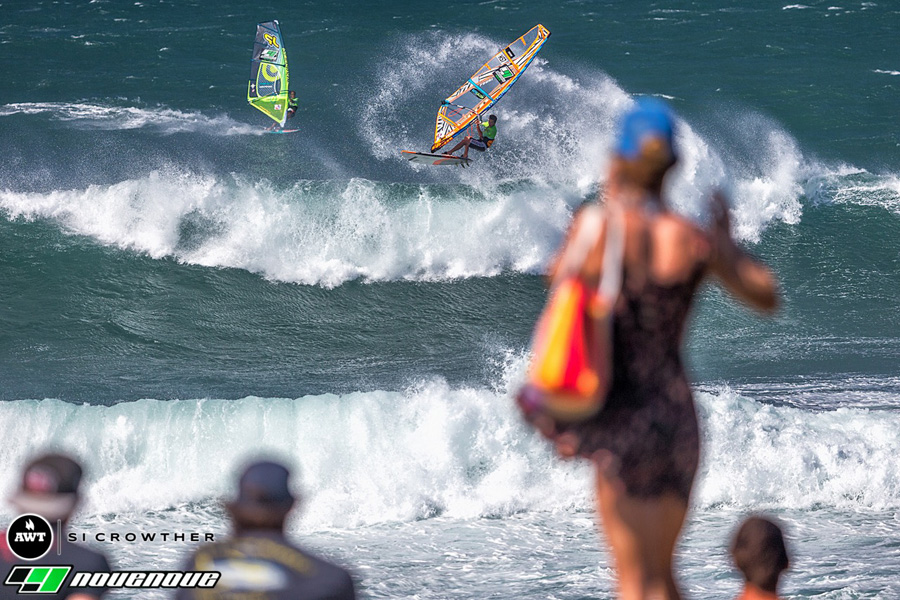 Photo: John Skye puts one up in front of the crowd
Heat 38 had Mussolini, Mauch, Guillol, and Williams, as Coombs changed the heat time to 18 minutes with the wind filled in to a solid 30 knots. Mussolini jumped right into the action with a giant aerial followed by some pristine cracks at the lip. Williams followed suit, linking together a nice sequence of turns, with Mauch right behind him. As the heat progressed, it was obviously Mussolini on a mission, and looked to be sailing dangerously as he finished first, with Williams in second place.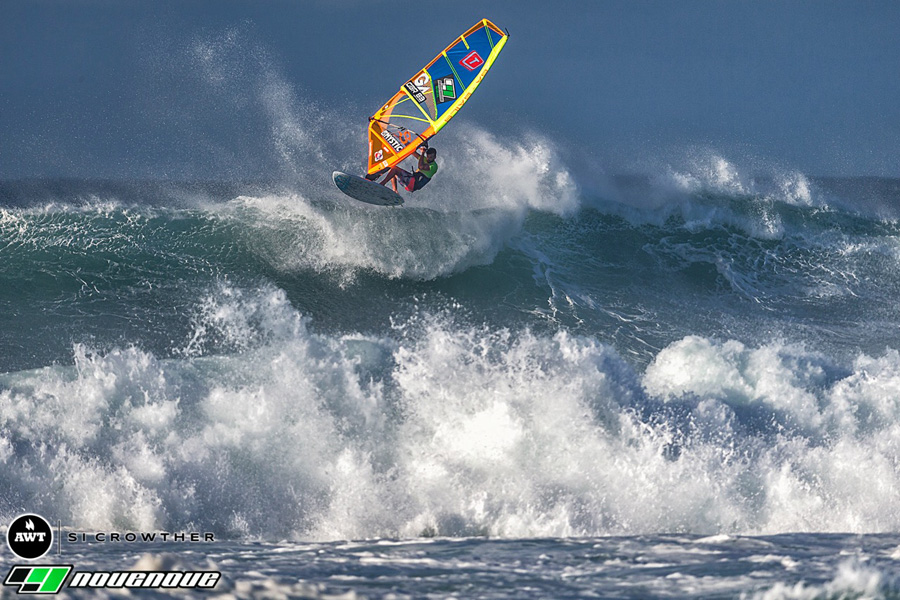 Photo: Williams with a strong performance
The last heat of the round saw Campello, Fernandez Lopez, Teboul, and Voget take to the water in what was sure to be another spectacular show. It was Teboul putting on a clinic at the start of the heat, using his local knowledge to lay down his signature style on some of the best set waves. Next, Voget responded best with an aerial and a couple nice turns to take the lead. As Teboul and Voget continued to put on a spectacle, Fernendez Lopez and Campello appeared to be out of it. With less than three minutes left, Campello finally got a wave to work with and screamed down the line to an air taka for an 8.25! He then picked up another quick wave with less than 30 seconds left and the crowed on the edge of their seat. He started with a proper gauge, then went for the 360 and landed it to get a 9! Unbelievable finish to the heat as Campello jumped to first place, pushing Teboul to third and Voget to second. It doesn't get much more clutch than that.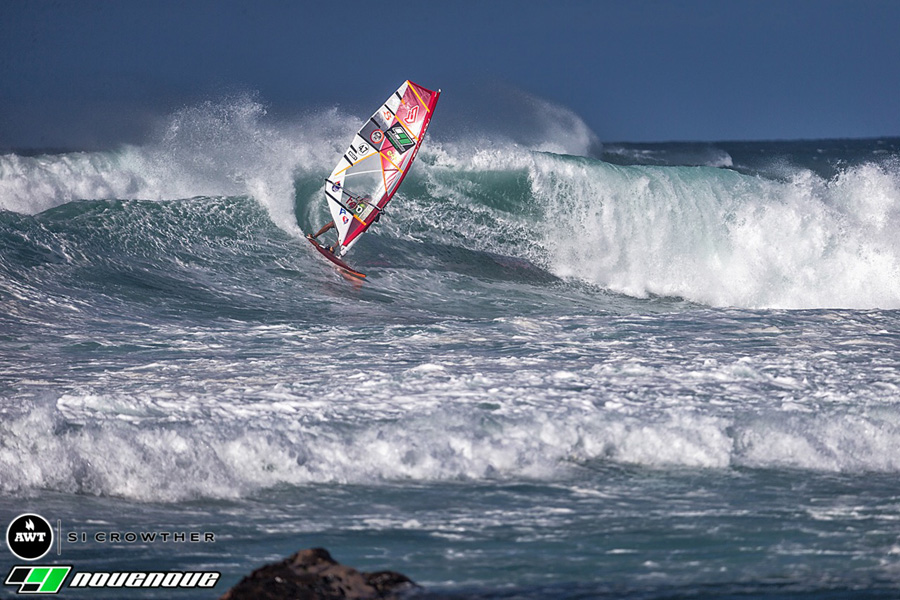 Photo: Victor Fernandez Lopez secures his PWA 2016 title
The action continued as Jamaer, Juban, Martin, and Seadi were back on the water. Another stacked heat started off with Martin and Juban trading waves. Seadi got in the action next, after Jamaer had a big crash over the falls, breaking his kit. Seadi put up an 8.88, but Juban responded immediately, throwing another 360 and a stylish one handed turn for a 9. Not to be outdone, Seadi got a wave all the way through the channel throwing surf style cutbacks one after the other, scoring a 9.38. And that's how the heat ended, with Seadi on top and Juban in second.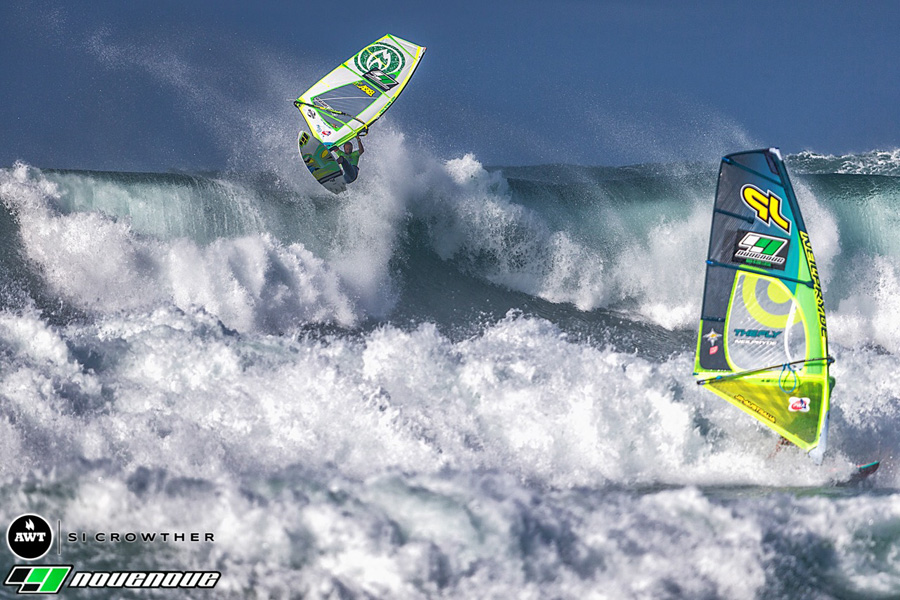 Photo: 99 NoveNove rider, Kauli Seadi
Next up, Campello, Voget, and Williams took on Mussolini who aimed to make the PWA title race a nail bitter. This heat had Campello in full form, throwing huge, under the lip cutbacks scoring repeated 8+ point waves. Mussolini put together a couple of nice waves, but wasn't quite getting what he needed. Williams, continued his impressive performance throwing some massive hits. In the end it was Campello advancing first, with Williams in second, and Mussolini in third, officially giving Fernandez Lopez the PWA championship.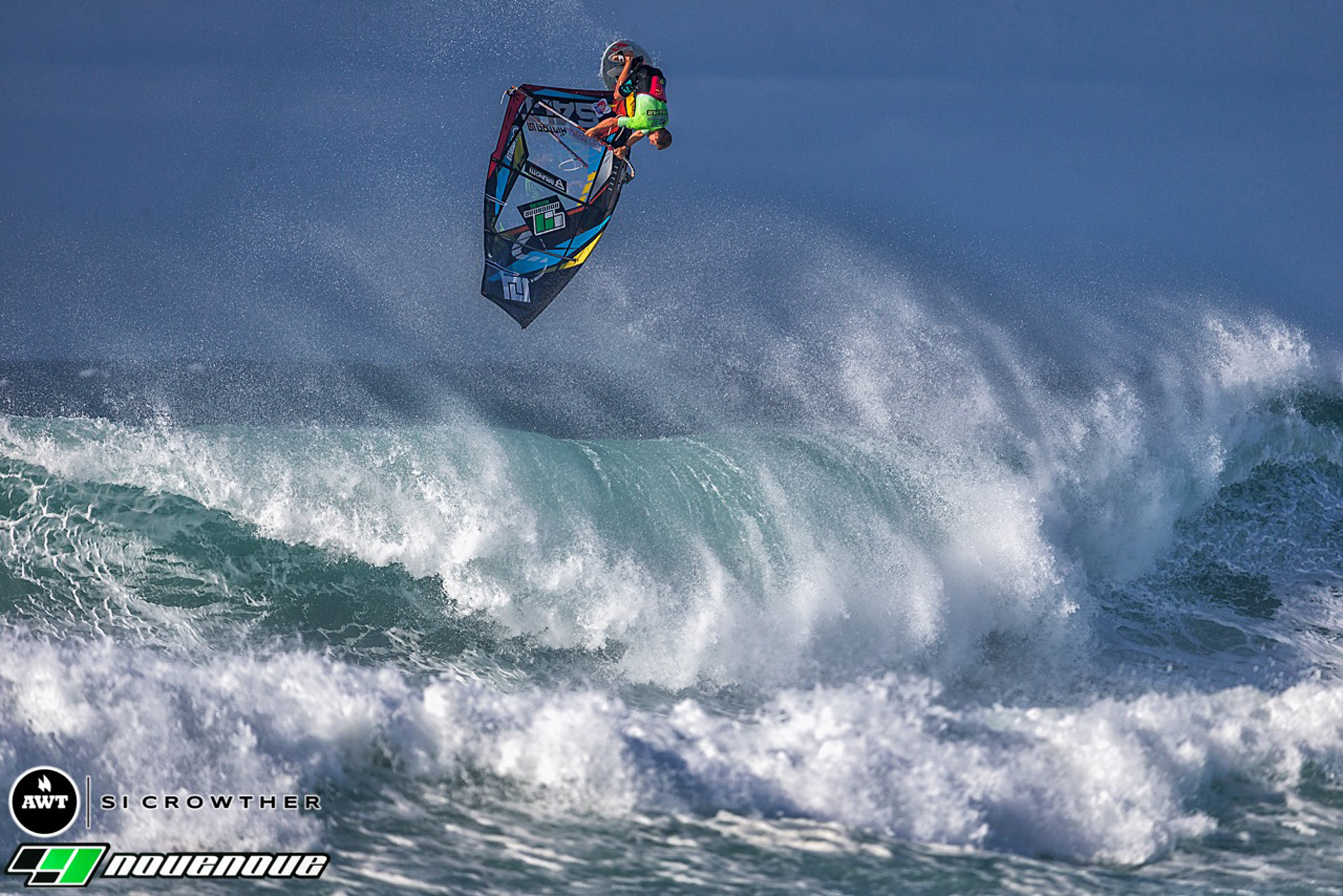 Photo: Campello with an insane aerial
After a one heat break, the next round had the advanced Seadi and Williams taking on yesterday's 5th and 7th place finishers in Lenny and Noireaux. Lenny started with a bang and complete and utter domination. His local knowledge allowed him to slash, slice, and throw tweaked aerials on all the best waves. Noireaux stayed in the game with a nice aerial and some cutbacks of his own. Lenny then caught a set wave, booting a big aerial, followed by an under the lip hack, and finished with another big tweaked air scoring the first 10 of the competition! With Lenny fully stealing the show, inducing cheers from the packed crowed on the bluff, it was Noireaux who kept up to advance as well.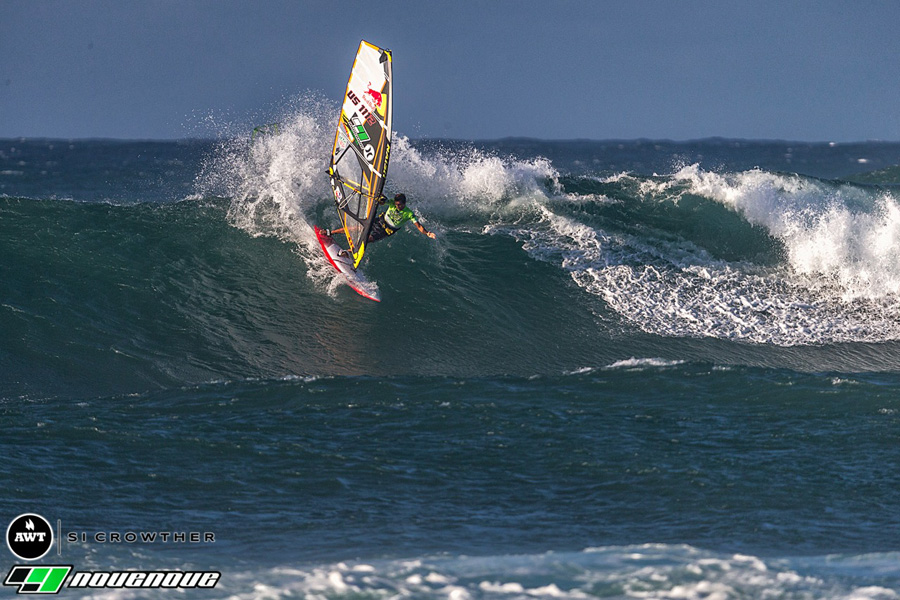 Photo: Lenny stealing the show
The next and last heat of the day had the streaking Juban and Compello taking on Ezzy and Swift. Juban continued his high flying antics, tweaking his head out on aerials and finishing strong to lead the heat. It was Swift's turn to put on a show next, throwing a massive aerial, followed by a gauging turn, and finished with a 360 to land the second 10 in as many heats! The most incredible action a wave competition could ask for right now! Campello and Ezzy had some work to do to keep up. Ezzy did his best by getting a 360 of his own, but it was not enough as Juban and Swift advanced to take on back to back Aloha victor, Noireaux, and the hard charging waterman, Lenny when competition picks up again.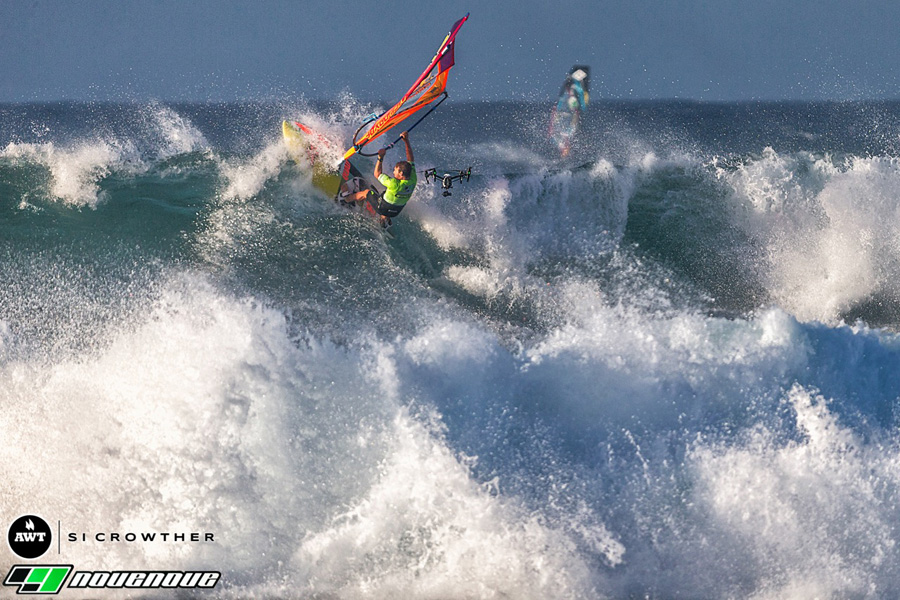 Photo: Swift advances as the drones watch
We cannot wait for the action to continue. Head judge, Duncan Coombs, exclaimed, "Today was the best conditions I've ever seen in windsurfing competition." Be sure to check out the live stream and recap videos at AlohaClassicMaui.com
With the conditions shifting, any of the remaining division might run tomorrow, so Amateurs, Masters, Pro Men, and Pro Women are all on call.
Skippers Meeting: 10 AM – ALL RIDERS
First possible start: 11 AM
Stay tuned to the AWT Facebook, Instagram, and Twitter pages for up to date info on the event.
Follow along with the live cast at AlohaClassicMaui.com/live-2016
Text by Greg Stiegel
Photos by Si Crowther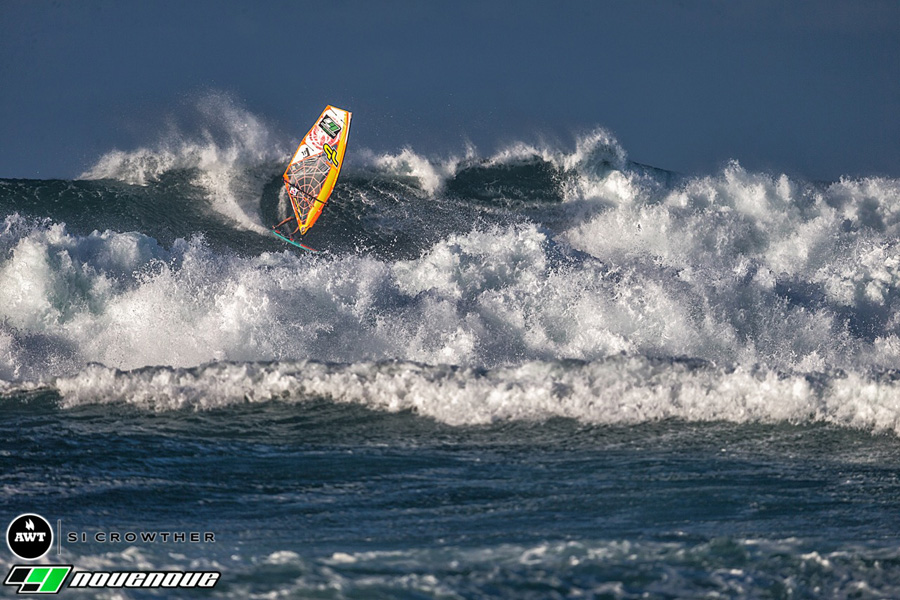 Photo: Noireaux poised to make a go at the three-peat