At the start of Day 7, Head Judge, Ducnan Coombs, called for the start of the Women's Double, alternating with the final rounds of the Men's Double. As the wind filled in, the first start was at 11:30 AM with 22 minute heats.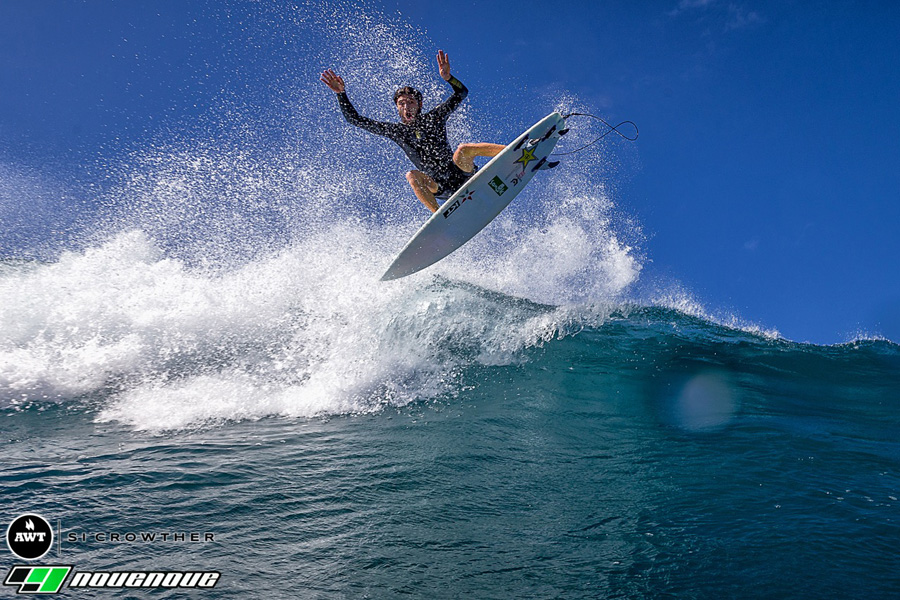 Photo: Matt Meola keeping the crowd entertained as we waited for the wind to fill in
First up, Coombs ran combined heats for the women with top rider from Heat numbers 36, 37, 38, and 39 advancing to take on the Women's Single Elimination qualifiers. Coming out of the first round was Cropas, who looked to be sailing really well, along with Beenen, Crisp, and Andres.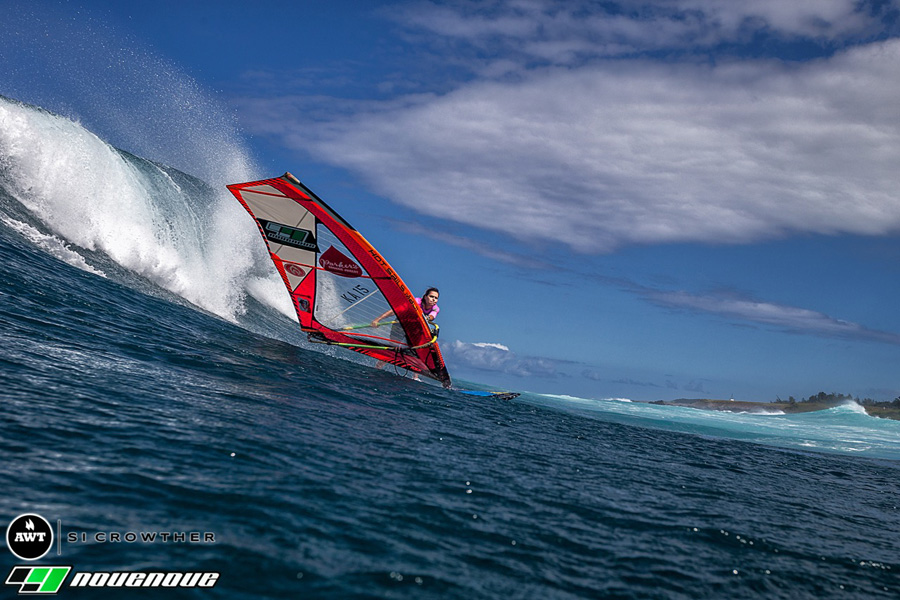 Photo: Crisp on a wave
Next up was the final 4 man heat of the Men's Double with only the top rider advancing to the man on man rounds. In light wind conditions, Lenny, Noireaux, Swift, and Juban were waiting on the outside as the horn sounded. Swift and Juban traded lesser waves as Lenny used his expert knowledge once again to find the best set wave. He performed to huge gashes on this mast high wave and then got under the lip and went right into a big aerial, getting cheers from the crowd. This first ride gave him a 9 and showed everyone he still meant business!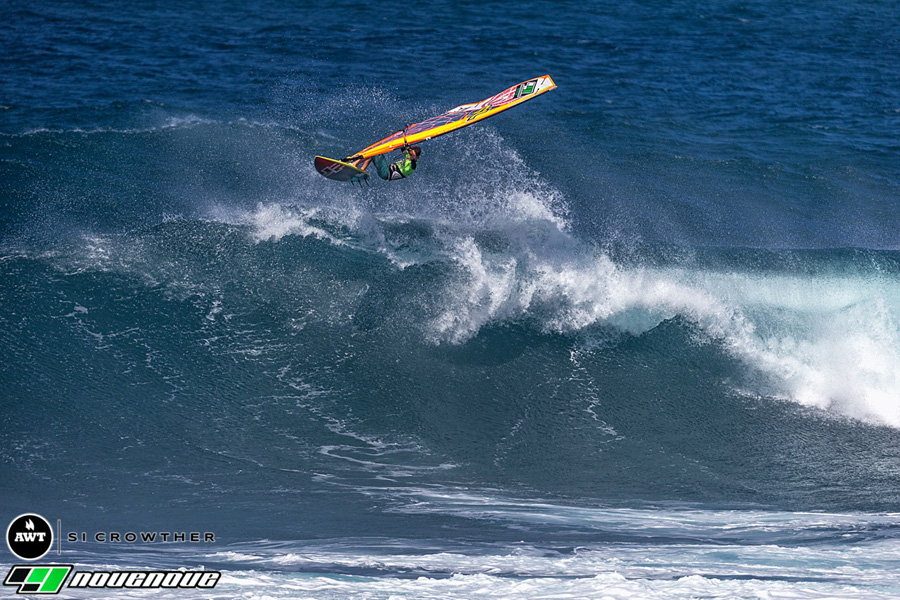 Photo: Noireaux going deep
Morgan was next to respond putting up a safe 6.5 with a couple nice vertical hacks. Lenny quickly added another on a logo high wave finishing with a smaller tweaked out aerial getting a 6.88. Then it was Switf's turn to unleash as he slashed his way down a logo high wave off the Point, and finished with his own tweaked out air for an 8.38. After another medium wave from Morgan, Juban got into the action with a small air and some nice sweeping cut backs followed by a stylish hand drag to get a 7.05 and make it neck and neck between all 4 competitors.
Swift and Juban then traded 360 attempts and Morgan set up a huge air on a close out. Lenny was quickly becoming the stand out once again as he permorfed expert turns and another massive air on an expertly chosen wave. With a minute and a half left, Morgan pumped up onto a big point wave and completed several gorgeous bottom turn and vertical cut back cominations, but would it be enough to surpass Lenny? Juban and Swift both got one in the last minute as well, but neither were good enough to take down the streaking Lenny. As the the buzzer sounded, Kai Lenny was the one to move on to the man on man rounds.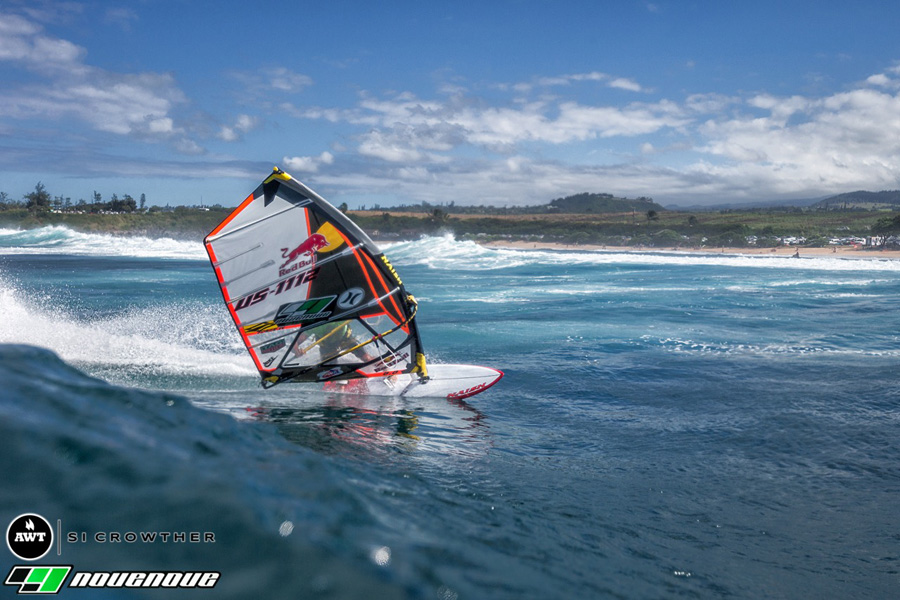 Photo: Lenny outperforms the rest
With Noireaux being knocked out of the competition, Boujmaa Guilloul is officially our 2016 AWT Men's Champion! A huge congrats goes out to Boujmaa. Not only has he been competing and killing it in the water all season, he brought the AWT a new tour stop in Morocco and has stepped up huge in improving the AWT as a whole. No one is more deserving of the 2016 title than him. Thank you Boujmaa for all you have done! We are lucky to have Morocco, back on the tour for 2017, so be sure to book your ticket!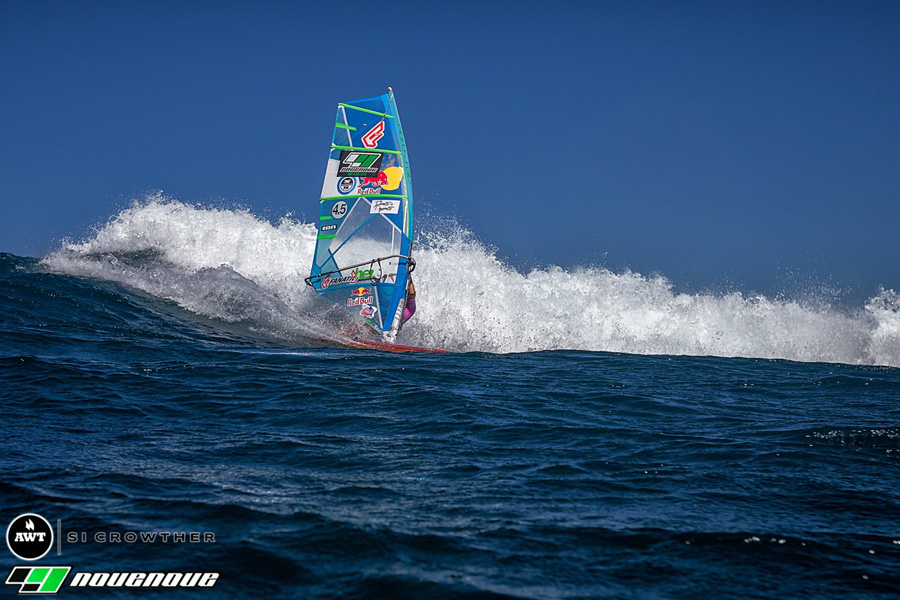 Photo: Arutkin charging hard
The Women took the stage next with Heat 42: Arutkin, Cropas, Howard, and Andres. Arutkin started the scoring off with a nice wave, but the wave got the best of her as it snapped her mast like a toothpick. With the light wind, the Ho'okipa waves were really shaping up to have smooth, open faces. Howard and Cropas appeard to be making the most of it, using their local knowledge and exchanging several set waves with sweeping bottom turns and nice cut backs. In the end it was those two who advanced.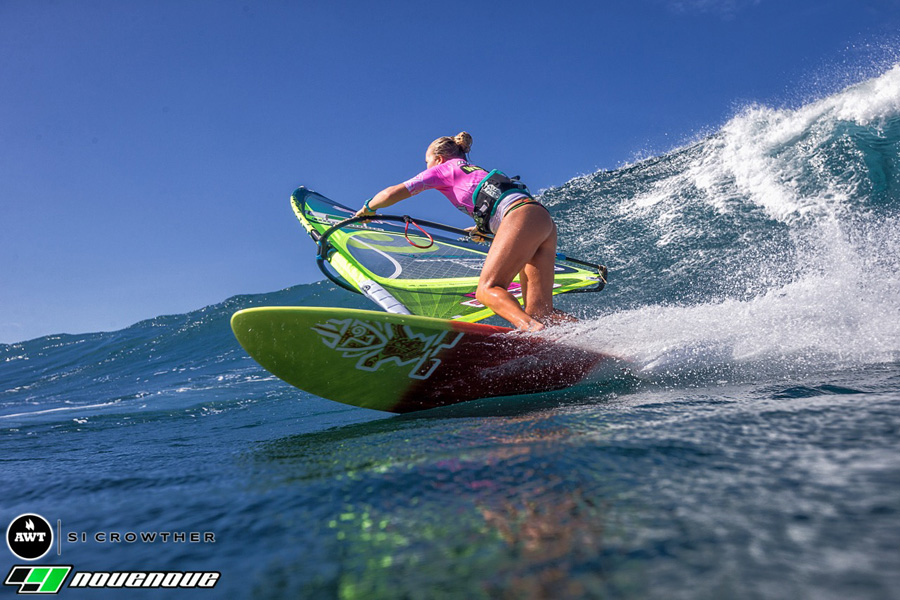 Photo: Howard laying one down
Heat 43 had Offringa, Crisp, Larouche, and Beenen looking to advance. Offringa and Crisp were first to get on the board, with Larouche responding with a good 2 turn wave. Offringa then picked off a nice Point wave and got two good hacks before it closed out on her. Larouche and Crisp were next to exchange waves before Crisp took control of the Heat. With 25 seconds left Larouche caught one more just before Offringa got one at the buzzer. Offringa pulled it out to jump into first place, followed by Crisp to advance!
Back to the Men's Double, it was now time for the man on man heats. As the wind continued to drop, the local Naish teammates, Kai Lenny and Bernd Roediger took center stage. Bernd was first to pump onto a wave with a great cutback. As the wave fattened, Bernd threw down a stylish sliding Taka to save the ave and get a 7.75. As Bernd made his way out, Kai picked off a beautiful point wave. As he faded into it, Lenny set up two nice slashes before beelining it to the end bowl for another huge aerial. Lenny remained on fire as he got an 8.5 for that one. In a bit of a chess match, Bernd and Lenny patiently exchanged safer waves, each landed a back up score of a 4.38 and a 5.88 respectively. The next exchange had Bernd dropping in on a big set wave, but got caught in the whitewater and then was stuck inside as the wind really lightened up. Lenny then missed on his wave and had to kick out of it. With one minute left Bernd could not pump onto a set wave, and Lenny took advantage as he was slightly inside of him getting 7 points on some nice vertical smacks to seal the deal and punch his ticket to the next round.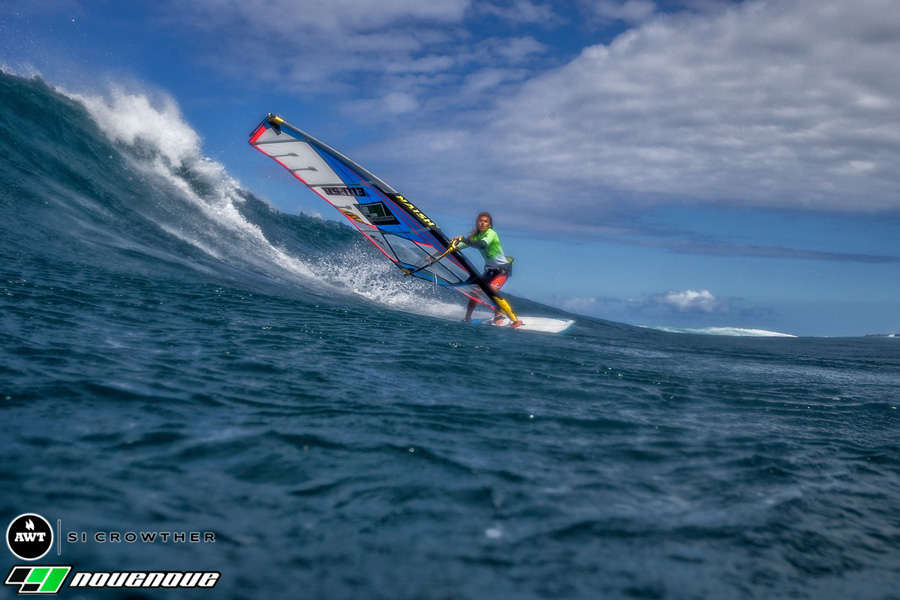 Photo: Bernd making the most of this wave
Coombs was forced to postpone the next heat of Cropas, Offringa, Howard, and Crisp as it became clearly too light to sail. Although not as long of a day today, it is still nothing but full on world class entertainment as the best sailors in the world take each other on in the biggest wave sailing competition of the year. With a challenging forecast in the future, the call is for another 10 am skippers tomorrow, Monday, November 7th for all riders to see what the wind and waves of Ho'okipa allow us to run. Amateurs, Masters, Pro Men and Pro Women should all be prepared to run.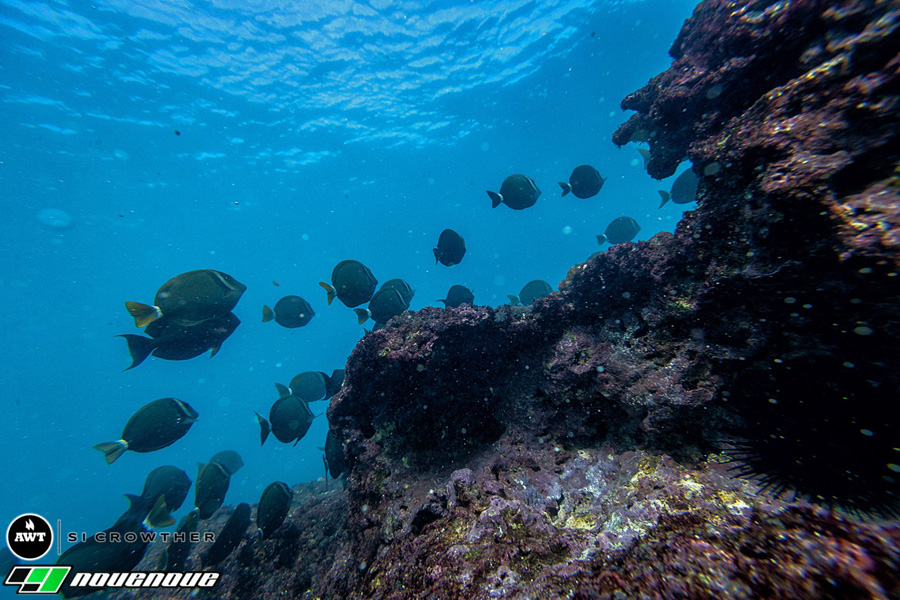 Skippers Meeting: 10 AM – ALL RIDERS
First Possible Start: 11 AM
Find the recap videos, photos, and more at AlohaClassicMaui.com
Stay tuned to the AWT Facebook, Instagram, and Twitter pages for up to date info on the event.
Follow along with the live cast at AlohaClassicMaui.com/live-2016
Text by Greg Stiegel
Photos by Si Crowther