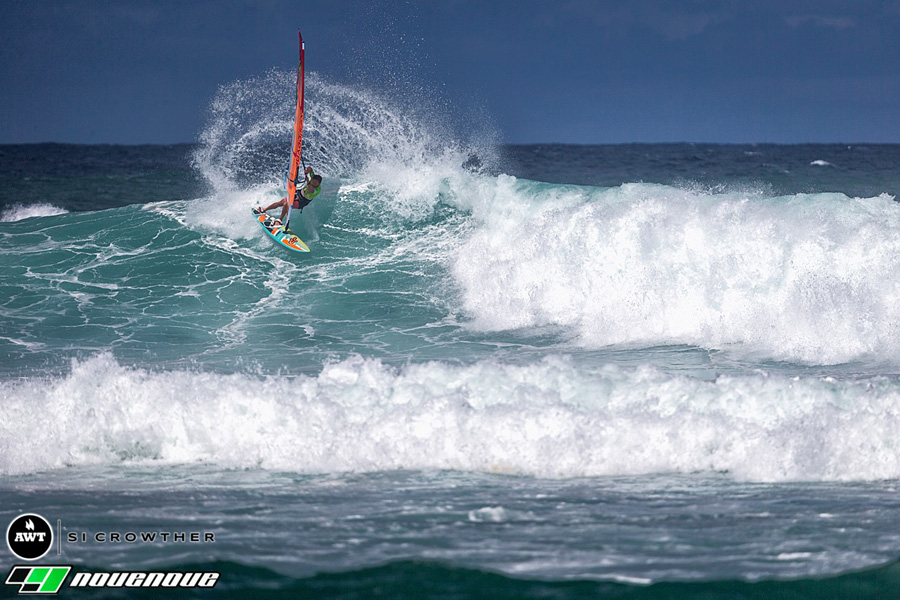 Photo: Swift slashing his way in the semifinals
With the swell still pumping, the schedule for Day 5 included finishing the Men's and Women's Single Elimination final and getting right into the Pro Men's Double Elimination bracket. The first heat of the day was Heat 21 of the men's semifinal round with Siver, Browne, Noireaux, and Swift. The horn went off promptly at 11:00 AM and Swift caught an over mast high set wave to get on the board. Siver blew up on another set wave and was seen standing on his board waving while a huge clean up set took him out again until he got a jet ski ride back in to grab another rig. Noireaux got the next bit of action, followed by Browne who charged hard off the lip and finished the wave strong to land an 8.25. After another less than ideal wave from Morgan, an active Browne scored another wave well over mast high. Swift patiently got back in in it with some proper slashing in the most critical sections of the wave for a 7.5 to keep him in the running. Siver finally made it back out and caught a nice medium sized wave and threw his signature 360 after a nice air off the lip to score a clutch 9.43. Morgan finally put up a contestable score with three good hits on an inside wave. Browne reaffirmed his top spot in the heat with an 8.5 just before Siver got a two turn wave to jump into second. A couple of bombs then rolled through with Browne doing an incredible forward rotation off the lip, possibly by accident, but was not able to pull it out. The heat wrapped up with the Goya boys, Borwne and Siver, advancing.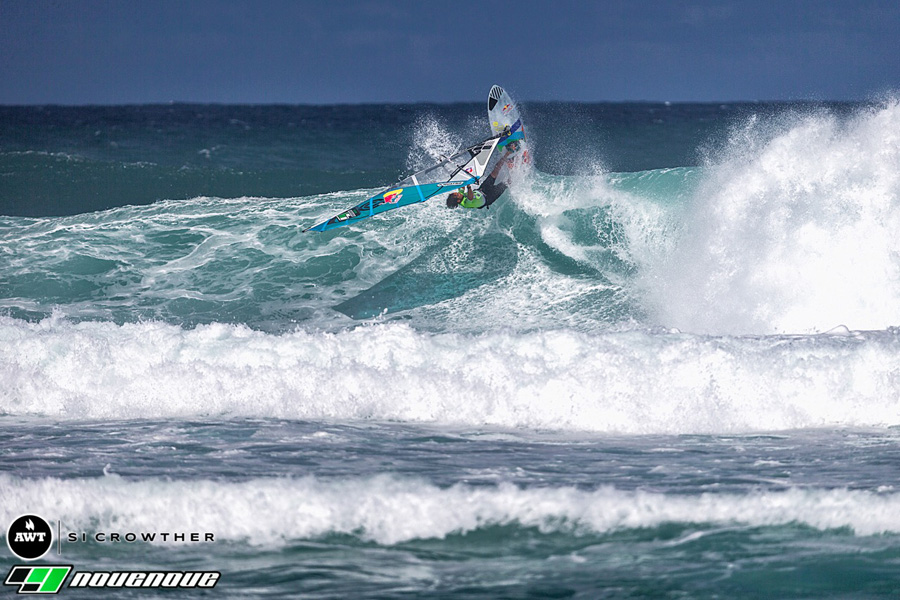 Photo: Levi Siver's 360
The second semifinal had Kevin Pritchard, Kai Lenny, Bernd Roediger, and Graham Ezzy. Bernd, determined to strike first, grabbed an inside wave and finished it with a goiter for a 9.43 and put him immediately in control. Pritchard grabbed a bomb on the outside and rode it from Green Trees into the channel, but unable to do much work on it. Lenny had the next strike, aggressively punching the lip, and scoring an 8. Kai got another one and went off the lip to put him into first place. Bernd struck late on the next one, which was enough to put him back into first place. Lenny's next good score was a two-hit small wave that landed him a 7 to jump back into first. Pritchard finally got what he was looking for going full top to bottom on a set wave finishing with a massive boot in the end bowl for an 8 to put him within striking distance. Bernd broke down on a late critical hit and got picked up by the ski. With Lenny and Roediger leading, Pritchard caught a wave at the buzzer and road it well to move 0.25 points ahead of Lenny to make it into the final!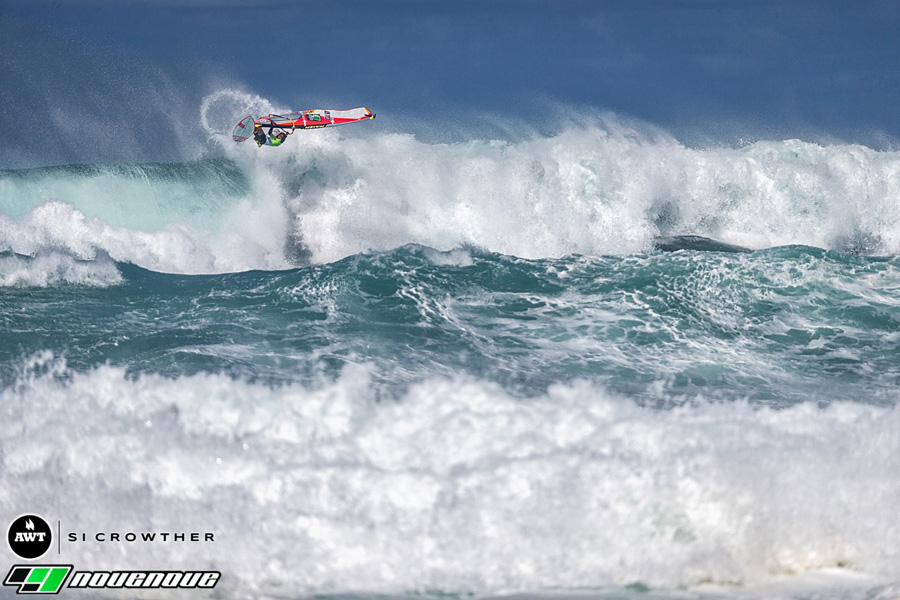 Photo: Bernd Roediger attacking the lip late
Coombs moved right into the women's semifinal in sequence with Hauser, Larouche, Howard, and Junko. Hauser was able to put together an 8 point ride early to put her in command. Laruche and Junko both got on the board getting in striking distance in large mast high waves and light wind. After Howard got a score, Junko picked off a massive set wave and rode it right through the channel landing her an 8.62 and first place. The heat finished with Hauser in first and Junko in second.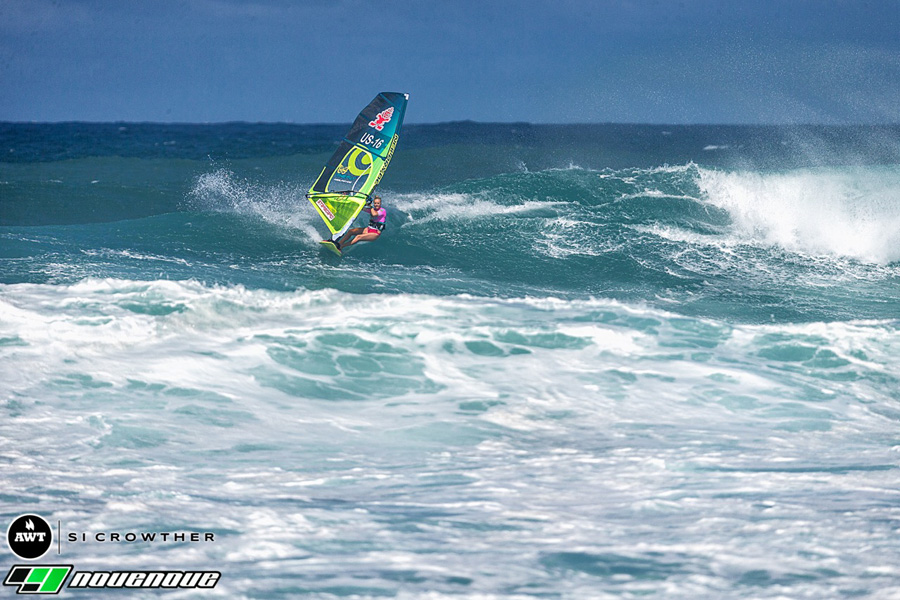 Photo: Howard finding a clean face
The next semifinal women's heat had Wylde, Crisp, Ward, and Offringa. Wylde struck first with two good hacks on a logo high wave followed by Sato on a nice Point wave. Arutkin got on the board, but immediately went on the rocks. Wylde got a second logo high wave and finished it with a critical aerial, scoring a 9.5 to control the heat, but also took her turn on the rocks. Sato snuck in a second score with 4 minutes left to advance to the finals along with Wylde.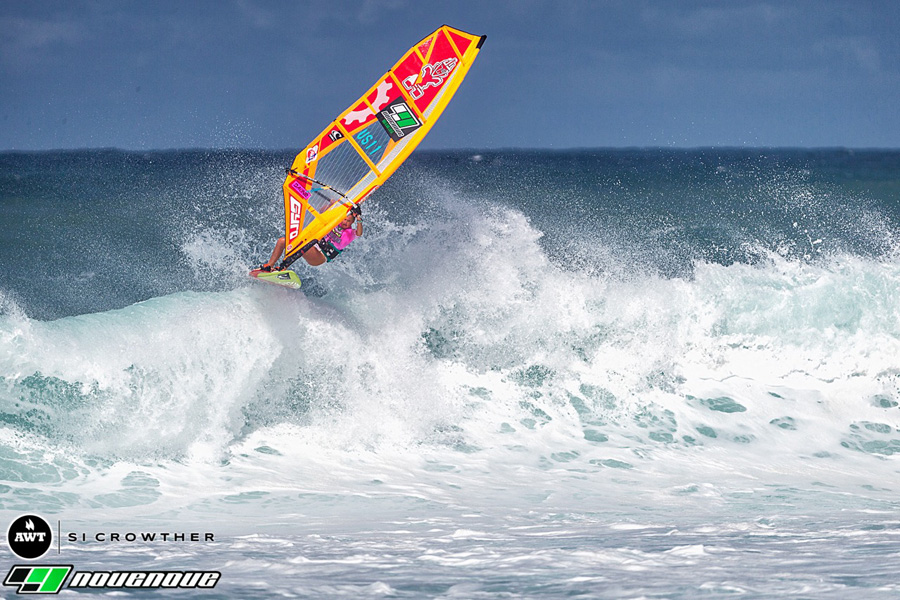 Photo: Wylde attacking the lip!
Back to the men, Browne, Siver, Pritchard, and Roediger were already on the water for the Single Elimination finals. Ho'okipa was in a good shape and set the stage with decent wind, mast high set waves, and an open channel. Browne picked up right where he left off getting a quick score. Siver followed him with radical gouging turns and an air to get an 8.25. Bernd continued his pattern of throwing down on his first wave catching one at Green Trees and finishing it in the channel with a goiter to get a 9. Pritchard, not to be outdone, was on the last wave of the set and scored a respectable 8.12. After another round of exchanges, Browne's consistent slashing landed him in the first place position. Siver got munched by the lip of a set wave and broke down again, calling for a second rig. As he got towed in, Browne and Pritchard exchange massive 8+ point rides with some aggressive off the lip rides. The next exchange had KP setting up a point wave producing two strong top to bottom turns and then punted a classic tweaked air off the lip. He finished the wave with one more hack to earn him a 9.45 to slide into first place! Bernd keept looking for another goiter or a taka, but could not put it together, and Siver did not come up with a big score he needed. The heat finished with Kevin Pritchard on top, Browne second, Siver third, and Bernd in fourth. Congratulations to Kevin and all the Pro men on their single elimination bracket.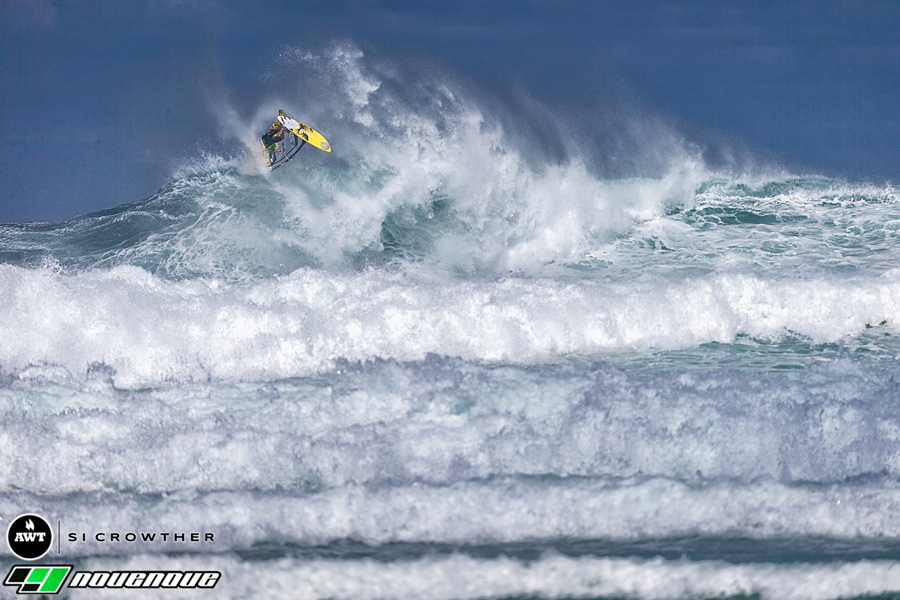 Photo: Browne going inverted on this Ho'okipa bomb
The action continued as Coombs went straight into the Women's final with Hauser, Wylde, Junko, and Sato. Hauser got things going again with a solid 8.5 point wave. Wylde had the next good scoring opportunity and laid down 3 good hacks for a 7.38. Sato got on the board next, but it was Junko with the better score after her to put her with a 7.12. Wylde responded with a clean logo high wave to put her into first place, with Hauser in second. Junko pulled out a pair of 7 point waves as the heat progressed to put herself in second and give her a shot at the top spot. Hauser stepped it up on a nice set wave to score a 6.12 and put herself into first place. The heat finished with Hauser winning, Junko in second, Wylde in third, and Sato respectably in fourth. Congratulations to Sarah and all the women on their performance.
Side note: after the heat finished it was apparent that Wylde was injured. After a trip to the hospital, it was determined that she broke three bones in her foot. Tour director, Sam Bittner, reported that Fiona is in good spirits and we wish her a speedy recovery.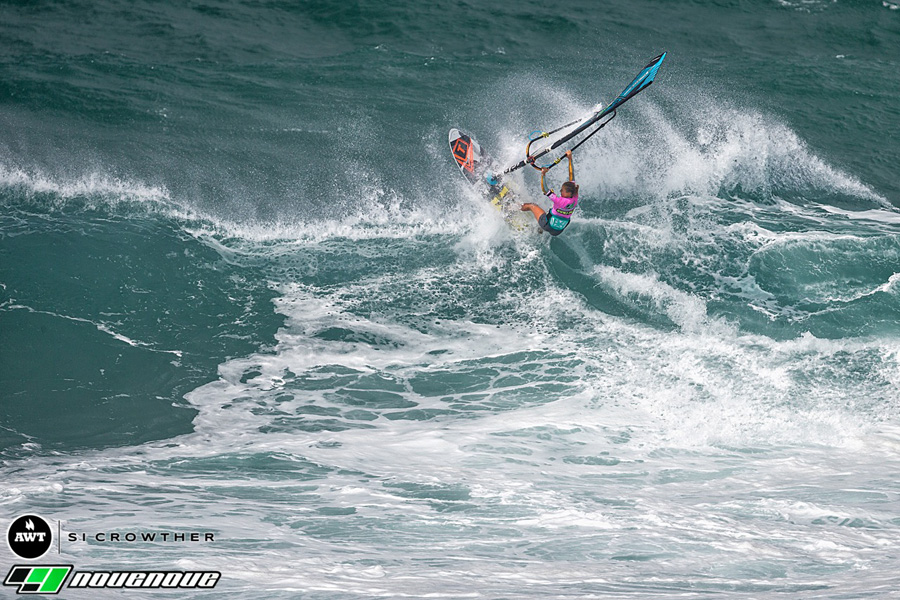 Photo: Hauser looking comfortable on her way to the top of the podium
The rest of the day saw the Pro Men's Double Elimination get underway. As the wind lightened and a couple of rainbow inducing squalls rolled through, Coombs was able to get through 4 heats. The standout of the Double so far is Josh Angulo who went on a tear in Heat 24 advancing alongside Guadagnino, as Faurot broke down and just missed the cut. Heat 25 had Taboulet advancing alongside Antoine Martin, who impressed the Ho'okipa onlookers charging hard in the most critical sections. After getting delayed for lack of wind once, Heat 26 saw Polakow advancing alongside Robby Naish, ahead of Casey Hauser and Morisio. With light air, this heat saw all riders struggling to make it out at some point during the heat. Lastly, Heat 27 had strong winds with a rain squall coming through allowing the Gorge sailor, Brian Metcalf-Perez to advance with Kevin McGillivray ahead of Connor Baxter and an absent Josh Stone.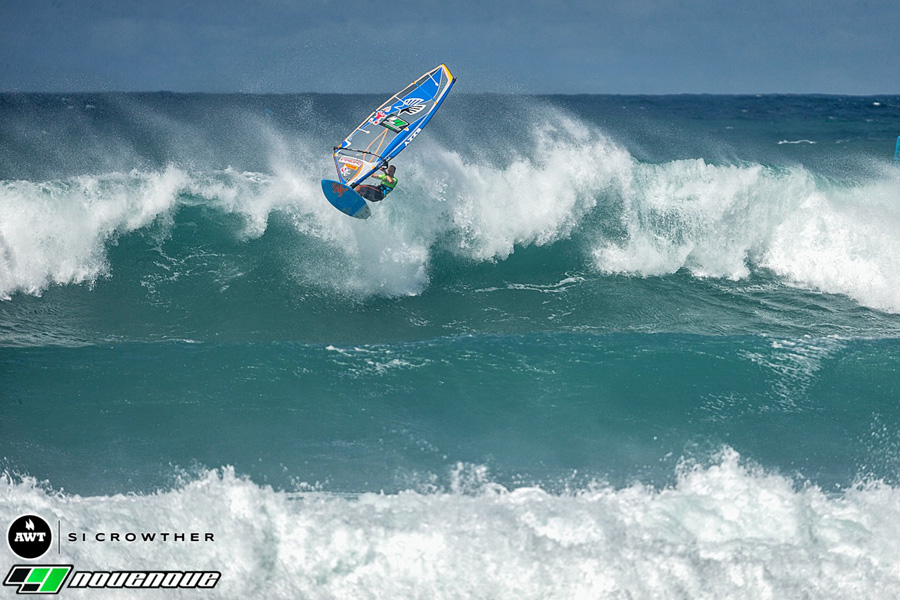 Photo: KP continued to charge hard with confidence
With another swell expected to come in overnight, we should see more epic Ho'okipa conditions once again. It is likely that the Men's Double and the Women's Double will continue if the waves are big, but one should not rule out seeing the Masters division finish their final and maybe dip into the Amateurs if the conditions allow.
Skippers Meeting: 10 AM
First Possible Start: 11 AM
Stay tuned to the AWT Facebook, Instagram, and Twitter pages for up to date info on the event.
Follow along with the live cast at AlohaClassicMaui.com/live-2016
Text by Greg Stiegel
Photos by Si Crowther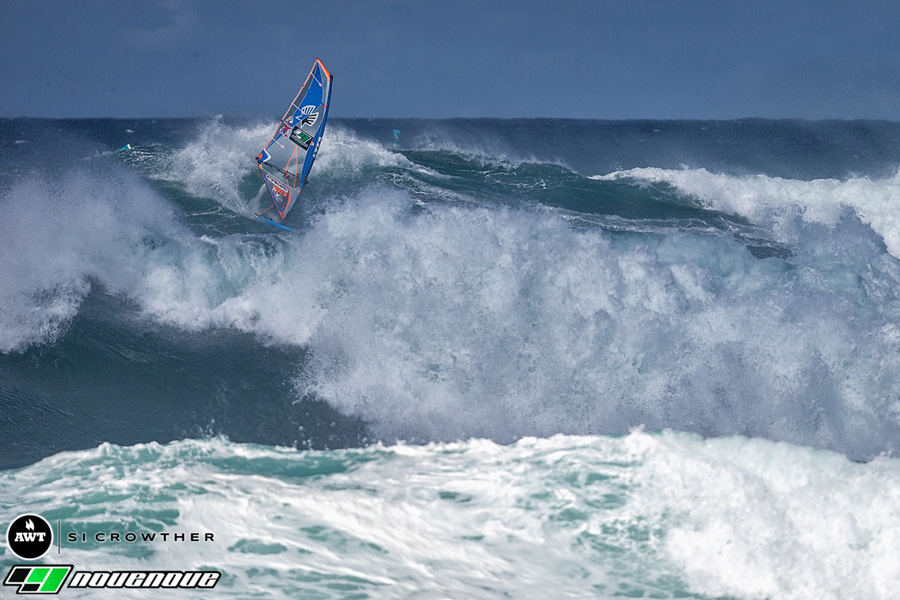 Photo: One more of the 2016 NoveNove Maui Aloha Classic Single Elimination first place finisher