As the drone batteries charged an excited group of competitors watched intently at the consistent mast-and-a-half sized waves roll through the Ho'okipa channel. Head judge, Duncan Coombs, delayed the first possible start several times to let the swell peak and hopefully the wind fill in. 30 minute heats was the call as Camille Juban and Boujma Guillol acted as test dummies taking upwards of 20 minutes to get to the outside.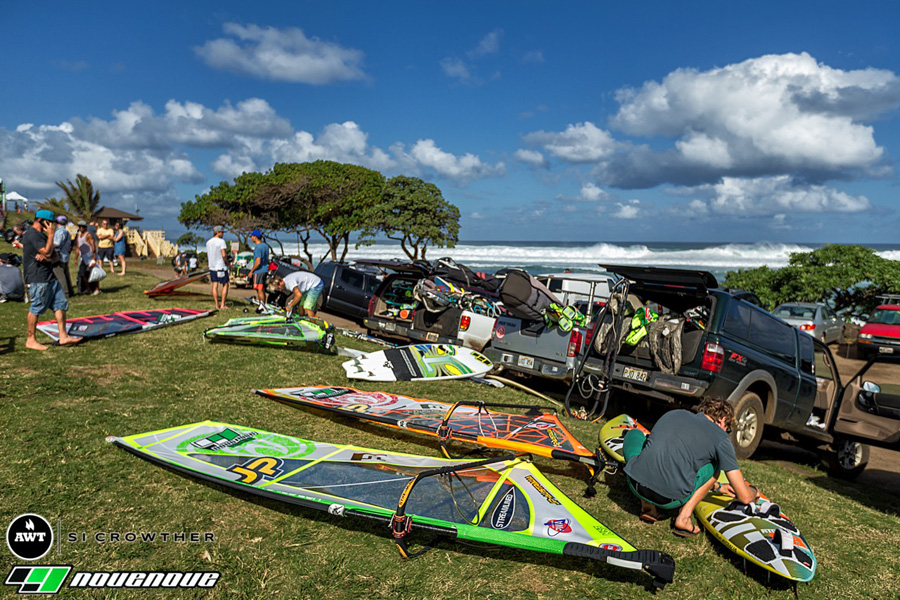 Photo: Riders preparing for a big day
Murmurs ran through the packed crowed as the judges moved their vantage point to the top of the hill because only the sail tips and top turns were visible from the normal judges tower. The Solo Sports and Haiku Estates sponsored jet ski support team practiced some rescue techniques, taking turns dropping each other off in the impact zone and then coming in for a quick pick-up.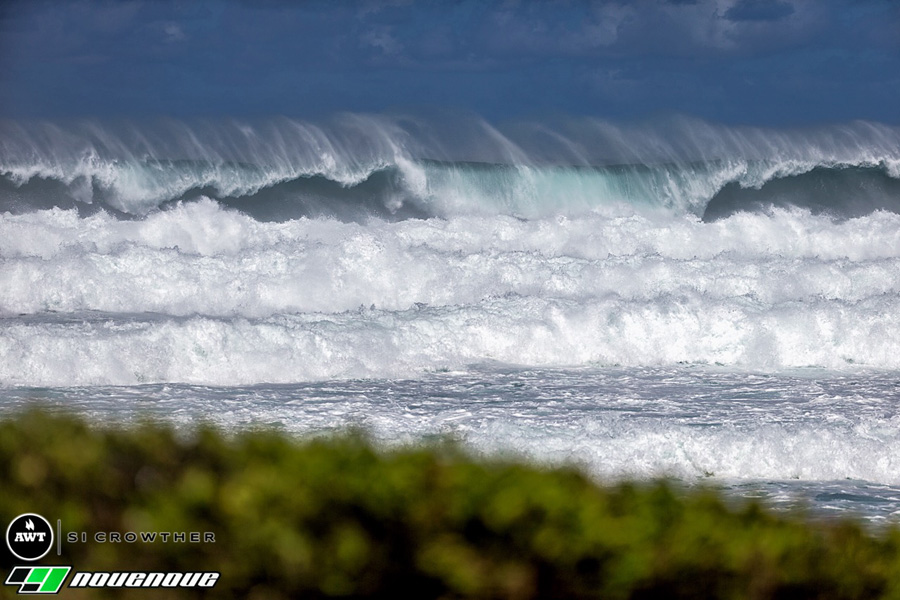 Photo: Dumping!
The first heat (11) of the day started at 12:30 with Pascal Hardy and Jason Polakow taking on the pre advanced Camille Juban and Marcillio Browne. Hardy got washed all the way through Lanes getting out through the Mama's channel! As the horn sounded, Pascal just barely snuck over a massive set wave way down wind with the crowd cheering him on.
Camille and Browne got on the board first, picking off a smaller wave each and both coming inside. Pascal picked off the biggest wave so far and makes two good turns before kicking out. The next good score came from Browne who made the most of a big wave, but then had to fight his way out the channel. Juban was next, getting in the most critical parts of the wave, followed by an active Browne. Polakow got into the action going hard off the lip twice, while Pascal's perseverance was rewarded with a killer set wave. Camille, not to be outdone, threw a huge air off the lip and landed the best score so far. Pascal's next wave garnered gasps from the crowed as his gear launched off the lip of a near double mast high wave. After another score from Browne, Juban charged hard again with an even bigger air than the first getting a 9.88 to secure 1st place. The heat finished with some drama as Camille and Browne both lost their gear and need help getting back to the beach safely. Palokow couldn't quite get a good second score and finished behind Browne.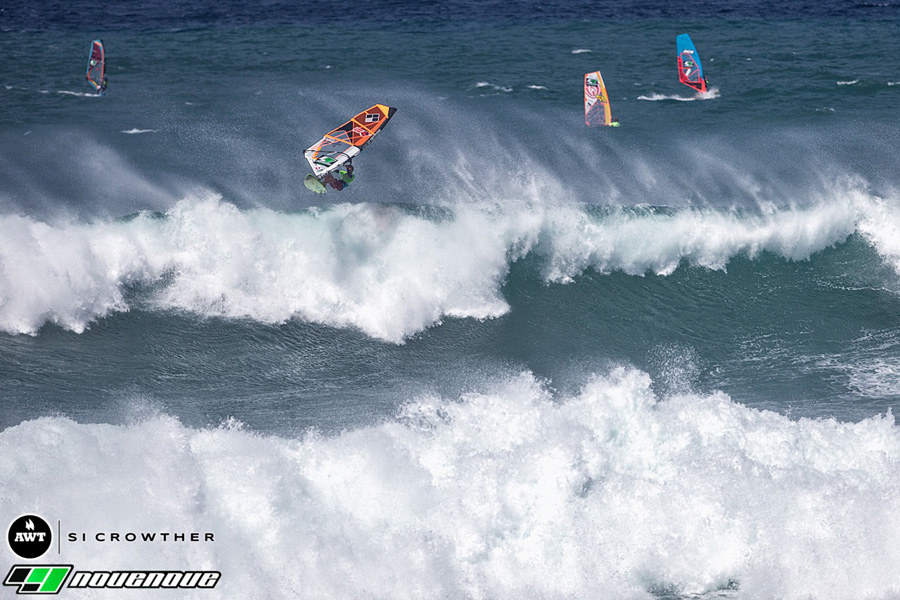 Photo: Juban going big in a blockbuster heat
Heat 12 kicked off with Mauch, Sanllehy, Metcalf-Perez and Noireaux. Morgan got on the board first and made sure to stay active throughout the heat. Metcalf-Perez picked off a couple rideable waves and put up some decent scores to stay in the running. Mauch got a solid 6 point wave to keep himself within striking distance, and added a 5 in an exchange with Metcalf-Perez to put him into 2nd. Morgan continued to shred the outside waves catching a solid mast high scoring a 7+ point wave to all but seal up his victory in this heat with 7 minutes left. Mauch hung on to advance as well.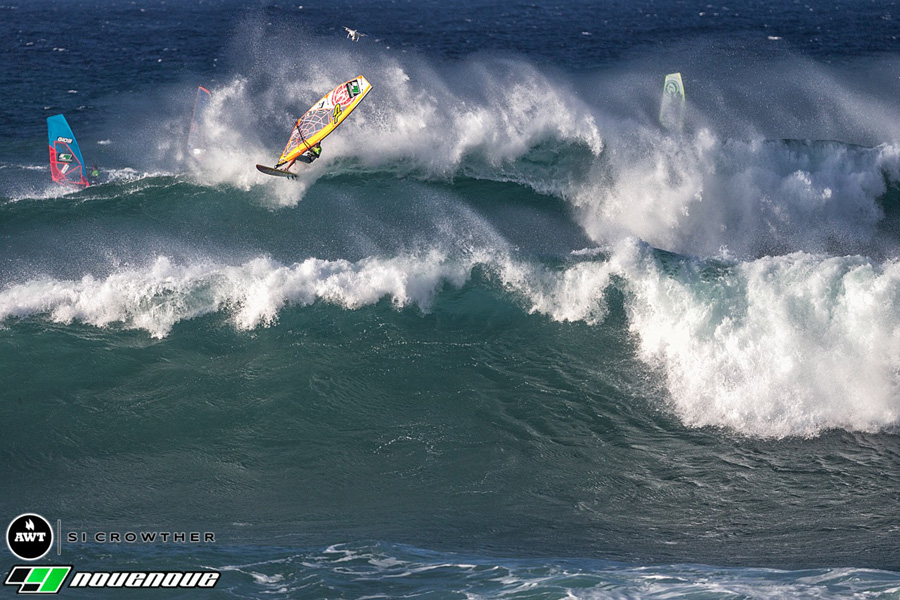 Photo: Noireaux getting the job done en route to the semifinals
All riders were sailing out a heat early in order to have enough time to make it outside. This next heat had Ezzy and Baxter take on the prequalified Klass Voget and Alex Mussolini, who can steal the world title with a victory here. Ezzy struck first with a great scoring wave sailing it all the way inside to get an 8.5 and put him immediately in charge of the heat. Voget, Mussolini, and Baxter all put together a couple of lesser scores. Mussolini and Voget then exchange waves with Voget getting the slight edge. With careful wave selection, Ezzy stuck another good score putting him comfortably in first and the heat finished with Mussolini beating out Voget to advance as well.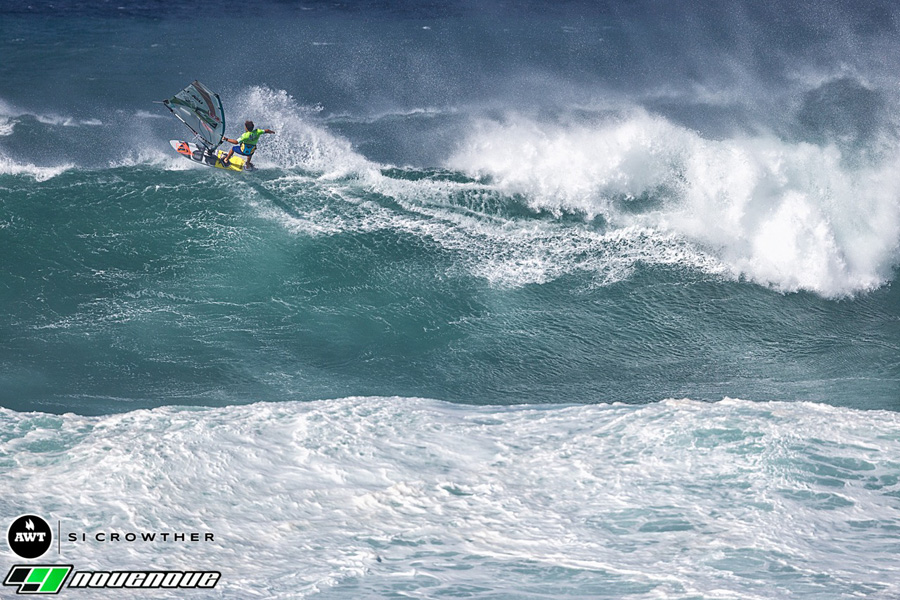 Photo: Ezzy pushing the eject button
Next up we had Naish and Williams taking on Kauli Seadi and Kevin Pritchard, as the channel began to open up and make Ho'okipa a bit more rideable. Naish put up a 6.25 on the first proper wave, with Pritchard stepping it up right behind him. Seadi's first wave was a good ride through the channel and he was rewarded with a whopping 9.38. Williams put up a couple of decent scores to stay in the game. Pritchard responded with a massive off the lip air and a couple of big vertical cutbacks to get a 9.25, putting him clearly in first place. As a set kicked up, Pritchard, Naish, and Williams exchanged absolute bombs, all just barely hanging on. Williams got another solid score to put him ahead of Seadi. Pritchard punched his ticket to the next round by catching another Ho'okipa monstrosity. Seadi got a small wave at the buzzer and did just enough to put him into second place!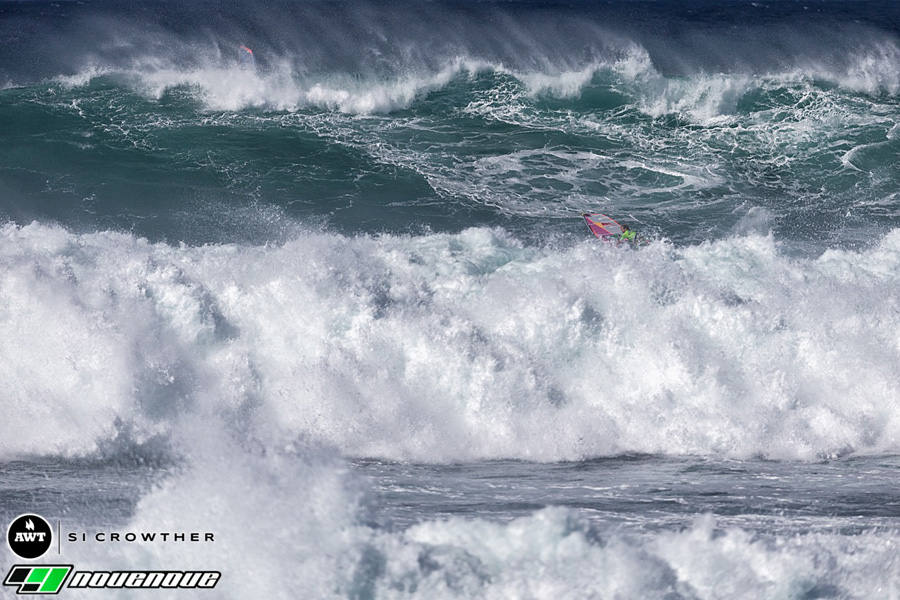 Photo: Naish holding his own in heavy Ho'okipa conditions
Heat 15 had Lenny and Taboulet going up against Ricardo Campello and Boujmaa Guilloul. Campello threw down an 8.38 to start the heat. Lenny was on the next proper wave that was easily a mast-and-a-half, and with several forceful hacks, he put up an 8.75. Boujmaa got into the action with Ricardo charging hard off the lip behind him. Both these guys were hucking the hardest in this heat and paid the price. Boujmaa fliped backwards off his rig going head first into the flat and busted his sail, while Campello's rig and board separated. Kai added to his score some more consistent vertical, roundhouse hacks. Capello scrambled back out to get one last wave and followed it through to jump into first place as the heat ended, with Lenny in second.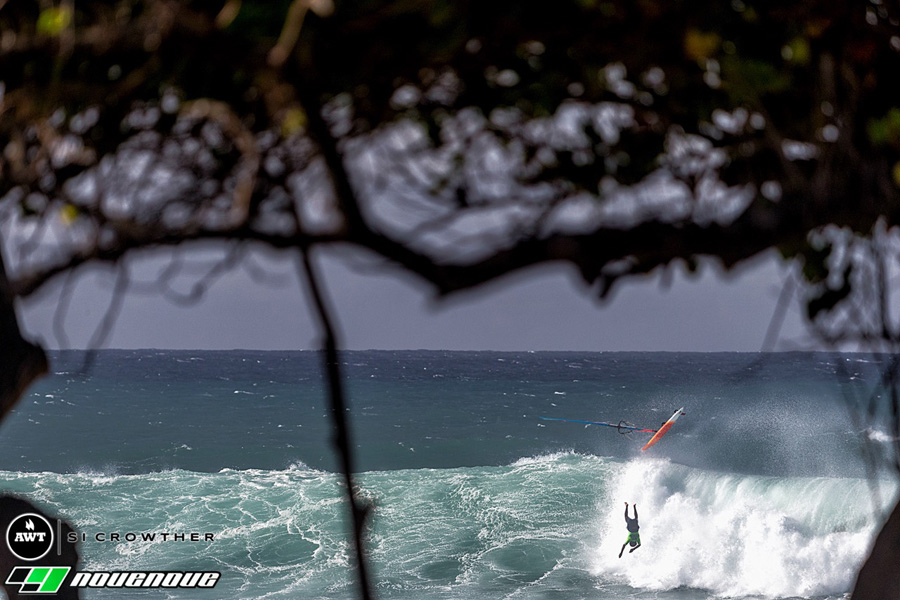 Photo: Guillol going for broke
Roediger and Lesauvage were up next against John Skye and Victor Fernandez Lopez in Heat 16. Roediger's wave selection and execution were impressive as he put himself in the lead with two big waves, one of which provided a massive aerial for him. Skye was next on the list with a couple solid waves, but really came through towards the end of the heat as he made a consequential, under the lip air on a set wave that earned him a 9. Fernandez Lopez did not quite get what he was looking for as he missed the cut along with Lesauvage, leaving his world title door ajar.
The third round kicked off with Siver, Teboul, Jamaer, and Swift. The first exchange saw Teboul first and Siver second, with Levi taking the lead as he went a bit stronger off the lip. They both stayed active and grabbed another score before Jamaer got in the action, but he hit the lip too late resulting in a broken mast. Swift and Siver were the next two to exchange, with Swift getting a 7.22 to put him into second place. After getting a replacement rig, Jamaer completed two critical hits that took full commitment to earn a 9 as he jumped into 2nd place. Not to be outdone, Swift caught a great wave near Green Trees and completed 5 vertical gauges to leapfrog him into to first place. The epic back and forth heat ended with Swift in first and Siver in second.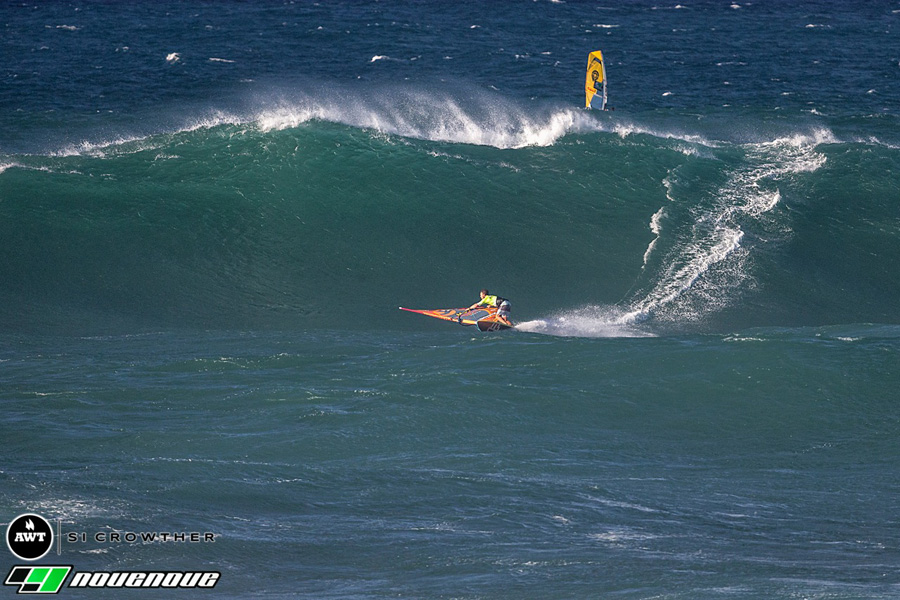 Photo: Swift laying one down on his way to the semifinals
Heat 18 had Juban, Mauch, Noireaux, and Browne. Juban got on the board first with Browne right behind him. Mauch added a decent score on a clean Point wave after another one from Browne. Morgan was not quite finding what he was looking for until he made good work out of a choppy wave putting up four solid hits. Juban added to his first wave to jump into first. Morgan responded picking off one of the bigger waves of the heat getting some air off the lip and then hacking his way into the channel to score an 8 and jump into first place. Juban and Browne had another exchange of comparable quality landing within 0.02 points of each other in Juban's favor. Amazingly, Browne got a wave at the buzzer to pull just ahead of Juban and advance along with Noireaux.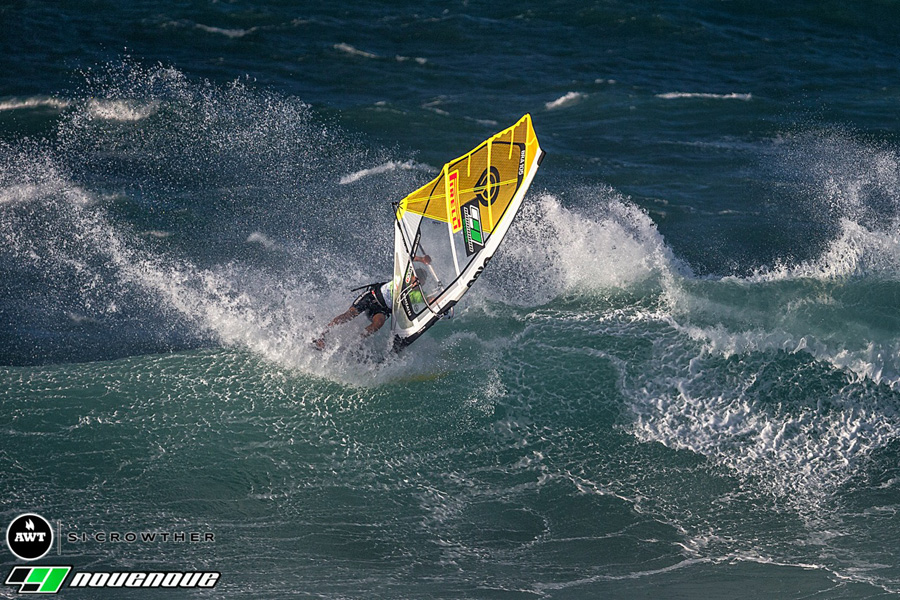 Photo: Browne looking comfortable in challenging conditions
Next up were two former wave world champions, Kevin Pritchard and Kauli Seadi, along with Maui local, Graham Ezzy, and Alex Mussolini. Pritchard, Ezzy, and Mussolini all exchanged waves to start as Seadi was stuck on the inside. The second exchange saw Seadi get on the board before Pritchard picks off a bomb and produced three massive vertical cutbacks to plant him firmly in first place. Ezzy and Seadi both put up a second score, while Pritchard took a big hack and muscled his way into the end bowl, putting up an 8.75 to fully take command of the heat. Mussolini finally got a decent score to put him within striking distance of Ezzy, but in the end it was the locals, Pritchard and Ezzy, who advanced.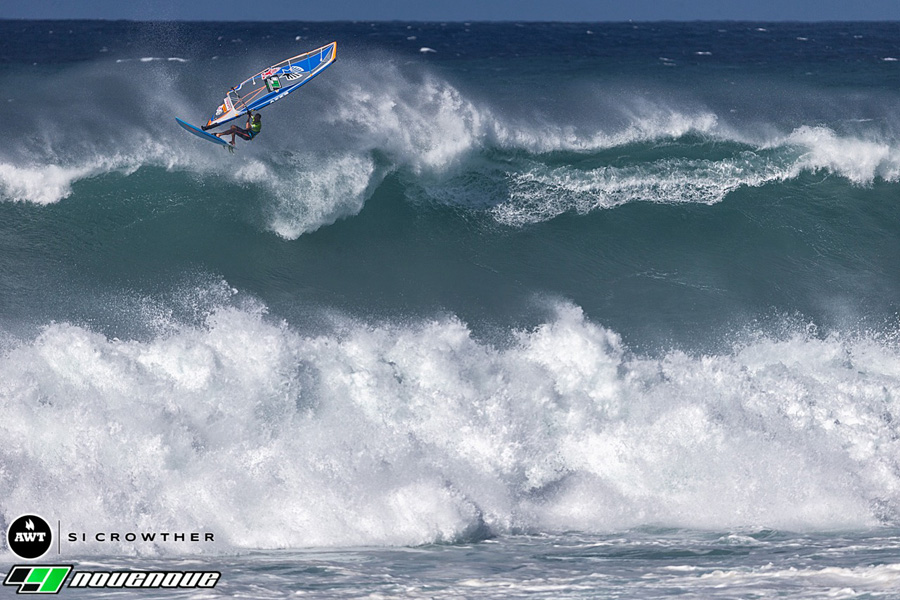 Photo: KP impresses with two comanding heat performances
As the daylight dimmed and the wind diminished, Coombs put the last heat of the day on the water to finish the quarterfinal round. All eyes on the Ho'okipa bluff were on Campello, Skye, Lenny and Roediger. Bernd kicked it off with a quality three hit wave, clocking an 8.88. Skye was next, followed by Lenny on the biggest wave of the set putting up an 8 point score. Campello made the most of a small wave to get on the board, but this heat was all about the local Naish riders. Lenny and Bernd traded off on the biggest waves of the set, getting deep in the pocket and putting up big numbers on the score board. As the dust settled, Lenny landed on top followed by Roediger to advance to the semifinals.
Wow. What a Day 4 at the 2016 NoveNove Maui Aloha Classic. Tomorrow looks to have more of the same as Coombs will look to complete the single elimination brackets for both the Pro Men and the Pro Women. The Masters Division semifinals and final might run as well in the afternoon if the conditions allow.
Skippers Meeting: 10 AM
First possible start: 11 AM
Stay tuned to the AWT Facebook, Instagram, and Twitter pages for up to date info on the event.
Follow along with the live cast at AlohaClassicMaui.com/live-2016
Text by Greg Stiegel
Photos by Si Crowther