Head judge, Duncan Coombs, made the call to get the Pro Women and Pro Men divisions underway in this third day of the NoveNove Maui Aloha Classic. Starting just after 11:00 AM, Coombs alternated rounds between the women and the men.
Kicking off for the women, Collette Guadagnino and Shawna Cropas advanced to the next round out of the first heat. In the second heat, a very active Motoko Sato was the clear stand out. Tour director, Sam Bittner picked off a great set wave, but it was not enough to surpass Tiffany Ward, who advanced alongside Sato.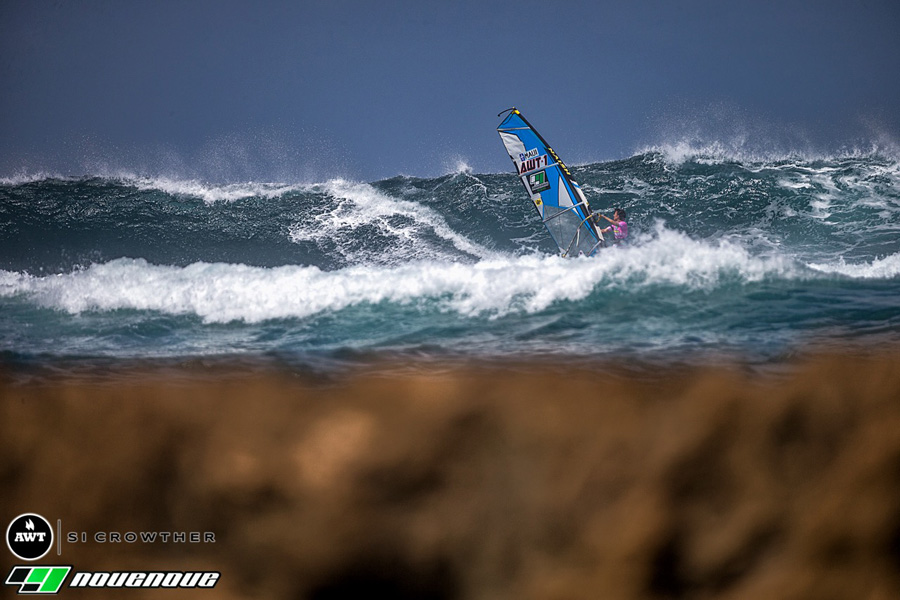 Photo: AWT Tour Director, Sam Bittner, eyes one up
With round one of the women in the books, the Pro Men moved through their first round with 32 riders filling out a stacked bracket. Heat 1 had Levi Siver, Josh Angulo, Michi Schweiger, and Leon Jamaer. All, except a selective Angulo, got on the board quick. Midway through the heat, Angulo joined the action with 3 classic vertical smacks. Siver responded with a massive 360, followed by an under the lip pivot. All riders were sailing well, with Siver being the most active. In a close battle for second place, Jamaer just won out joining Levi in the next round.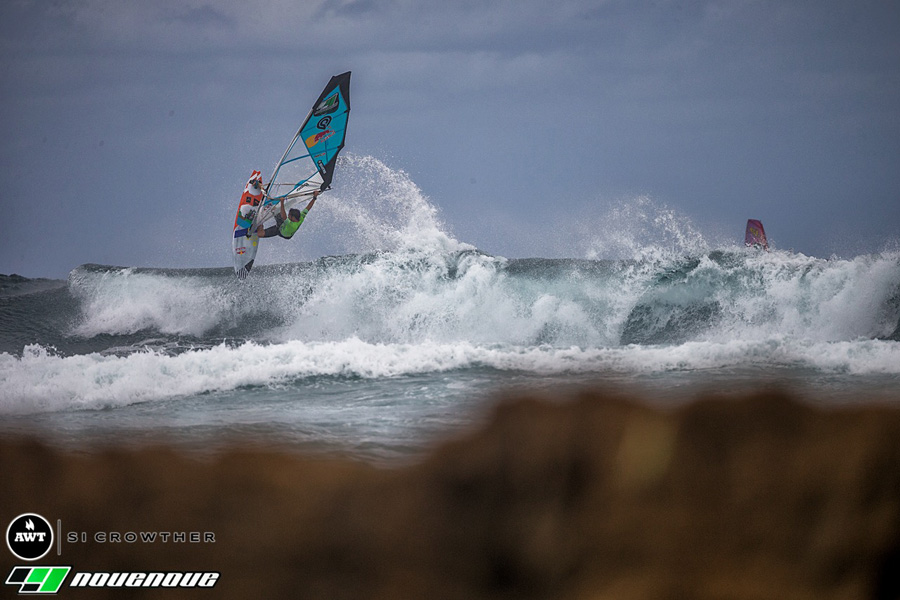 Photo: Siver making quick work out of round one
Heat 2 saw the Youth winner, Jake Schettewi going up against Zane Schweitzer, Marc Pare, and Keith Teboul. Keith took command of the heat going after every wave in sight. With Keith the clear leader, Jake and Zane battled it out for second place, with Pare in 4th. By the end of the heat it was the young gun, Jake Schettewi, joining Teboul in advancing to the next round! Heat 3 was another battle for second place, with Jason Polakow firmly in first. Frederico Morisio and Mauritz Mauch were neck in neck with Joey Sanchez falling to 4th. After several back and forth exchanges it was Mauch who advanced alongside Polakow.
Next up was another stacked heat with AWT rider Ferdinando Loffreda, Eternal Rider Pascal Hardy, renowned local, Josh Stone, and Gorge freestyler, Brian Metcalf-Perez. To start, Pascal and Stone both get caught up in their first waves while Brian and Loffreda get a decent score on the board. Hardy finally put a good score up getting under the lip twice, but not without Brian unleashing. Brian finished the heat on top with Pascal barely upsetting an injured Stone to advance.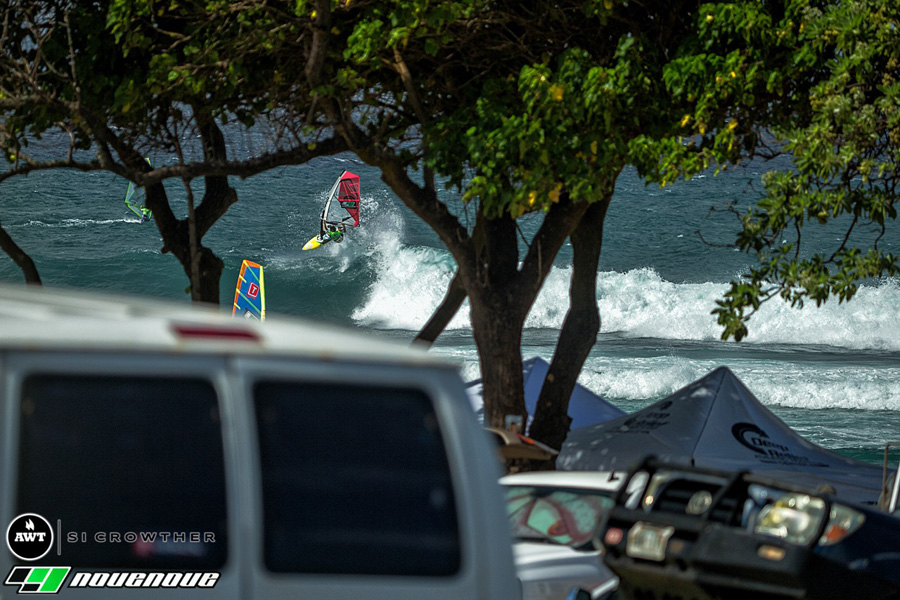 Photo: Josh Stone being competitive despite an injury
Heat 5 saw Kevin McGillivray, Ross Williams, Graham Ezzy, and Laurent Guilleman battling it out. Ezzy commanded this heat combining off the lip aerials with smooth, powerful turns. Williams remained close and also advanced. The next stacked heat had Casey Hauser, Robby Naish, Kai Katchadourian, and Connor Baxter going head to head. At the start, all riders exchanged set waves with Kai and Naish taking the early lead. Midway through the heat Baxter was chipping away at the lead with some aggressive under the lip hits. With Hauser not quite finding what he was looking for, it was Naish advancing with Baxter pulling off the upset.
Heat 7 had Kai Lenny, Flo Jung, Chris Freeman, and Loick Lesauvage. Early, Lenny and Lesauvage took the lead, but Freeman and Jung were both within striking distance with a decent first wave each. Lenny continued to be active with 3 impressive hacks on another good wave. Jung made a good effort at the end of the heat, but it was not enough to catch up.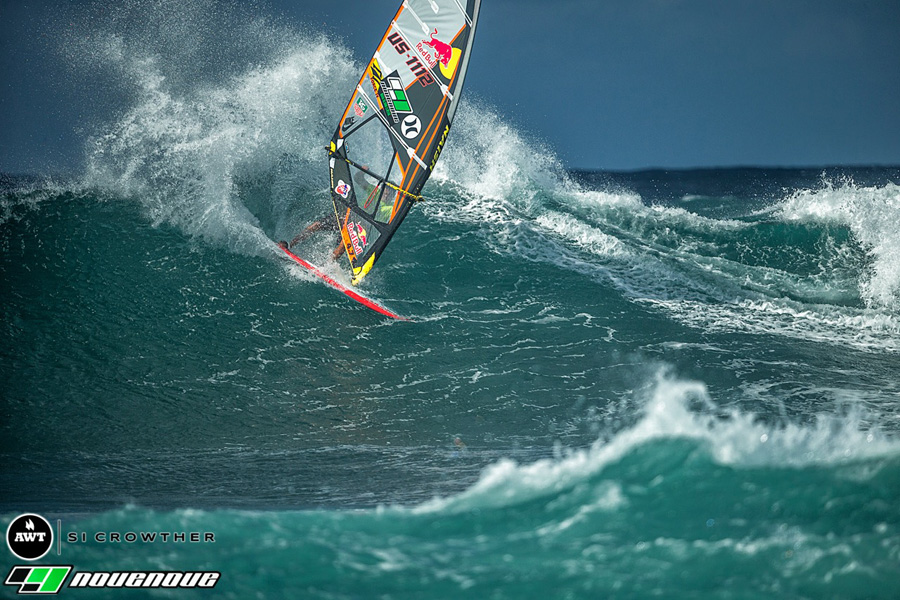 Photo: Kai Lenny taking a gauge out of this wave in round 1
The last heat of the first round had the Action Man, Brian Talma, 4th place on the AWT, Russ Faurot, Julien Taboulet, and former Aloha Classic champion, Bernd Roediger. Bernd started the heat off with a bang, posting a 7.12, and immediately struck again with 3 gouging hits. Russ, Julien, and Talma all got on the board next. Bernd responded with a massive hack and then an impeccable goiter to get the highest score of the day so far at 9.38. Much to the crowds pleasure the set size appeared to be on the rise as the anticipated swell crept in. Taboulet went full top to bottom into the channel on a big set wave to bump himself past Talma into 2nd place. The heat finished with Bernd the clear winner, sailing like he plans to win again, followed by Taboulet.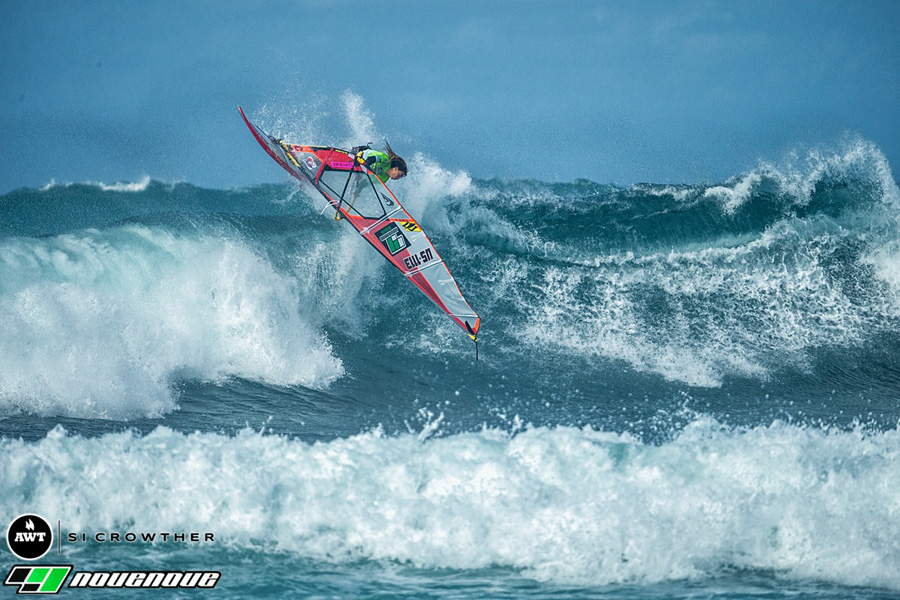 Photo: Not too many riders were charging harder than Bernd on Day 3
Into the 2nd round of the women, Heat 17 had Junko Nagoshi, Tatiana Howard, Guadagnino, and Amanda Beenen. Guadagnino struck first, but Howard followed making full contact with the lip, scoring a 6.25. Junko responded and Beenen got on the board as well. Despite picking off one of the biggest waves of the heat, Beenen fell short of advancing behind Junko and Howard. Heat 18 had Ingrid Larouche and Sarah Hauser, who are competing for the 2016 AWT title, along with Shawna Cropas and Maria Andres. Neither Cropas nor Andres could keep up with Larouche or Hauser as those two advance and keep their AWT 2016 title battle going. Next up was a close battle with Suto, Abbott, Arutkin and Erdil. Suto appeared to be the stand out and Arutkin advanced as well just in front of Abbott and Erdil.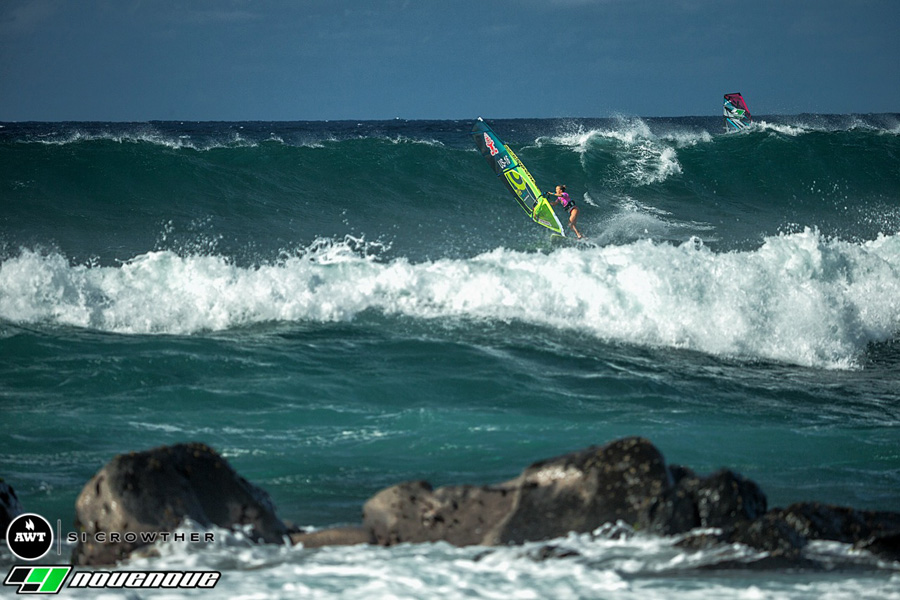 Photo: Howard advancing with ease
The last heat of the women's second round had Sarah-Quita Offringa, Fiona Wylde, Tiffany Ward, and Jessica Crisp all getting a quick score on the board. Maybe the most dramatic moment of Day 3 occurred with Wylde went over the falls on a huge set wave. With her gear washing in away from her, she got a tow to the rocks to try and salvage the situation. Unfortunately, it was a lost cause, but her gear seemed unscathed as she jumped back in the water with just under 9 minutes left in the heat. Amazingly, Wylde picked off a stellar wave and went rail to rail for 3 full turns landing a 7.75 which was enough to leapfrog into first place, with Offringa right behind her.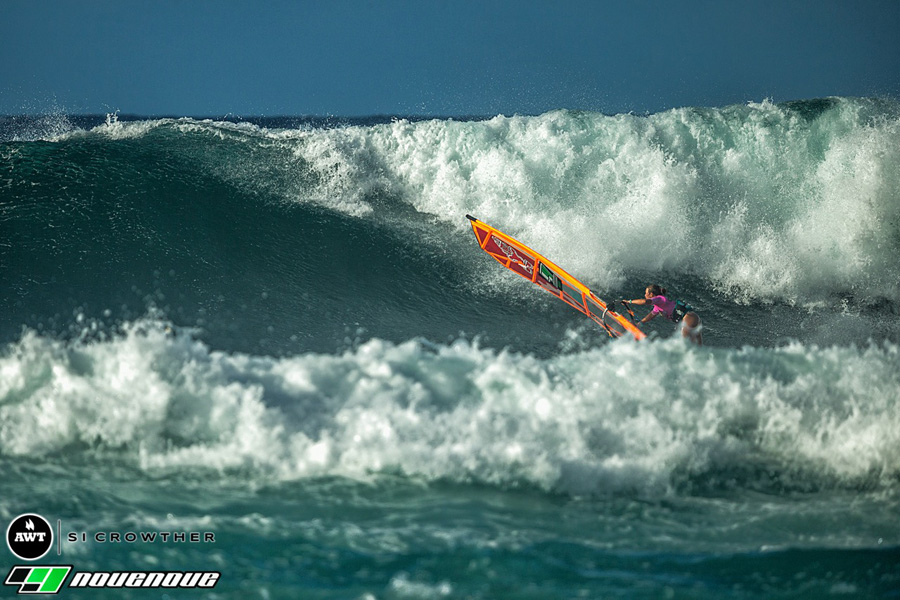 Photo: Wylde eyes up another hit as she advances
As the day wound down, Coombs moved back into the men's bracket to chip away Heat's 9 and 10 of the second round. First up was Siver, Swift, Schettewi, and Guadagnino. Siver scored an 8.38 at the horn to put himself in command once again. Schettewi impressively kept up with Robby Swift, scoring just behind him after the first 2 exchanges. Siver solidified his spot with another 360 and Swift clinched 2nd place ahead of Guadagnino, who broke down, and Schettewi, who sailed really impressively.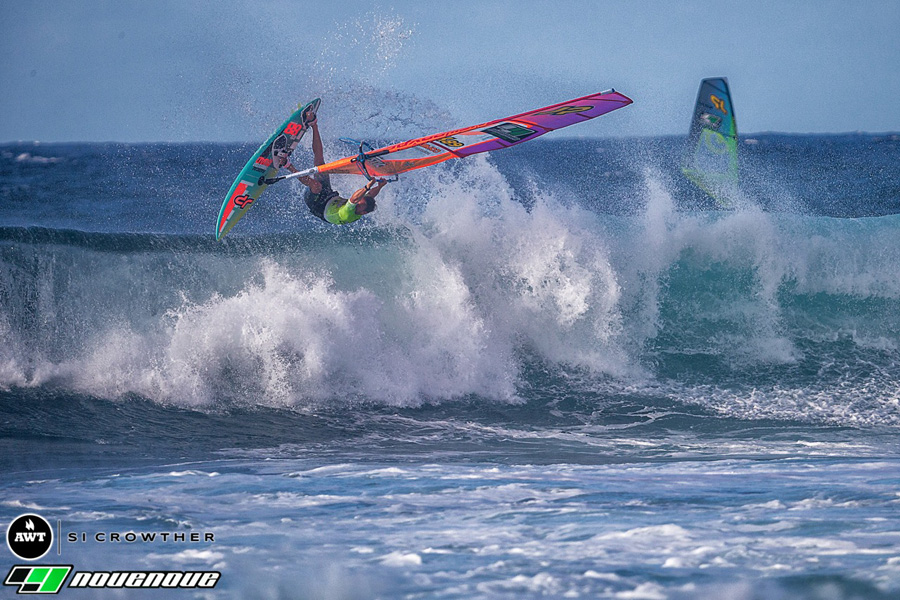 Photo: Swift looks comfortable to start round 2
The last heat of the day had Antoine Martin, Teboul, and Jamaer, with Jaeger Stone withdrawing due to an injury. Teboul maintained control for much of the heat with picturesque turns, but Jamaer and Martin were both knocking on the door. Martin landed the highest score of the day with a massive one handed aerial, followed by a nice slash, and finished with a goiter. The top three riders were separated by just 0.37 points with Teboul and Jamaer advancing.
The Pro Men and Women action looks to continue tomorrow as this swell continues to grow.
Skippers Meeting is at 10:00 AM
First Possible Start is 11:00AM
Stay tuned to the AWT Facebook, Instagram, and Twitter pages for up to date info on the event.
Follow along with the live cast at AlohaClassicMaui.com/live-2016
Text by Greg Stiegel
Photos by Si Crowther