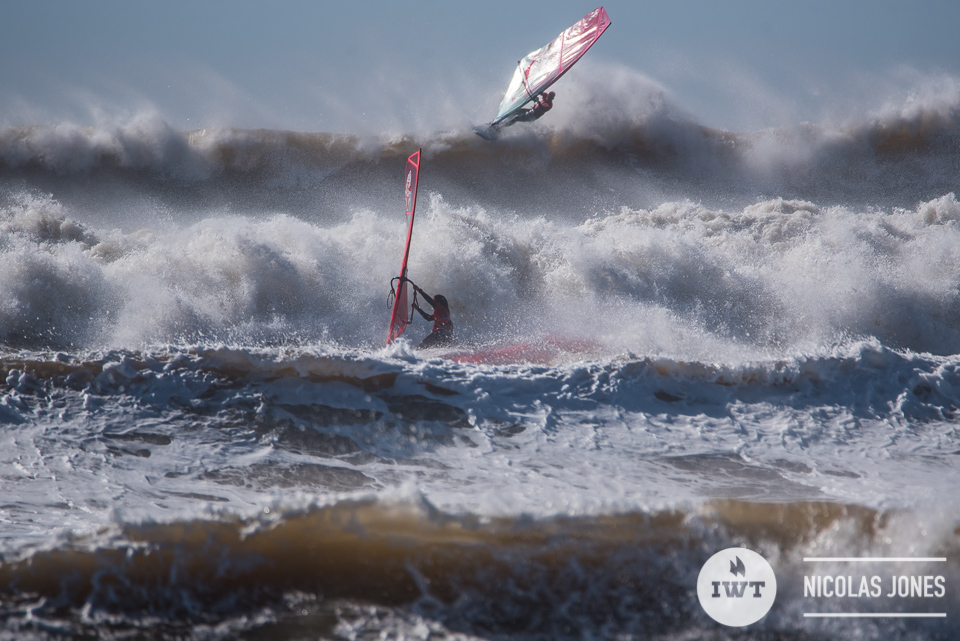 Antoine off the top and Boujmaa in front
With a large swell and high wind forecast for Day 5 of the event window, anticipation levels were high. Riders would not be disappointed. Light offshore winds in the morning meant the waiting game was on. Around mid-day the winds had clocked around enough and strengthened to a point that head judge Duncan Coombs called the competition on. First up would be the repechage round where all those who did not advance through yesterday's first round would be given a second chance.
Heat 9 was was composed of Moroccans and one frenchman. Local knowledge saw Yves Masnada scoring the highest wave of the heat, advancing him through to the top 16. Second place went to Abdelhamid Mana who also advanced to the second round.
The wind increased making it easier for the riders in heat 10. Paco Mercader threw down aerials and powerful turns securing his place in the top 16 along with Tom Soltysiak who had a late flurry of waves showing fine form.
Brazilian Edvan Souza won heat 11 convincingly with long rides down the point connecting turns and aerials. Antoine Albert also advanced mixing wave skills with freestyle moves.
Local Mouhamed Elabdi tore the solid conditions to pieces impressing the judges with his vertical turns and local knowledge. After narrowly losing in the first round, Gustav Haggstrom made no mistakes in round 2 with two solid waves again. Showing aerial skills and hard hacks, he advanced into round 3.
Heat 13 saw conditions continue to improve with the pushing tide, seeing solid mast high sets thundering across the break. Local guru Boujmaa Guilloul cruised through his heat with perfectly timed aerials and solid turns. Takara Ishii had a solid start, and continued his impressive sailing after winning the youth yesterday, earning himself a place in the top eight of the pro division.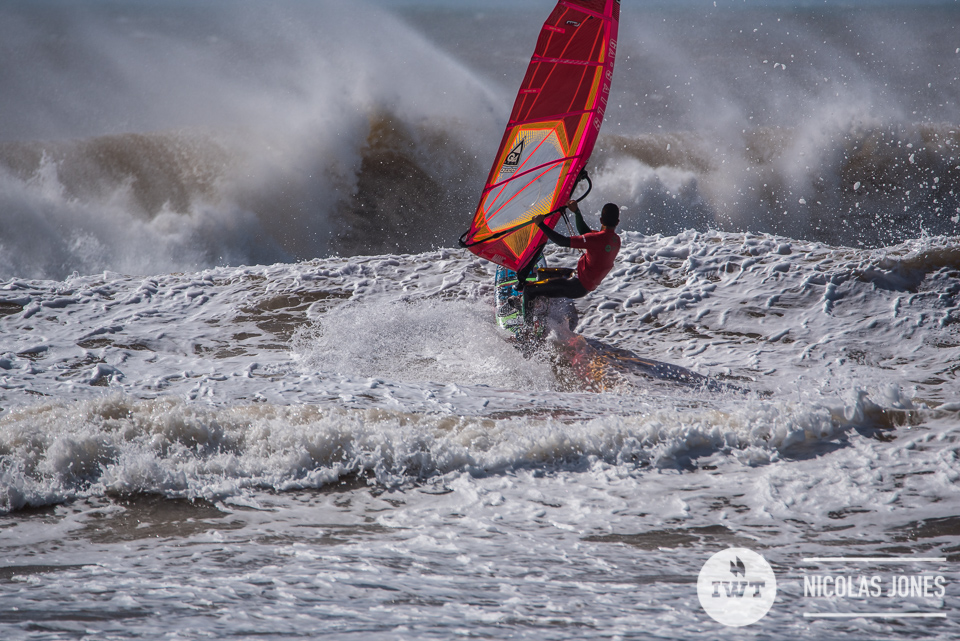 Ouhad Elabdi
Heat 14 showcased local rider Soufian Sahili scoring long rides down the point with proper timing on his vertical turns winning the heat. Russ Faurot had a massive hit to start his heat and narrowly pushed Tom Soltysiak into third place.
Heat 15 advanced Edvan Souza along with Antoine Albert.
With conditions firing in heat 16, Antoine Martin looked at ease with two excellent scoring waves. He won the heat ahead of Morgan Noireaux.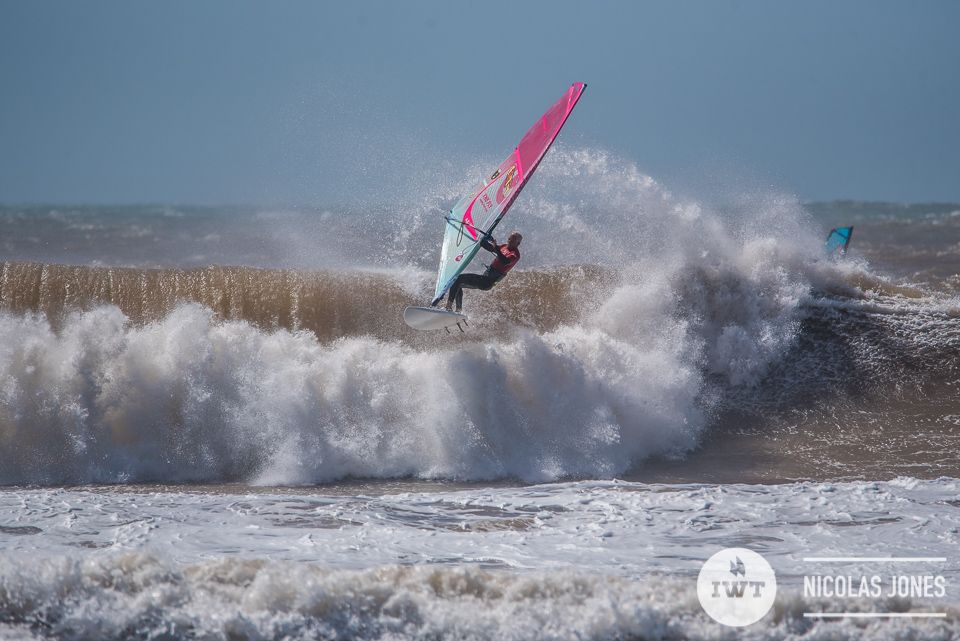 Antoine Martin
Next up was semi final one. Sailors hit the water with winds gusting well over 30 knots and guns a-blazing. Antoine Martin was unstoppable with breath taking late hits and smooth linking turns all the way down the point. His riding was so precise and perfect that judges gave him the only 10 of the contest. He picked up the wave at the top of the point, slicing through a couple perfect hacks, followed by an inverted under the lip hit propelling him down the line in amazing form, only to close with a clean goiter. Takara Ishii went big, showing tremendous skill and timing to make his first pro final. This kid has a bright future.
Heat 18: Second semi final
Conditions continued to build with ever increasing wind and waves. Set waves were pushing 20' on the face and the gusting winds had riders reaching for smaller sails. Boujmaa made the most of the strong wind by launching himself into a massive backloop off the lip attempt which was landed just behind the wave. Had he pulled the move back on the wave, it would have broken the judges scale. His competitors saw this ridiculous stunt and could not match his extreme level. Boujmaa was going to make his way though to his third final in a row in his local spot of Moulay Bouzerktoun. Morgan Noireaux sailed consistently well, and clinched second place with a landed goiter. The scene was set for a high level final.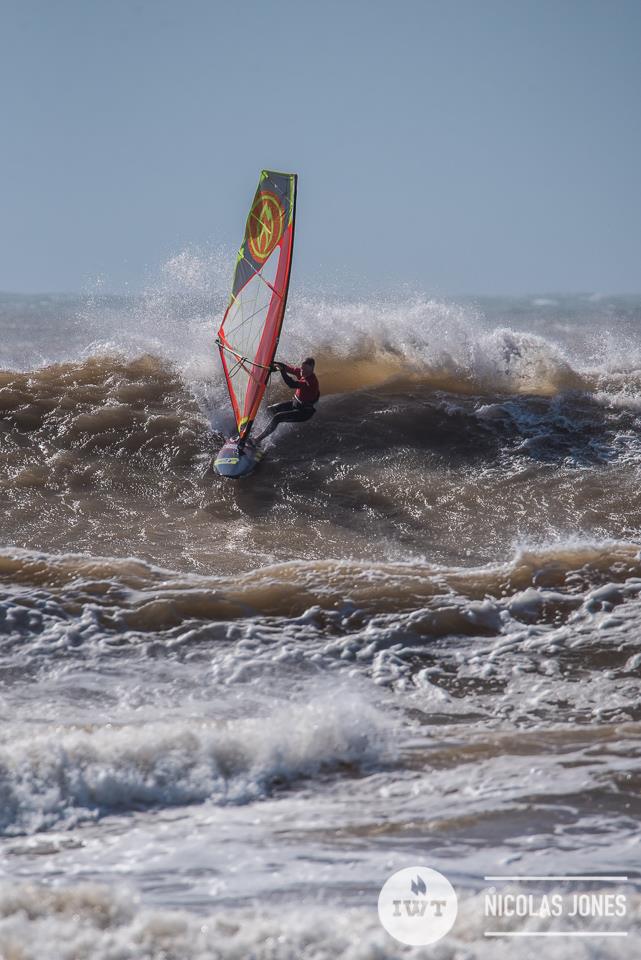 Giving the pros a rest, head judge Duncan Coombs put the amateur final on. This was the first heat to include jumps as the wind continued to increase. Simeon Glasson opened up with an excellent scoring wave to take an early lead. Erik Priester then landed a clean forward for high marks, but Faycel Hmidi showed superior form in the high wind, planing out of his. He backed up the perfect forward with a good wave score pushing into the lead. Ouhad Elabdi sailed consistently well, but Faycel, his local friend, continued to tear up the firing point break. Simeon Glasson landed his forward, leaving him looking for a backup wave score. His first wave was the highest scoring of the heat, but unfortunately time ran out before finding the backup. The victory slipped through his fingers. Erik Priester showed good form and put two nice wave scores together. Faycel launched himself into push loops and back loops and deservedly won his final. Simeon took second place, and Erik completed the podium in third place with Ouhad rounding out the amateur fleet in fourth.
The last heat of the day would be the Pro final. 30 minutes were put on the clock and the final four would battle it out with the top 2 waves to count and 1 best jump. All the spectators were on the edge of their seats as conditions had risen to a crescendo. Winds were pushing 40 knots and waves were still well over mast high. The stage was set for one of the wildest ever Pro Finals in an IWT wave contest.
As the four best riders headed out into the wild it was a battle between Morgan Noireaux, Antoine Martin, Boujmaa Guilloul and the young 17 year old up and coming talent Takara Ishii, sailing in his first ever Pro men final. This final was no disappointment. Not only were the conditions firing but the pro riders pushed it to the limits.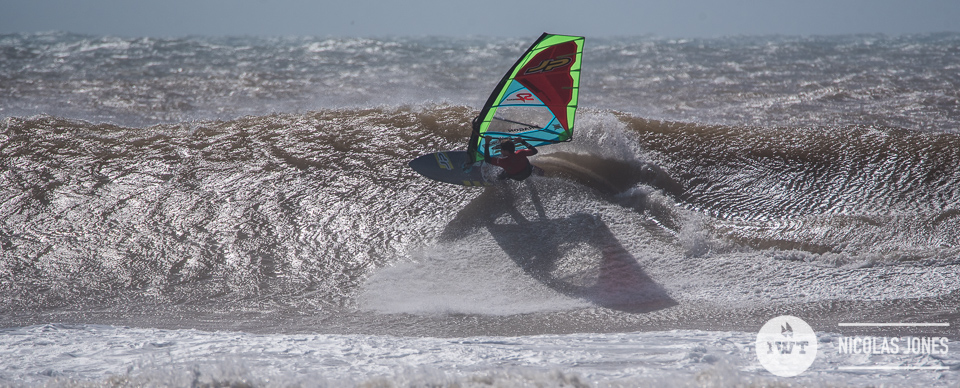 Morgan Noireaux
First to fire was Antoine with a big back loop way out the back scoring well. He was quickly outdone though by Morgan, with a massive 35 foot one footed back loop right in front of the judges tower. That was the jump of the contest without a doubt, and brought a huge cheer from the crowd.
Antoine responded by throwing a 25 foot one handed back loop to score near Morgans jump. Boujmaa was really going for it putting up a huge stalled forward, but landed a bit wet, hindering his score. Not happy with this, he went for a double forward loop and again came up a little short, water starting out of that one. He was left searching for that elusive perfect landing.
As the final progressed Takara Ishii was sailing well, but it was clear early on that he had finally met his match at this very high level. The seasoned pros out matched the youngster, but full credit to him for making his first pro final. The 3 top seasoned pros gradually found the rhythm with the swell and started racking up the wave scores.
Boujmaa Guilloul showed radical style with what would have been a planing 360, but unfortunately was clipped at the end by an oncoming barrel. His wave scores generally were not quite enough to match the top two riders with Morgan and Antoine clearly and quickly stamping their authority on this final.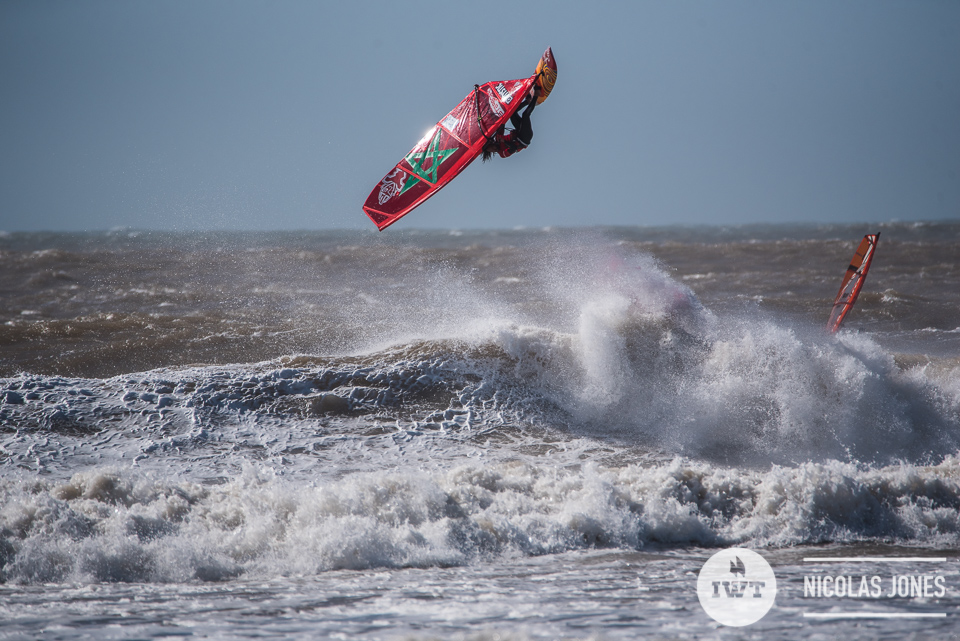 Boujmaa Guilloul
Morgan's riding was rock solid with well timed aerials and his trademark vertical smacks showing the smooth flowing power riding that he is famous for. However, Morgan was lacking the big move he made in the semi finals. He was looking for a 360 section but never found it.
Antoine Martin was a man on a mission this powerful day. Earlier that day during his heats and in practice he had already broken a mast, a boom, a sail, and 3 boards. He was sailing like a man possessed and when it came time to pull out all the stops in this final it's fair to say that he was going to win or die trying.
After a slow start to the waves, with wave scores of 4's and 5's he then stepped up a gear. He pulled his two highest wave scores in the final third of the heat, scoring in the excellent range on both. The first saw two huge aerials from massive mast high gnarly lips, and then he went ballistic on his last wave of the day with 3 absolutely stratospheric airs on a bomb wave. The judges handed him the victory on the closing buzzer.
The crowd went wild as the sailors returned to the shore. They were greeted with applause and cheers on their way to the podium surrounded by the beautiful Moroccan tents and colorful red flags of the large contest area village. It had been a truly extraordinary end to an exceptional day of competition.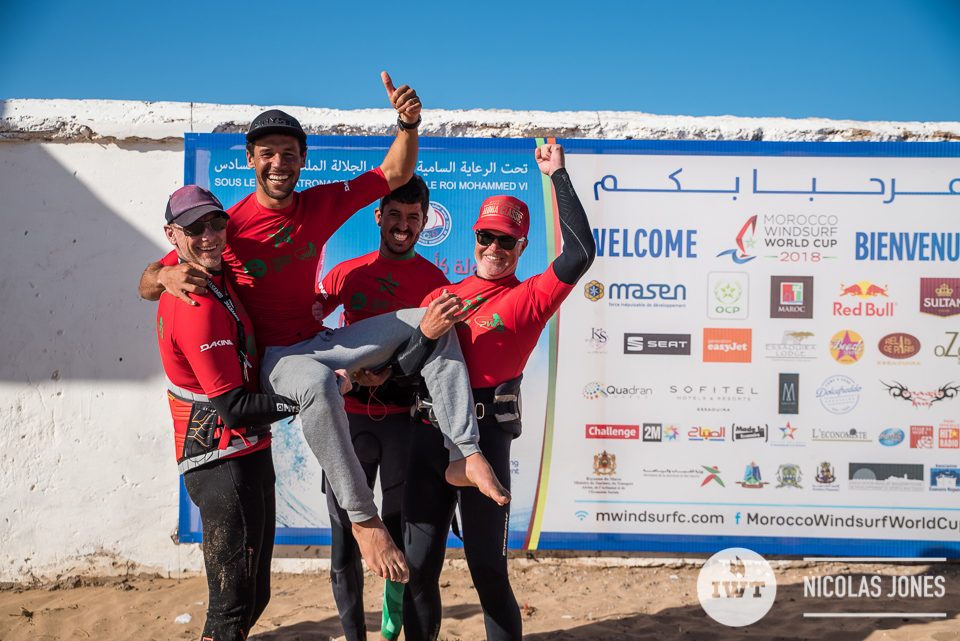 Amateur Podium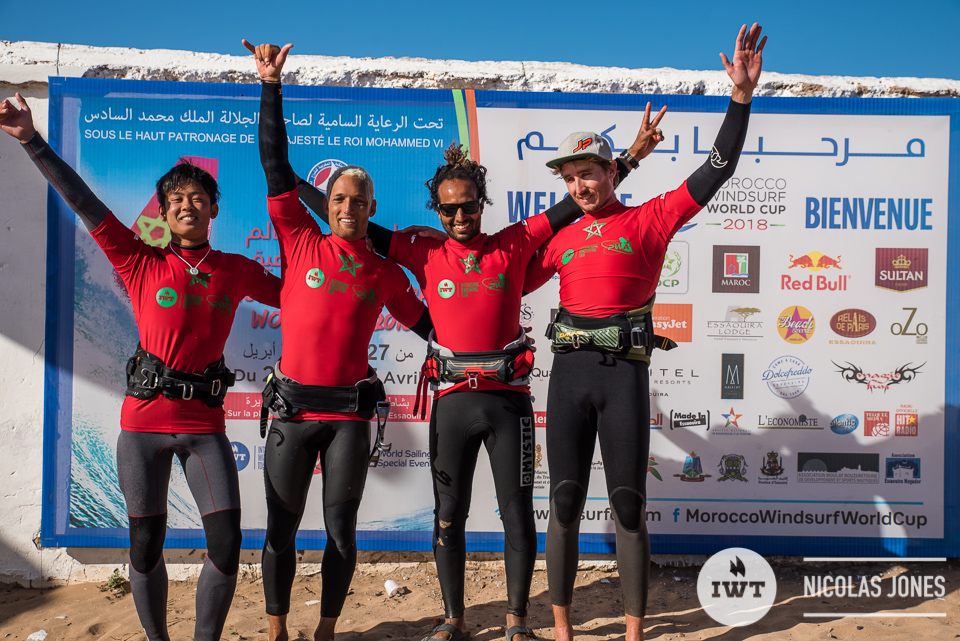 Pro Podium