Staff and competitors arrived at the beach, and were stoked to see larger than forecast surf. The stage was set, and it was going to be a killer day!
The call was made by Head Judge Duncan Coombs early that we would continue with the Pro bracket, and take advantage of the better than expected conditions. As we moved into Round #3, the heats got tighter and tighter. Riders threw caution out the window, and pushed their limits to secure a spot in the coveted PWA.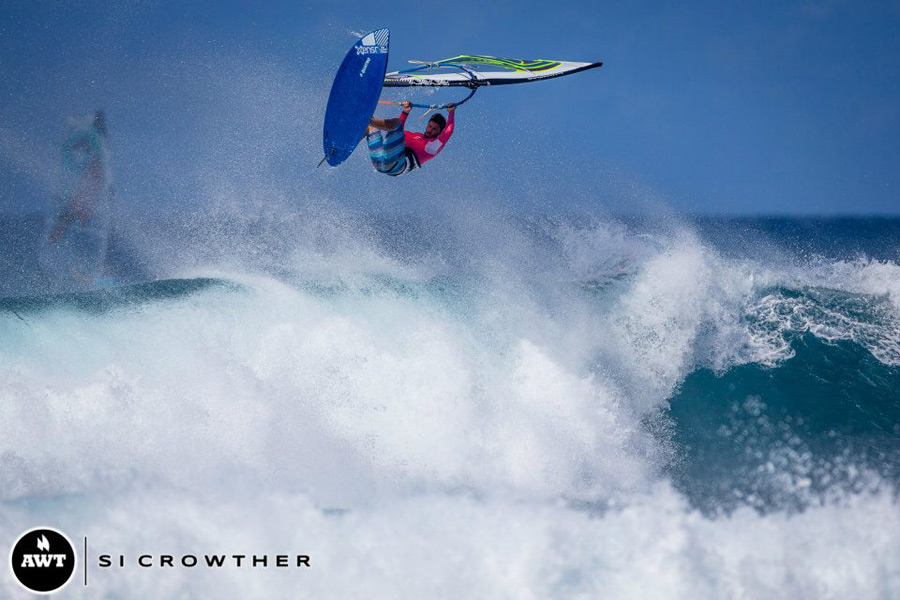 The wind in the early heats was light, so Duncan quickly increased the heat duration to 16 minutes from 14. This ensured that riders could risk it all, knowing that they had plenty of time to catch waves. From a rider's perspective this is great. You gain so much confidence in the knowledge that it is not do or die on every wave. This really helps to encourage progression, which is central to the AWT philosophy.
Round #4 produced some amazing action as the scores started to increase. In Heat #33 Laurent Guillemin linked powerful turns with a Taka and a 360 to win the heat ahead of Matt Pritchard. Heat #34 was won by the riding of Quatro teammates Bernd Roediger, and his shaper Keith Teboul, who's vertical turns in the pocket demonstrate his surfing prowess. In Heat #35 there was little that Jake Miller and Casey Hauser could do to slow the progress of the top two ranked AWT riders, Kevin Pritchard and Camile Juban. The stand out performances of the round came in Heat #36 with both Levi and Graham turning up the heat. Graham went big nailing a Taka, a Goiter and a 360 while Levi wracked up a huge tally with incredibly snappy turns and tweaked airs.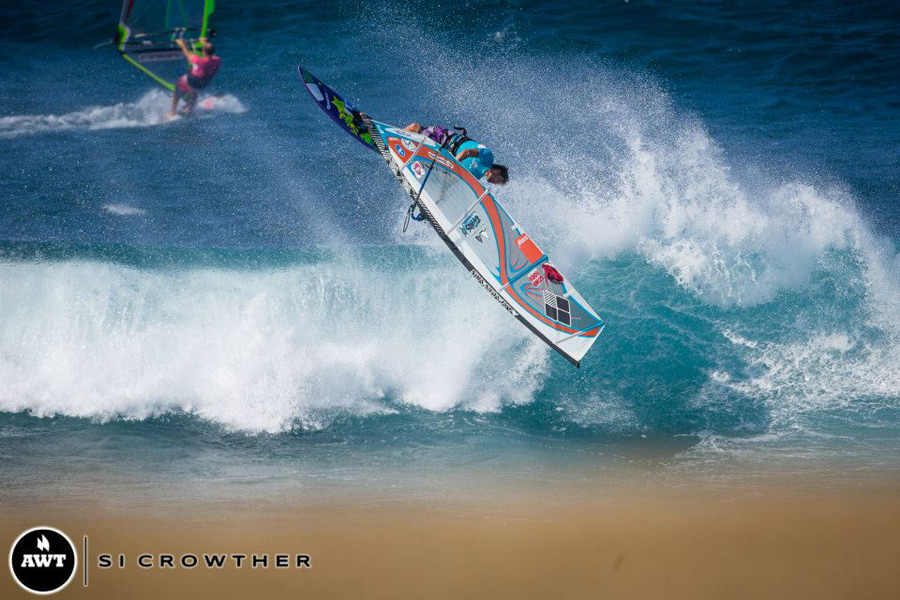 In the first semi-final Bernd and Keith continued to dominate with their fluid riding styles. The second semi saw Ezzy go big, but he couldn't make his moves stick finishing 4th. He, like many others has booked himself a place in the PWA bracket. I am confident that there is more left in the tank, especially when the waves build in size and power. Kevin, still recovering from illness sailed hard with a big one handed aerial to start the heat, and later landed a clean 360. The fluid style and new school antics of Camile, and powerful turns and tweaked airs of Levi, saw them both advance to the final.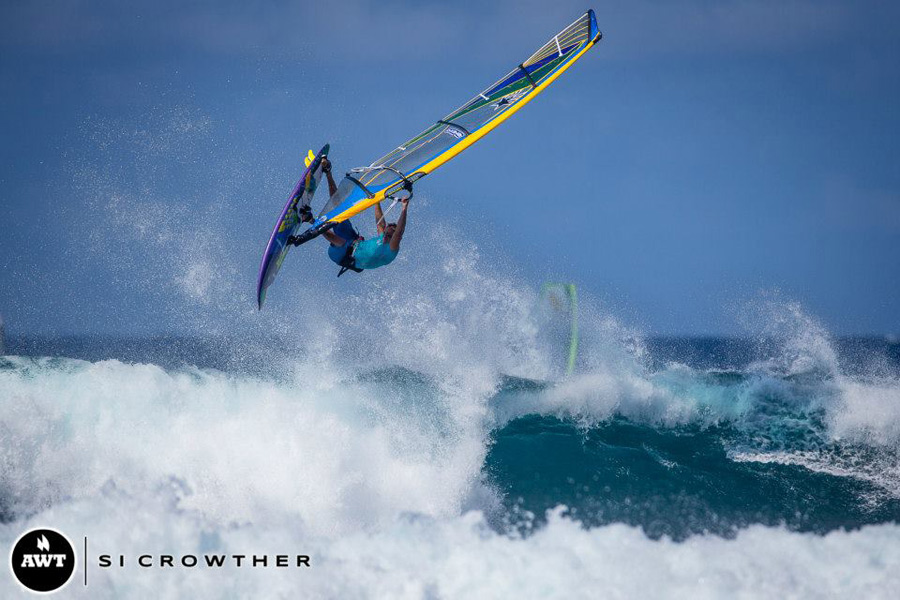 The Final
With the final now extended to 20 minutes, riders would have more time to impress. As four riders entered the water, it was clear that we were about to see something special. The only question really was which one of the riders would move into another gear, and fight hardest for the win. Bernd showed no nerves as he lined up his first wave at Middles. He busted a huge air, which he backed up with solid vertical turns. On his next wave he linked powerful and skatey turns with a taka to finish. With just two waves down, it was clear that Bernd would be hard to beat. Camile was not quite finding the set waves or landing his moves cleanly, but still managed to have one wave with three aerials which scored big! Fighting from behind, Levi progressively closed in on Bernd. Thanks to a perfectly executed 360, and some aggressive rides he was close, but was ultimately one more big one short. It was the 17 yr old Bernd Roediger who took his second successful AWT event victory and second AWT Maui title. Just think, how good he will be in another year's time!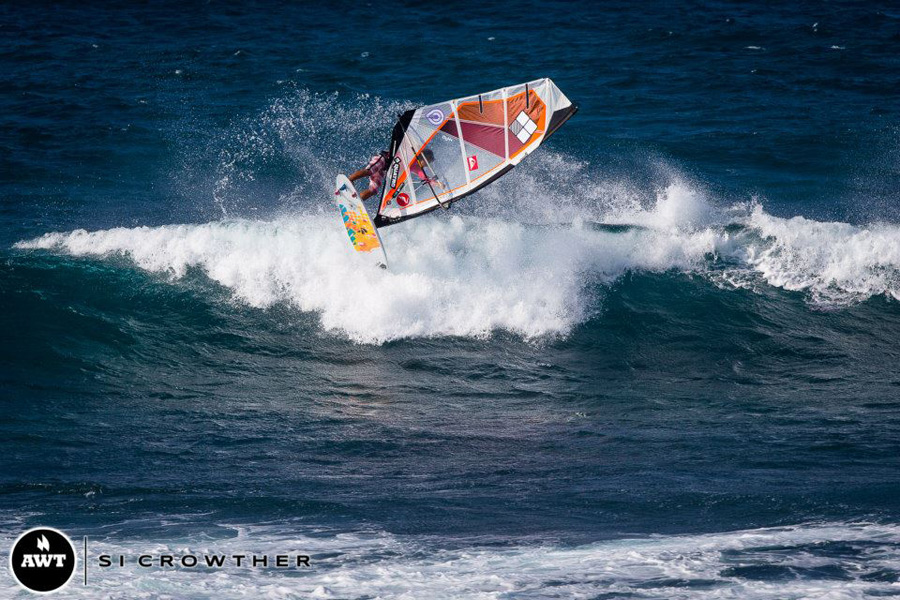 With the wind and waves holding, we were able to work through 5 heats of Amateur, and the re-sail of the cancelled Women's heat from Day #1.
"It is all coming out great! I am so surprised after the initial forecast to have such amazing conditions. Turned out amazing! Stepping up to a new level in the AWT! Stoked for Bernd. He is growing up so fast and really proving himself as a stellar consistent windsurfer. Looking forward to the next bit of event. Cant believe we have already completed the Pro bracket after just two days, I am looking forward to the conclusion of the other divisions and PWA" Sam Bittner, AWT Tour Director
Harley Stone (son of Josh) just turned 15 a few weeks ago and this week signed a new deal with Naish International. He has really impressed the judges during the last two days of competition. Expect him to climb higher up the rankings in the years ahead.
"I am the youngest competitor in the Professional AWT division, the experiences that I have gained through this event are unique and I could find them no where else." Harley Stone (Naish)
"The fact that we are in a day and age that one can broadcast the heats live to the world is truly awesome for the sport of Windsurfing. The fact that this 2013 JP Aloha Classic can be shared worldwide live, will only better the exposure for our sport and enable us to reach much greater audiences." Kai Katchadourian (Simmer), AWT LIVE Commentator
"Reaching the finals on the second day shows how solid the conditions were for the JP Aloha Classic. The finals today showcased starboard tack down the line windsurfing with solid performances from all the Quarto riders who filled the 4 man final slots. Congrats to Bernd who narrowly beat Levi in a dynamic 20 minute epic heat. With more solid conditions to come for the fleets of the AWT and the PWA we will see probably the biggest clashes of young and old school windsurfing ever!" Duncan Coombs, Aloha Classic Head Judge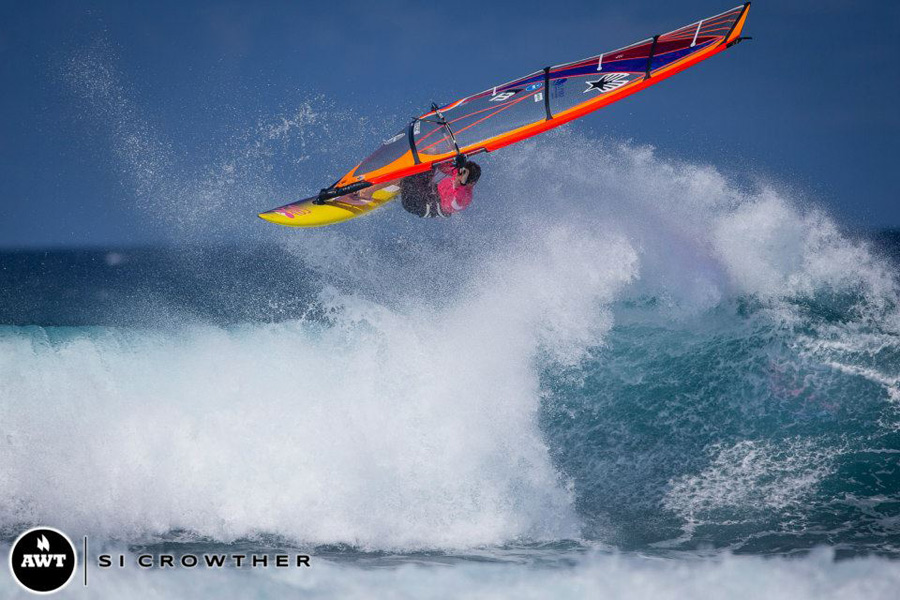 Let's hear what the four finalists had to say about the their epic battle;
"I have to say I teared up during the final for a moment because it really was something special to be sailing with my A team. To know everything that went into every one of the boards under the feet of these amazing athletes and friends is something that means so much to me… Seeing Levi bust a big air in front of me and just sharing this session with some of the best wavesailors around I finally was able to let go and just have a fun session…I wasn't worried about results and was enjoying the moment for what it was…" Keith Taboul, (Quatro/Goya)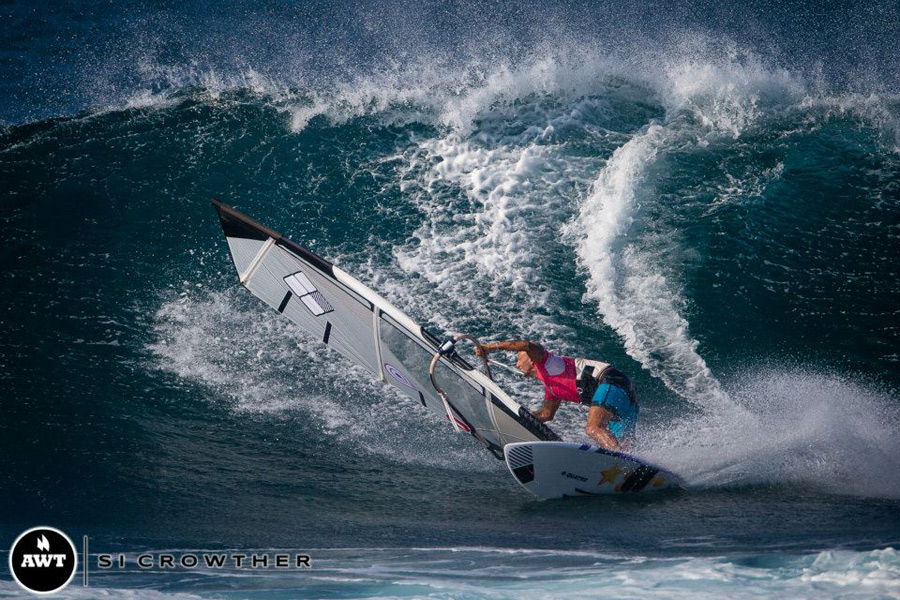 "I was so pleased to be sailing with my Quatro teammates at the end of a fantastic year. Mexico and Peru were special and I am thrilled to have retained the AWT Overall Pro title for the 2nd year. I am now looking forward to the PWA event." Camile Juban (Quatro/Maui Sails) 2013 & 2012 AWT Tour Champion
"There's so much style and talent these days I was honored to be part of it. Every sport has a turning point, and windsurfing is exploding right now with stoke and progression." Levi Siver (Quatro/Goya)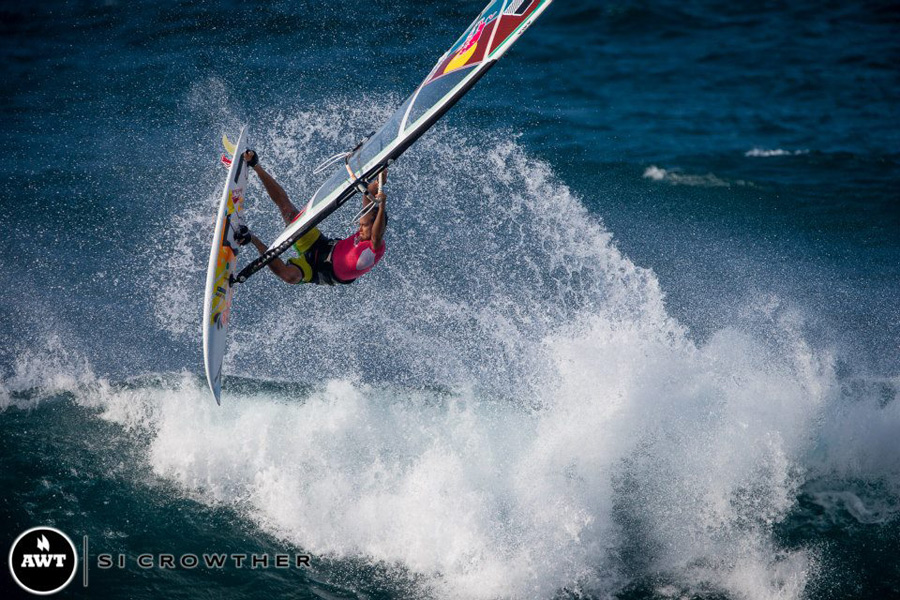 "Wow! Another final at Hookipa! I was standing on the beach and I couldn't believe it. When they called out the final four I was struck by an overwhelming thought. If I was going to go on a surf trip to score sick waves there are a lot of people I would ask to go. Three of the top names would obviously be Keith Teboul, Levi Siver, and Camille Juban. These guys are incredible watermen and I have always admired their style on the waves. Keith is so vertical its nuts, Levi has the most fluid windsurfing with explosive power and Camille is the master of combining slashy turns with all the best aerial tricks! And here we are in the 2013 AWT Pro Final. Its hard not to get caught watching while your'e trying to beat them at the same time! I'm so thankful to all my sponsors, Quatro, Goya, MFC, H2O & Quiksilver. To these three guys, because they have inspired me to dream the impossible, I thank you!" Bernd Roediger, AWT Pro Maui Champion 2012 & 2013
Aloha Classic Weather Summary
Friday 25th – Wind E 10-15 knots will get lighter and more offshore later in the afternoon. Surf 5-7 foot faces increasing to 6-8 feet throughout afternoon. Biggest set 14ft face.
Saturday 26th – Wind ESE 5-10 knots gusty, may be no wind at all on inside. Likely to turn onshore in the afternoon with the sea breeze at 10 knots or less. Surf 8-10 foot faces, biggest set 18 foot face.
Sunday 27th – Wind ESE 7-12 knots gusty, may be no wind at all on inside. Surf 6-8 feet. Biggest waves around 12 feet on the face.
Monday 28th – Wind ENE 12-18 knots normal trades. Nice long period NW swell will produce good quality surf in the 12-17 foot range. The big sets could top out at 24 feet on the face.
Tuesday 29th – Wind ENE 15-20 knots normal trades. Surf decreasing slightly with 10-15 foot faces occasional bigger sets up to 20 foot faces.
Wednesday 30th – Wind ENE 17-22 knots normal trades. Surf rebounding with reinforcing WNW swell with faces in 12-17 foot range. The big sets could top out at 24 feet on the face.
Thursday 31st – Wind ENE 15-20 knots normal trades. Surf decreasing slightly with 10-15 foot faces occasional bigger sets up to 20 foot faces.