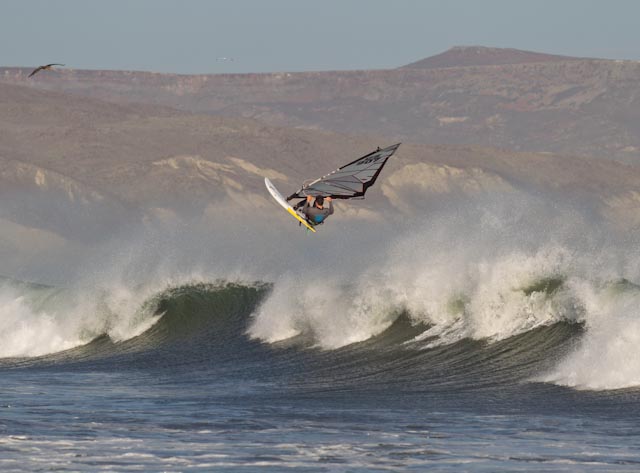 Mershon wins Day 2 at AWT San Carlos
The second single elimination delivered at the AWT San Carlos Cactus Cup hosted by SoloSports Adventure Holidays. The wind kicked in to a solid 25-knots and waves picked up slightly with more logo-high sets running through compared to the previous day. The contest area is set perfectly allowing riders to pick up set waves at the point and ride them for four to five hits before connecting down to the Chili Bowl for some sick aerials. Now on to the action…
Move of the Day: Just seconds into his first heat Graham Ezzy launched a massive Goiter off a point wave landing cleanly back onto the wave. He has been landing Goiters and Takas more consistently then anyone so watch out for Ezzy on Day 3.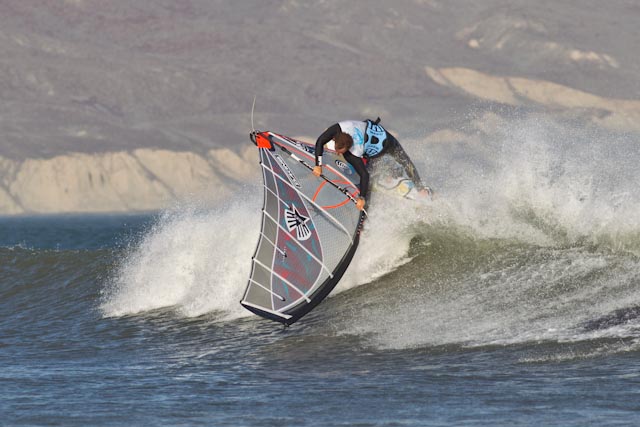 Heats of the Day: We couldn't pick just one as the Final and Super Final both delivered. The Final had Keith Teboul, Matt Pritchard, Nathan Mershon and Russ Faurot battling it out with the top two advancing. The action was intense with Faurot delivering his best lip smacking performance so far in the comp to finish in 3rd just ahead of Matt Pritchard. Teboul and Mershon advanced to the Super Final, which was an incredible way to end Day 2. The heat started with both sailors picking off mast-high waves off the point. They both destroyed it riding all the way down to the Chili Bowl but the consensus among onlookers was that Mershon took the lead. Both exchanged numerous decent waves over the next 12 minutes until the final minute of the 14-minute heat when once again both riders picked up another mast-high set. Teboul was slashing his roundhouse cutbacks and throwing massive aerials but Mershon matched him hit for it. According to the judges it was incredibly close with Mershon taking the final in the end.
Stay tuned for Day 3's report tomorrow.