What a way to end an incredible event. With nearly a week off from competition due to light winds, the last day provided enough conditions for Head Judge, Duncan Coombs, to get results in the Amateur, Masters, and Pro Men and Women Double Elimination brackets.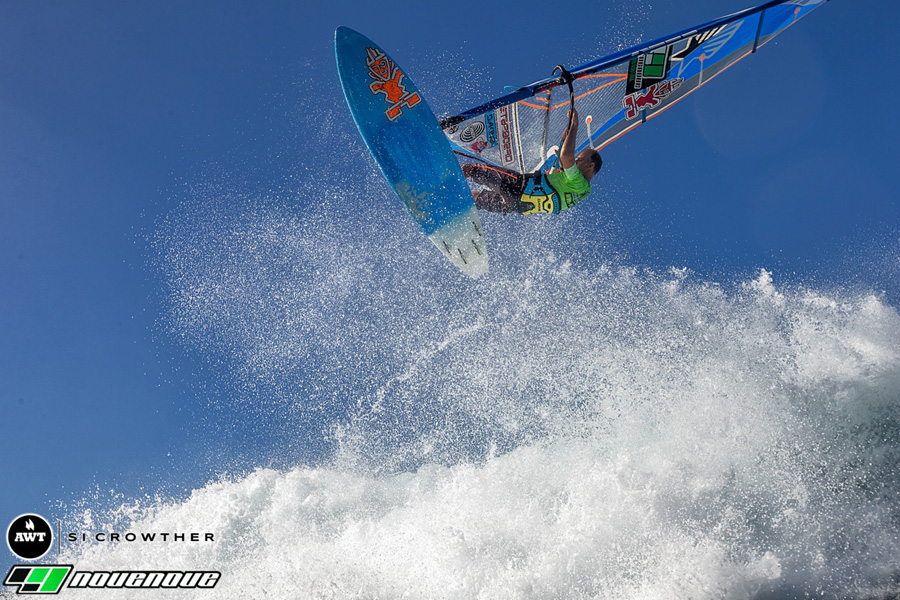 Photo: Kevin Pritchard
The day kicked off with solid 20 mph wind and shoulder to head high waves. The first group up were the Amateurs, getting their first taste of competition with 8 or 9 man, 20 minute heats with the top 4 from each heat advancing. The first heat had Japanese rider, Yushi as the clear standout, scoring the best wave of the heat. Also advancing was Bergeron, Vincent, and Glasson with Z Schettewi, Garcia, Burette, and Speiss missing the cut. The second heat had the Japenese youth standout, Sugi advance along with Ratusznik and Daiki. Decastro entered the water with just 5 minutes left in the heat and amazingly caught a great wave to advance in the first position. Just missing the cut was the youth division sailor who just started sailing in June, McLaughlin, along with Katsutoshi, Deer and Burnes. The third heat had Ishi and Aguera tied for first with Pooley and Henderson advancing behind them. Cammarota, Zboron, Hagemann, and Bode missed the cut. The last heat of the first round had Max Schettewi, Caro, Allereau, and Giradin advancing with Albright, Bias, Baker, Salvatore, and Berkel missing the cut here.
The semifinals consisted of 8 man heats and the heat length was limited to 18 minutes. The first seminal had Sugi continuing his domination advancing first with Glasson in second, Yushi in third and Decastro continuing his streak in fourth. The second semifinal had Ishi and Max Schettewi advancing first and second, with Girardin and Allereau behind them. The Amateur final was set, and was scheduled to run at the end of the day. In lighter winds all the competitors sailed well and put up some good scoring waves. A huge congratulations goes out to the winner, Allereau, second place, Sugi, and third place Max Schettewi!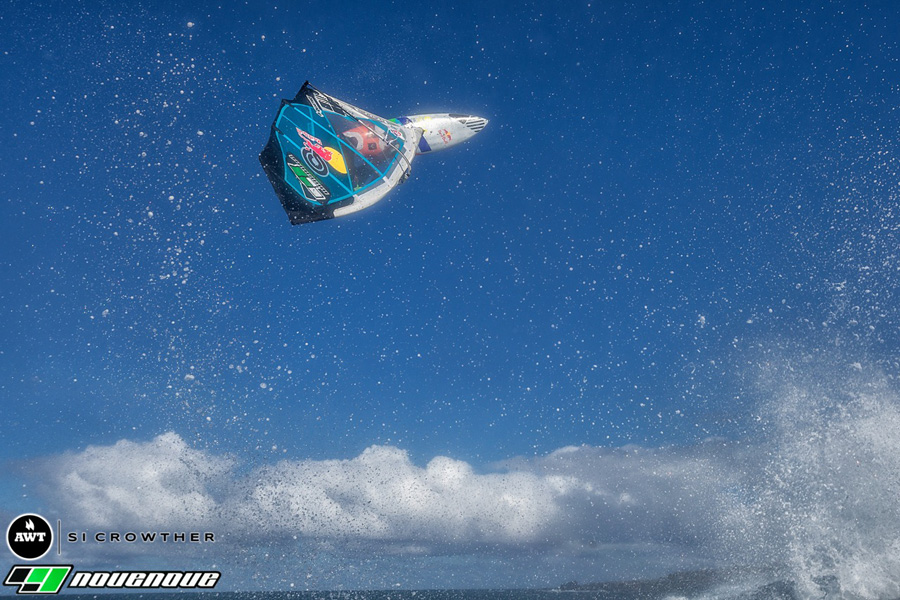 Photo: Levi Siver
In the Masters division, Coombs decided to run an 8 man final, which ended up being 7 because Josh Stone was out with an injury. This stacked final had Pascal Hardy, Brian Talma, Michi Schweiger, Sean Aiken, Patrick Bergeron, Kai Katchedorian, and Jeff Henderson. All the riders were sailing really well and finding good waves. Pascal took control of the heat early and maintained it to finish first. In second place was Jeff Henderson and rounding out the podium in third was Sean Aiken. Congratulations to all of our Masters riders!
The other order of business was to complete the Pro Men's and Women's Double Elimination. Coombs added a jump score with the wind filled in and the waves on the smaller side. First up were the women with Cropas, Offringa, Crisp and Howard. Offringa started the heat off with a great 7.5 point ride. She added a gorgeous forward loop for a 5.88 and control of the heat. Howard has a strong showing with two strong waves, but finished in second place sending Offringa to the one on one rounds.
First up, Offringa took on Sato. Sarah-Quita started off with a huge hit of the lip landing her a 10! Offringa was clearly fired up throughout the heat audibly joyful with every wave. Sato was able to put up a solid couple scores, but with Offringa getting another decent wave, she was going to be tough to overcome. Offringa finally found a ramp to throw a nice forward on for a 7.38, and Sato responded with a gorgeous back look for an 8.75, but in the end it was not enough to surpass Offringas stylish and aggressive wave riding.
With Fiona Wylde out with an injury, Offringa moved on to take on Junko. The heat started off with Offringa throwing another forward seemingly right over event photographer, Si Crowther, who was swimming in the lineup taking water shots. After the first couple wave exchanges, it was Offringa on top with the high score of 7.48 so far. Offringa maintained control and landed an 8.88 on her final wave to stay fired up and advance to the final.
As conditions lightened, Offringa took on Hauser in the final. Hauser struck first, but again it was Offringa who came out with the better score of the first exchange. The next one saw Hauser getting a nice set wave and making the most of it for a 6.38, but Offringa responded again with a nice Point wave to jump back into the lead. Hauser picked off the biggest wave of the set, but it closed out on her. As Hauser kept searching for the big waves she thrives in, the clock struck zero with Offringa in first forcing a super final.
The super final was sailed in very light conditions that were tricky for both competitors. Both Offringa and Hauser were determined to come out on top and exchanges waves. Hauser was charging hard, just missing a radical aerial, while Offringa continued her aggressive riding. Mid way through the heat, less than a point separated the two riders. When all was said and done, it was Sarah-Quita Offringa sitting at the top of the podium making an impressive tear through the double elimination bracket. Congratulations to Sarah and all the other women riders for putting on an impressive show!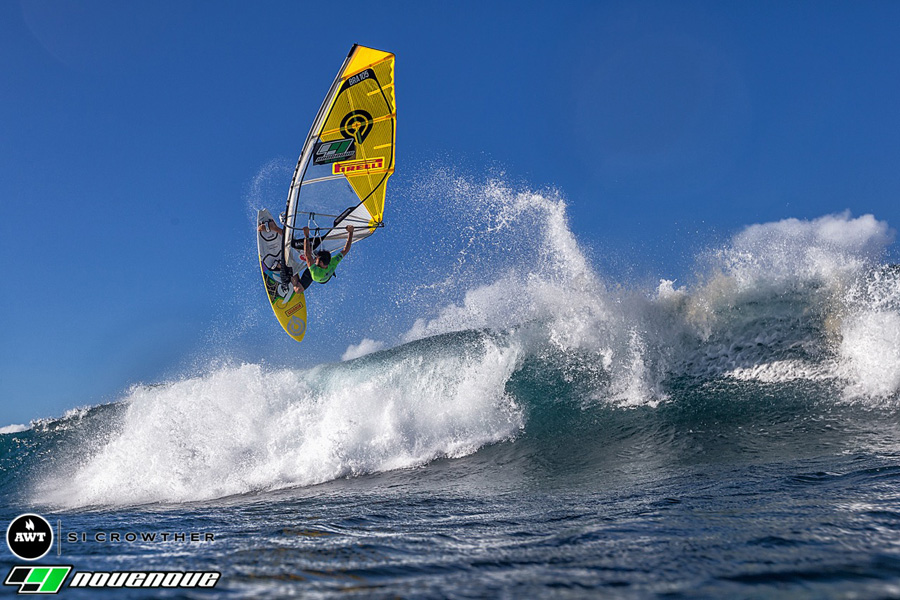 Photo: Marcillio Browne
On to the men's bracket, it was the Kai Lenny show when we left off last week. Fortunately for our top three finalists, Lenny had to fly out to make a Stand Up World Tour event and was not present. That left us with Browne and Siver going head to head. Siver took the lead first, landing one of his signature 360s, but Browne was in full form as well landing air takas like clockwork. Both riders were sailing well with radical gauges and stylish tweaked aerials. With the jump score still added at this point, Browne took advantage throwing a double forward loop for 9 points versus Siver's back loop which landed him a 6.88. That ended up being the difference, as Browne advanced to the final against Kevin Pritchard.
The final started with Pritchard and Browne both starting deep inside at Green Trees to line up a jump score. Pritchard got the better line and threw a nice one footed back loop to start things off. Browne got the first wave and unleased another air taka. Pritchard responded with some good hacks of his own on a medium sized wave, but it was Browne who took control as he uncorked another double forward loop. Pritchard continued to charge hard displaying an amazing set of off the lip airs and vertical cut backs. Towards the end of the heat it was Browne who excelled with a 10 point wave that included a straight air into an air taka, combined with some signature roundhouse cutbacks. This proved to be too much for Pritchard to overcome, as the super final was set.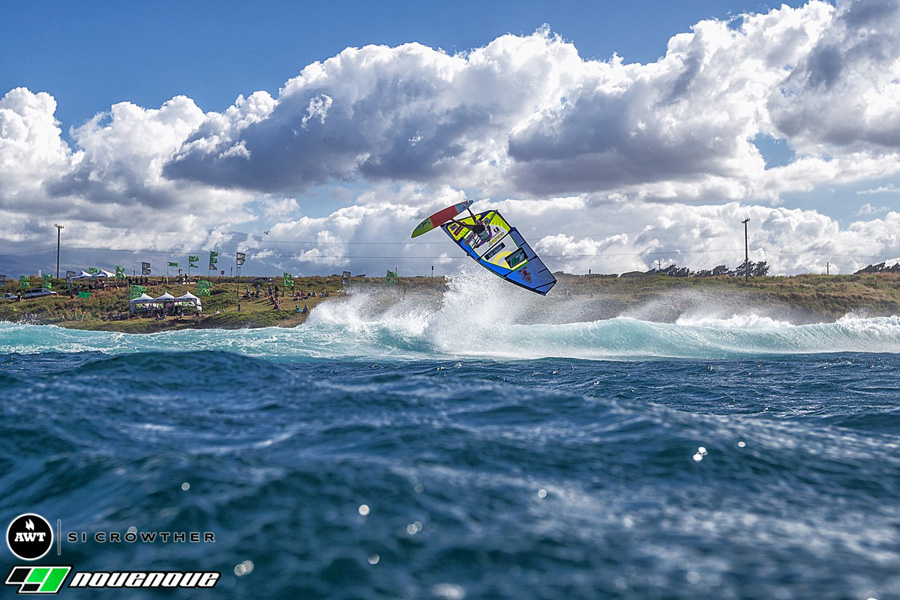 Photo: Sarah-Quita Offringa
The heat started with both riders inside again gunning for a big jump to start. At the sound of the horn, both riders screamed into the same wave, both throwing big back loops. Browne didn't land his, but KP scored a 7.38 for his one footer to put him on top first. Browne was able to put together a couple of good waves with nice tweaked aerials to take the lead back while Kevin was not quite able to match them. Finally, Pritchard put together a 7.5 point score with a nice tweaked air followed by two gauging turns, but Browne's wave riding had him on top by less than a point. Browne, unable to line up a solid jump, had left the door open. With one minute left, Pritchard had one chance to find a wave worthy of a big score. At the buzzer, KP picked off a Point wave and hit a huge tweaked air, followed by a one handed air and finished with a nice big hack. Was it enough to take the lead? The score came in as an 8.5, putting KP on top of the podium and the winner of the 2016 NoveNove Maui Aloha Classc!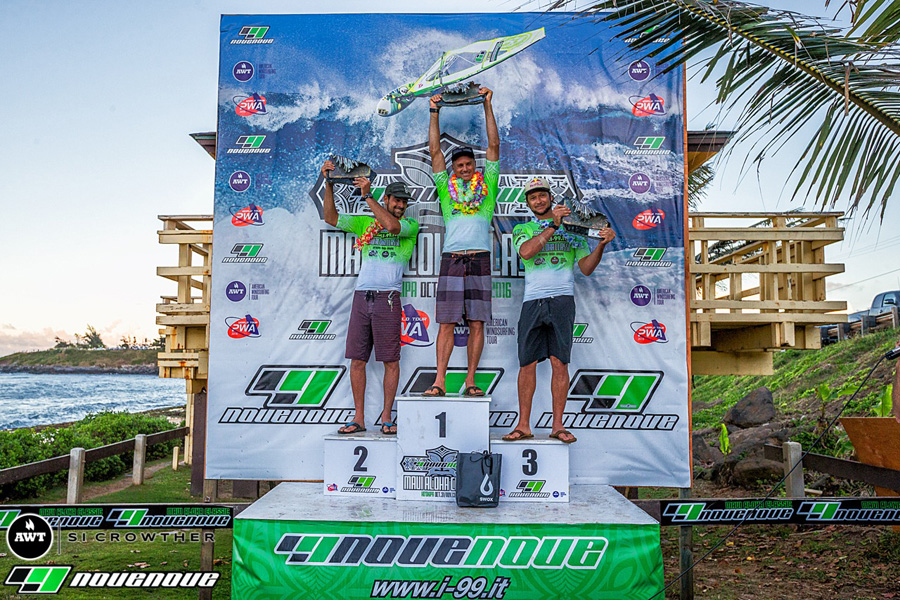 Photo: Pro Men's Podium
A huge thanks goes out to all of our competitors, organizers, volunteers, and of course NoveNove, the County of Maui and all the other sponsors that make this event possible. Please stay tuned to our Facebook page for the closing party and final day albums, as well as some more event videos that will be posted soon. Another great source for all your NoveNove Maui Aloha Classic media needs is our website, AlohaClassicMaui.com, which will have more photos and videos, as well as tour standings, event brackets, and more.
Text by Greg Stiegel
Photos by Si Crowther